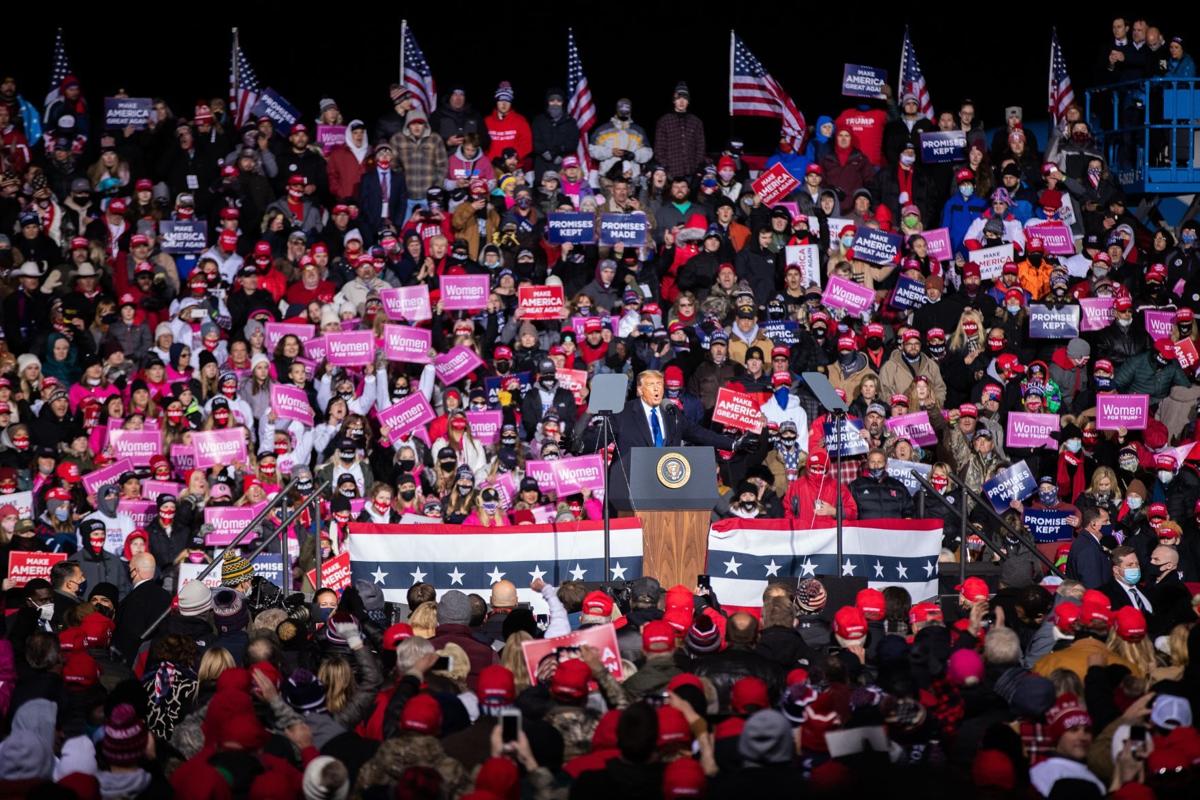 President Donald Trump dropped into Omaha on Tuesday night to rally Republican voters in a city and next-door state close to turning blue.
By spending part of his crucial last campaign week in Omaha, Trump showed that Nebraska's 2nd Congressional District and its single electoral vote remain in play. Democratic nominee Joe Biden is even the favorite, according to polling analyst FiveThirtyEight.
At the same time, Trump's message out of the Omaha media market carried into western Iowa — a battleground state that FiveThirtyEight rates a toss-up.
Trump, claiming his poll numbers are going through the roof, said that Nebraska is "looking great."
"In theory, I didn't really have to be here," Trump told the crowd, "but it's nice to be with friends."
Later when addressing U.S. Rep. Don Bacon, Trump said: "You better get me Omaha."
With one week until Election Day, voting already is well underway in Nebraska.
As the coronavirus pandemic worsens and voters show high interest, early voting in Nebraska is setting records. The Nebraska Secretary of State's Office said Tuesday that election offices have accepted 395,420 early ballots from Nebraska voters so far.
That surpasses Nebraska's previous record of 235,033 early votes in the 2016 presidential election. That year, Nebraska recorded 860,573 votes in total — meaning Nebraskans have already cast close to half the vote total from 2016.
Trump also came to Omaha as COVID-19 cases have jumped in Nebraska and Douglas County. Nebraska's daily average for new cases has exceeded 800 for nine consecutive days; Douglas County's daily average has been above 200 for 12 straight days.
Nebraska's positivity rate on COVID tests has surpassed 20%, according to Covid Act Now. Douglas County's rate was 16.7% last week.
Despite the spreading pandemic, Trump said that "we're making that final turn" on the virus, although he later added: "At some point we're turning that corner."
"Normal life will fully resume," he said.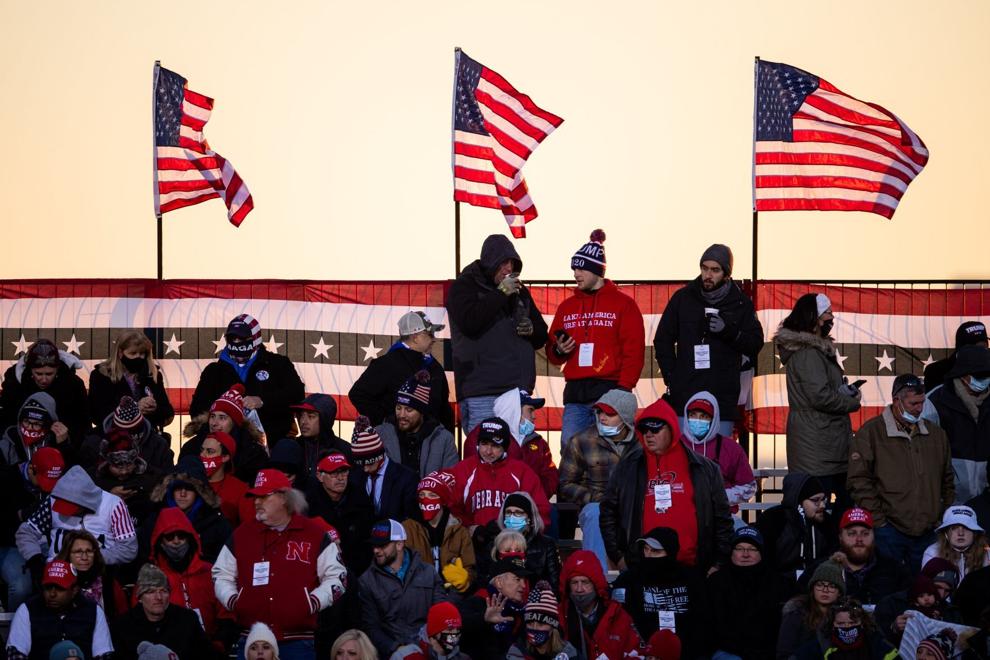 Local Democrats criticized Trump for having a large rally during the pandemic, calling it a superspreader event.
"This is a reckless act by a chaotic president," said Jane Kleeb, chair of the Nebraska Democratic Party.
The Trump campaign held the rally outside at Omaha's Eppley Airfield. Although the campaign said every attendee was given a mask and instructed to wear it, many people went without.
Tim Conahan, police chief for the Omaha Airport Authority, said Wednesday just over 21,000 people were screened into the event, and more people were still inside the queue line awaiting screening. Trump said during his speech Tuesday that 29,000 people were there.
Angela Schock, 52, of Lincoln said she came to see the president because "I'm an American, and I love Trump. He gets things done."
Asked what he got done, she said, "Israel, that he takes care of our military," adding that she has a lot of military members in her family.
Schock, who wasn't wearing a mask, said she wasn't worried about catching the virus in the crowd, though she brought a face covering in case. "You have to live life while you're here. No concerns."
Behind in the polling averages nationally and in critical states, Trump is trying to hold his 2016 Electoral College advantage.
Trump also held rallies Tuesday in Michigan and Wisconsin — states he won in 2016.
Trump said the choice for voters is between a "super-recovery" with him or "the Biden recession." The president linked Biden with "radical left Democrats" who will let rioters and looters "run wild."
"This election is a choice between the American dream, which is what we want, and a socialist nightmare."
The president took the stage for some 47 minutes. He introduced four of the five members of Nebraska's congressional delegation — Reps. Bacon, Jeff Fortenberry and Adrian Smith, and U.S. Sen. Deb Fischer — along with Nebraska Gov. Pete Ricketts and U.S. Sen. Joni Ernst of Iowa, who's in a competitive reelection race.
The president's arrival also served as a moment for Bacon and his Democratic opponent, Kara Eastman, to differentiate themselves in the race for the 2nd District congressional seat. Bacon, who spoke at the rally before Trump's arrival, called Eastman a Bernie Sanders Democrat.
He said the election will hinge on voter turnout. He argued that the Republican Party is the party that will keep people's taxes low and government regulation low.
Eastman, speaking on a video call before the rally, said she thinks her campaign can turn out voters for Biden. She said voters have had four years to see both Trump and Bacon in office and feel let down.
"Nebraskans are smart," Eastman said. "They know when we've been duped."
Photos: President Trump visits Omaha