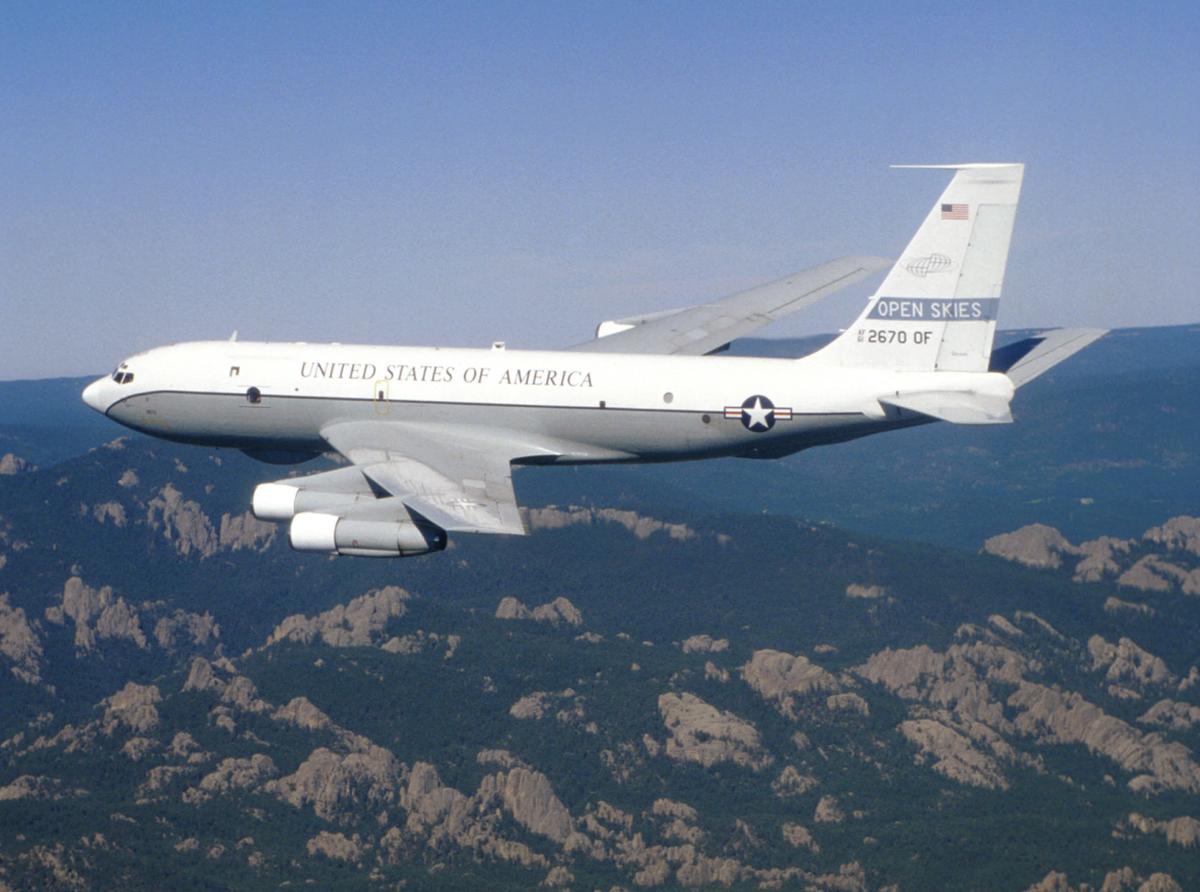 The U.S. is scheduled to leave the Open Skies Treaty on Sunday, leaving two Offutt-based OC-135 aircraft and crews without a mission.
The withdrawal comes exactly six months after the Trump administration gave notice of its intent to leave the treaty, which allows the U.S., Russia and 32 other nations to conduct supervised aerial photography flights over one another's territory.
At the time, Secretary of State Mike Pompeo cited repeated Russian violations of the treaty. They include restrictions on flights near breakaway regions along the border with its neighbor, the Republic of Georgia, and limits on the lengths of flights over the Russian enclave of Kaliningrad.
"Russia has consistently acted as if it were free to turn its obligations off and on at will," Pompeo said in a statement. "Its approach to Treaty implementation has fatally undermined the very intent of the Treaty as a confidence- and trust-building measure."
Russia denied violating the treaty.
At the time, Joe Biden — then a candidate, now president-elect — pushed back forcefully. He pointed to widespread support for the treaty among European allies and said withdrawing from it would harm their interests while further poisoning relations with Russia.
"Instead of tearing up treaties that make us and our allies more secure, President Trump … should remain in the Open Skies Treaty and work with allies to confront and resolve problems regarding Russia's compliance," Biden said in a statement in May.
Now, with Biden set to assume the presidency in January, the U.S. is on the verge of leaving a pact that he wants to continue. It's not clear when or how that could happen.
Would Biden need to resubmit the treaty for ratification by two-thirds of the Senate? Would the planes and their equipment need to be certified again?
"If the Biden administration wanted to rejoin the treaty, he could do it, but it would be cumbersome," said Peter Jones, a former Canadian diplomat who helped negotiate the treaty in the 1990s.
Peter Brookes, a senior research fellow at the conservative Heritage Foundation, said he's against a last-minute reprieve.
"We haven't seen enough change in Russian behavior," said Brookes, a senior Defense Department official under President George W. Bush. "If there's a Biden administration in January, they can look at this and decide whether they agree or disagree with the Trump administration's decision."
The uncertainty has left those charged with carrying out the treaty in limbo.
"We don't know how this is going to go, either," said Lt. Col. Andrew Maus, commander of the Offutt-based 45th Reconnaissance Squadron, which operates the treaty's two photo reconnaissance jets. "We have our duty to train the crews and maintain the aircraft. We're doing that."
Maus said the squadron flew 19 treaty missions in 2019 and was scheduled to fly 11 in 2020. But the combination of the COVID-19 pandemic and the U.S. withdrawal have kept flights grounded this year.
President George H.W. Bush negotiated the treaty after the Cold War, reviving an idea first raised by President Dwight D. Eisenhower in the 1950s. It was signed in 1992.
Two WC-135 radiation detection aircraft were converted with the installation of aerial cameras, called sensors, built to uniform standards. Since the first flights in 2002, more than 1,500 missions have been flown.
The treaty enjoyed a low profile and bipartisan support until about three years ago, when a small group of hard-line Republicans used Russian violations as a cudgel to kill it.
Treaty supporters felt that the violations were side issues, resolvable through the Open Skies dispute resolution framework.
The effort to end the treaty "was a very small conspiracy, and a very well-placed one," said Michael Krepon, co-founder of the Stimson Center, a nonpartisan Washington think tank focused on international peace and security issues.
The arguments found a receptive audience in President Donald Trump, who has expressed skepticism of international treaties that he believes limit American action.
Nebraska's all-Republican congressional delegation conducted a rearguard action to save the treaty.
Sen. Deb Fischer and Reps. Don Bacon and Jeff Fortenberry secured partial funding for the purchase of two new planes to replace the 60-year-old OC-135s, which are prone to dangerous and inconvenient breakdowns at Russian airfields.
And in the 2020 National Defense Authorization Act, they inserted a provision requiring the Trump administration to give Congress advance notice of intent to pull out of the treaty and meet other conditions as well.
Last week, Jones published an article proposing that the treaty members freeze the clock on the treaty from Saturday until the new administration takes office.
It's a tactic that's sometimes used by legislators or diplomats running up against a deadline.
"It's a fiction, and everybody knows that, but it's a fiction that everyone agrees to," he said.
Jones said his article has prompted some discussion among members of the Vienna-based international committee that oversees the treaty, but so far, they haven't moved to implement it.
Krepon thinks that Biden's best route is to have State Department lawyers review Trump's withdrawal. If they found that it was done improperly — if, for example, his administration didn't follow the law in notifying Congress — then they could nullify the withdrawal.
Brookes believes that Trump's State Department made a convincing case for leaving. He said Russia had added new provocations in 2019 by refusing to allow a U.S.-Canadian treaty flight over one of its military exercises and by directing U.S. aircraft to use an airfield in Crimea, which Russia occupied and annexed from Ukraine in 2014.
"You contrive to let the Russians get away with violating the treaties, and they get away with it. You create a moral hazard," Brookes said.
But Krepon believes that the U.S. withdrawal plays into Russia's hands by pulling the U.S. apart from NATO allies that don't have spy satellites and rely on the photo imagery for intelligence on Russian activities.
"Trump's withdrawal was a gift to Putin," he said.
Fischer has supported U.S. participation in the treaty, but she sees it now as very nearly a dead issue. Although the end of the treaty means the loss of two aircraft for Offutt's 55th Wing, she's excited about the base being a finalist for the new headquarters of the U.S. Space Command and about the addition of a third aircraft capable of monitoring atmospheric radiation.
"I guess I'm looking ahead," she said. "We have millions of dollars in new construction. We're getting a new runway. It was a fight. The fight has turned."
---
Offutt Air Force Base through the years