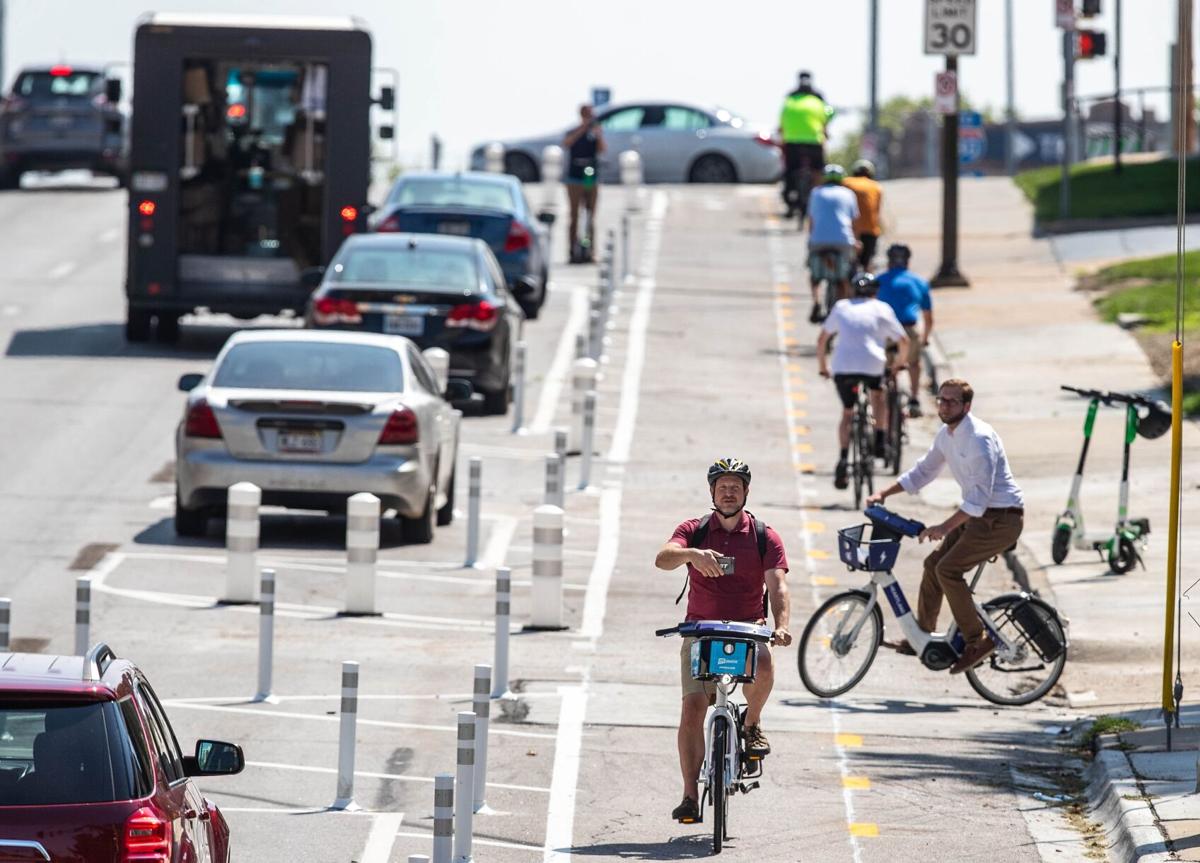 Omaha Mayor Jean Stothert used her veto pen Thursday to ax one amendment to the city's 2022 budget and three changes to the capital improvement program.
The vetoes targeted funding for a permanent bike lane, a bicycle and pedestrian master plan, streetscape improvements along North Saddle Creek Road and a website for Councilwoman Juanita Johnson, who represents northeast Omaha.
The council Tuesday will have a chance to override one or more of Stothert's vetoes. An override would require a vote of five of the council's seven members.
Stothert announced the vetoes in a press release Thursday.
One veto targeted an amendment to the 2022-27 capital improvement program by Council President Pete Festersen to provide permanent funding — $500,000 in transportation bonds — for the city's first protected bike lane along Harney Street. Another $2.5 million would come from private donors.
The bike lane opened to the public in late July and was developed as a pilot program to run through September 2022. It is being paid for by private partners. Stothert called the addition of funding "premature" until the city completes the pilot and evaluates how people use the lane.
She also objected to the proposed funding source for the permanent bike lane. Part of the money was to come from the city's fund for retaining wall repairs. The city has identified nearly 350 walls in need of repair.
Another veto slashed funding to implement recommendations of a forthcoming bicycle and pedestrian master plan. The city has partnered with the Metropolitan Area Planning Agency to develop that plan, which is expected to be completed in 2022.
The amendment was to use $1.25 million in transportation bonds to pay for the eventual recommendations.
Stothert pointed to a section of the city charter that says capital improvement program projects that use transportation bonds — as was proposed for the master plan implementation — must be for "capital improvements."
"Until this plan is completed, evaluated and approved, we cannot know if the recommendations will include capital improvements," Stothert said.
Festersen had sought that amendment, too.
Stothert vetoed another amendment by Festersen to pay for streetscape improvements along North Saddle Creek Road from Northwest Radial to 50th Street. The amendment called for using $300,000 in transportation bonds. Another $1.5 million was expected from private donors.
The amendment would have reallocated money from a fund used for urban design projects, but that money already is attached to other projects further along in the design phase, Stothert said.
"I do not support taking money from those projects to fund another that is in its infancy," she said.
The city should change the zoning of the North Saddle Creek area and create a business district before planning for the streetscape improvements, Stothert said.
In an interview, Festersen said he pursued the same process with the North Saddle Creek improvements as he did with business improvement districts in Florence, Benson and Dundee. He said that private partners have already committed money and that the business district will soon pursue an improvement district to help maintain the improvements.
Responding to the vetoes on bike infrastructure and the streetscape improvements, Festersen said:
"Business leaders and philanthropists and our young people all know that bike and pedestrian amenities, and historic neighborhood business districts, are important things to pursue to attract and retain our future workforce.
"The city needs to step up to the plate and be a good partner and start funding these projects," Festersen said.
Stothert also vetoed a $15,000 budget amendment sought by Johnson to create a webpage where Johnson said she could post city news, emergency information and employment opportunities for her constituents.
Stothert said new taxpayer-funded websites must be managed by the Douglas Omaha Technology Commission, called DotComm, which provides technology support for the city and Douglas County.
The mayor noted that the city's elected officials have existing webpages on cityofomaha.org. Johnson has said the existing pages do not offer enough updated, real-time information to constituents.
City money for an independent council website "is not appropriate or needed," Stothert said.
Festersen said he was pleased that four other amendments by the council will stay in the budget.
Those amendments will direct $90,000 to a mental health program, $40,000 to a skilled trades program, $40,000 to a small and emerging business program and $15,000 to support the planting of trees lost to the emerald ash borer and a powerful July windstorm.
The city's 2022 general fund budget, which pays for most basic city services, will be about $456.1 million. The total budget will be about $1.2 billion.
---