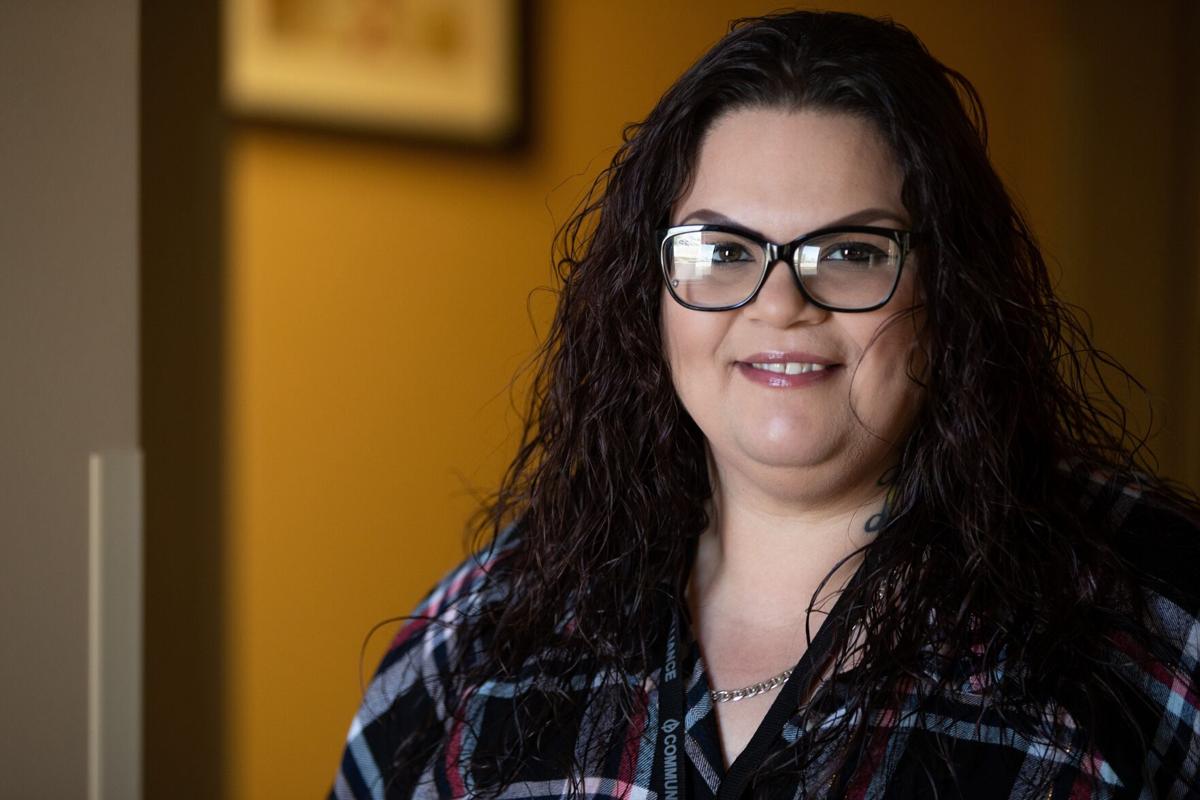 Megan Aguirre sat in a conference room at the Siena Francis House on an April afternoon. Her eyes lit up as she scrolled through her phone to pull up a photo of her teenage daughter.
"She's got As and Bs this year," Aguirre said, displaying the photo. "That makes me feel like I'm doing something right."
After a journey to recovery that spans more than a decade, Aguirre has experienced many milestones in the past year. She's renting a house, has re-established a relationship with her daughter and now works to help others on their own paths out of homelessness and addiction.
Aguirre, of Omaha, provides support to area homeless shelters as a peer support specialist with the nonprofit Community Alliance, which focuses on mental health care needs of people in the community. That support can include anything from providing a ride to a doctor's appointment, assisting with applications for state-issued ID, setting up email accounts and cellphones, or just giving someone in recovery a person to lean on.
The 37-year-old credits an addiction treatment program at an area agency for helping her become and stay sober.
The Miracles Addiction Treatment and Recovery Program is currently housed in the renovated Baright Building at the Siena Francis House, which provides emergency shelter, food and clothing to individuals experiencing homelessness.
The 80-bed residential treatment facility operates with the ultimate goal of ending chronic addiction and chronic homelessness.
There is a persistent need for the services. The annual point in time count, published by the U.S. Department of Housing and Urban Development in March, showed that 1,405 people in Omaha and Council Bluffs experienced homelessness at the time of the 2020 count. That figure has largely held steady over the past decade — the 2010 point in time count documented 1,429 individuals experiencing homelessness in Omaha and Council Bluffs.
The 2020 count also showed that 341 unsheltered people suffered from chronic substance abuse, a 14.53% decrease compared to 2019, though experts believe those figures underrepresent the true prevalence of addiction among the unsheltered.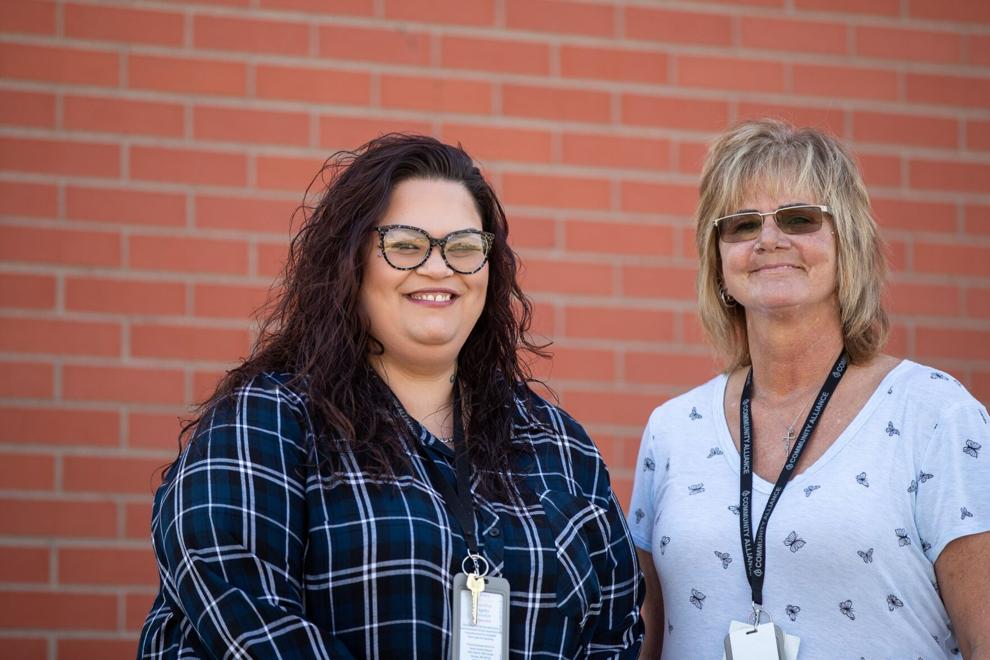 Aguirre experimented with drugs as a young teenager, spurred on by peer pressure and trauma experienced in her childhood.
When she first enrolled in the Miracles Program in 2014 it wasn't by choice. She had just served a 15-month sentence on a drug-related conviction when she was enrolled in the program. Aguirre and her counselors focused on addressing her trauma.
"When I was there, it was very comforting," Aguirre said. "It was a safe environment from what I was used to."
Aguirre was in the Miracles Program for two years and left in 2016. She returned in 2019 after experiencing homelessness and the death of a friend who had custody of Aguirre's daughter.
"I felt like I had nothing. I was living on the streets and I was actively in my addiction," Aguirre said. "I checked into the women's shelter, and I knew I had to do something different so I filled out the application."
At that time, Aguirre was told the Miracles Program may not be the right place for her, in part because she was experiencing severe mental illness after going without proper medication for three years. She was determined.
"I told them I'll do whatever you want me to do because I really want to get sober, and I really want to do treatment here," she said.
Aguirre put herself on "restriction," meaning she didn't leave the women's shelter. She didn't cross the street to eat in the shelter's dining room — instead she had her meals delivered so she wouldn't be tempted to use.
After three weeks, she was admitted into the program.
Throughout treatment, Aguirre said she "looked to God as her higher power."
"This time I knew that if I wanted to stay sober I needed to incorporate God and that's the best thing I've done in my program for recovery," she said.
Nearly a year after entering the Miracles Program, Aguirre graduated in July 2020.
Ryan Mahnke, the manager of the Miracles Program, was Aguirre's final therapist when she was in the program. He said people like Aguirre are sources of motivation.
"People like Megan are the reason we get up in the morning and come to our jobs just hoping that somebody in this program, just like Megan, is ready and willing to change their life."
Today, Aguirre rents a house with her aunt, who works as a drug and alcohol counselor, and she has full custody of her 15-year-old daughter, Reyna Aguirre, for the first time since Reyna was 6 months old. She also has a driver's license and a car and hopes to one day soon buy a house.
Aguirre's own journey to sobriety has helped her approach her work as a peer support specialist with a unique understanding and empathy, said Therese Coonce, a fellow peer support specialist and Aguirre's work partner.
Coonce has known Aguirre since 2015 when they were both enrolled in the Miracles Program.
Coonce said Aguirre "goes above and beyond" in her work.
"She cracks me up," Coonce said. "She's funny, very easygoing. She helps people with their taxes and helps set up phones and emails, just everything. She goes above and beyond."
Aguirre also knows a few of the people she helps from when she was staying at the shelter.
"They've seen me at that point, active in my addiction, and they can see where I'm at now. It gives them hope, I think," Aguirre said.
In her own life, Aguirre said her job has been a "blessing."
"This job's a blessing, just like the Miracles Program is a blessing for my life."
---