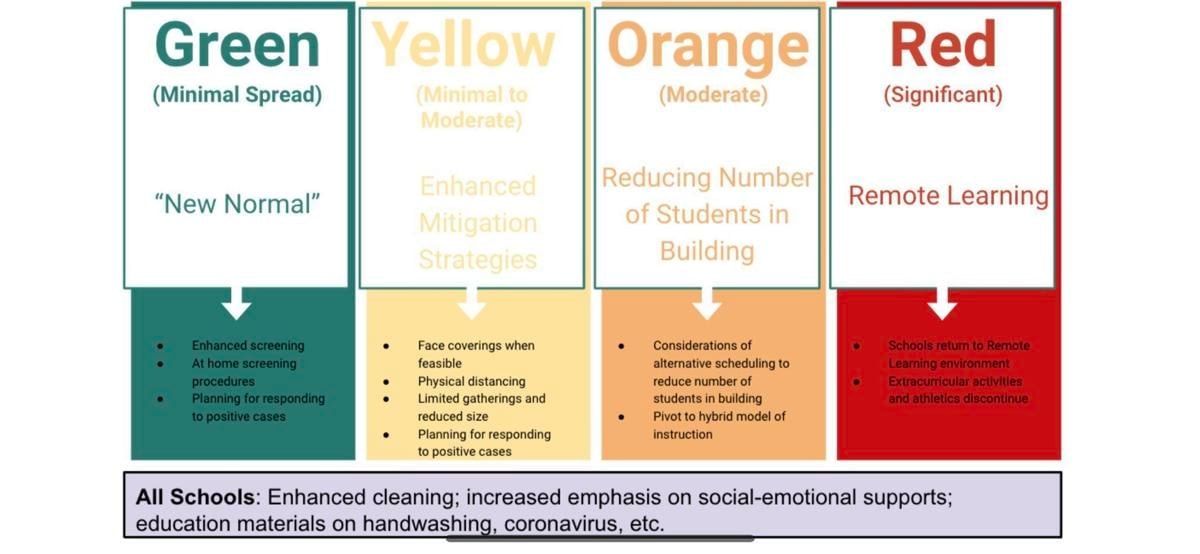 LINCOLN — Green means go to school.
And yellow or orange means proceed with caution or COVID-19 could get out of hand in your schools.
Parents could be hearing a lot about these colors as schools reopen.
State officials will use a color-coded scale based on infection rates, hospital capacity and other factors to help guide school shutdown decisions and health protocols this fall.
The scale of risk levels was revealed in new draft COVID-19 guidance from the Nebraska Department of Education.
Gov. Pete Ricketts and Nebraska Education Commissioner Matt Blomstedt held a press conference Friday to discuss plans to reopen schools this fall.
Ricketts reiterated that he won't mandate that school districts require masks. However, Blomstedt said, a student wearing a mask could possibly avoid a long quarantine if a classmate of theirs tested positive.
Ricketts and Blomstedt said it's important to get children back in the classroom, not only for educational reasons, but for the social, recreational, emotional and nutritional benefits that students receive.
Ricketts urged parents to be patient and gracious and said closings will be made almost on a building-by-building basis.
Back in March, the governor's rule of thumb for shutting down schools in the metro Omaha area was two cases of community spread.
The new guidance, which is not a mandate, sets a higher bar that officials say reflects the greater knowledge now of the disease.
It would allow schools in counties with few or no cases to open with near-normal operations.
Schools where students or teachers tested positive could experience isolated shutdowns, or quarantines of students identified through contact tracing, while the district still stayed open.
But if health officials determined there was a "high, uncontrolled community prevalence rate," that could put them into the red level and trigger an extended statewide school shutdown.
School officials would work with their local health department to determine the level of risk: green, yellow, orange or red.
» Green: Minimal community spread.
» Yellow: Minimal to moderate community spread
» Orange: Moderate community spread.
» Red: Significant community spread.
Some Nebraska county health departments, including Douglas and Lincoln-Lancaster, have posted on their websites colored dials indicating the county's current risk status.
Other health departments are going to use them, too, according to Blomstedt.
As of Thursday, Douglas County's status was yellow, and Lancaster County's orange.
The yellow and orange allow in-person school but with recommendations for masking, cleaning, hygiene and social distancing protocols — what most metro area schools are planning to do when students return in August.
The orange level, however, recommends further restrictions. For instance, the guidance recommends that districts in the orange level discontinue sports that do not allow adequate social distancing such as football, wrestling and basketball.
The red level would close school buildings and move students to remote learning.
School officials would rely heavily on their local health departments in making decisions.
While the local health departments would look at the same indicators, the thresholds for factors such as community spread would vary from one county to the next.
Blomstedt said that last spring, closure decisions were made with little knowledge of the disease.
The coded system is an attempt to base decisions on science, he said.
Taylor Gage, a spokesman for the governor, said Thursday that back in March, when the state had very limited testing and contact tracing, the governor worked with schools to close temporarily to help contain the virus.
"Now that the state has the resources to understand where the virus is and protect our hospital capacity, we expect schools to open and operate more normally this fall," he said.
Gage said that as in the past with flu outbreaks and other events, local school leadership will work with local health departments and the state to appropriately address coronavirus outbreaks.
"There is not a one-size-fits-all response, and we will work with schools as these events occur," he said.
Even before school starts next month some young people engaged in practices for fall activities have tested positive.
Nichole Niebur of Omaha wonders whether schools can keep the virus from spreading once kids convene in school buildings.
Her daughter, Emilie, a sophomore at Omaha Burke High School and a newly minted member of the dance team, received a positive test result July 8 for COVID-19 in spite of social distancing, health questionnaires and temperature checks at practices. She spent some time outdoors at the school track and some time indoors at a dance studio.
"Four days of two-hour practices with 18 girls … and my daughter gets COVID," she said. "That's how quickly and how easily this spread."
Hers is one of a number of reported cases the Douglas County Health Department has received in recent weeks among sports teams and other groups that have resumed games, practices and rehearsals.
Niebur said her daughter's symptoms have been relatively mild. But by mid-week, she'd had fevers for 11 days.
Niebur said Burke usually has more than 2,000 students, which will be cut to about 1,000 on a daily basis with the Omaha school district's 3/2 plan. But that's still a lot of people, particularly during passing periods. Niebur previously taught at Burke but is switching to a different district this year.
World-Herald staff writers Julie Anderson and Emily Nitcher contributed to this report.
Our best staff photos from July