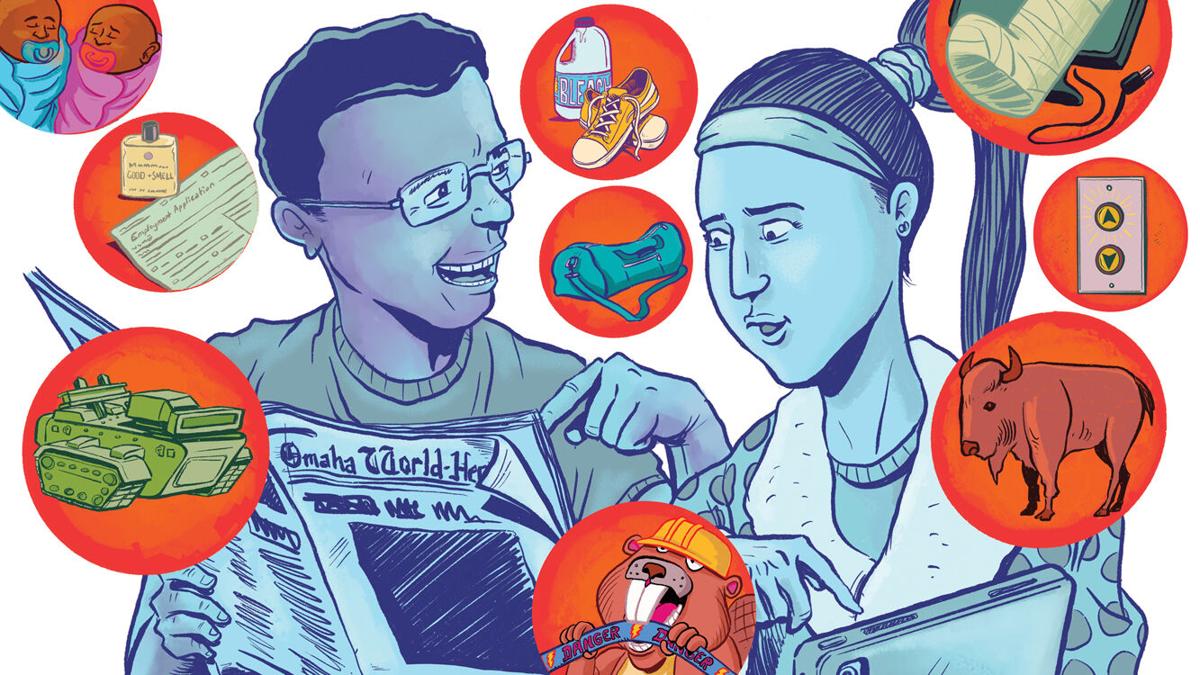 With so many people recording videos using their cellphones these days, it's harder for criminals to get away with their crimes.
It's also hard to escape detection when you fill out a job application at the store you're stealing from — and return later for a job interview. Or show your ID to the clerk of the store you're robbing.
The past year has been a weird one in Nebraska, and not just because of the coronavirus pandemic. People did goofy things, and strange things just happened. Here is a sampling:
JANUARY 23: A man who came to a Lincoln hospital with a broken leg was injured while stealing a TV, Lincoln police said.
About 1 p.m. Jan. 21, Lincoln police officers were called to the Waterbrook Apartments near 27th and Superior Streets to investigate a burglary. An 18-year-old woman reported that two people she knew were leaving her apartment with her property. Among an estimated $2,200 of belongings were TVs, a phone, a wallet with cash, shoes, a DVD player, a hat and a debit card.
The woman said she saw a man holding a stolen TV while lying on the ground and yelling that he had broken his leg. She also spotted a 35-year-old woman who was wearing a stolen hat.
The couple got into a truck and left the scene before officers arrived. Officers later received a call from a local hospital that a man had arrived seeking treatment for a broken leg.
Officers went to the hospital and were able to recover the 18-year-old's stolen property from the couple's vehicle.
FEBRUARY 3: A beaver was to blame — indirectly — for a morning power outage that cut electricity to about 900 Omaha Public Power District customers in western Douglas County.
OPPD workers determined that a beaver had weakened a tree, which wind then blew into a power line west of U.S. Highway 275 and south of Blondo Street, causing the outage, said Cris Averett, an OPPD spokesman.
The affected area was from Skyline Drive to 264th Street and from Bennington Road to about Pacific Street, Averett said. The area included Waterloo.
Stephen Bell, a spokesman for the National Rural Electric Cooperative Association, said Monday that the group's resident experts told him "any number of small mammals, birds and reptiles can cause outages if they're in the wrong place at the wrong time." Squirrels, snakes, cats, possums and raccoons were mentioned, he said.
When asked whether it's likely most of the animals didn't survive their encounters with electricity, Bell replied, "That's a fair assumption."
APRIL 22: A 20-year-old Bellevue man might want to review his shoplifting skills.
It took about five minutes on April 20 for store detectives to determine the name, address and phone number of the man they say walked out of the Scheels sporting goods store at Village Pointe without paying for a $40 bottle of cologne.
The man had surreptitiously slid the cologne bottle out of the box and into his pants, a Scheels worker said. The shoplifter then returned the box to its place on the shelf and left before store employees could stop him.
The man's first mistake was driving away in his father's Toyota Camry slowly enough to let an employee write down the car's license plate number. His bigger mistake: filling out an employment application when he arrived.
A loss prevention manager told police that while reviewing surveillance video of the incident, he noticed the man had completed a job application. The man's name, age, phone number and place of residence matched information police had gathered during numerous earlier arrests. A still photo from the video also matched the 20-year-old's mug shot.
Police told the Scheels employee that they would try to find the man to issue him a shoplifting citation.
That afternoon, the 20-year-old made it easy for the police to find him: He returned to the store for a job interview.
Someone from Scheels called police about 4:15 p.m. to say that the man was back. Officers arrived and arrested him on suspicion of shoplifting and then searched the car he was driving. They found the bottle of cologne in plain view and a small, clear pipe inside a black zipper container in the center console. They then cited him on suspicion of possession of drug paraphernalia.
AUGUST 20: A military vehicle belonging to the South Dakota National Guard was found abandoned along Interstate 80 west of Kearney, Nebraska.
A Nebraska State Patrol trooper learned that the vehicle, which looks like a tank and is used in engineering operations, was sitting on a parked trailer at the I-80 on-ramp near Overton, about 25 miles west of the Kearney exit, a patrol spokesman said. An investigation found that the trailer was abandoned sometime Aug. 19 by the driver of a trucking company contracted to move the vehicle.
The vehicle, which is part of the South Dakota National Guard 211th Engineer Company, was being returned to South Dakota after a training mission in California.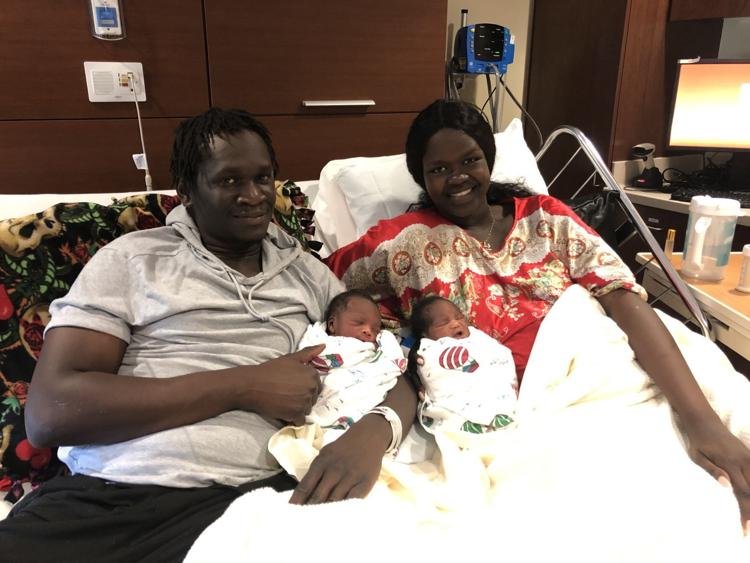 AUGUST 21: Nyaliep Nhial got a "two-for-one deal" with her first pregnancy.
The Omaha woman's experience delivering her twin girls at Creighton University Medical Center-Bergan Mercy was so positive that she decided to name one of the babies Mercy after the hospital.
Nhial went back to Bergan Mercy for another twofer. She gave birth Aug. 18 to a second set of twins — one boy and one girl.
The new set of twins — Kobe and Khan — will join 4-year-old sisters Kaygee and Mercy and 3-year-old brother Mogah.
Mom and Dad, Emmanuel Zakaria, didn't expect to have another set of twins. So they ditched lots of their spare baby gear such as cribs, carriers and clothes.
This time around, Nhial said she felt more prepared to carry and deliver twins. She delivered them at 37 weeks. Each of the babies weighed 5 pounds.
This set of twins completes the family, Mom and Dad said.
"Honestly, I feel like God is giving me this two-for-one deal that I didn't ask for, so I'm going to call it quits after this," Nhial said. "I don't want to gamble with it."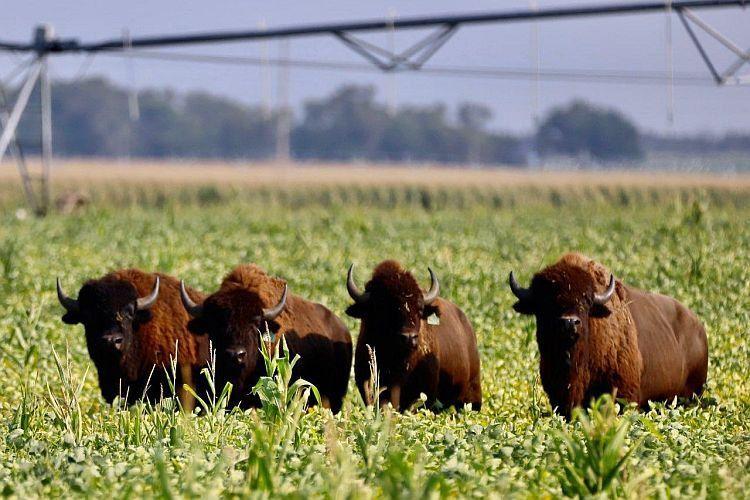 AUGUST 27: The owner of the 125 bison that escaped from a feedlot south of Overton, Nebraska, hired a Kansas company to help wrangle them.
Five of the bison were hit and killed by vehicles, the Phelps County Sheriff's Office said. One county resident also shot one of the animals, Sheriff Gene Samuelson said.
The bison escaped about 5 a.m. Aug. 26 from Valley View Feeders, which is south of Interstate 80 and the Platte River. Officials were alerted to the escape when a semitrailer truck hit a bison.
A person in the office at Valley View Feeders said that the animals headed south from the feedlot after they broke down a gate. She said feedlot workers were out in the morning trying to corral the animals, which had broken into many small groups.
Overton is about 25 miles west of Kearney.
SEPTEMBER 8: Tip to thieves, No. 168: If you're going to rob a store, don't show your ID to the clerk you're robbing.
Lincoln police arrested a 21-year-old man on suspicion of robbery after they say he grabbed cash out of a register and ran out of the Walgreens at 14th and Superior Streets.
Police said the man came into the store after 7 a.m. Sept. 7 and bought cigarettes. He then jumped over the counter and grabbed the money.
The man had showed his driver's license to the clerk to prove he was old enough to make the purchase.
The Walgreens worker gave officers a copy of the man's driver's license. Police discovered that he owns a vehicle matching the description of the getaway vehicle.
Just before 9 p.m., the man called Lincoln police and said he knew that officers were searching for him. Police said they went to a home west of the Lincoln airport and recovered the cigarettes the man had purchased as well as some bills possibly stolen in the robbery.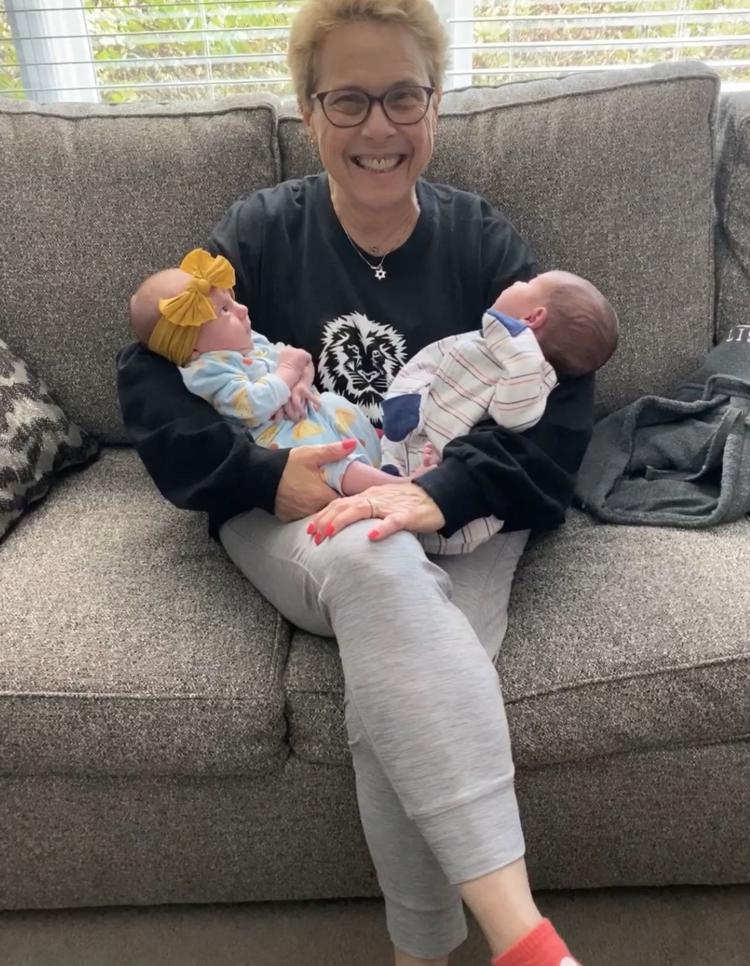 OCTOBER 7: Sandy Gordon had a flashback as she sat on her couch cradling a newborn baby in each arm.
It took her back 28 years, to be exact.
She recalled holding her twins, Ben and Becca, the same way.
But this week, she held Ben's newborn daughter in her right arm and Becca's newborn son in her left.
"It was remarkable," Gordon said. "I just wanted to cry. It was amazing. It was every adjective to express joy."
Ben Gordon and his wife, Brooke, welcomed their daughter Freya Elizabeth on Sept. 8. Becca Butcher and her husband, Joe, welcomed their son, Nash Douglas, on Sept. 11.
It was a surprise to learn that each twin was expecting a baby in September, Gordon said.
Ben and Brooke announced they were expecting their third child at a family dinner. Becca flashed a quizzical glance at her mom. Later, she met her mom in the kitchen and asked, "How would you feel about having another grandbaby in September?"
Gordon, a mother of four and now a grandmother to seven, started crying over the news that her daughter was pregnant with her first child.
The two babies were together in October for the first time. Both moms were excited about the cousin gathering, too, Gordon said.
"It's been a year. Everybody's going through this," Gordon said. "You need something to put a smile on your face."
OCTOBER 12: A Lincoln home caught fire after a bag of charcoal stored in the attic spontaneously ignited.
Lincoln Fire & Rescue crews responded to the fire just after 6 a.m. Oct. 10 at a home near 68th and Adams Streets.
The type of charcoal in the bag contained lighter fluid, said Nancy Crist, a Fire Department spokeswoman.
"When you store something like that in a hot space," Crist said, "those vapors from the charcoal can spontaneously ignite if they get too hot. It's a very unique, strange situation."
No one was injured in the fire, but it caused $65,000 in damage to the structure and contents.
NOVEMBER 16: A 25-year-old armored car guard lost his job after he admitted that he accidentally fired his handgun in the elevator of a west Omaha office building.
The incident occurred Nov. 12 at the corporate offices of Methodist Health Systems near 169th and Leavenworth Streets. The building's safety director told police that an employee heard a loud noise that sounded like a gunshot coming from an elevator.
An officer from Armored Knights, who had picked up some money, got off the elevator and exited the building. An investigation of the elevator found a bullet hole that had gone through the inside door and partially through the outside door. A dent protruded outward on the outside of the elevator door.
Surveillance video showed the Armored Knights guard getting off the elevator and leaving the building soon after the noise was heard.
A company supervisor contacted the guard, who admitted that his Springfield 9 mm pistol with hollow-point ammunition had accidentally discharged but that he was too scared to say anything.
The guard told police that his holster was too far back on his belt, digging into his side and pulling his pants down. He said he tried to remove the gun from the holster in the elevator to decrease the weight on the belt. He told the officer that his finger must have been on the trigger when he pulled out the gun. The guard said he usually doesn't keep a round chambered and was surprised when it went off.
DECEMBER 1: A woman who allegedly tried to shoplift items from a store in Omaha's Old Market left behind cash, a check and her phone, police reported.
The incident occurred Nov. 24 near 13th and Harney Streets. The owner of the store told police that a woman entered the business shortly after 4 p.m. and began loading some personal items and store goods into a duffel bag. She then tried to leave without paying, the owner said.
A 23-year-old male employee blocked the woman's exit after a store alarm sounded. The woman then allegedly grabbed the employee by the groin while pushing past him.
The employee grabbed the duffel bag from the woman and took it back into the store. The woman returned but fled when she heard the police had been called.
A search of the bag found several items belonging to the woman, including a check from the Douglas County Correctional Center and $421.50 in cash, plus store items. The store staff also found a phone plugged in at the store that traced back to the name of the woman on the check.
While officers were booking the property into evidence at Central Police Headquarters, the 29-year-old woman returned to the store to retrieve her property and began fighting with the staff. Police arrived and arrested the woman on suspicion of felony shoplifting and third-degree assault.
DECEMBER 5: A man returned to his north-central Omaha apartment early on Dec. 4 to find that it had been ransacked. The Christmas tree by the front door had even been overturned.
The man, who is 20, reported the damage to Omaha police. He told officers who came to the apartment near 72nd and Maple Streets that he thought that his girlfriend, also 20, had caused the damage.
Well, the man said, a few hours before, she had found out that he had been cheating on her with a mutual friend.
The woman started yelling and cursing at him, the man said, so he left the apartment about 5:30 p.m. Dec. 3 and returned just after midnight to find the mess.
Soiled baby diapers had been emptied from the trash onto the base of the bed, near an overturned mattress. Clothes that had been thrown into the bathtub had been soaked with bleach and baby powder. Other clothes were strewn around the bedroom, dining room and living room. A $100 pair of white tennis shoes had been destroyed with bleach.
The dining room table was knocked over, and a mirror on the nightstand was broken.
Baking soda covered both couches and a dismantled dog kennel. The white Siberian husky puppy that lived in the apartment was gone. Also missing were a PlayStation 4 and two katana swords. The man said the dog, the video game system and the swords belonged to him.
The officers took photos of the apartment and listed the damaged and missing property in their report. They advised the man to spend the night somewhere else in case the girlfriend returned.
The estimated amount of damage and cost of the missing items was $1,620.
DECEMBER 7: An Omaha man shot himself in the groin while putting away a handgun.
The 27-year-old man accidentally shot himself about 4:30 p.m. Dec. 4 in a home near 102nd and Maple Streets. He told police that he and his wife were packing to move out.
The man said he was sitting in his bedroom and had just finished cleaning a Springfield XD 9 mm handgun. As he attempted to move the gun from his lap to a case, the gun discharged a bullet that grazed the right side of his scrotum.
The man's wife told police that she heard a gunshot and saw her husband run from the bedroom. She drove him to Methodist Hospital, where he was to be stitched up.
Police said the man has a concealed carry permit.
World-Herald staff writers Alia Conley, Bob Glissmann and Kelsey Stewart contributed to this report.
---
Our best Omaha staff photos of 2020