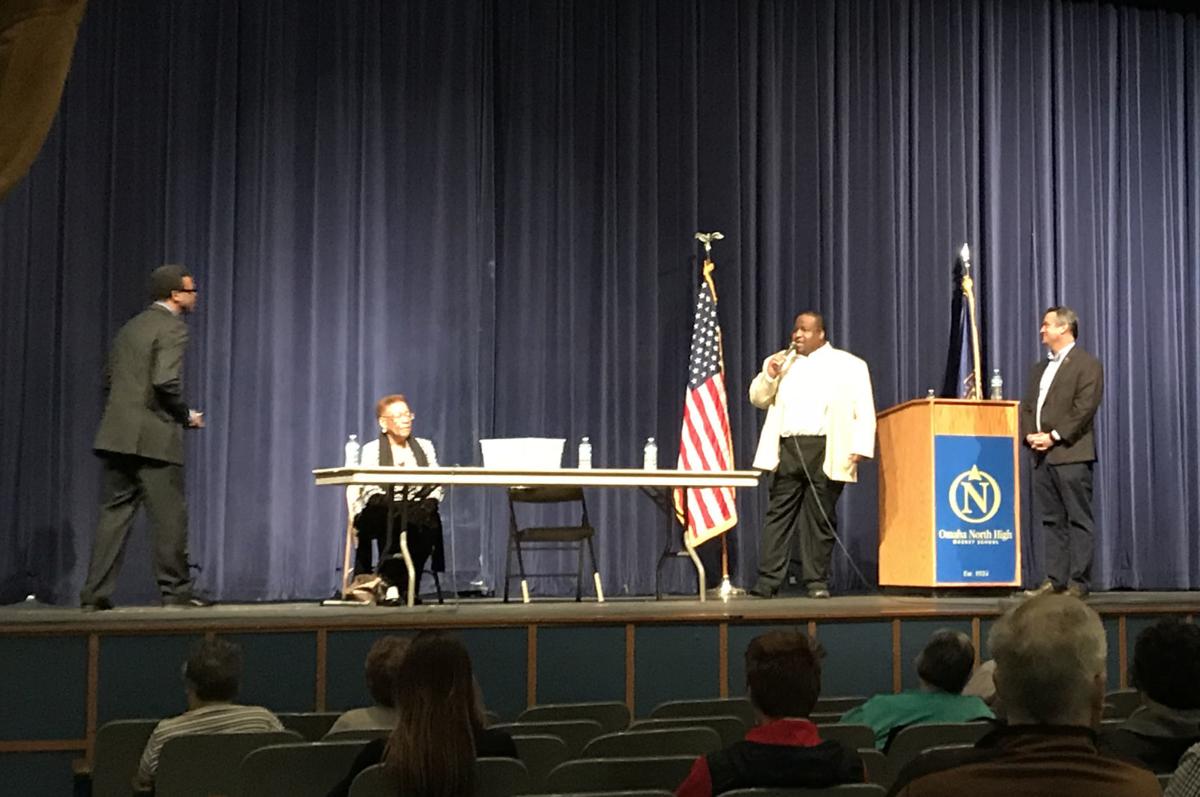 Congressman Don Bacon faced a barrage of sometimes emotional questions from the left and the right in north Omaha on Saturday during his first town hall of 2018.
Moderators William King and Tommie Wilson chose from questions written by audience members, and the questioner could ask follow-ups after Bacon's response.
The topic of guns elicited strong responses from both sides during the event at North High School.
The Republican, who represents the Omaha area, also talked health insurance, border security, Syria, medical marijuana and the Russia investigation.
On guns, Bacon elicited cheers and boos when he said: "I oppose banning semi-automatic weapons. I think it goes against the Second Amendment. I campaigned on our Second Amendment, and people voted for me on it."
He said he thinks reasonable people can find common ground on school security measures such as putting more police officers in schools and mental health services. But several audience members yelled, making clear they did not see common ground, particularly on the security officer issue.
After the town hall, Bacon said he has been paying attention to the pro-gun control movement post-Parkland shooting. He said he supports a bump stock ban and would like to see Congress allow retired police officers to more easily obtain a concealed carry permit.
In response to shouted questions, Bacon said he would not support a Medicare-for-all or single-payer proposal.
He said health insurance is a priority of his, and his goals include expanding health savings accounts and a proposal for states to create high-risk insurance pools.
The 2nd District congressman also told the crowd of about 150 that the border is a homeland security issue, and he said that 15 terrorists attempt to enter the country each day.
His statement prompted some incredulous laughter from the crowd.
After the town hall, Bacon said that figure came from a briefing from the director of Homeland Security.
He said he's asked the administration to release a declassified report about the issue so the public can better understand the security threats facing the country.
On Syria, Bacon said it was a mistake for President Donald Trump to say he was going to pull U.S. troops out of the country. He said he supported the decision to send airstrikes after suspected chemical attacks against citizens.
Syrian President Bashar Assad "deserved a punch in the nose for gassing his own people," Bacon said.
And on the question of medical marijuana, Bacon said he doesn't personally support legalization but believes states should make the decision.
Bacon was also asked if he would support a bill to protect special counsel Robert Mueller from being fired as he investigates possible Russian collusion with the Trump campaign.
The bill is currently in a Senate committee. But when pressed, Bacon said of the bill: "I'm inclined to support it, yes."