"It's just wonderful to be able to gather people together again," said the Rev. Greg Griffith, lead pastor at King of Kings. "We've worked very hard for people to be able to come together and celebrate Easter as they worship Jesus in whatever way is most comfortable."
In 2020, hallelujahs were expressed in the form of vehicle horns honking across the parking lot of the church, which is near 116th and I Streets in southwest Omaha. The news of the resurrection of Jesus Christ was broadcast on a 12-by-20-foot video screen in the parking lot.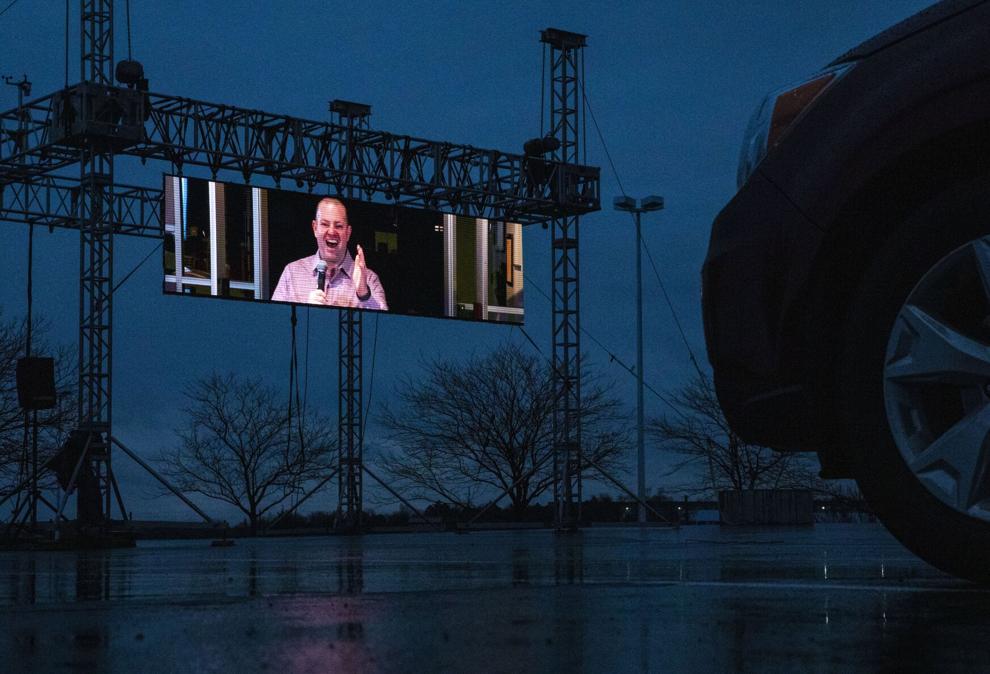 The congregation tuned into a local radio station to hear the service or watched at home on the King of Kings website. Don and Diane Kappel of Omaha sat in their car on that cold and rainy day, watching the big screen and listening to the service on the radio.
Church members since the early 1990s, the Kappels said this Sunday marked their first time attending indoor services in a year. King of Kings has been holding inside services since Christmas with social distancing guidelines in place.
"Hallelujah," Don Kappel said after Sunday's 9 a.m. service. "Last year, we felt so isolated. It's so much better with the intimacy of being with your family and friends."
The Kappels have both been vaccinated and said they were looking forward to a family gathering Sunday afternoon. Don, a retired chef, was preparing "surf and turf" with baked Alaska for dessert.
"We are getting the whole family together, 10 of us," he said. "It's the first time in at least a year, and we're so excited to be back together."
Cindy Range watched the 2020 Easter service at home on the King of Kings website. She has been a church member for 20 years and said she was "really excited" to be able to celebrate this Easter with others inside the church.
"We are just happy to be here," Range said. "With the weather so beautiful today, this is very different from last year. It's so much better to be among people."
King of Kings Church began in 1962 with 75 members and is affiliated with the Lutheran Church-Missouri Synod, a mainline Protestant denomination. Holding services in a parking lot, while necessary for social distancing, is something Griffith hopes to never do again.
As services have moved back inside, the church has continued a policy of requiring face masks and social distancing, Griffith said. Reservations were required for all the Easter services, with each family group separated by at least two chairs.
"We're really focusing this year on how our story becomes Jesus' story," Griffith said. "Part of that story is our togetherness while celebrating the resurrection of Jesus Christ."
Griffith has noticed a steady increase of participants at Sunday services as more people receive COVID-19 vaccinations. Every week, he said, seems like Easter, with more and more familiar faces returning.
"Each week, we get a little more of the picture of what heaven will be like with the gathering of people and being able to see them rejoicing," Griffith said. "They are celebrating and being part of a community that's bigger than themselves."
Our best Omaha staff photos of March 2021