Last year was rock bottom for the Omaha Police Department's air support unit.
A helicopter crash in April, ruining one of the department's three available helicopters. A second crash in August, totaling another chopper. No flights at all for 39 days, and only 454 hours in the air all year — about half the normal amount of use.
On top of that, an outside review of Omaha's air unit suggested a need for experienced leadership. And police officials recently acknowledged that the department's pilots lacked enough consistent training.
The rough 2019 forced the city to spend $2.7 million for a replacement helicopter, and it has prompted changes in how the department runs its air unit. Among other moves, the city hired former Nebraska State Patrol Capt. Frank Peck as the unit's new chief pilot and reassigned former commanders and pilots.
Pilots now will be required to attend yearly training at flight schools, and the department is restarting a tactical flight officer program in an effort to stay safe and increase flight time.
"(The crashes were) a blessing in disguise," said Deputy Police Chief Kerry Neumann, who oversees the police services bureau and the air support unit. "We see our areas that we've missed. We have taken huge steps to address them."
Those steps are important, partly because city taxpayers may spend $2.1 million this year in salaries, benefits and expenses to operate the program — and that doesn't include buying any helicopters. And it's also because Omaha police and outside experts think an effective air unit gives law enforcement a tactical advantage in fighting crime. Having eyes in the sky means police can pursue suspects with less risk, enhance officer safety by providing vital information and help rescue stranded or missing people.
"I believe that people can probably see an aircraft and I think it can deter crime," Peck said. "Maybe it'll make somebody make a better decision. Who knows how many people stop or don't even get involved in those types of activities because that aircraft potentially is there?"
One problem: That aircraft may not be overhead often enough.
The number of hours Omaha police helicopters spent in the air last year was unusually low, thanks to the two crashes. But even before then, flight hours had dropped substantially over the past two decades.
Hours spent in the sky have fallen from 2,054 in 2000 to 935 in 2018 — the last year the unit was at full strength with three available helicopters. That's a drop from about 5½ hours per day to 2½ hours per day.
A World-Herald analysis of the past 20 years of the air support unit's statistics also showed declines in the total activity and the number of times the unit assisted other agencies.
Activity includes officer-initiated requests, radio calls via 911 dispatchers and other assignments, which could count several different scenarios ranging from scheduled maintenance, parade coverage or a planned SWAT operation. While assignments increased 29% from 2000 to 2018, officer-initiated requests decreased 19%, and radio calls decreased 67%.
In 2000, the unit helped out other agencies 390 times; a year later, it happened 505 times. In 2018, the number was 117.
And each year, at least 76 and as many as 205 vehicle and foot pursuits have involved an Omaha police helicopter.
Neumann said a number of factors could have caused the drop of flight hours, citing management changes, staffing, weather and maintenance. He said flight hours in the 900 range were deemed acceptable in the past seven years. But he also said he hopes that yearly flight hours will rise to 1,200 or so by 2021.
"We are committed to flying when the situation calls for it, if it's safe to do so," he said. "But we can improve on those flight hours. … I know we can do better than that."
Studies have shown that having a helicopter in the air can deter crime, said Daniel Schwarzbach, president of the Airborne Public Safety Association. But a department's budget determines whether a helicopter goes on patrol regularly or just responds to calls as needed, he said, noting that the cost of helicopter parts and fuel have increased in recent years.
"If a police department's budget is cut, it directly impacts the flight hours," he said.
The total budget for the air support unit, including payroll costs, has increased from $792,000 in 2002 to $2,139,000 this year. Adjusted for inflation, that represents an 85% increase. Over two decades, the unit has also added two pilot positions — one of which now includes Peck, who is paid $115,086.
Neumann said the air support unit's budget is one of the department's largest, outside of new cruiser purchases. He explained that all costs are increasing, but he doesn't think the fuel budget limited the number of flight hours.
"I think our fuel budget was adequate throughout all those years," he said.
Schwarzbach looked at the department's spending and budgets in the past two decades and said they fell in line with the normal costs of running a helicopter unit.
"Neither (is) excessive in the helicopter world," said Schwarzbach, who spent 30 years as a pilot in the Houston Police Department. "I'd say OPD cost per flight hour over this period of time is in the ballpark."
Neumann said that before the unit was down to one helicopter, pilots would work 12-hour shifts and try to do two flights per shift, depending on weather, maintenance or staffing. The unit doesn't operate 24 hours a day, seven days a week, but pilots plan to fly at peak crime times, based on data. Neumann declined to say how many hours per week pilots are on duty but said they can be on call for emergency situations, too.
The department hopes to deploy the unit's second helicopter by June 1 — a used 2012 Bell 407 GX. The $2.7 million helicopter is bigger and more powerful than the current one. It can carry seven people and perform larger rescue missions, something the unit's previous smaller Bell 206 helicopters couldn't do.
Neumann and Peck defended the purchase because of the rescue capabilities the new helicopter will have.
"You kind of want to be able to respond to the worst case imaginable, and I'd rather be in a position to know that we can do it and support and save lives and support the men and women on the ground, versus going, 'Boy, I sure would love to be able to do something, but we can't,' " Peck said.
Omaha police officials said they think Peck will help improve the unit. He had commanded the State Patrol's air unit since 2003 and was hired by the department in January.
"No question, the last two years, the management of that unit had absolutely deteriorated to a point where people were becoming complacent," said Keith Edquist, the owner of the North Omaha Airport, where the unit was based for 22 years before moving last year. "And complacency is what's going to get you hurt on a helicopter."
Schwarzbach said it's quite uncommon for an agency to have two aircraft crashes in one year.
"Within the industry, we try not to crash our aircraft. Those incidents are expensive and also bring negative publicity," said Schwarzbach. "It's rare that a city or state or local law enforcement unit would have two incidents in a year."
Omaha's unit began in 1997 with four helicopters that were military surplus choppers and given to the department for free. Three of those were normally ready to fly at any given time — until 2019.
The unit started with four pilots, added another in 2004 and another in 2012 to make six, which is the number today.
Two pilots must fly together — one to steer the helicopter and the other to operate the infrared camera and integrated map tracking system. If a pilot was sick or on vacation, that affected the flight availability for that shift, Neumann said.
From 1999 to 2003, the unit had a full-time tactical flight officer, a trained officer who could do the surveillance part of the helicopter patrol. From 2003 to 2007, the unit used part-time tactical flight officers as needed. After 2007, TFOs no longer were used.
Currently, Sgt. Allen Straub, who oversaw the unit from March 2019 until January, serves as the unit's only qualified tactical flight officer. Neumann said Omaha police plan to bring the TFO program back and train more officers to work as part-time TFOs. It would be a secondary job, like the SWAT team, and officers would be called in as needed. Having TFOs can free up another pilot who can be available to fly the helicopter instead of just doing surveillance, Neumann said.
"That will give us more assurance that we'll be able to get that helicopter up in the air on a regular basis," he said.
The department also is beefing up its training program. For one, the pilots will attend about a week of training at a flight school to learn how to fly the new 407 chopper. Additionally, the department will now pay for pilots to go to annual training at a manufacturer instead of using Omaha's own helicopters for training exercises. Schwarzbach said many agencies now use either simulation training or send their pilots to flight schools instead of risking damage to their own aircraft.
"Performing training maneuvers in the factory's aircraft, while not cheap, is usually more cost-effective than in your own aircraft due to the occurrence of incidents that damage aircraft, not to mention the wear and tear on the airframe," Schwarzbach said.
"It's better to go somewhere else — it's their liability, it's on them," Peck said.
One of last year's crashes occurred while pilots were attempting a training maneuver. The other occurred on a flight to a planned training day.
Police officials already had been making changes to the unit's training protocols last year before the crashes. They had hired Oliver Enterprises in April to assist in training after training with an in-house certified flight instructor had been "inconsistent," Neumann said.
"(The problem was) the lack of outside, consistent, routine training. A second set of eyes on our group," he said.
While a helicopter was flying to the second day of training at Blair Municipal Airport from the North Omaha Airport on April 16, pilots made an emergency landing and damaged the tail. Officers Dustin Hill and Matthew Baughman were uninjured.
A National Transportation Safety Board aviation report said the pilots reported a loss of rotor RPM and engine power of the Bell OH58, but an engine examination later showed that it "responded normally to all power demands." The NTSB report didn't conclude how or why the engine loss occurred.
Neumann said Oliver Enterprises was scheduled to return for training in September, but then another crash occurred Aug. 16. Baughman and Officer Brian Yaghoutfam crash-landed the Bell 206 helicopter on its side after a loss of engine power occurred while the pilots were performing a training maneuver at the Blair airport, according to an NTSB report.
The unit was shut down until Sept. 24, and Oliver Enterprises was brought in to conduct a full inspection of the unit. The report, which city officials denied to release in full despite a World-Herald public records request, recommended that the unit hire an "experienced aviator in a command leadership position," city documents said.
Schwarzbach said that of the 16 law enforcement agencies across the country that are accredited through his association, none has had as many crashes as Omaha within such a short period of time. To be accredited, he said, agencies must follow strict guidelines that are considered the best practices for the industry.
"For those units that have adopted the standards, they certainly haven't seen incidents like Omaha had this past year," he said.
The organization held its annual training and educational conference in Omaha in July 2019. Peck said all of the Omaha police pilots are members, but the unit is not accredited, although that is an "end goal."
Peck promised change, and he said the unit's pilots have been open to that.
"Just give us a little time. I'm pretty confident," Peck said. "We have the right staff, the right pilots, the right maintenance, the right support. It just takes a little time to get back to where we should be able to be."
Canada geese fly over Flanagan Lake at sunset in Omaha, Nebraska.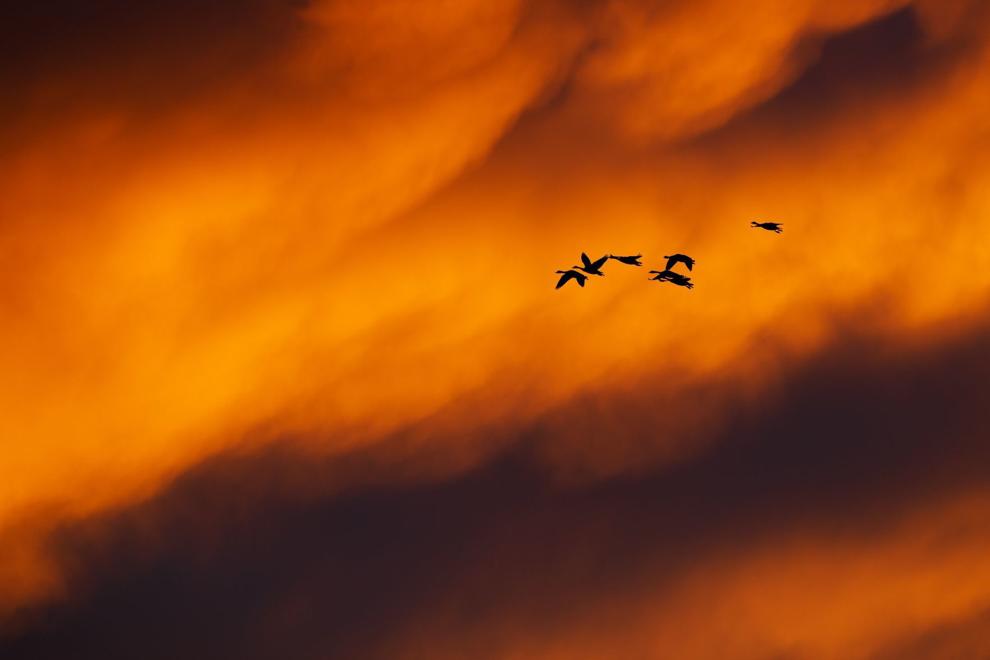 Director and CEO of Omaha's Henry Doorly Zoo and Aquarium Dennis Pate, speaks to the media about newly hatched gentoo penguin chicks before they enter their habitat in the Suzanne and Walter Scott Aquarium at the Henry Doorly Zoo.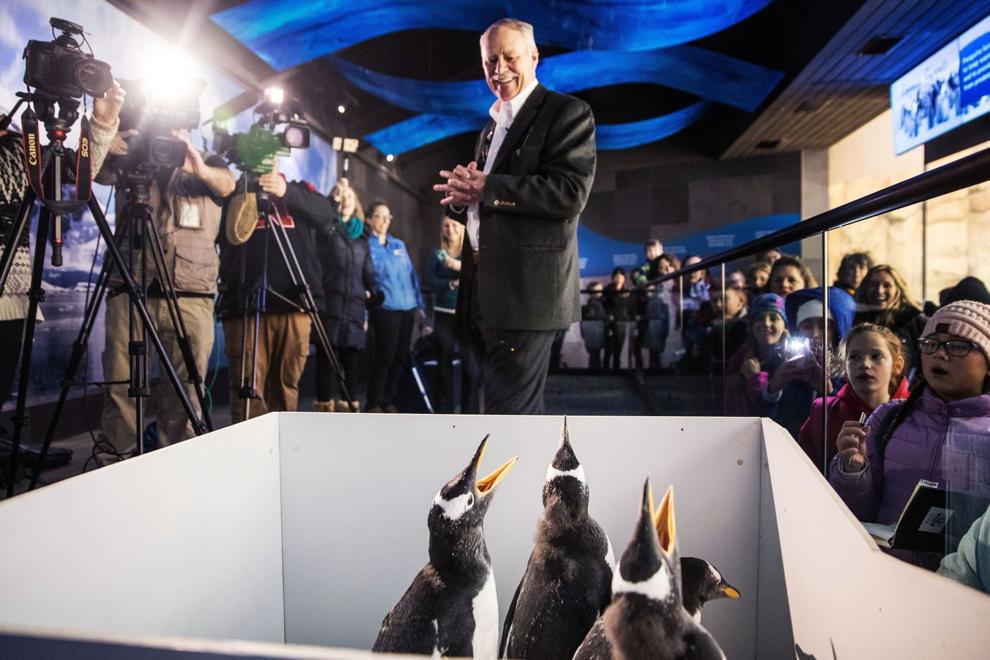 Creighton players huddle up prior to a college basketball game against Georgetown at the CHI Health Center.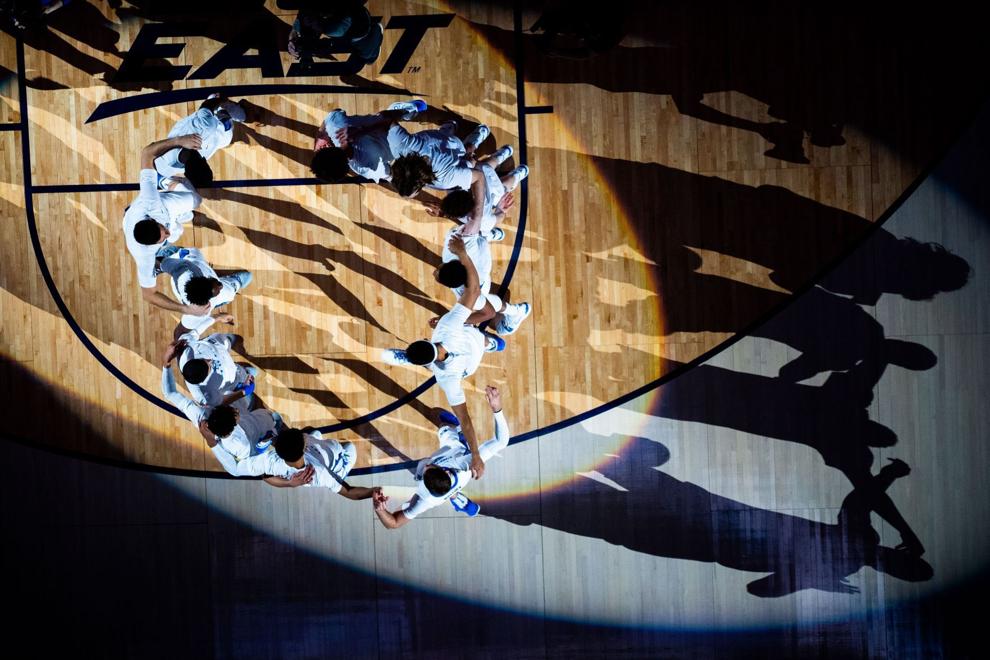 Charles Relford waits to pick up his brother at 24th and Pratt Streets with his three dogs.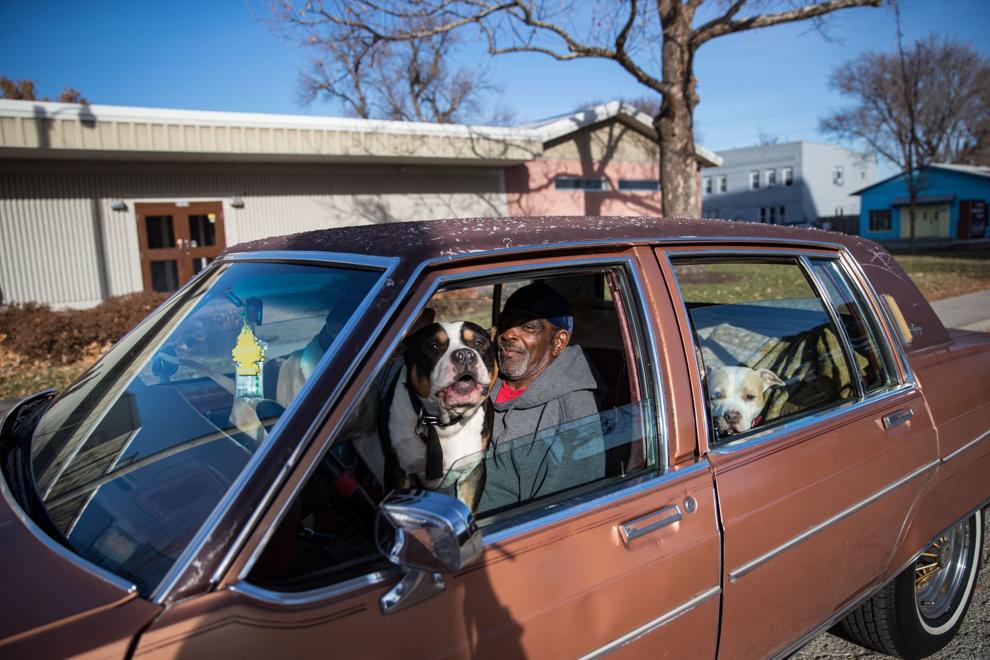 Two-year-old Hannah Bonnot of Denver, Colorado, stands in awe before "Mountain Outlaw" taken at Grand Teton National Park, Wyoming, on display at Tom Mangelsen's "Life in the Wild" exhibition at the Durham Museum in Omaha, Nebraska.
High School football players from Nebraska and Iowa who have been selected as the Omaha World-Herald's Super Six pose for a portrait at the boxing arena located at Camp Ashland in Ashland, Nebraska.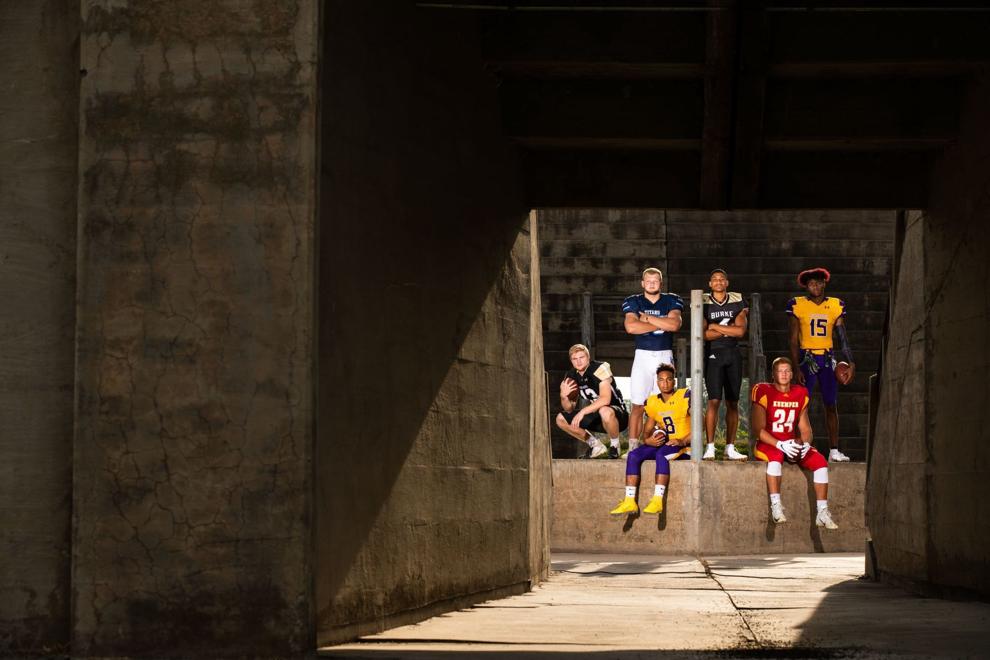 Bellevue West teammates, from left, CJ Lilienkamp and Devin Mills make snow angels as they celebrate their Class A state title win over Westside.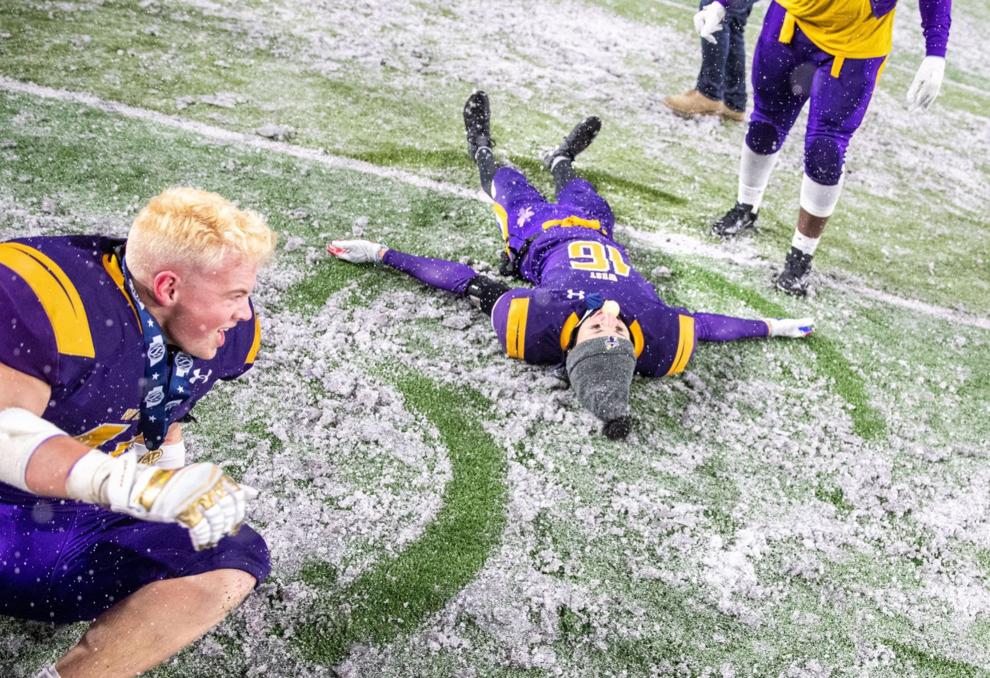 Craig Bachmann throws a training dummy for his dog, Bedlam, a Chesapeake Bay retriever, to retrieve at Standing Bear Lake in Omaha, Nebraska. Bachmann said he was doing some obedience work with Bedlam as well as some lining drills.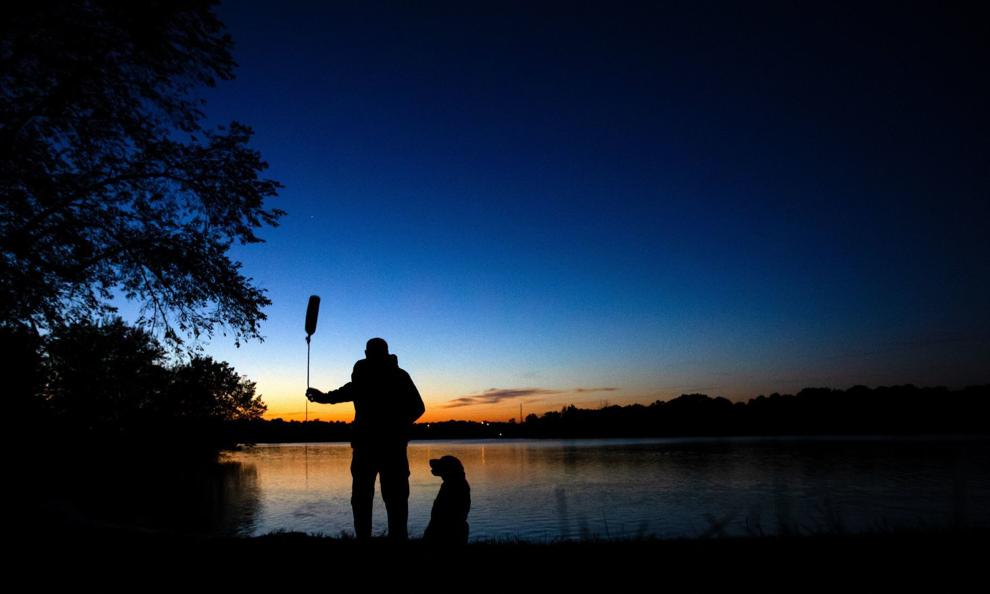 Seventh-grade students from Nathan Hale Middle School are reflected in a The New Negro Escapist Social and Athletic Club a portrait by Rashid Johnson while touring 30 Americans, an exhibition from the Rubell Family Collection at the Joslyn Art Museum.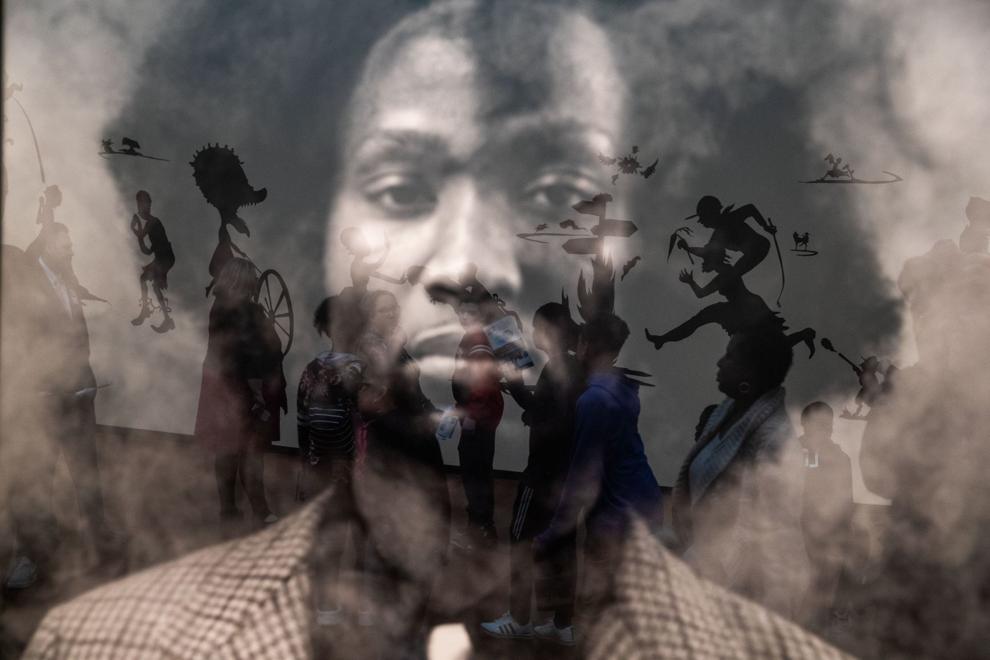 Water covers a road near Valley, Nebraska, on Friday, March 15.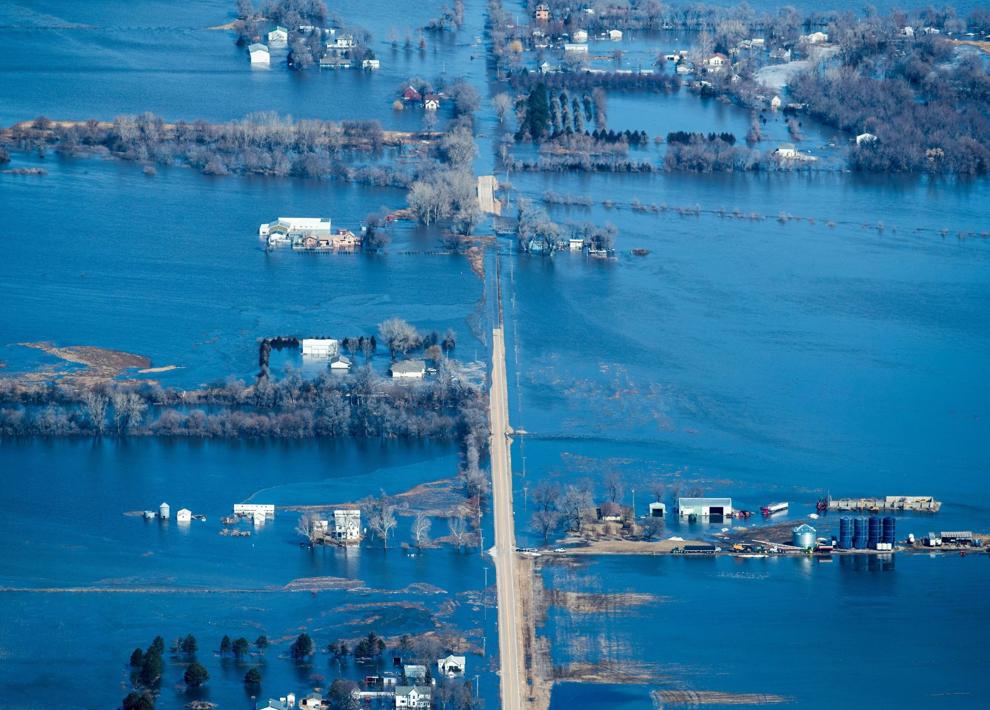 Joe Zavadil, 14, of Omaha, leaps to a lower level of berm seating during the Class B girls state soccer championship game.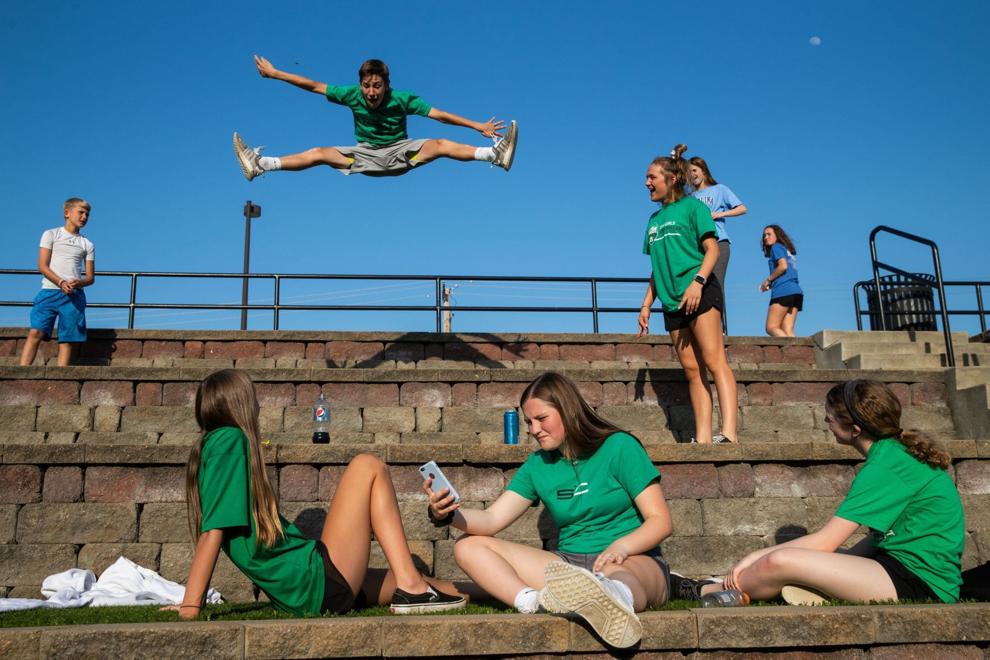 Detroit Tigers' Miguel Cabrera signed autographs for fans prior to a Major League Baseball game against the Kansas City Royals at TD Ameritrade Park.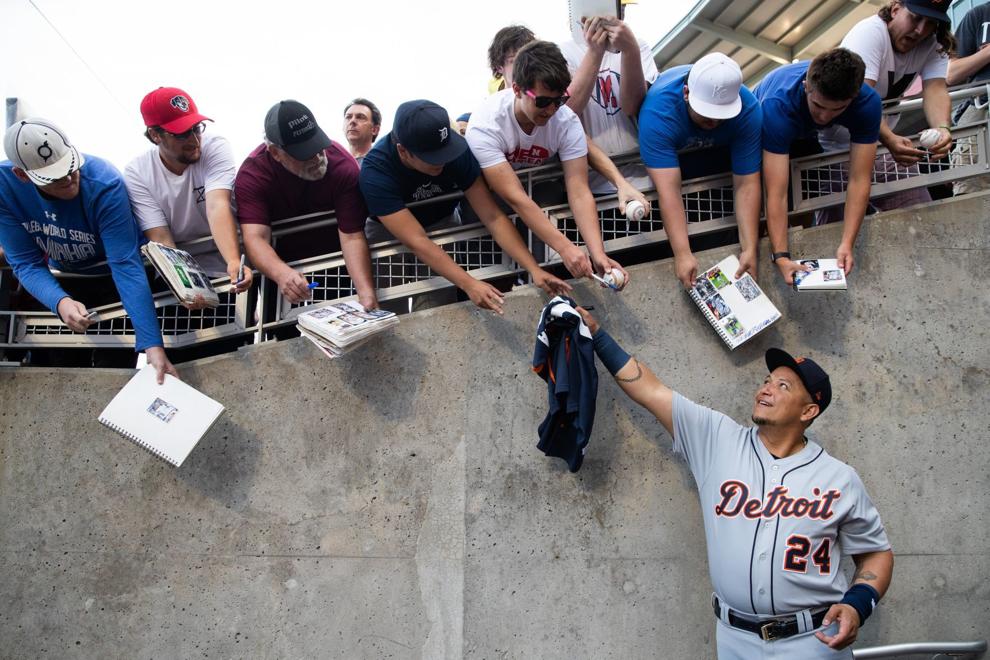 Jim Linafelter of Sergeant Bluff, Iowa, and other Husker fans celebrate a third-down stop for Nebraska's defense against Northern Illinois.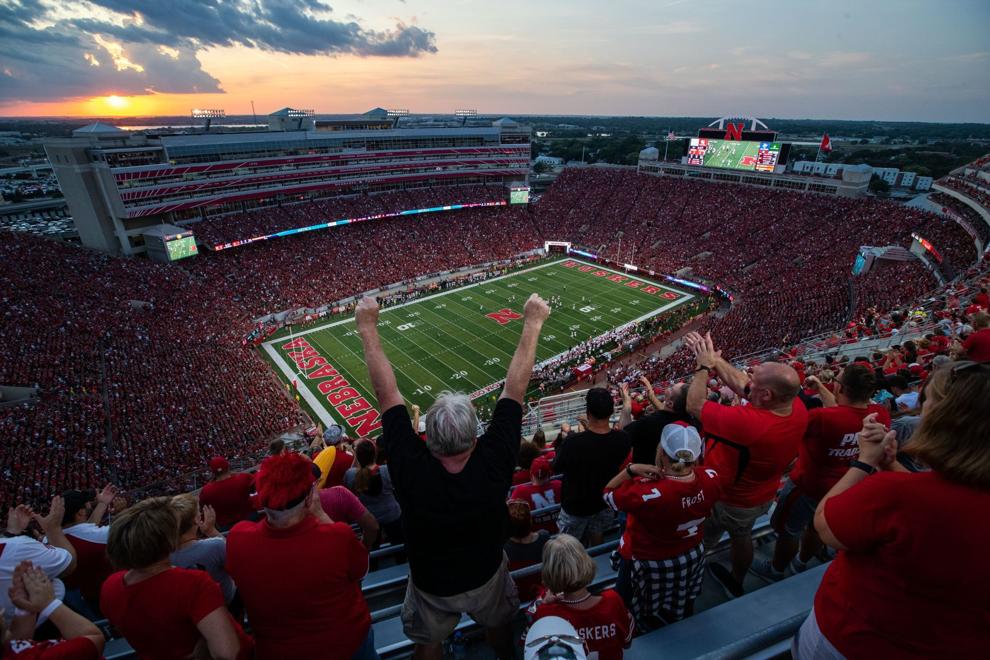 The Westside Warriors take the field through fog and a banner before a high school football game against Creighton Prep.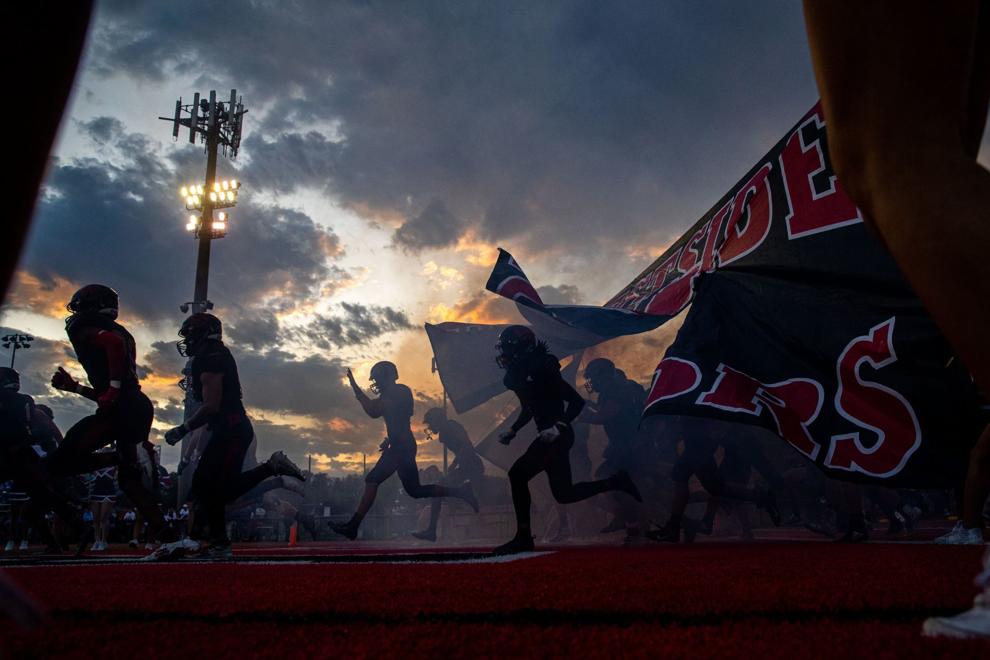 Tow truck drivers work on trying to get a semi truck out of a ditch after it turned over on Highway 20 in north central Nebraska during a blizzard.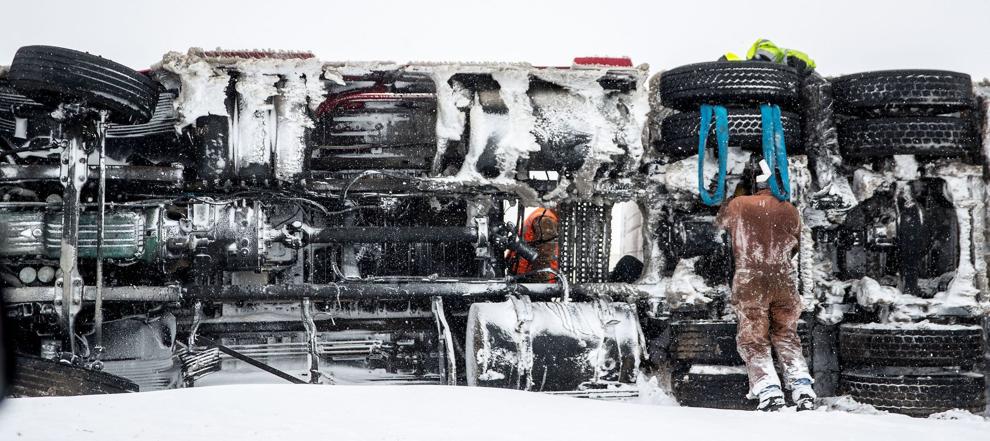 Arizona State's Jack Judson checks University of Nebraska at Omaha's Chayse Primeau into the boards at Baxter Arena.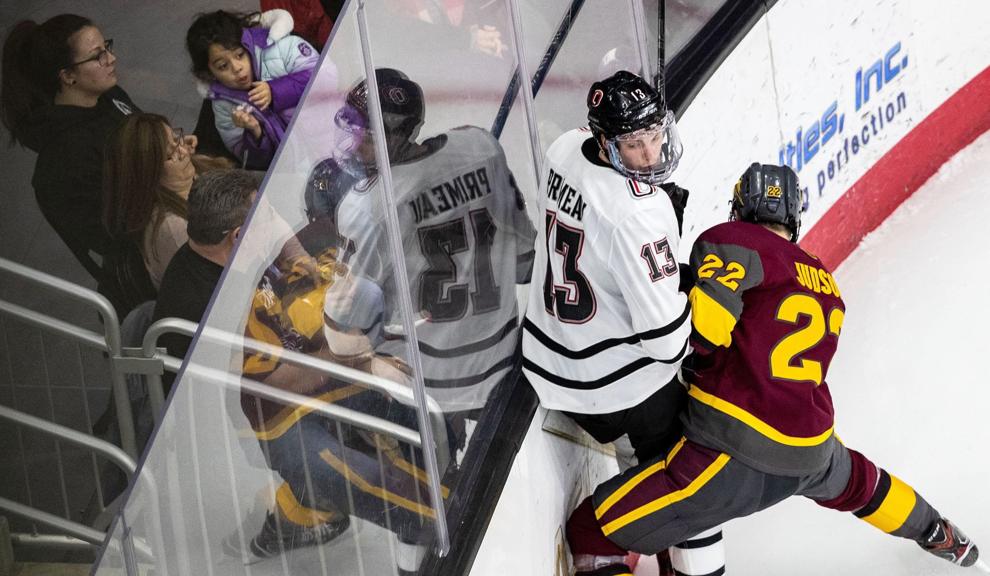 A bike is revealed in the mud below the 13th Street bridge in the Gene Leahy Mall after the water was pumped out of it during renovation work.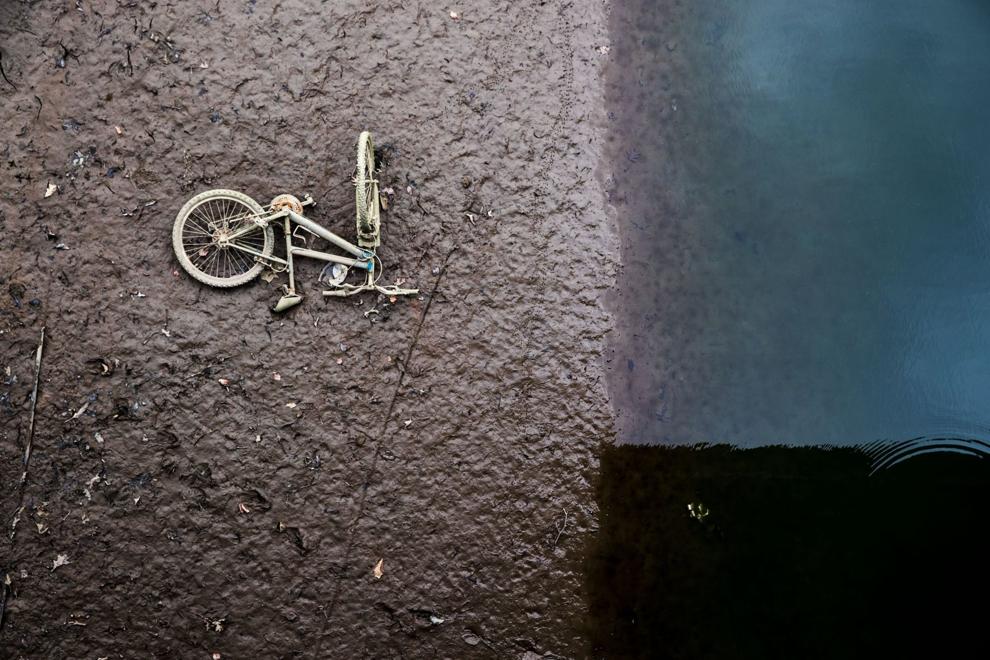 Omaha South's Ukash Weliyo, right, gets a hug from his mother Halima Mohamed after the Packers defeated Omaha Creighton Prep during the Class A boys state soccer final game at Morrison Stadium.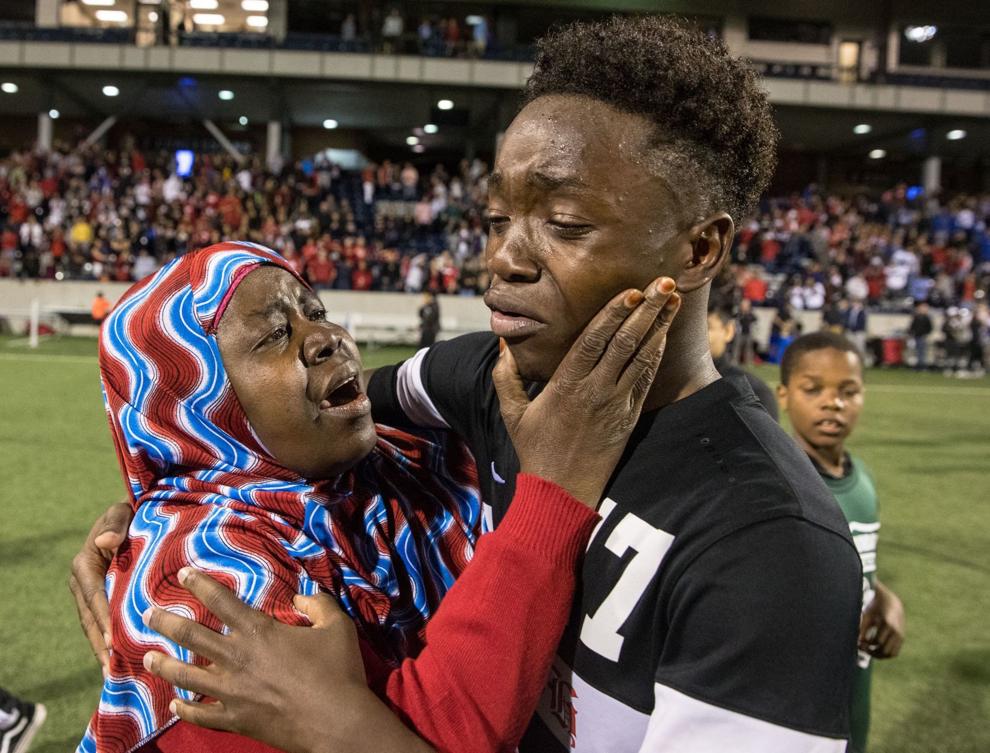 Louisville's Nick Bennett writes in the dirt before a game against Mississippi State in the College World Series.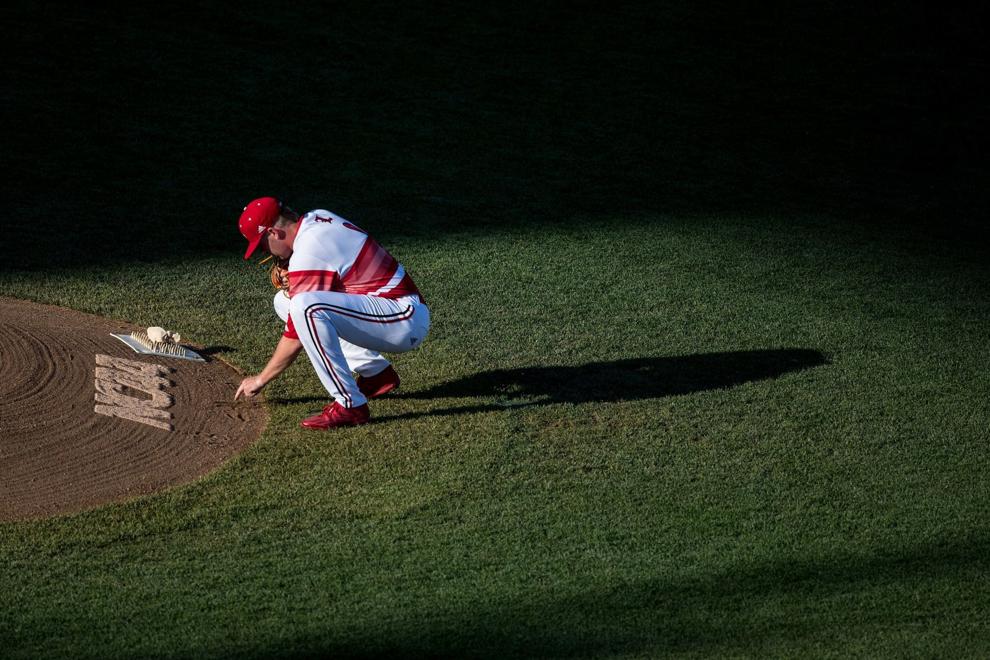 Mississippi State's Jake Mangum reacts after losing to Louisville in a walk-off during game 10 of the College World Series.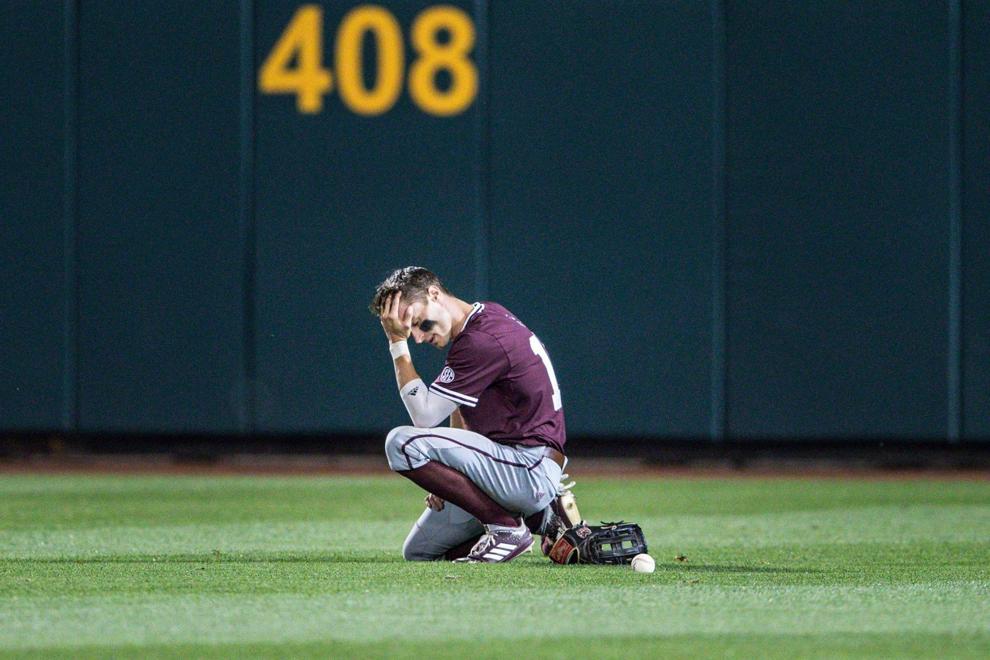 Juno, a dog belonging to professional dog trainer and hunting guide Aleah German, has a collar adorned with shotgun shell caps.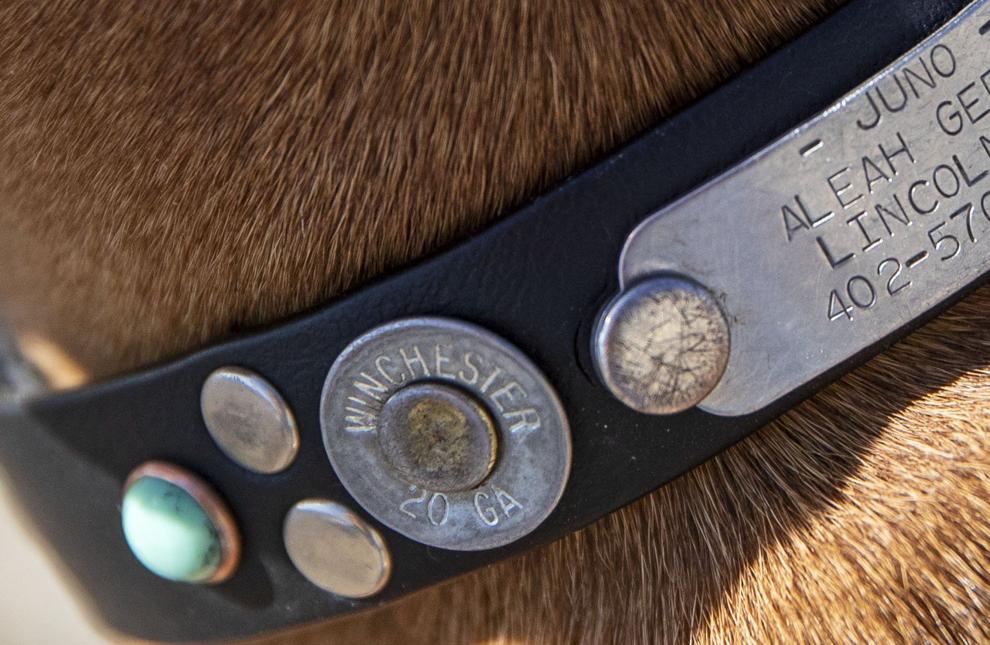 The moon rises over the Bob Kerrey Pedestrian Bridge in the early morning hours.
A cat looks up at Jill Tafoya after she revived it in the back of an ambulance after the cat was rescued from a fire.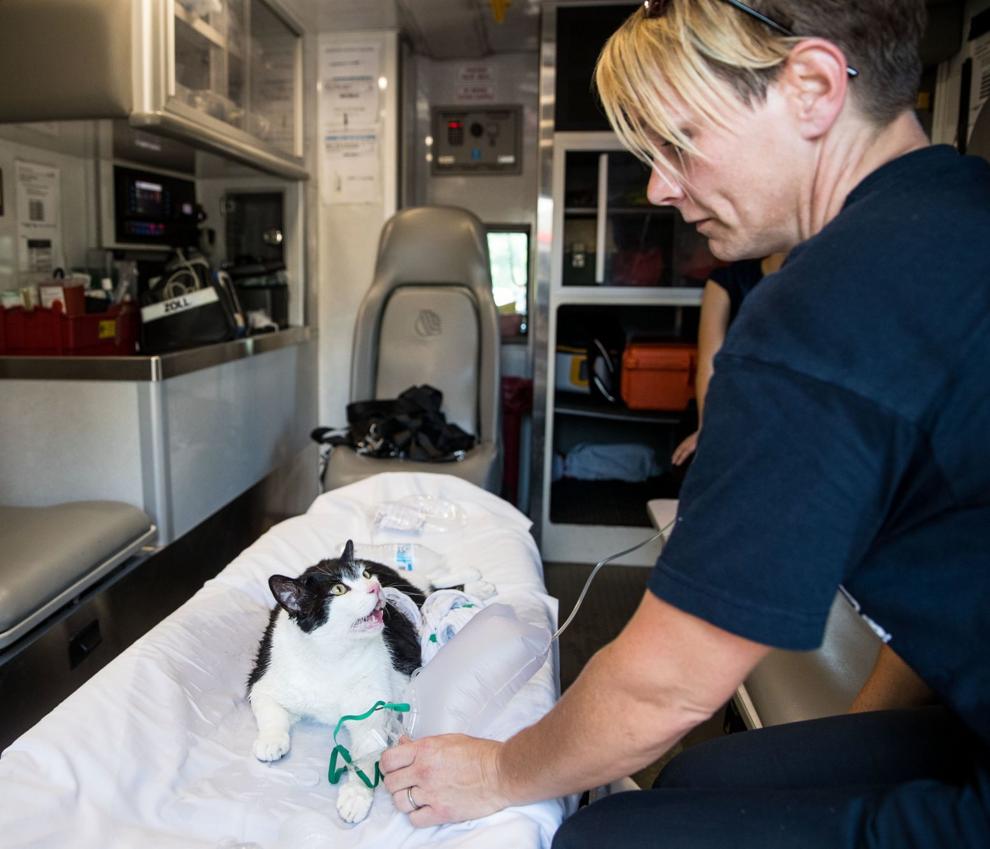 An allosaurus appears to be eyeing a tasty, 19-month-old morsel named Austin Haseltine as he is lifted from the shoulders of his grandpa, Greg Fasano, by his mother, Amy Haseltine, with his father, Jim Haseltine looking on.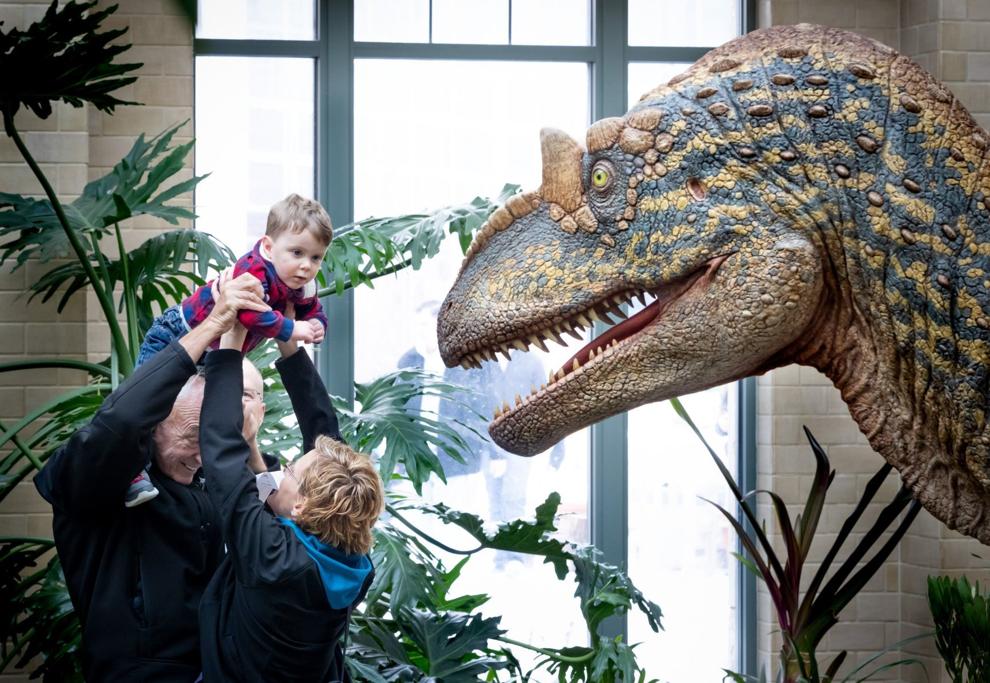 Horses belonging to Faye Etherington of Fremont that were being boarded in Inglewood, Nebraska, are brought into Fremont through floodwater on Highway 77.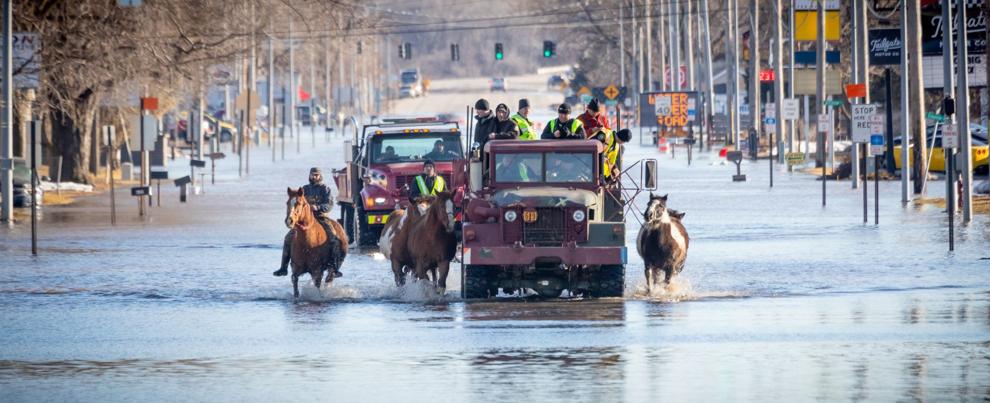 Millard West's Corbin Hawkins waits out a rain delay in the dugout.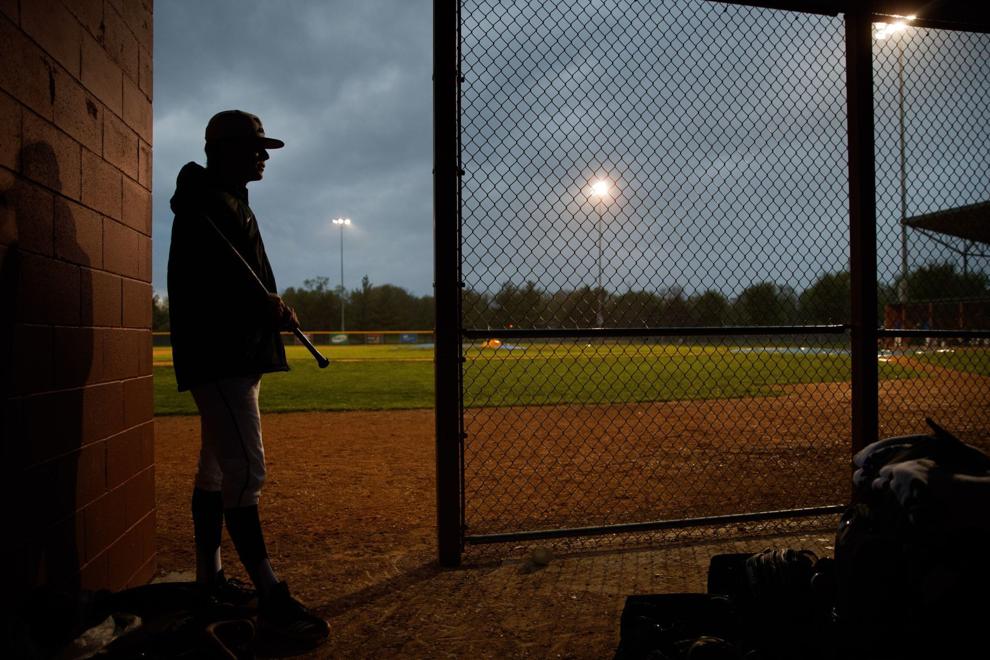 Looking back at the floodwater below the Broad Street viaduct are from left, Calvin Schmidt, 6, Paul Schmidt, their dad and Avery Schmidt, 7, in Fremont, Nebraska.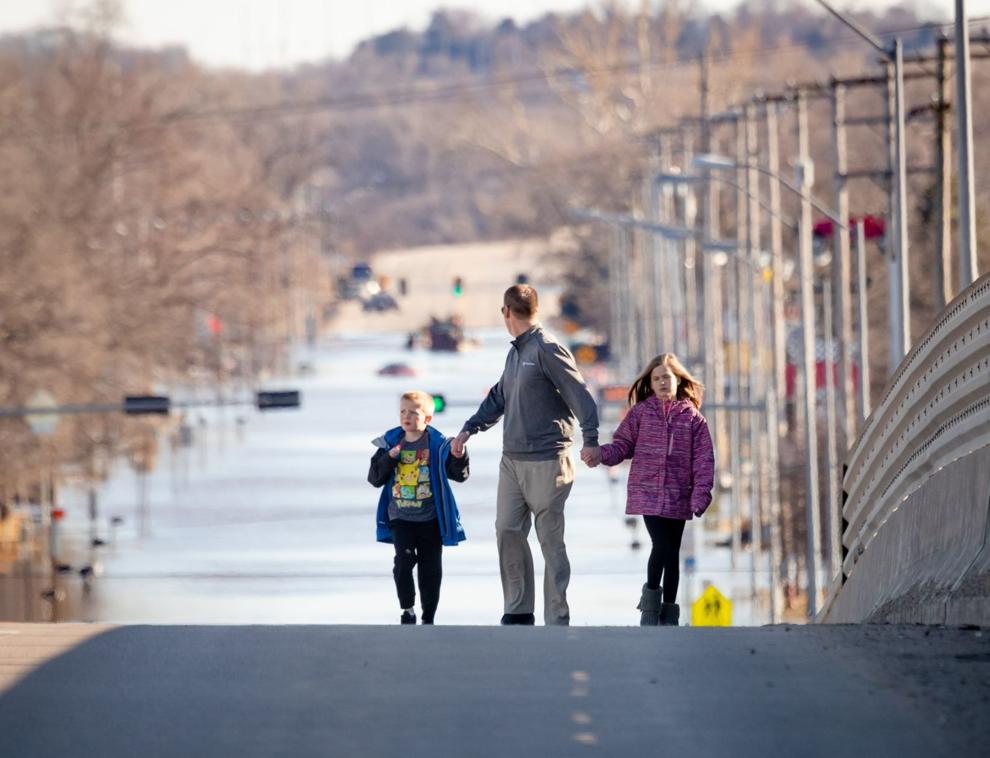 Auburn's Rankin Woley slid into the fence while catching a foul ball for an out during a College World Series game.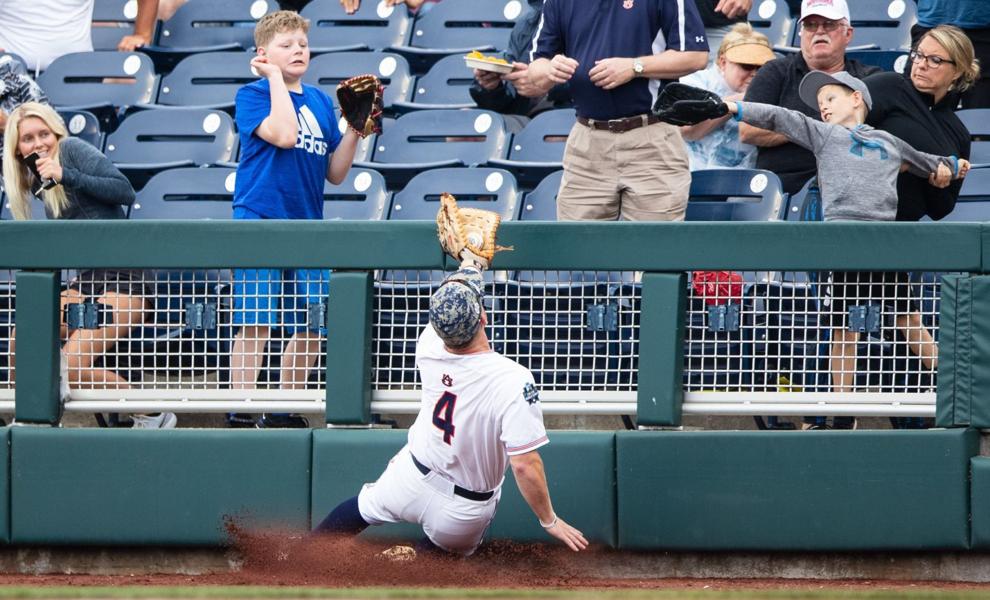 An angel statuary sits in a flooded yard in the Hanson Lakes area in Bellevue.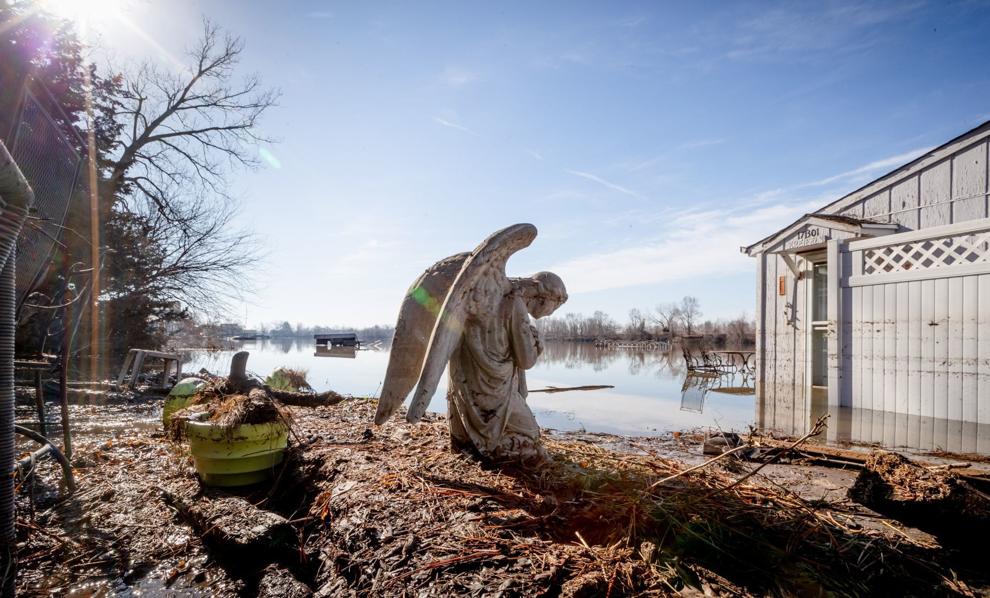 A farmer drives his combine to unload soybeans for transport near Ceresco, Nebraska.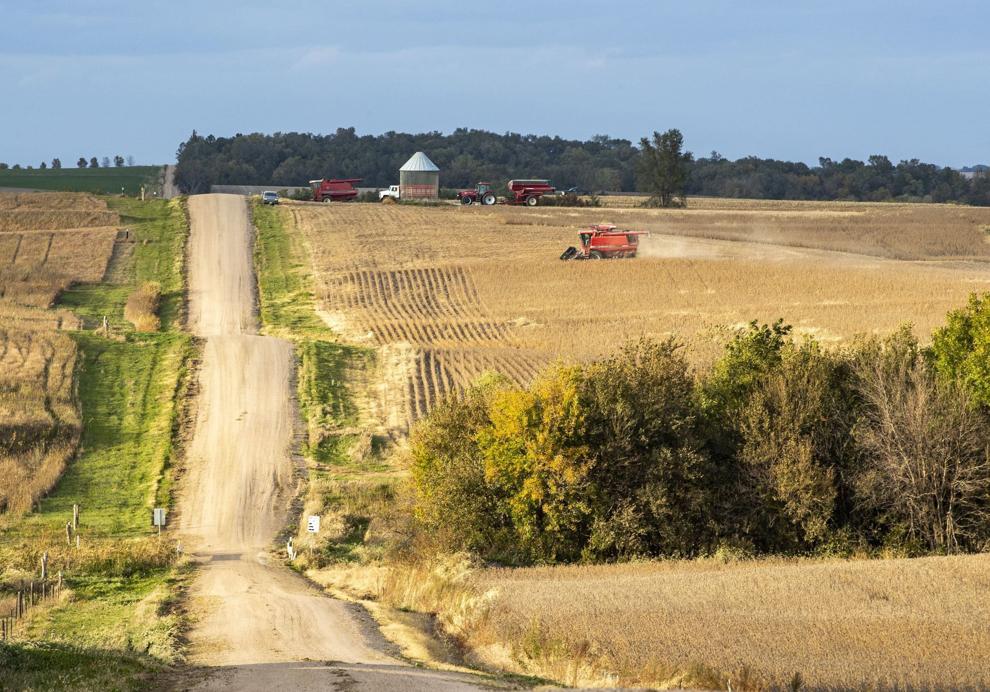 The Millard South Majorettes practice their halftime routine.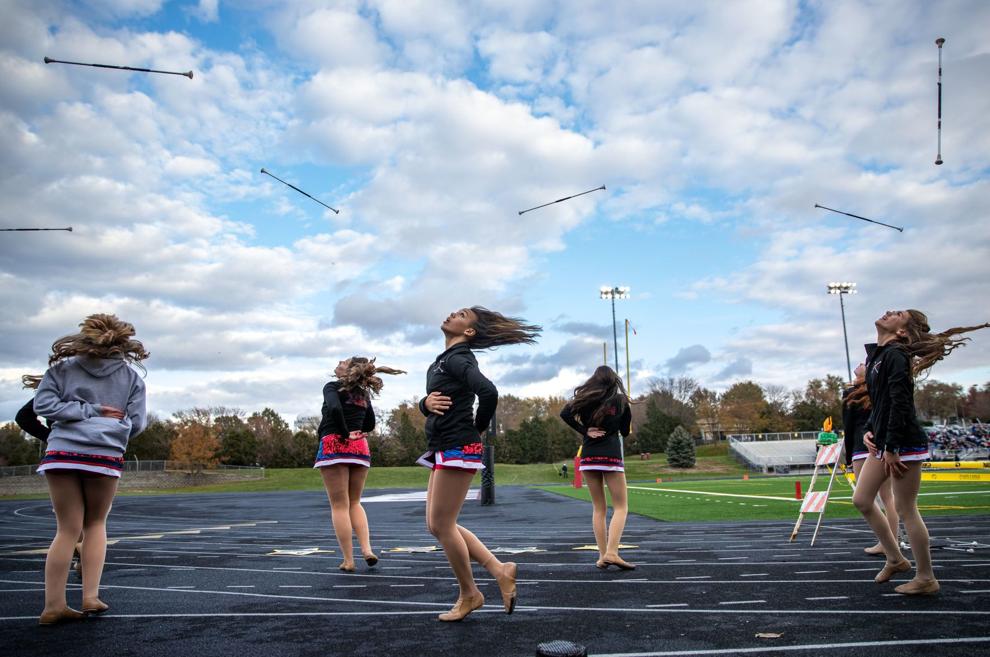 Xiang Fang, right, and his son Ethan, 10, walk along the shoreline at Chalco Hills Recreation Area in Omaha, Nebraska.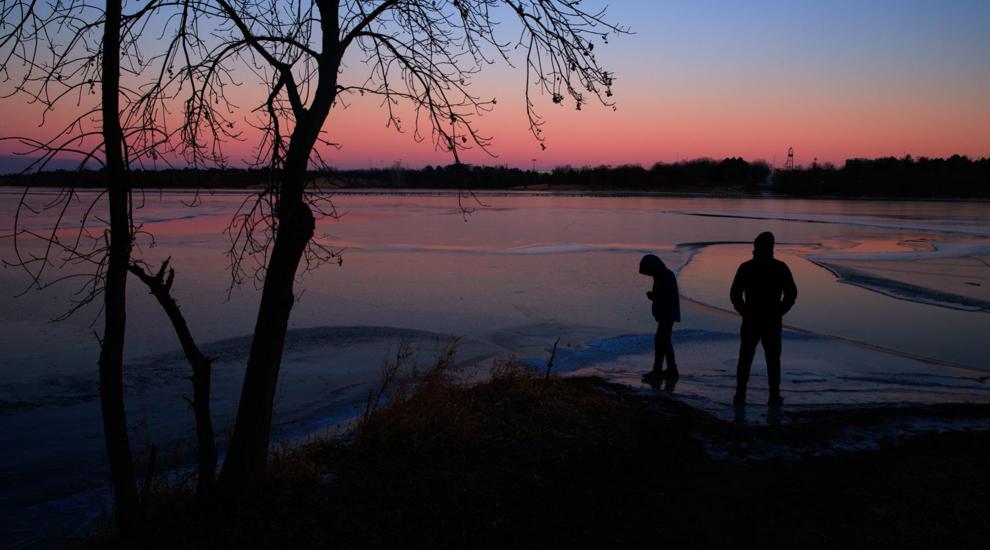 Businesses on the southwest side of Hamburg, Iowa, were flooded from the waters of the Missouri River.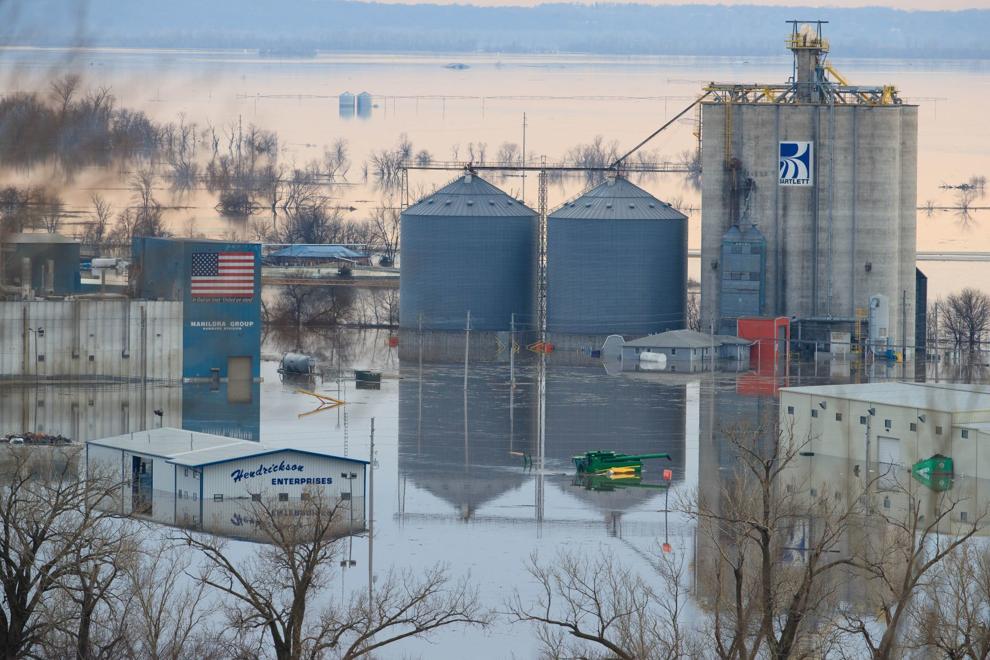 Kayla Thege, left, and Mark Batt hang out with their dog, Maia, during a Storm Chasers baseball game.