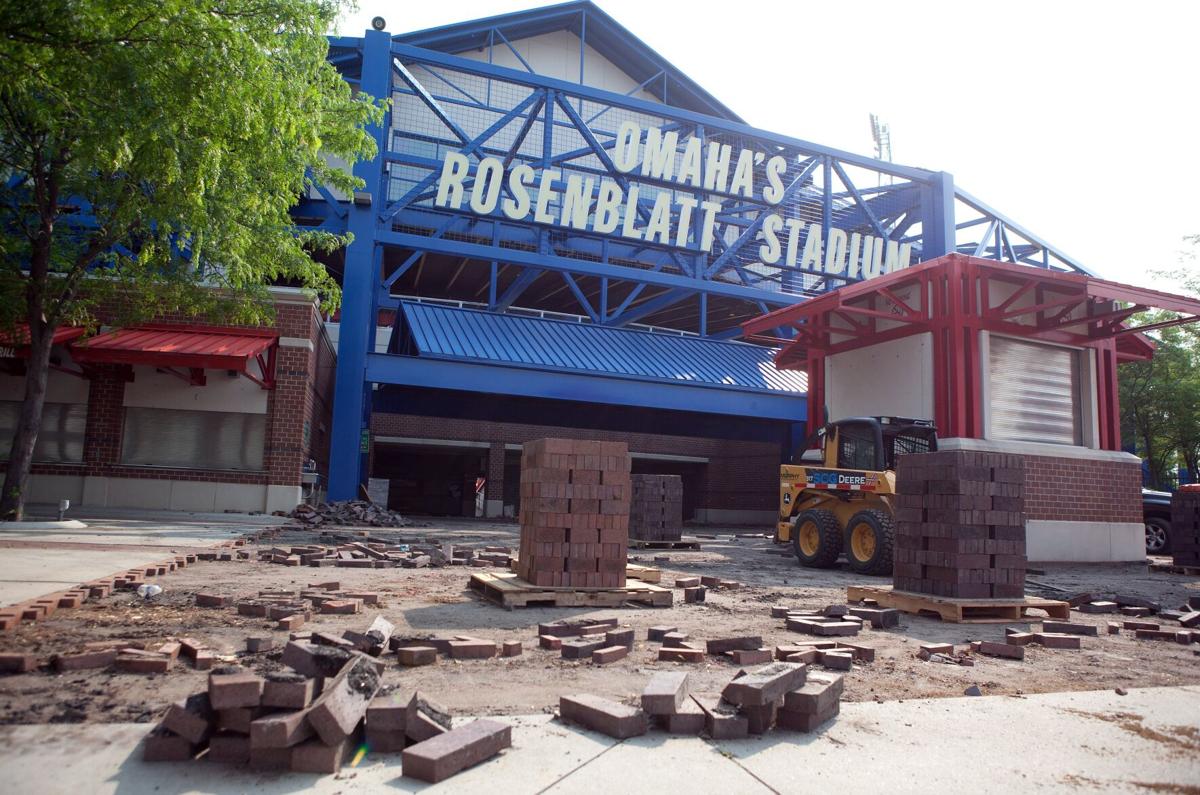 Demolition work started at 10:11 a.m. nine years ago today on the 64-year-old Rosenblatt Stadium. 
It was a day that Omahans knew had been coming since November 2010, when the last event there — a United Football League game — was played. About 50 spectators showed up on that July day to watch demolition work begin. They stood behind a chain-link fence and felt the ground rumble at 10:14, when the first brick pillar crumbled.
Andy Minino, 64, a South Omaha native watched as the long arm of the backhoe stretched out and raked down blue sheet metal at Rosenblatt's main entrance.
"There's a lot of years coming down here," he said. "A lot of memories. Royals games. Some college games. Beach Boys concerts. Bringing my boys down to monster truck shows and, of course, the fireworks. Always the fireworks."
Most of the former stadium became a parking lot for the Henry Doorly Zoo & Aquarium. The zoo constructed a commemorative park, Johnny Rosenblatt's Infield at the Zoo, on the stadium's infield.
The zoo opened Rosenblatt to visitors for five days during the 2012 CWS. About 10,000 fans made their way in to get a final look.
Don Goers used to park his RV in the lots north of the stadium for the College World Series. He mingled with fans from Texas and Louisiana State, eating jambalaya and sharing good times.
Now, Goers was managing the stadium's demolition for Anderson Excavating Co. His company tore down many an Omaha landmark — the Ak-Sar-Ben racetrack, Jobbers Canyon, Peony Park.
At the time that the demolition of Rosenblatt began, Goers estimated that it would take three or four weeks for his company to reduce the recognizable elements of the stadium's exterior.
As he talked, the backhoe tore into the kiosk in the stadium's entrance plaza. It took four minutes to reduce the structure to a pile of mangled steel and crumbled brick.
"We'll crush all the masonry debris and recycle the steel," he said. "There will be very little here that will not be salvaged."
He estimated that 4,000 to 5,000 tons of steel would be recycled.
Omaha City Councilman Garry Gernandt, an SOB (South Omaha Boy) who grew up near 20th and Vinton Streets, wore a St. Louis Cardinals jersey and cap to the stadium to watch the work. His fan-wear harked back to when Rosenblatt was young and was home to the Cardinals' minor league teams.
"When the Cardinals were the home team, I used to stand out in front of the stadium in a Cardinals T-shirt with my puppy-dog face on in hopes that someone would take me in as their family," Gernandt said. "If you were a kid and had a Cardinals shirt on, you could get in free with your 'family.' "
"They can demo a building," Gernandt said, "but they can't demo our memories."
---