Vernon Joseph Baker couldn't help but shed a tear on his day in the spotlight as President Bill Clinton draped the blue-ribboned Medal of Honor around his neck.
Baker had earned the medal more than half a century before as a young lieutenant in Italy on April 5, 1945, when he led an all-Black platoon against German troops entrenched on an Italian mountainside. He personally wiped out five enemy positions at close range, killing nine German soldiers.
The orphaned youth from Clarinda, Iowa — who lived at Omaha's Boys Town in the early 1930s, from age 11 to 14 — fought fierce prejudice to join the Army in 1941 and served during World War II with the segregated 92nd Infantry Division, known as the "Buffalo Soldiers."
He was the only one of seven African American soldiers who was still alive to receive the nation's highest award for military valor that day in January 1997. Until then, no Black soldier from WWII had received the award.
What prompted the tears, all these years later?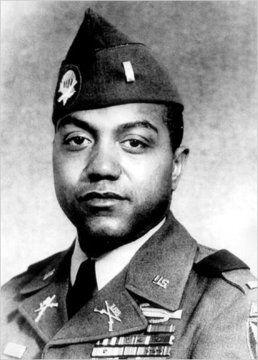 "I was thinking about what was going on up on that hill that day," Baker said at the time. "We've all been vindicated. The only thing I can say to those who are not here with me is 'Thank you, fellows. Well done. And I'll always remember you.'"
More than two decades later, the Pentagon is mounting an effort to bring home the "Buffalo Soldiers" who fought with Vernon Baker, died and never came home.
About 700 soldiers from the 92nd Infantry were killed in action along the "Gothic Line," Germany's last line of defense in 1944-45 across the narrow neck of Italy, near Florence. Fifty-three of them remained MIAs after postwar efforts to identify them failed.
The Defense POW/MIA Accounting Agency started the 92nd Infantry Project to find and identify the missing soldiers. Fifty-one of them are believed to have been buried as "unknowns" in the Florence American Cemetery, said Sarah Barksdale, European-Mediterranean historian for the agency.
All but two of the division's MIAs are African American.
Over the past several years, nine of the unknowns have been brought to the Accounting Agency's lab at Offutt Air Force Base for identification, said Traci Van Deest, the forensic anthropologist in charge of the 92nd Infantry Project.
So far, just three have been identified.
Van Deest and Barksdale said 92nd Infantry identifications have been difficult because of the lack of DNA samples from family members. Despite years of effort by the Army Service Casualty office, the Accounting Agency lacks family DNA for 15 of the remaining MIAs.
Barksdale said some of the families have been difficult to track down because they relocated during the Great Migration of African Americans from the rural South to Northern cities after the war.
Others have been reluctant to give DNA after receiving such an unexpected request.
"Several families have declined to participate," Barksdale said. Privacy of the samples is guaranteed by federal law.
One of the three recently identified Buffalo Soldiers — Pvt. Rudolph Johnson, 20, of Malvern, Arkansas, missing since Feb. 6, 1945 — was identified after a match with his younger brother, Jesse Johnson, now 92, who lives in Omaha.
Jesse's son, A'Jamal Byndon, received the initial call seeking DNA about five or six years ago.
"I thought it was a joke," he said.
He said he had heard only fragmented stories about his uncle when growing up.
"It was one of those things my father talked about, that his brother went to the war and never came back," said Byndon, a Peace Corps veteran who teaches Black Studies at the University of Nebraska at Omaha. "We didn't even have a photo of him."
But after discussions with several family members, Jesse decided to take a cheek swab and donate the sample. That led to his brother's return in a flag-draped casket for burial at a veterans cemetery in Little Rock, Arkansas, in 2018, after decades buried as an "unknown" in Italy.
"I'm just in awe of this and everything they have given to us to honor a fallen soldier," Betty Jean Coulter, Johnson's youngest sister, then 81, told the Arkansas Democrat-Gazette after the service. "Rudy is home. I feel good about it."
Young African American men were often as eager to fight America's enemies during WWII as their White counterparts.
But Uncle Sam didn't make it easy. Black soldiers were barred from combat until mid-1944 and often placed in segregated construction or supply units, or given unpleasant assignments like grave registration. Desegregation of the armed forces didn't take place until after the war, in 1948.
Under political pressure, the Army created two "colored" infantry divisions, the 91st and the 92nd. They were manned by Black enlisted troops but were commanded mostly by White officers from the South. There were a few Black junior officers — including Vernon Baker, a 2nd lieutenant — but rules restricted their ability to be promoted.
The 92nd Infantry trained at Fort Huachuca, Arizona, in 1943-44. The unit was plagued with disorganization, low morale and lack of cohesion during its training period and deployment to Italy, much of which was brought on by racial resentments between officers and enlisted troops.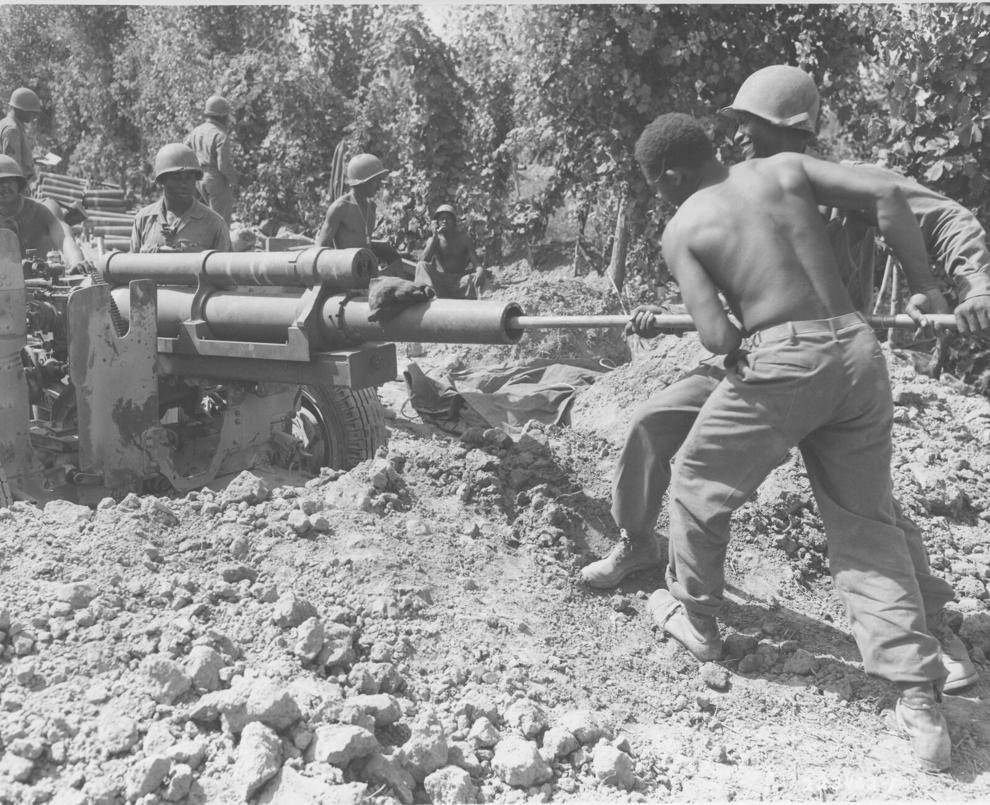 The division reached Italy in the late summer and fall of 1944 to plug gaps along the Gothic Line after key units had been transferred to the new front in France.
German forces remained entrenched in the craggy Apennine Mountains. And they were determined to stay put, tying down tens of thousands of U.S. troops.
The 92nd Infantry was assigned the western end of the front, just north of the city Pisa. The division was engaged in fighting along the Gothic Line from the time it arrived there in strength in October 1944 to the end of the war in May 1945.
In 1947 and 1948, the American Graves Registration Service returned to the Gothic Line to search for the remains of U.S. soldiers. Those they couldn't identify were reburied as "unknowns" in the Florence American Cemetery.
The soldiers who examined one set of the remains, later identified as Rudolph Johnson, suspected a link because a helmet liner was found with him that included the letters "JOH."
But there were discrepancies, so he was buried as X-298 Castelfiorentina, named for the first cemetery where he was interred. (He was later reburied in Florence.) His family wasn't told.
In the mid-2010s, the Accounting Agency began taking a greater interest in identifying the remains of "unknowns" buried in U.S. and overseas military cemeteries. That followed a change in Pentagon policy that made such disinterments easier to justify, and public pressure for the agency to increase the number of identifications.
The 92nd Infantry Project is the first recovery of primarily African American soldiers. And it is accompanied by a reassessment of the performance of the Buffalo Soldiers in WWII.
Their valor in combat is well documented. The division earned two Medals of Honor (belatedly), two Distinguished Service Crosses, 208 Silver Stars, 1,166 Bronze Stars and 1,191 Purple Hearts.
Much of the soldiers' criticism came from their own leaders, many of whom expected them to fail, historians say, and themselves bore some responsibility for the division's organizational problems and low morale.
Some of the reassessment comes from the Buffalo Soldiers themselves, who gained a voice after the civil rights era — particularly Vernon Baker, the former Nebraska and Iowa resident. He died in 2010 and is buried at Arlington National Cemetery. But before his death, the Medal of Honor gave him a voice and a platform. He was the most-decorated African American soldier in the Mediterranean theater.
Baker stayed in the Army after the war, retraining as an airborne officer. He retired in 1968 and worked for the American Red Cross for 20 years.
"The Black soldier was very much ignored," he said in a video interview posted on the Congressional Medal of Honor website, CMOHS.org. "I feel like the Black soldier made quite a contribution to winning the war."