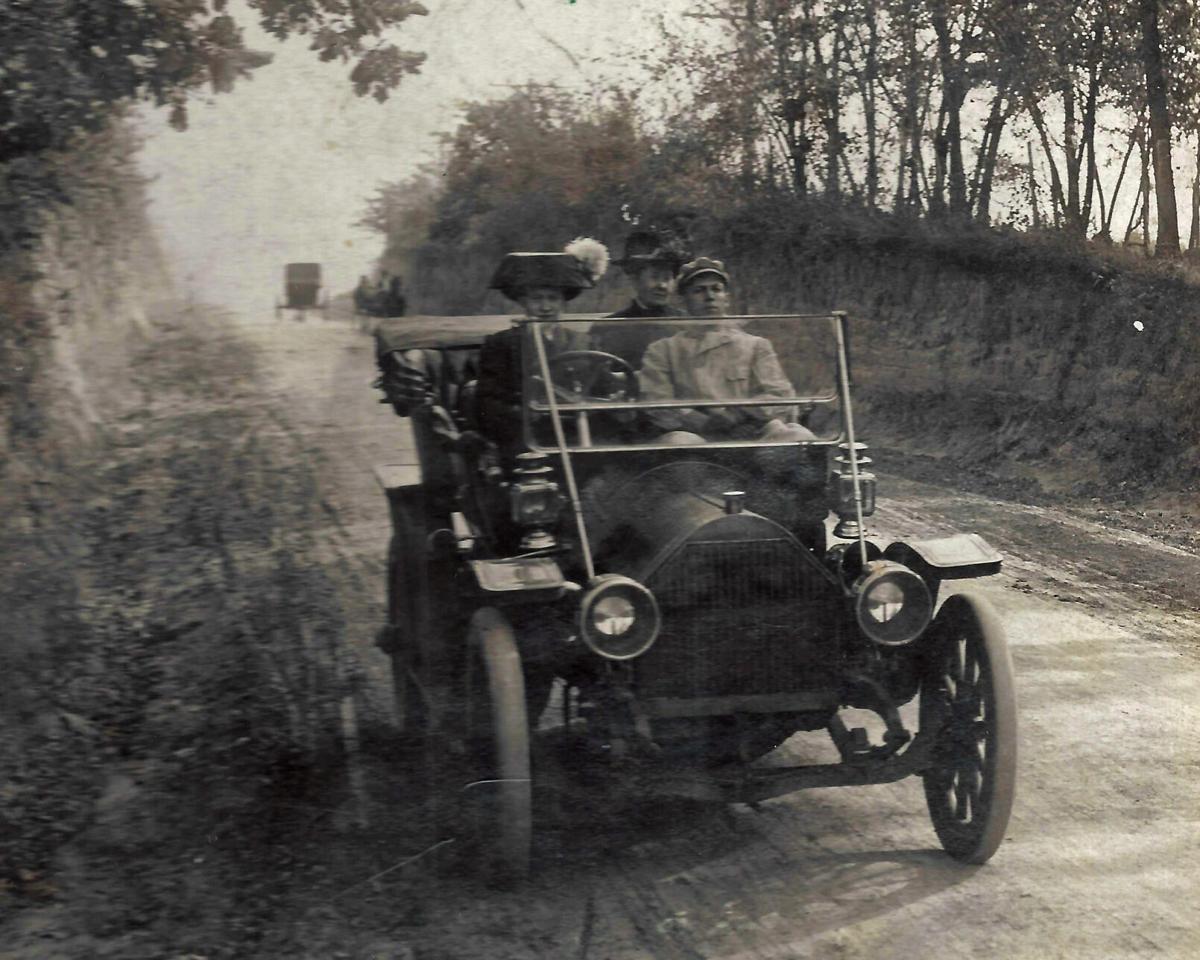 One Saturday afternoon on the outskirts of Omaha, the automobile was here to stay.
Up unpaved Military Avenue, past Krug Park and into the carriage lot of the first Omaha Country Club it came, a noisy machine.
"(It) made every golfer pause in his 'drive' and stare," began the account in the Omaha Excelsior of July 21, 1900. "(It) was the appearance of a real automobile coming down the road and turning into the club grounds with the ease and speed that showed its owner, Dr. J. Cameron Anderson, to be master of the situation. It should be a matter for general congratulation that Omaha has an automobile at last."
Thus, Omaha's early romance with the "horseless carriage" was fully under way.
It began during the 1898 Trans-Mississippi Exposition. An electric machine was part of the Montgomery-Ward display. A short ride cost 25 cents. That could have been an inspiration for inventor Otto Baysdorfer, who built the city's first motorized carriage in 1899. His was said to be the lightest made at the time, weighing 265 pounds. The engine was two-cylinder and two-horsepower. It had a crude muffler. Top speed was 15 mph.
But Dr. Anderson gets credit for owning the first private automobile in town. His life story is interesting and sad. The Canadian worked in the telegraph department of the Fremont, Elkhorn and Missouri Valley railroad in Omaha before graduating from the Louisville (Kentucky) Medical College and spent a short time as a hospital surgeon in New York City.
Anderson came back to Omaha in 1899 as a surgeon at the Douglas County Hospital and held a chair in surgery at the Omaha Medical College (now UNMC). The governor named him the state's surgeon general in 1901. Anderson stayed for all of four months. He took his family back to New York City and was prominent in medical and social circles, but he suffered from mental illness and died when he was in his 40s.
The first time Anderson drove his one-cylinder Winton gasoline car in downtown Omaha caused a stir, traveling at the "reckless" speed of four miles an hour. The Omaha Bee recalled in 1917 that the vehicle was merely a buggy with a gasoline engine attached. "It made more noise than a rapid-fire gun, rattled hideously and had a maximum speed of 10 or 12 miles an hour going downhill. The owner of this pioneer vehicle had to avoid upward grades."
Also in 1900, Omaha saw its first female motorist and the state its first political campaign appearance by car. Fannie Baysdorfer, Otto's wife, was pictured in the Omaha Illustrated Bee with the caption "First Woman to Run an Automobile in Omaha." Democratic presidential nominee William Jennings Bryan of Lincoln was driven to Waverly for a speech after he missed his train. The Wittmann brothers of Lincoln, who were bicycle dealers, bought the car the year before and brought back from the Tarrytown, New York, factory.
J.H. Wittmann joined photographer Louis Bostwick and Omaha Bee writer Charles S. Smith on the state's first recorded road trip in 1901, driving them to Lincoln on a Saturday afternoon. It took 14 hours, and not because they encounter Husker game-day traffic. The men had to deal with roadside gawkers. They made scheduled stops in Papillion, Louisville, Greenwood and Waverly. Several times they had to move animals past the vehicle.
Traveling outside the city had other perils. Early Omaha auto dealer H.E. Fredrickson had a close call with the good people of Blair in October 1900. Funeral director and undertaker H.K. Burket asked Fredrickson to drive him there for a funeral because the afternoon train would have arrived too late. While Burket went to the service, Fredrickson went to a downtown eatery.
But the car was still steaming, naturally attracting attention. One of the locals accidentally bumped the propelling level. Down the street went him and the car. Wrote the Omaha Daily News: "(His) yell awakened a dozen sturdy men and they started off in pursuit of the mobile and its victim. Half of them grabbed hold of the wheels and tried to pull it to a stop. The other half went to the front and pushed against it. The latter were run over for their pains, inasmuch as the automobile persisted in going ahead."
"Pull back the level," Fredrickson yelled. Oops, too far. Now the vehicle was in reverse and backed over a half-dozen men. The commotion continued until the cantankerous car ran up against a storefront and stopped. The vehicle was OK, a physician told the injured they did not have broken arms or legs and Fredrickson and Burket got home.
"For a few minutes," Fredrickson related, "I was mighty glad that I had an undertaker with me."
Fredrickson sold buggies. On the side he sold cars and his first customer was De Roy Austin, who owned a shoe factory. A couple of months later, Austin's car broke down in front of Mount Hope Cemetery on Military Avenue. He called Fredrickson and said he wanted a couple of spades. Why? "I want to bury this blinkety-blink thing," Austin said. Fredrickson (1876-1955) later was consul-at-large for the Lincoln Highway routing west from Omaha, went to Central America to operate a gold mine and ran a cattle feed manufacturing business in Fremont.
Credited as the city's first auto-only dealer was Clarke G. Powell. The Central High graduate and former Chicago Art Institute student opened the first auto agency, selling Packards and Cadillacs, in 1902 at 15th and Davenport Streets. He built the first automotive garage and started the first auto parts company at the start of downtown's Automobile Row on Farnam in 1907. He started the Omaha Auto Show in 1905 and was commissioner of the Omaha Chamber of Commerce when he died in December 1928.
When the state began issuing license plates in 1905, Powell took out the first one in Omaha and the second in the state. He would have had the first plate except that an assistant failed to sign the check and it was returned.
Omaha's first auto club, formed in 1902, included 20 of the city's 25 auto owners. Their first activity was a road rally to Blair and back. The city's first auto race was a 5-miler at the old Omaha Driving Park on North 16th Street that was won by Omaha grain dealer N.B. Updike head-to-head against Chicago Lumber president Frank Colpetzer.
The auto club staged a hill climbing contest in 1908 at a location familiar to today's rush-hour commuters — West Dodge Road up to 90th Street. An obstacle was keeping the paved road cleared of late-arriving motorists and dairy farmers returning home with empty milk cans.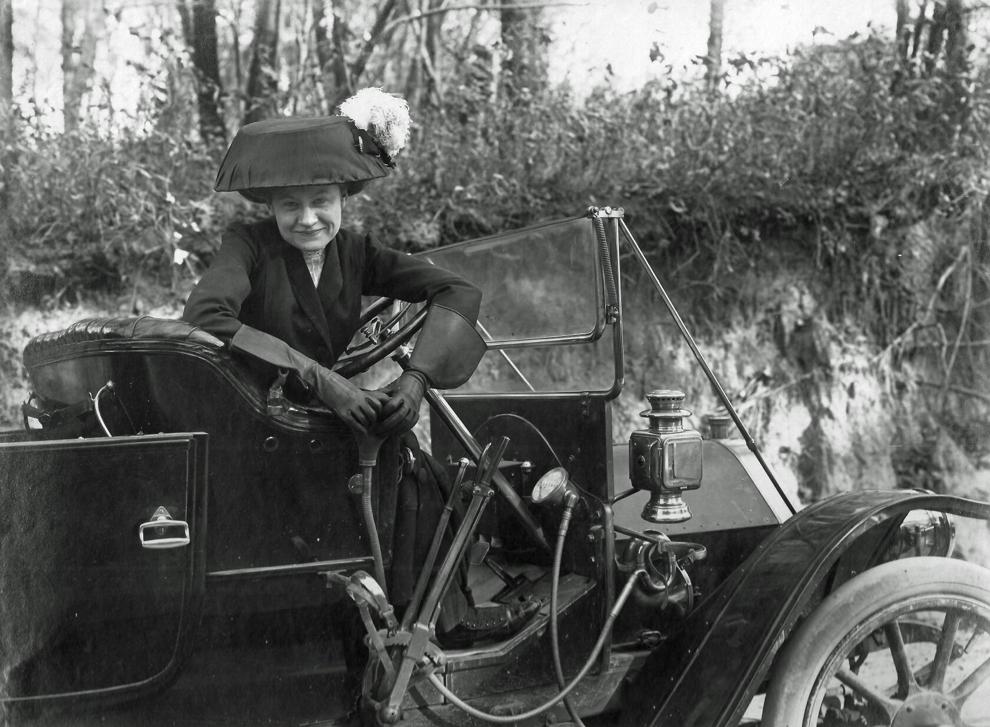 Long before Janet Guthrie and Danica Patrick raced, Omaha had its pioneering female driver. Amy Lawrie was the daughter of architect and city golf pioneer Harry Lawrie. When she entered the Omaha Daily News auto endurance contest in 1909, the newspaper wrote "she is regarded as perhaps the most capable woman driver in the city and while not averse to indulging in a burst of speed on occasion is also noted for her skill and careful handling of the big machine.
In the 156-mile endurance contest, to Scribner and back via North Bend, Lawrie drove her father's Chalmers-Detroit auto. She was the first to start and return in the timed, scored run, but finished fifth out of nine. She missed a perfect score of 1,000 by six points — two points off for a choked motor and four for taped terminals.
She and Omaha's other auto pioneers could never have fathomed what their open roads have become.
---
Gallery: The 15 most iconic cars in movie and TV history
The DeLorean - "Back to the Future"

The Batmobile - "The Dark Knight"

Aston Martin DB5 - James Bond

Mach Five - "Speed Racer"

Ecto-1 - "Ghostbusters"

Pontiac Trans Am - "Smokey and the Bandit"

Ferrari 250 GT California - "Ferris Bueller's Day Off"

The Mystery Machine - "Scooby-Doo"

General Lee - "The Dukes of Hazzard"

Christine - "Christine"

KITT - "Knight Rider"

Herbie - "The Love Bug"

The Shaggin' Wagon - "Dumb and Dumber"

The Flintstones car - "The Flintstones"

The War Rig - "Mad Max: Fury Road"