Lindsay Krause has no limits on a volleyball court.
She earned a Husker scholarship before she started high school, won four state titles at Skutt Catholic and a world championship for the USA junior team in Egypt. At 6-foot-4, she crushes kills with grace and ferocity.
Her mother, JoAnna, has seen it all. At least, she thought so. Then one night in 2020, Lindsay stood in JoAnna's bedroom and entered a world of virtual reality, training her mind just as she exercises her body.
"It's straight out of a science-fiction movie," JoAnna said.
With a headset over her eyes, Lindsay batted virtual shapes at robots and dodged virtual balls from cannons. Watching outside the headset, all Mom observed was Lindsay twisting, leaning, waving her arms and arguing with the VR narrator.
"She was swearing at it at one point," JoAnna said. "She's such a perfectionist."
For generations, mental exercises have supplemented athletic training. Meditation. Visualization. Even hypnosis. But technology has opened new doors in sports performance, especially in Omaha, where a Silicon Valley invention — NeuroTrainer — is gaining momentum.
In a world of short attention spans, NeuroTrainer hones focus, improving reaction time, peripheral vision, multi-tasking and decision-making, all traits that translate to real competition.
"It's like I see everything a lot quicker on the court," Krause said. "The game slowed down."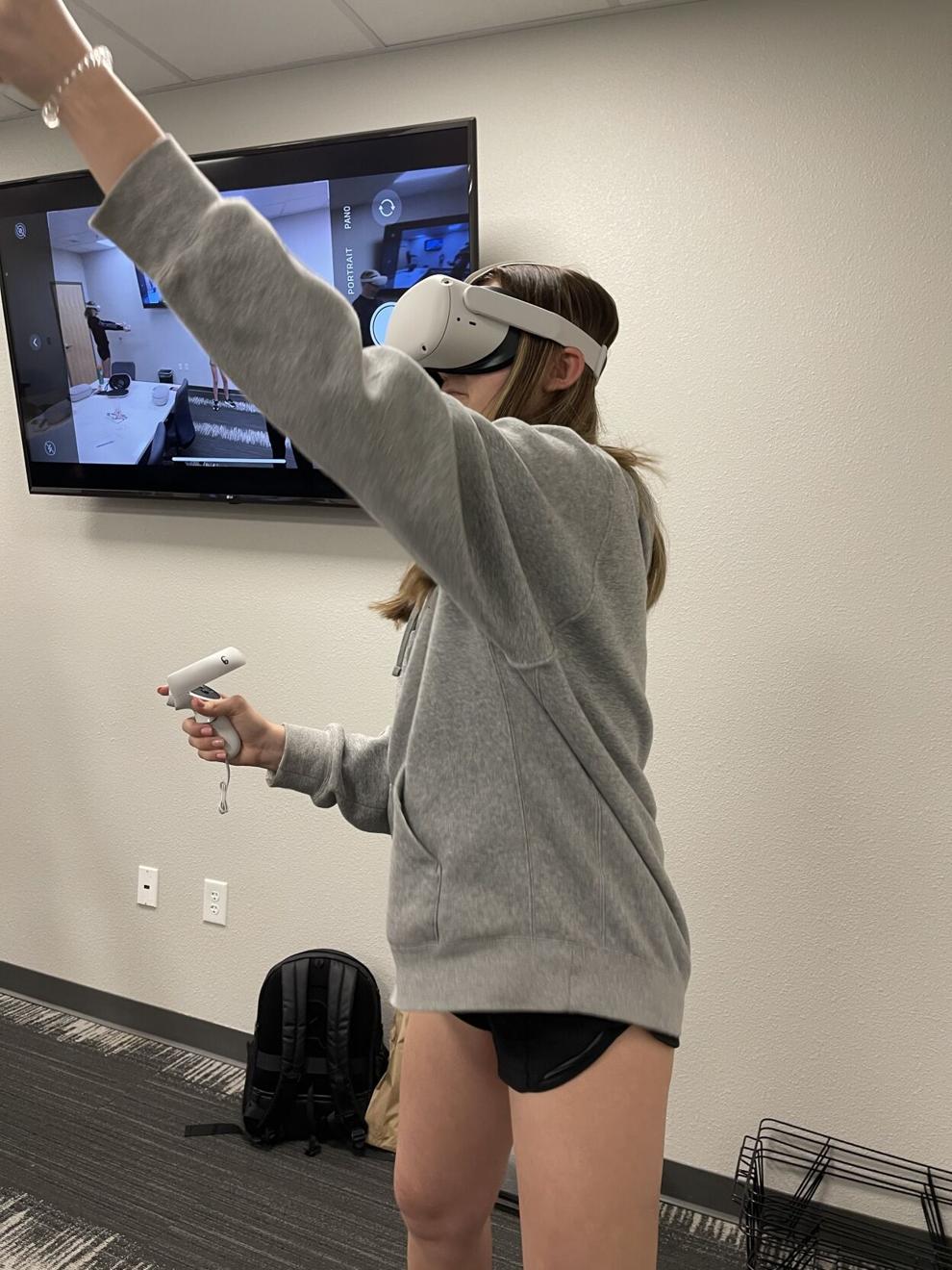 NeuroTrainer has received testimonials from pro athletes in several sports. But a small group of local investors has helped turn Omaha into the training platform's home base for high school athletes. What began in 2019 with one program — UNO hockey — has expanded to more than 20 high school and club teams, mostly volleyball.
Skutt coach Renee Saunders — 2020 national high school volleyball coach of the year — acknowledges that NeuroTrainer sessions sound like a scene from "The Jetsons." But it's a valuable tool in a sport where hundredths of a second can decide a match.
When a player like Krause occupies the back row, she must absorb multiple visual clues — hitters' alignment and approach angles, arm and hand positions, set location — and anticipate the next move.
"If you're always watching the ball, you're always going to be a step behind," Saunders said. "But if you can take in everything and get into a little bit better position, you have a better chance of digging that ball."
Saunders, winner of six consecutive Class B state championships, doesn't rest on her trophies. She's constantly seeking "the edge." So when Ken Moreano — president of the Scott Data Center in Omaha — approached her in late 2019 and pitched a mental fitness system, Saunders listened.
Moreano, one of NeuroTrainer's investors, showed Saunders what the program measured and why. He'd seen benefits first-hand, with high school students improving their test scores after using NeuroTrainer.
Before Saunders directed her players to participate, she put on the Oculus Quest headset, logged into the app and engaged in baseline exercises herself.
"In the simplest form, you're in a video game," Saunders said. "The video game has robots throwing things at you, and you're trying to dodge them or pass them to your teammate. It's pretty sweet, actually."
During the first months of COVID-19, Saunders shared NeuroTrainer with her seniors. Last fall, most of her varsity players joined, checking out a headset three times a week and completing 15-minute sessions. Saunders even mandated NeuroTrainer on game days, citing Skutt's improved serve receive.
"We did a better job tracking the ball and making decisions," she said.
The original vision of NeuroTrainer had little to do with sports. Founder Jeff Nyquist studied neuroplasticity, learning how the brain — even later in life — can be trained or rewired.
In one series of tests, Nyquist and his colleagues discovered that multi-object tracking exercises — similar to NeuroTrainer drills — could help those visually impaired, invigorating parts of the brain and creating new neural pathways. Even a year after the study, their vision showed improvement.
"That's the exciting point," NeuroTrainer President Noah Rolland said. "Not only are we rewiring the brain, but it's sticking. It doesn't go away."
The science had potential in health care, specifically Alzheimer's and dementia. But there weren't enough paying customers — not yet. NeuroTrainer needed to create a market while accumulating more data. That's where sports entered the picture. Athletes will pay for improvement if it's provable.
"Sometimes things are created, and you never know who the customer is," said Moreano, who represents Aksarben Discovery Capital in Omaha.
Cognitive training exercises come in many forms, but according to NeuroTrainer, virtual reality demands more attention and yields better data. The headsets — along with handheld paddles — measure reaction times.
Think of Tetris, only more complex.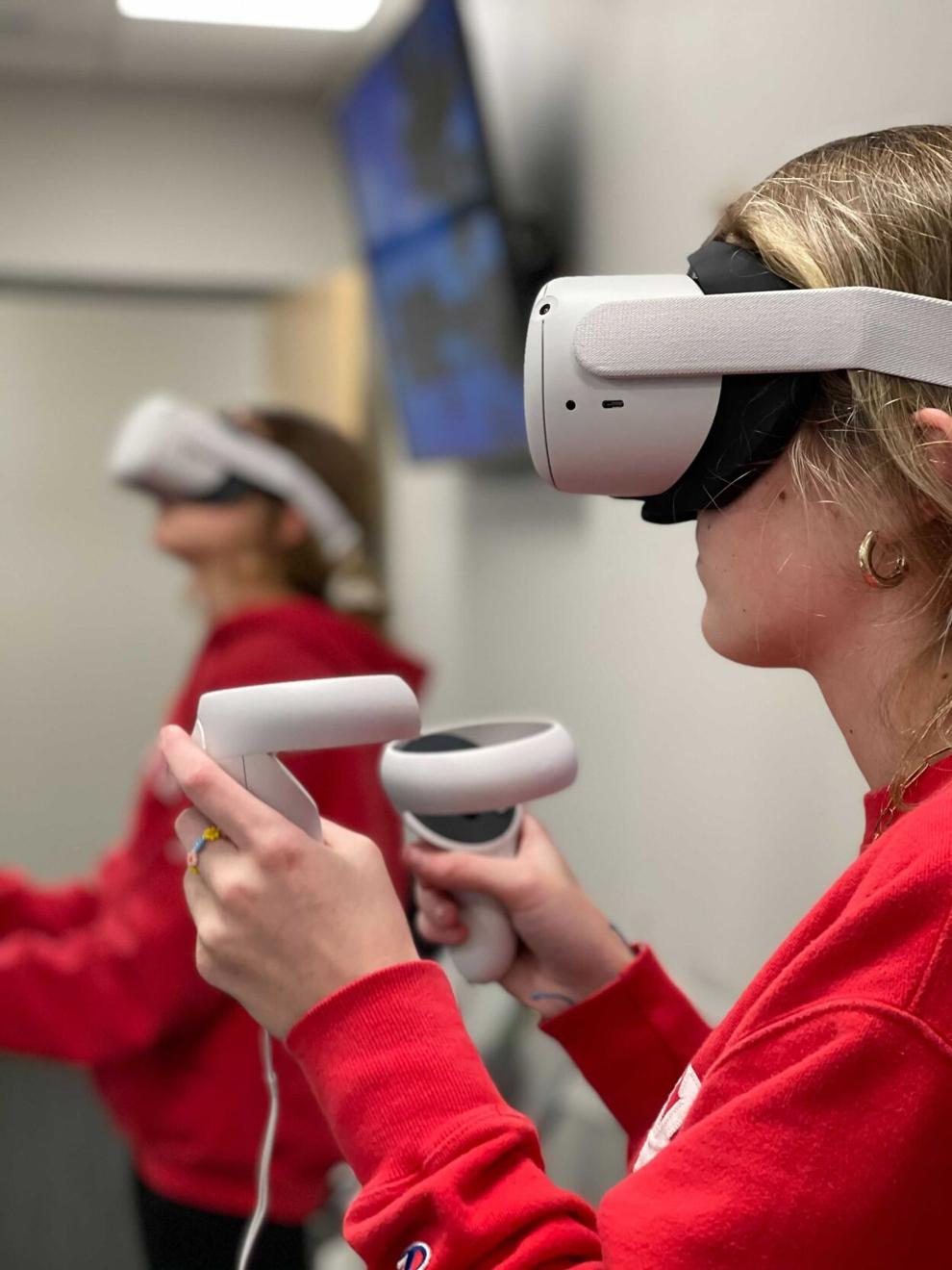 "I'm going to try to explain it to you," Krause said. "There's like a ball in front of you. It has vertical lines on it, so you can tell if it's spinning to the left or right. Whichever way it's spinning, that's the way you have to turn your head to look where the robots are.
"There's one blue robot and the rest of them are red. The blue robot is the one you want to hit.
"After that, there's four different cannons pointed at you. The ball is going to come from one of those cannons. If it's a 2, you have to let the ball go by. If it's a 3, you can hit the ball to that robot."
Sometimes the robots disappear, sometimes the numbers change, the pace always accelerates — "It gets super intense," Krause said. A few times, she's caught herself yelling at the VR.
"Oh, my gosh, whenever you did something wrong or you didn't hit the robot correctly, it made this noise — (like a tuba) — and it's like, yes, thank you. I know I got it wrong," she said. "It tells me to focus, and I'm like, 'I'm trying!' "
The scene is reminiscent of 20 years ago, when football quarterbacks played Xbox games to improve their decision making. Back then, the training benefits took a backseat to the entertainment. Now, the science comes first.
It won't be long, Moreano said, before volleyball fans walk into a high school gym and see athletes using VR headsets during warmups.
Of course, the irony here is pretty comical. Here's a Silicon Valley startup using cutting-edge technology to counteract the ills of ... cutting-edge technology.
Smartphones and social media create never-ending stimulation and distraction, complicating teenage attempts to concentrate. From that perspective, brain training isn't the future of athletic performance at all.
It's a look back in time.
---