With his chain saw idle for a moment, Ray Agosta happily took a break for the glass of ice water offered by his wife, Marilyn.
Before them Sunday afternoon were piles of downed tree limbs. Nearby, Sharon Street in northeast Omaha was still choked with limbs. If the tucked-away road was to be cleared and their 80-plus-year-old aunt's yard was to be cleaned up, it seemed up to these two 60-somethings.
"This is not easy," Marilyn Agosta said. "If we were younger, it wouldn't be such a big deal. It's overwhelming."
As thousands of metro area residents faced another night without power, and as chain saws could be heard buzzing in neighborhoods, Omahans got some good news Sunday:
More than 80% of power outages were likely to be repaired by day's end, and the city's trash crews will pick up limbs curbside this week.
Numerous rules apply to the curbside pickup, so the service won't solve every problem residents face, but it will help, the Agostas said.
"We can get this to the curb," Ray Agosta said. "But we need some help with the big stuff."
Still, progress with complete power restoration could take until Friday, the Omaha Public Power District said late Sunday night. While the utility hopes to have 99% of the outages repaired by midnight Tuesday, the final 1%, perhaps 1,800 customers, could take until Friday, OPPD announced.
Parents of summer school students got some not-so-good news: The Omaha Public Schools canceled summer school and related programing for Monday because of power outages. The Meals2Go pickup was rescheduled to Tuesday.
As the Agostas surveyed their mess, many residents in densely treed parts of the metro area faced another night without power. Some lucky residents were able to run extension cords to their neighbor's home to power their refrigerators and freezers. Others hauled coolers of food to friends' homes. Others fretted over the cost of pitching a freezer full of meat, given the uncertainty of when they might get power back.
There was a reason for the upheaval: It was a record-setting storm.
The storm was as powerful as any windstorm known to have struck Omaha, according to the National Weather Service, and it obliterated the previous record for power outages, according to the Omaha Public Power District.
Straight-line winds reached 96 mph early Saturday morning, similar to an EF-1 tornado or a Category 2 hurricane ripping through the metropolitan area. The last time the wind blew that strong in Omaha was Aug. 23, 2016, when a much smaller storm set the city's wind record, said weather service meteorologist Brian Smith.
Underscoring the storm's extraordinary power and reach, it caused 188,000 power outages in OPPD's service area. That is 20% more than the previous record, the 156,000 outages on June 27, 2008. (The historic snowstorm that pummeled a Halloween-decorated Omaha in October 1997 left 150,000 in the dark.)
As of 7 a.m. Monday, about 40,000 OPPD customers remained without power, according to the district's outage map. Most were in Omaha, generally east of 120th Street.
Laura King-Homan, an OPPD spokeswoman, said Sunday that the utility didn't have a timeline for how long it will take to fully restore power.
The utility estimated that 85% of the outages would be restored by midnight Sunday, leaving some 30,000 still without power for a third day on Monday.
Crews have been working around the clock, and OPPD set an internal record: deploying more workers than ever before to get power back online — 539 crew members, King-Homan said.
"That's the most people we've ever had working on a storm," she said. "That shows you the severity."
The utility repeated its warning that people not touch or approach power lines. Report downed lines at OPPD.com or by calling 800-554-6773.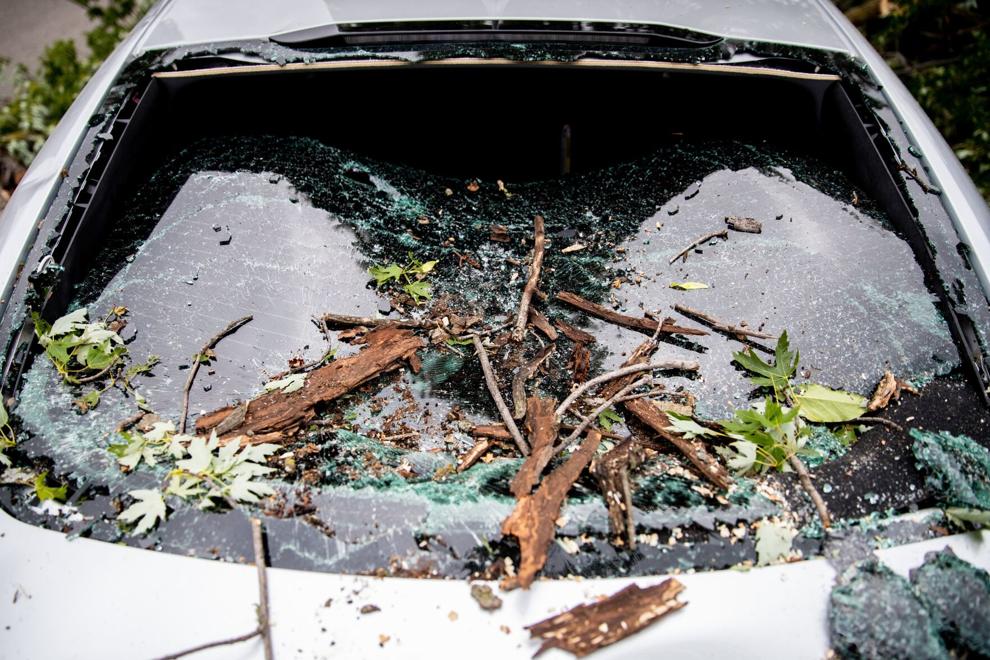 We are not letting up on restoration efforts. There are currently 178 crews consisting of 539 personnel working to restore power. Today, crews are encountering areas w/ dense vegetation tangled in our power lines. We must remove vegetation before restoration work can continue. pic.twitter.com/AfNTBeJHQy

— OPPDCares (@OPPDCares) July 11, 2021
The City of Omaha's six debris drop-off sites were busy Sunday and will remain open through Wednesday.
Victor Hogan, who hauled a pickup load to Levi Carter Park, said the drop-off site was "a huge help."
While people complained of long waits at some sites, James May, who was emptying his second pickup load Sunday afternoon at Levi Carter, said changes there had sped up the lines. In the morning, he had to wait about 40 minutes, but by the afternoon, with multiple drop stations in the parking lot, the line moved quickly.
"These storms are bound to happen," he said. Like the Agostas, he said curbside pickup was sorely needed. "There are a lot of people who need help."
The drop-off sites, open from dawn to dusk, are at Ta-Ha-Zouka Park in the Elkhorn area; Hefflinger Park at 112th Street and West Maple Road; Towl Park near 90th Street and West Center Road; the parking lot at 156th and F Streets; Levi Carter Park at the concrete boat ramp; and Al Veys Park at 6506 S. 60th St.
Most streets had been cleared of debris and were passable by Sunday.
But hazards remained, either from partially or fully blocked roads or from limbs dangerously dangling over sidewalks and streets. Carrie Murphy, a spokeswoman for the city, said people can report problems with public trees or blocked roads to the Mayor's Hotline at 402-444-5555. Generally, public trees are those in the grassy area between the sidewalk and the street or in medians.
Curbside pickup is being offered this week only, unless something changes. The pickup will be done by crews with the city's trash hauler, FCC Environmental Services, as they make their regular rounds.
Tree debris can be put in yard waste bags or small bundles that have been tied together, but the city asks that people first completely fill their carts with yard waste before turning to bags or bundles. Crews will be manually loading bags and bundles into 96-gallon carts, and then activating the trucks' lifts to get the debris inside. Because of this extra work, residents should expect delays in trash pickup, according to the city.
Bundles should be no longer than 4 feet and weigh about 40 pounds or less. Prepaid stickers won't be required for yard waste bags.
Any limbs wider than 6 inches in diameter or longer than 6 feet should be taken to a drop-off site, the city said.
---