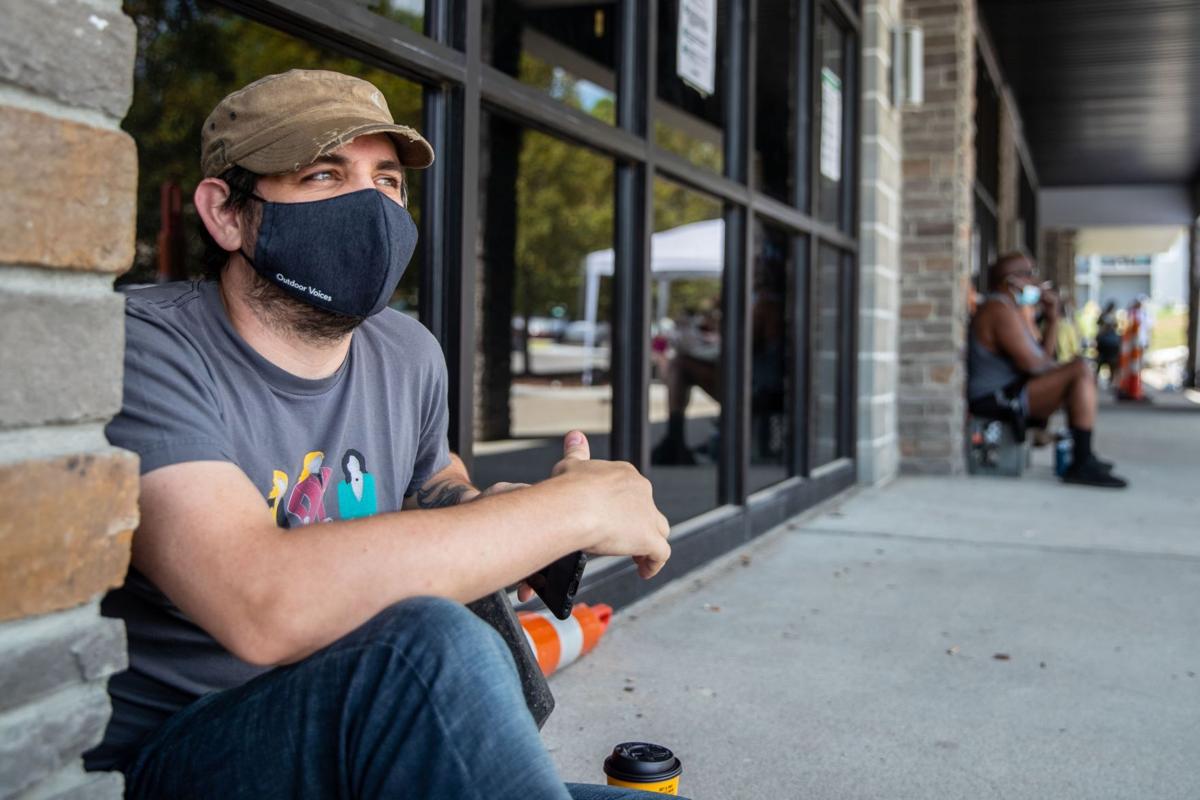 While it was still dark, before much of the city started to stir, the line for unemployment and job search help began to form outside Heartland Workforce Solutions.
Mary Pirtle, 65, was the first to arrive sometime after 4 a.m. Thursday. She snagged the coveted spot at the front and settled in to wait until the job center, the only unemployment insurance assistance office in Omaha, opened its doors at 8 a.m.
"You have to get here," she said. "I had some sleep and I was ready to go."
Experience had taught her and the others gathered early that it doesn't pay to sleep in.
Inside the Heartland Workforce Solutions office at 57th Street and Ames Avenue, staff is limited, and ironing out unemployment claims takes time. No one wants dozens of people crowding inside a building while the coronavirus still lurks. So people sign up on a list outside the building when they arrive and receive a number that's called when it's their turn to enter, like a deli counter for the unemployed.
By 11 a.m., 117 people had signed in. A whiteboard outside let everyone know what number they were up to: 58.
So they waited — the out-of-work, the furloughed, the job-seekers. They came from a variety of backgrounds: old and young, white, Black and Latino, a software developer whose hours have been reduced and a former nursing home aide raising three kids by herself.
"I can't stand sitting at home," said Edith Gamble, a 64-year-old who worked on the production line for Oriental Trading and isn't ready to retire. "I just like to work. I don't want to stay on unemployment. I want a steady paycheck — that way I know all my bills are paid."
They lined up on the sidewalk, or kept their distance in the parking lot. They brought camp chairs to sit in and books to pass the time, or swapped layoff stories and shared job leads: "Yeah, my niece works there. She said they're always hiring."
Months after the start of the pandemic and the economic crash that followed, thousands of Nebraskans are still struggling to find work while also navigating the state's unemployment system.
As the pandemic drags on, the hurdles mount. Without intervention from Congress, the extra $600 per week many have been receiving will expire Saturday in Nebraska, shrinking the unemployment checks used by many to pay rent or mortgages, buy groceries and simply stay afloat.
"Maybe they should come down here and see how it is," Anjelica Montelongo, 26, said of the politicians negotiating over extending pandemic relief. "Right now, my kids think we're on vacation," said the former aide at the Douglas County Health Center. "They don't know I lost my job."
Nebraska Gov. Pete Ricketts has said more employers are hiring, and earlier this month reinstated job search requirements for those receiving unemployment benefits. If they can't prove they've applied for jobs or been looking for work, benefits may be denied.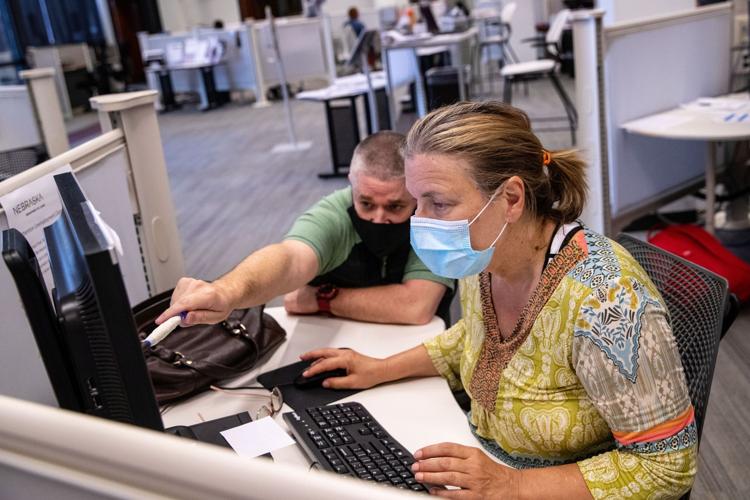 Velma Poe, 60, an Omaha Public Schools paraprofessional who is waiting to see if the district brings her back when schools partially reopen next month, snorted at the idea that open jobs are plentiful. The few she finds — listings for grocery store cashiers or health aides — seem risky for older workers like her during a pandemic.
"Yeah, you can get a job — at a nursing home," she said. " 'We're hiring.' Well, of course you are." Nursing homes have been hit hard by virus outbreaks that have sickened both workers and residents.
"It's just really sad," she said. "You just feel like you're forced to put your health in danger."
Gamble would love a job at the 3M plant in Valley that makes N95 face masks or the Amazon distribution center in Sarpy County, but her car isn't reliable, and she's not sure it will survive the commute from North Omaha to the suburbs.
Still, she circled a few that looked promising on a list of available jobs that a Heartland worker passed around. It advertised a mix of white- and blue-collar job openings: a cook at Buffalo Wild Wings, a computer engineer at PayPal, a pharmacist and a stocker at Lowe's.
"I'm trying to think of jobs I can do by myself," Gamble said. "I looked at the garbage man the other day and said, 'Damn, he's by himself.' "
Some of those waiting had been out of work for months and needed help untangling problems with their unemployment claims so they could get paid.
"I haven't been receiving benefits for three weeks now," said 19-year-old Tri'Onna Piller, who wasn't getting enough shifts at her job at McDonald's after she gave birth and the pandemic hit. "I have babies."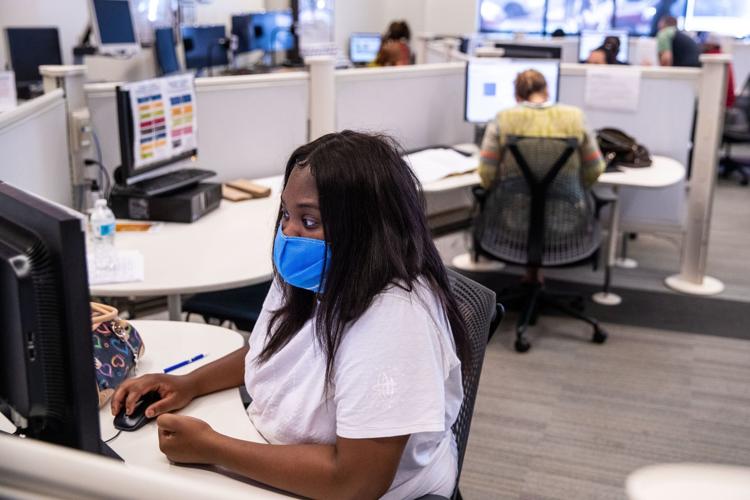 Others were job-hunting, filling out applications or updating their résumés. Some, like Judy Smith, came in person because they wanted to be sure they did everything right.
The 67-year-old hotel worker is getting benefits while unemployed, but she has been calling her bosses at the Hilton in downtown Omaha each week to see if business has picked up enough to bring her back. "I'd prefer working. This is so frustrating. I don't want to come down here every week."
Grace Johnson, a Nebraska Department of Labor spokeswoman, said about 99% of claims are submitted online, and people don't have to apply in person to extend their benefits. The volume of calls to the state's unemployment hotline fluctuates, but Johnson said more people have been calling in with questions since the job search change was announced.
State officials say there are now signs of improvement. Johnson said the turnaround time for processing unemployment claims is getting better — over the past month, 75.5% of unemployment checks for first-time filers have gone out within 28 days.
New unemployment filings have dropped sharply from a weekly high of more than 25,000 in early April. And Nebraska's 6.7% unemployment rate in June was better than the national rate of 11.1%.
But cutbacks and layoffs haven't stopped. State data shows nearly 4,000 new regular unemployment claims were filed last week, plus another 1,500 from independent contractors and those who are self-employed seeking special Pandemic Unemployment Assistance.
Some who are unemployed still complain about missing payments, claims denied for reasons they can't understand and other glitches that require them to spend hours on the phone or seek help in person.
One 36-year-old man who didn't want to give his name was furloughed from his job due to the pandemic. He's trying to prove to the state that he doesn't have to apply for new jobs, because his job plans to recall him this fall. But the job waiver his employer sent is still not showing up on his unemployment claim, even though he has sent emails and waited in phone queues.
"It's not an easy system to navigate, and I'd say I'm good at computers," said Donna Knerr, the operations manager at Heartland Workforce Solutions. "Most people that come here need the extra help. It's not (intuitive)."
Those assisting at Heartland include in-house staff, three unemployment specialists from the Department of Labor and contractors from the National Able Network. Johnson, from the Department of Labor, said the state increased its staffing there in response to the pandemic.
Knerr said there's no doubt they could use more.
"We could help more people and serve more people, but we don't have the staffing," she said.
Smith, the hotel worker, just wants her old job and routine back. She was tired and frustrated after waiting in line and then spending over an hour applying for jobs and answering the same questions on the online forms "over and over again."
"I'm old school," she said. "Let me work for my money. Let me earn it."
---
Our best staff images from July 2020
Get local news delivered to your inbox!
Subscribe to our Daily Headlines newsletter.