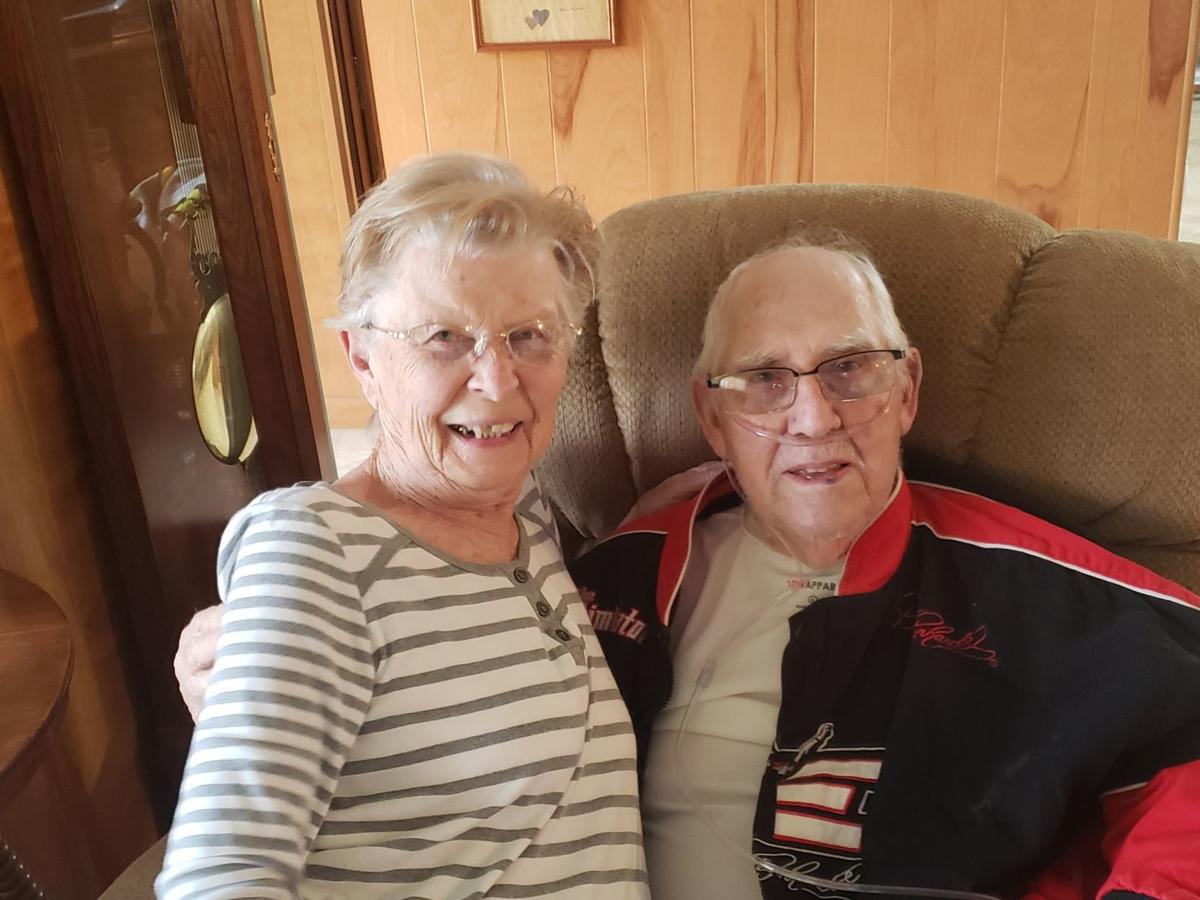 An Iowa couple almost 90 years old have survived life-threatening coronavirus infections, just in time for their 70th wedding anniversary.
Ardis McCandless, 89, and the younger man she married in 1950, Bert McCandless, contracted COVID-19 in March and were hospitalized at Creighton University Medical Center-Bergan Mercy. Ardis didn't have it as bad as Bert, who's 88.
She spent three days in the hospital in late March. He went into the hospital on April 1 in shock and barely alive. A doctor estimated that he had a 10% to 20% chance of surviving. Bert was on a ventilator for more than two weeks. But on April 24, Bert returned to the couple's home in Whiting, Iowa, where Ardis was so happy to see him, she sat on his lap.
"She hasn't done that in 30 years," Bert said. "So I must be a hot commodity."
"I hugged him and kissed him and cried, and I have a picture of me lying across his lap," Ardis said, laughing. Just to be clear, she added, "We had our clothes on."
By Friday, the lively couple were back in their little ranch house in the small northwestern Iowa town of Whiting, watching the birds through the dining room window and looking forward to getting back to gardening, quilting and visits from their grandchildren and great-grandchildren. They're still recovering, especially Bert. But it looks like by summer, he will be able to make his daily rounds of senior centers, coffee shops and bars to give away the vegetables he grows for fun.
That's a lot better than the outlook for most of the spring.
The novel coronavirus has hit older people a lot harder than younger people. It has been particularly dangerous for people over 85. A study released in mid-April, as reported in the Washington Post, found a death rate of 40% among people 85 and older who had been hospitalized with COVID-19 in the U.S. Even among relatively healthy people without co-morbidities like the McCandlesses, the death rate in the study was still 22% to 27%.
Ardis McCandless contracted it first. The couple's daughter, Terri Schaaf, is pretty sure that they got it from her and that she picked it up on a trip to the Ozarks in mid-March, just before cases started to be reported in the Midwest. Ardis went to the clinic in Onawa, Iowa. She was turning blue, so on March 25, she was sent by ambulance to Bergan Mercy. The family has an affinity for the Omaha hospital because of Bert's successful heart bypass surgery there a couple decades ago.
Ardis was able to go home on March 28. But Bert's cough and other symptoms worsened. He, too, went to the hospital in Onawa. He was in dire condition by the time the ambulance took him to Omaha on April 1. He has no recollection of more than two weeks, going back to before the trip to Omaha.
Dr. Bryan Krajicek, a CHI physician who was involved in Bert's care, can fill in some of the blanks. He said Bert was in shock and "already intubated, requiring a ventilator," when he arrived at Bergan Mercy.
"He was in our ICU for over two weeks, requiring really every bit of critical care support that we could provide to him in the ICU," Krajicek said. "Mechanical ventilation, He required neuromuscular paralysis ..., which is something we do to kind of limit the body's oxygen needs and to improve his interactions with the ventilator."
They used medicine to keep Bert's tanking blood pressure up. They periodically "proned" him, or turned him over on his stomach, to optimize his lungs' oxygen uptake and protect his lungs, a practice that is shown to reduce mortality in such patients, Krajicek said.
"In an 88-year-old guy who was that sick, his predicted mortality would be 80 to 90% or beyond, quite honestly," he said.
The team of doctors and nurses provided what Krajicek called an "evidence-based standard of care" to keep Bert alive until his body could fight off the virus. He did not receive convalescent plasma or remdesivir, as some coronavirus patients do. Krajicek attributed Bert's survival to such care as the team's careful management of ventilator pressure and fluid intake, as well as to Bert's physical condition coming in.
According to Bert, the first doctor he talked to after waking up put it this way: "You're one tough son of a bitch."
Bert said he was grateful to the Bergan Mercy doctors, and especially the nurses, who took care of him.
His daughter thinks that hard work in the garden has something to do with his survival.
"Last summer, he would have been 87, he'd be out working in the garden sweating his butt off all day, and come in and change his clothes and go back out later," Terri said.
The couple live within a couple miles of the farm where they raised Terri and their son, Dennis, along with corn, beans and livestock. Ardis worked as a postmaster for 30 years. The couple traveled a lot, once taking their grandchildren on a road trip to Alaska.
Bert has been around the world three times with his buddy Gene Simpson of Omaha, who owned an aircraft sales company. Bert and another friend built an outboard motorboat from a kit and piloted it from Onawa down the Missouri and Mississippi Rivers all the way to New Orleans in 1958.
Now Bert makes daily rounds of senior centers, coffee shops and bars (to play pool and have a pop; he doesn't drink.) They have more than a dozen grandchildren and great-grandchildren and catch a lot of their ballgames.
Ardis works in the flower garden and sews quilts, including with a group of friends at the library in Whiting. She had 27 quilts in a show last fall, including her favorite, a "whack and stack" with Southwestern colors.
"We'll never freeze to death," she quipped.
The couple were high school sweethearts in Whiting. Ardis dumped Bert after they graduated. But she let him know that she would like to see him again, and they were married in a small ceremony in Whiting on Oct. 6, 1950.
They don't have big plans for their 70th anniversary. Ardis doesn't like a lot of fuss.
"I'll look at her," Bert said. "And she'll look at me."
Krajicek Said: "We've had a few really good outcomes that we're really proud of. To have a 70th wedding anniversary to celebrate at the end of this recovery is just remarkable. It's stories like these that certainly make for a good day."
April photos: Nebraska faces coronavirus