Cynthia Robinson has a regular group phone chat with her adult children. That's where she first saw the video of a white Minneapolis police officer kneeling on the neck of a handcuffed black man who said, 16 times, he couldn't breathe.
Eventually, 46-year-old George Floyd stopped speaking at all, but the increasingly desperate cries from bystanders filming the incident did not convince the officer, Derek Chauvin, to move his knee. Only paramedics did, after Chauvin had kneeled on Floyd's neck for eight minutes and 46 seconds.
Floyd died. Chauvin was fired, arrested and charged with murder. The three officers also on the scene were fired, arrested and charged with aiding and abetting Chauvin. All face up to 40 years in prison. Between Floyd's death and those charges, America pulsed with sorrow, pain, anger and, in some moments, the kind of rage that breaks windows and burns buildings.
An associate professor and chair of the University of Nebraska at Omaha's Department of Black Studies, Robinson teaches courses on the history of race in America. She's seen when her white students, just a few classes into the semester, begin to grasp the centuries of racial injustice — slavery, lynchings, Jim Crow laws, redlining, laws that lead to mass incarceration — experienced by African Americans at the hands of white folks.
My God, the students have said to her over the years, I didn't know.
But the video of Floyd's killing was everywhere in hours. "Please, the knee in my neck," Floyd said.
"To see him very slowly, very methodically, very intentionally kneel on Floyd's neck, while he slowly, slowly dies in front of everyone, that was a tipping point," Robinson said.
Floyd died May 25. By May 26, our collective attention had shifted from the coronavirus pandemic, an infant in America's long history, toward a problem so deep, painful and original to the United States — racism — that it predates the nation's founding. Protests ensued, as did sometimes-violent clashes between protesters and police. Rubber bullets. Eyes stung with pepper spray. Nationwide looting and vandalism.
In Omaha, a death — of 22-year-old James Scurlock, shot by a bar owner, Jake Gardner, who has not been charged, though a grand jury is expected to be convened. In Lincoln, a row of office buildings — from a courthouse to the State Capitol, busted up and burned. There have been curfews, a heated meeting between Gov. Pete Ricketts and black community leaders that led to a Ricketts apology, tears and cheers from protesters and videos. So many videos, from hours-long livestreams to snippets shorter than you can hold your own breath. Riots you once had to see in person — or were limited to helicopter cameras — are now viewed with you-are-there intensity.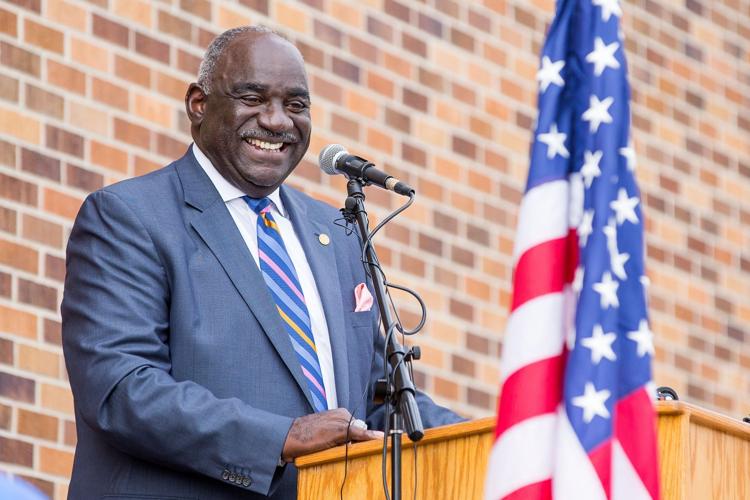 "Social media is quicker than anything you can think of," said Gene Haynes, an educator in Omaha for 53 years and retiring principal at Omaha North High School. "It's good and bad."
It has been nearly two weeks since Floyd's death, and perhaps it will be a long, hot, painful summer, reminiscent of the 1960s, when protests and riots stretched on for months. Those interviewed readily remember the death of Ahmaud Arbery, a black man killed in Georgia while jogging by three blasts from a white man's shotgun, and a video of a white woman calling police to say that a black birdwatcher in Central Park — who'd asked her to leash her dog — was in fact threatening her.
These incidents arrive as familiar, overwhelming waves of pain, crashing and noisy, only to recede into calm until the next set of waves.
In interviews with The World-Herald, a broad group of community leaders — teachers, pastors, coaches — said they'd like for the city, the state and the nation to navigate through the storm instead of sailing away from it. For Omahans — particularly white Omahans engaging for the first time with the weight and complexity of racism — the "what now" after Floyd's and Scurlock's deaths begins with acknowledging what's right there on their phone or tablet.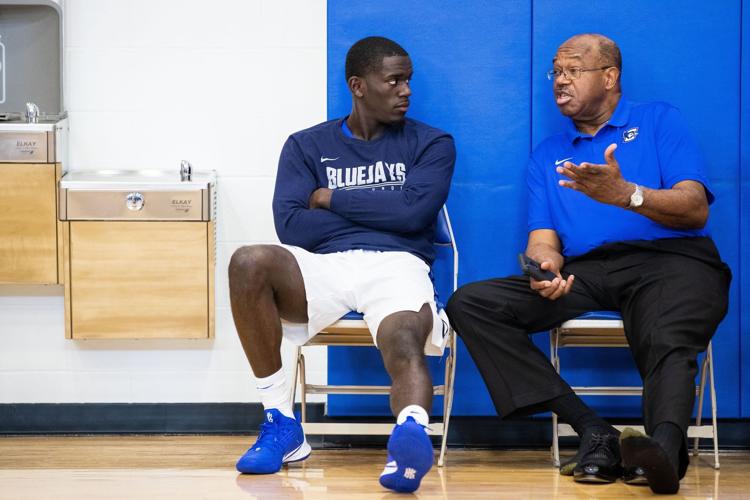 "It hurts, it hurts deep, and it hurts deep for people of color," said Len Gordy, student and community outreach adviser for Creighton's Intercultural Center. "But there's also white people looking at this saying, 'This is flat-out wrong.' "
"There's now a visual to the voices of people who have been crying out for many years," said Josh Dotzler, a pastor at Bridge Church and CEO of Abide, a neighborhood relief organization in North Omaha. "The hope is we're seeing people respond and speak up and say something in a way that we've never seen before. There's more education that needs to happen — it's a long, ongoing process — but there's an awareness that we can no longer deny, that it's the reality of a lot people in our city and our country."
A former four-year starter for the Creighton basketball team, Dotzler said it can be too easy for white people to not grasp — and thus ignore — the experience of African Americans. Imagine a landscape of silos from ground to sky, spheres in which we live, work and play. Some visit more silos than others. Dotzler's dad, Ron, is white. His mom, Twany, is black. Dotzler himself was a college athlete in a diverse locker room. He talks with pastors, many of them white, around the city. He lives and works in a lot of spaces. Others, not as many.
"We hire people who are like us, we do life with people who are like us, we invest in people who are like us, we move to neighborhoods where there are people like us," Dotzler said.
Values shape around those similarities. Biases can and often do form. Dotzler remembers his mom, from the Washington, D.C., area, telling his dad, from a small town in Iowa, that he had prejudices rooted in where and how he grew up.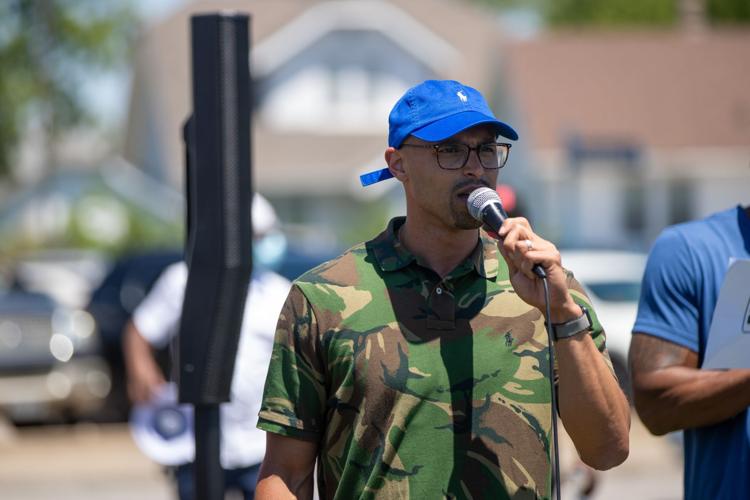 They loved each other, but his dad, Dotzler said, had a different worldview from his mom.
Whites can lack the perspective of black America. How phrases like "you people" or "you guys" sound when said to a group of black leaders. Or how a compliment might sound to a white coach — like Omaha Central basketball coach Eric Behrens — when said about his predominantly black basketball teams that won seven state titles in eight years.
"They'll say things like, 'You do a great job getting those guys to play together,' or, 'You guys play with a lot of discipline,' " said Behrens, who is also a history teacher. "I don't think probably the coach at Kearney High gets those comments. Or the coach at Millard West. If you stop and think about the compliment, they're saying it because of the nature of our demographic."
Or how Gordy, who also works with Creighton basketball players, felt when he talked last week to his 20-year-old grandson about how to act if he's ever pulled over by the police. No sudden movements. Hands where they can be seen. Do everything you can do just to get home. It's known as "The Talk" families tend to have — feel they must have — with their black children.
"That's a little draining," said Gordy, who has worked in some capacity for CU for 25 years. "I don't know if everybody has to have that conversation with their kids."
In his role, Gordy talks a lot with 20-year-olds. Because Creighton's campus is shut down due to the coronavirus, he's listening remotely, through a computer screen.
"We're on Zoom calls with African American students Tuesday night," Gordy said. "You shut up and let them vent, and they're hurting."
It's not remotely the first time, of course, the pain is being shared in the past decade. A series of high-profile African American deaths — Trayvon Martin in 2012; Michael Brown, Eric Garner and Tamir Rice in 2014; Freddie Gray in 2015 — had their own protests attached to them. Debate that started in 2016 over former NFL quarterback Colin Kaepernick's kneeling during the national anthem, which spilled into Nebraska when three Husker football players did the same, lasted more than a year, well after Kaepernick, seemingly ostracized from the league, had taken his last snap.
"That's been the frustration for generations: Telling a story that's not being heard," Dotzler said. "And for some — not for everybody — it's not because of lack of good intentions. There's just no connection to it."
As every form of media — TV, radio, newspapers, social — are stuffed with images and stories about protests, it's increasingly difficult not to feel something. Students of civil rights history, Behrens said, can see the connection between Emmitt Till, a 14-year-old boy lynched in 1955 Mississippi, and Chauvin's knee on Floyd's neck.
"We're not past it as a society, as a country," Behrens said. "It's still certain we have room to grow, and the sooner we acknowledge that, the sooner we can take those steps."
Suggestions for action — and shifts in attitude — emerge.
First, racism is so entrenched in American history, the pain of it so pointed and habitually renewed, that a set of tidy, efficient steps for healing doesn't exist.
"Part of the problem is we want a solution overnight," Dotzler said. There isn't one. Dotzler, instead, looks at a long-term approach with three parts: Learn, Stand, Give. The learning piece is straight-forward enough and a place to start. Standing in solidarity with black leaders who work to fight injustice is the second part. A Zoom prayer call last week with "50-plus" Omaha-area pastors — many of them white — was encouraging, he said.
"This was the key — (white pastors) said, 'We want to follow your leadership in the community,' " Dotzler said. " 'We're not trying to tell you what needs to change, we're not trying to bring the change, we're trying to follow and support the change that needs to happen.' That's new."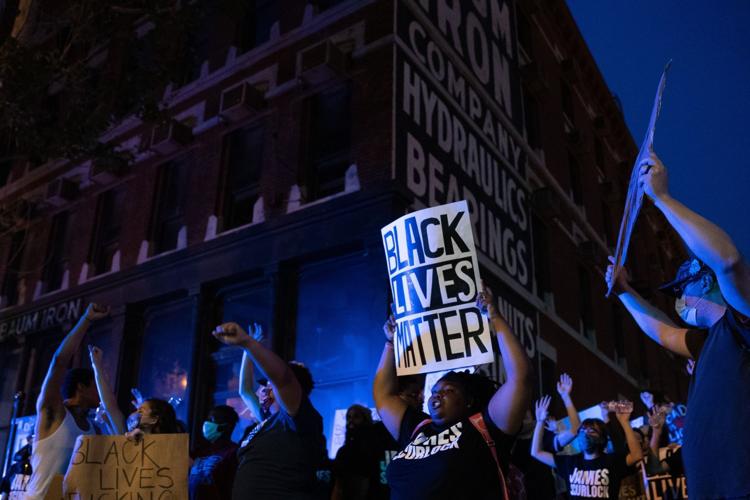 The "give" portion of Dotzler's framework involves time and resources. White people, he said, don't always need black people to succeed in areas of business and culture, as they rely on existing networks of other white people for relationships and funding.
"But, from my experience, I need white people to be successful," Dotzler said. "I need their relationships, I need their resources, I need their perspective because I live in a culture where the dominant culture is white culture."
Dotzler uses a faith example to illustrate his point.
"Jesus went to places that were out of his way," Dotzler said. "What he was showing us was life's not about taking the fastest way, the easiest way. Love requires we go out of our way in order to make a way for people who can't make a way on their own. For the white culture, it's like, 'I didn't cause this, I love people, I have black friends,' and the reality is, a lot of the systems were started by a few, but they're followed by many."
When black leaders discuss the phrase "white privilege," it's in part rooted in whites having the dominant American culture for politics, finance, fine arts — all sorts of institutions — for centuries. Robinson said the idea of acknowledging that privilege — owning it — is a key part of moving forward.
"And then the second step is, you know that privilege comes with some kind of power," Robinson said. "Use that power for good. That's really all you've got to do."
White people, she said, have to talk to other white people about racism. Police officers have to "call out dirty cops," however many or few there are. Progress starts, Robinson said, after a racist joke at the dinner table. Do you allow that racial injustice or not?
"Quit coming to black people and saying, 'Please save us, please help us, Cynthia, what should we do?' " Robinson added. "What would you want done if it were you?"
Gordy focuses on the idea of building trust, particularly with the police. He's a believer in faith, too. He also noted that so much criticism directed toward Kaepernick looks different now when the same act is used to foster trust between protesters and cops at rallies.
"How ironic is it that the calming force, now, across the country is simply to take a knee?" Gordy said.
Haynes, the consummate educator, focuses on respect and being prepared. Proactive instead of reactive. Fostering respect for others — and yourself.
"We need to prepare young people — some in middle age, some older people — for how to deal with a crisis," Haynes said. "Racism is not going to change — I don't care how much you preach about it — but you need to be prepared."
He believes in giving, too. Has all his life. Wishes he could open up Omaha North right now — school's out of session and the pandemic prevents it anyway — and hear out students as they vent and talk. He figures he's lost a "dozen to a dozen-and-a-half" students over the years to "tragic" circumstances — often due to being in the wrong place at the wrong time, he said. But Omaha is still the place where he's made a full, fruitful life in which he and his wife, a retired educator from OPS, can go almost anywhere in town and know at least one person who one of them had as a student.
"I just marvel at that," Haynes said.
It's a long way from Gholson, Mississippi, an unincorporated town so small it lost its post office. Haynes grew up there, in the Jim Crow South of the 1950s and '60s, and a small lesson he can impart from that harsh time comes in the form of a vignette: There was a white dairy farmer — Vardaman Van Devender — for whom Haynes worked on Saturdays. When one of Van Devender's sons, Ed, went to college, Haynes got his bike. And when he was 12, he got a key piece of advice, too.
"He told me, 'Gene Haynes, I know your family, and I know what your family wants for you, but if you want to be a success, you're going to have to leave the state of Mississippi,' " Haynes said. "He was sincere."
Mississippi has changed for the better since then, even as George Floyd's death brings back into focus what hasn't entirely changed. Van Devender's advice, in that era, was some of the best help he could give. Because of progress made over the past 50 years, more can be done.
Today, Robinson said, she can teach a class on race on a predominantly white campus in a "very, very, very conservative" state to a majority white audience. She can make an End Racism banner that will hang in the department. There was a time, she said, black people weren't on UNO's campus unless they were "cooking or cleaning."
"There's not a legal system of slavery in this country today, and there was," Robinson said. "Protesters, black and white, can stand next to each other. That used to be against the law. You weren't going to protest a white police officer with his knee on a black man. You wouldn't have been able to stand there and videotape.
"We have power. So don't give up. Keep fighting."
---
Photos: Omaha protesters come out again on first night curfew is lifted
Wednesday Protest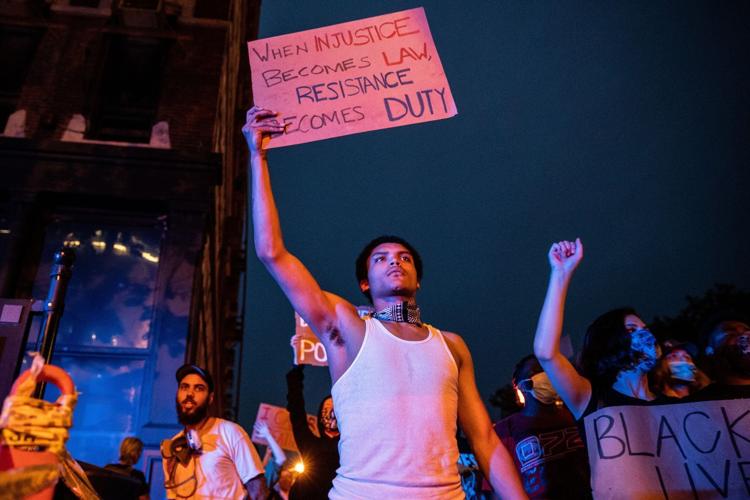 Wednesday Protest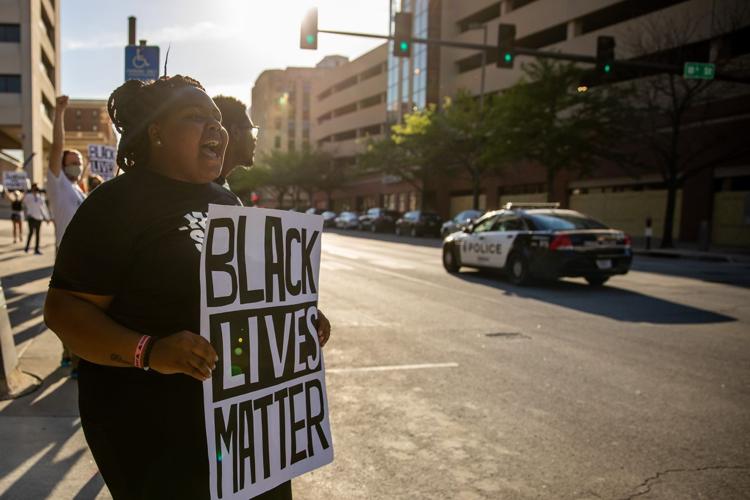 Wednesday Protest
Wednesday Protest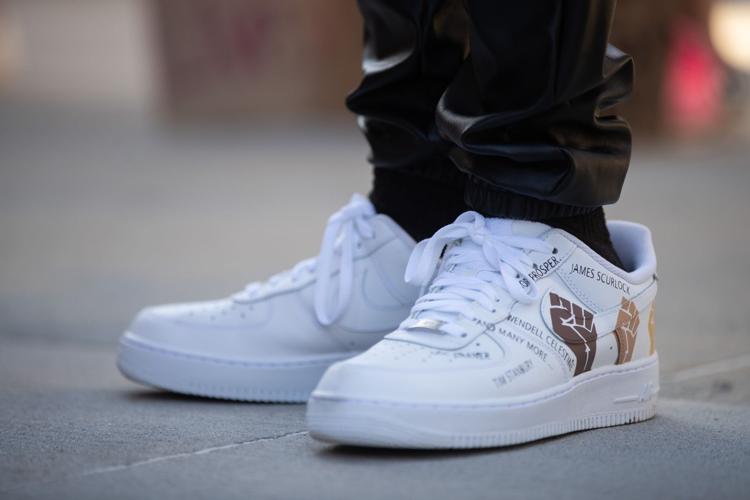 Wednesday Protest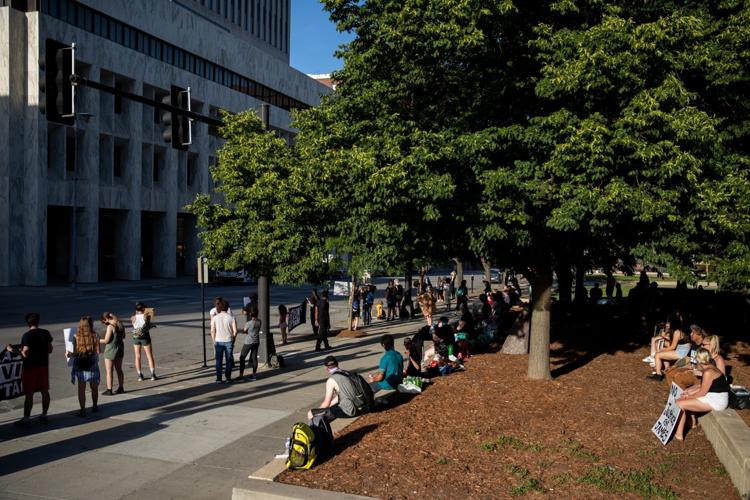 Wednesday Protest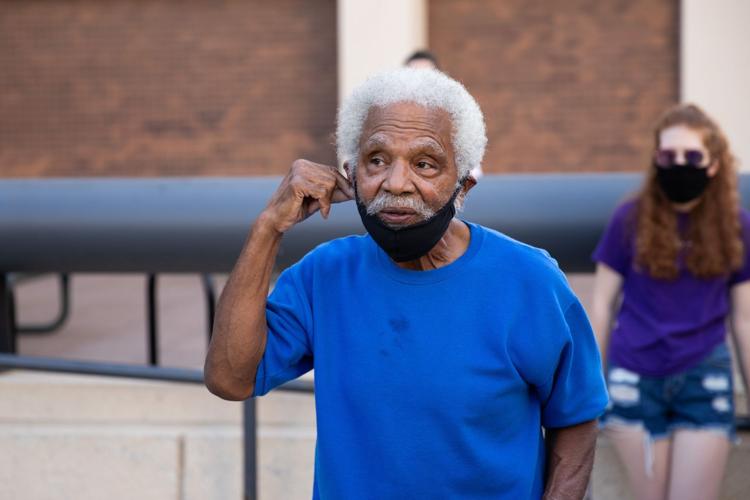 Wednesday Protest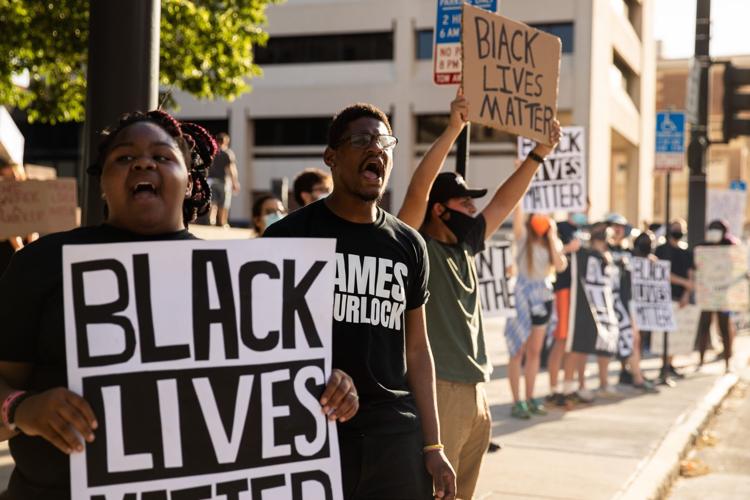 Wednesday Protest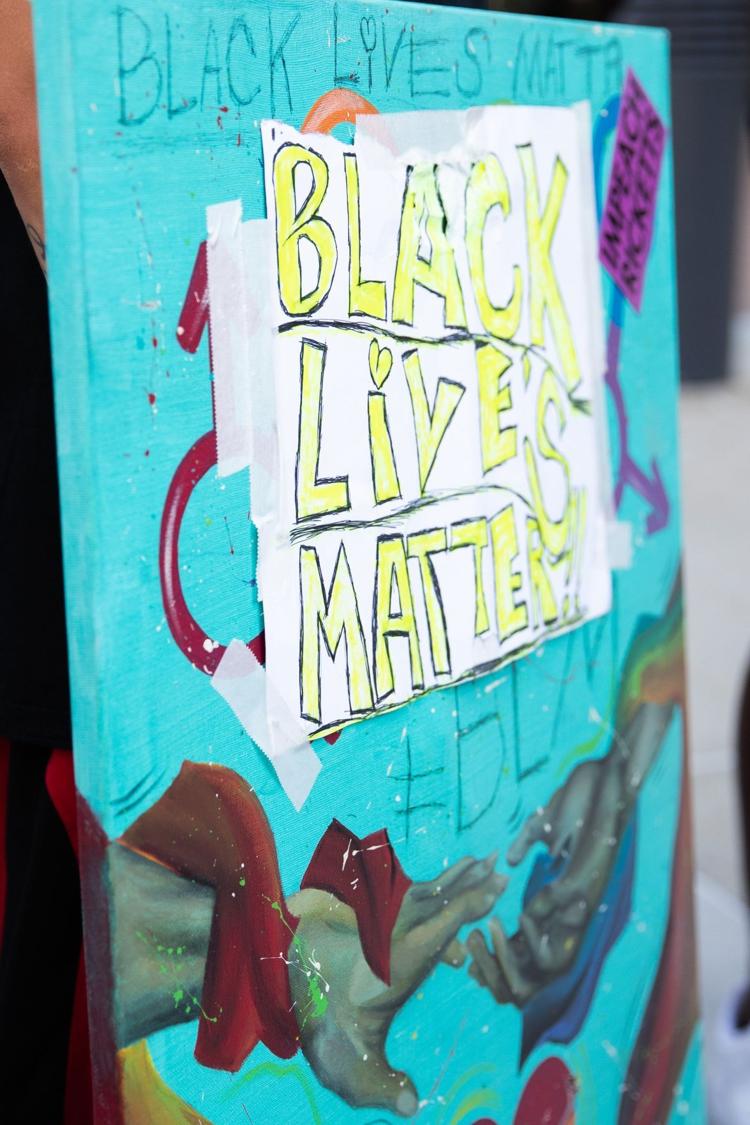 Wednesday Protest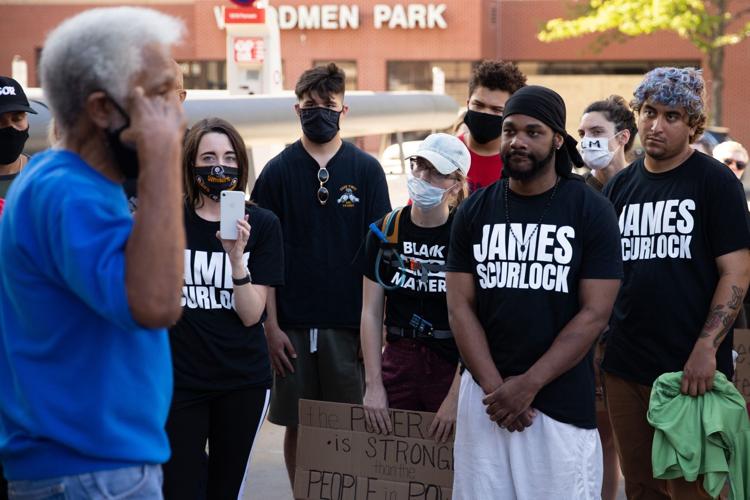 Wednesday Protest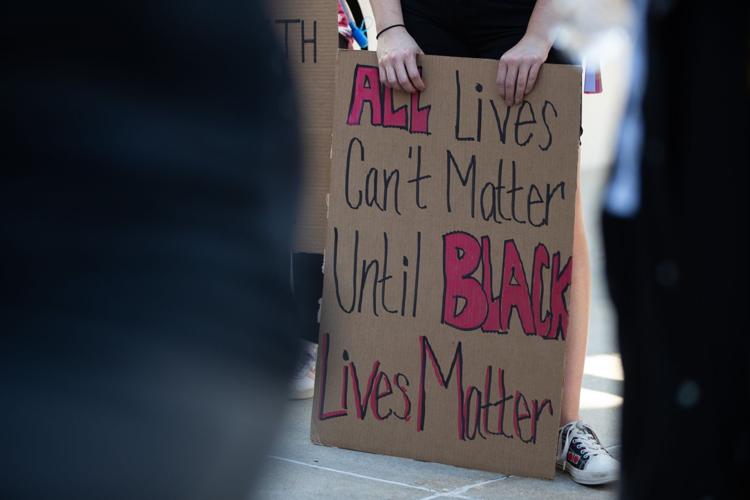 Wednesday Protest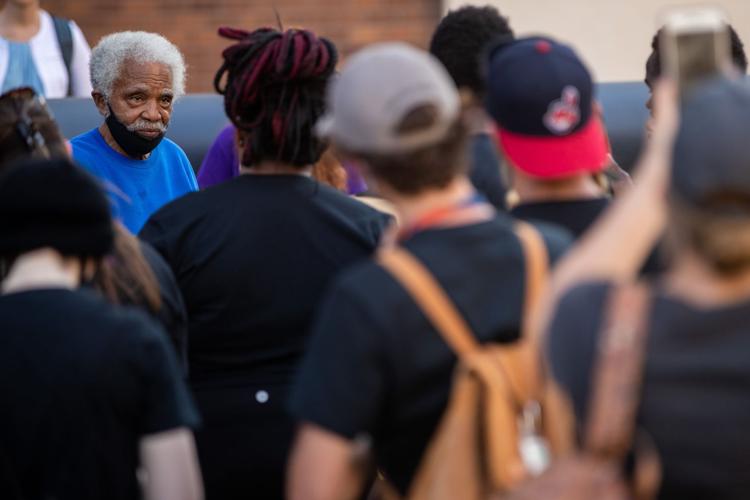 Wednesday Protest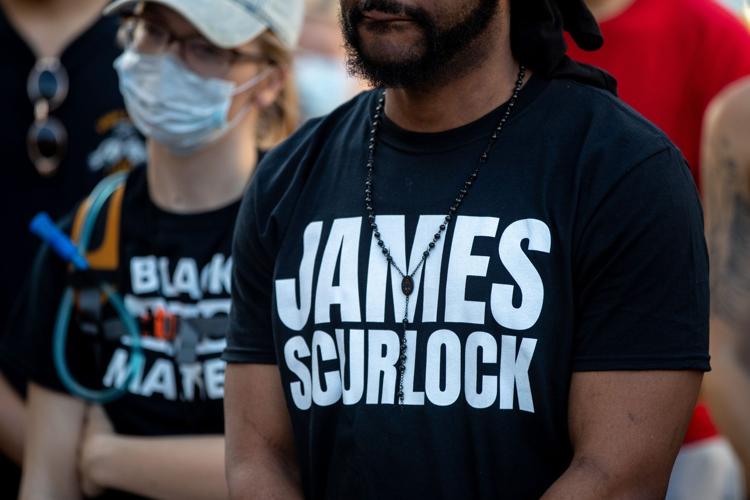 Wednesday Protest
Wednesday Protest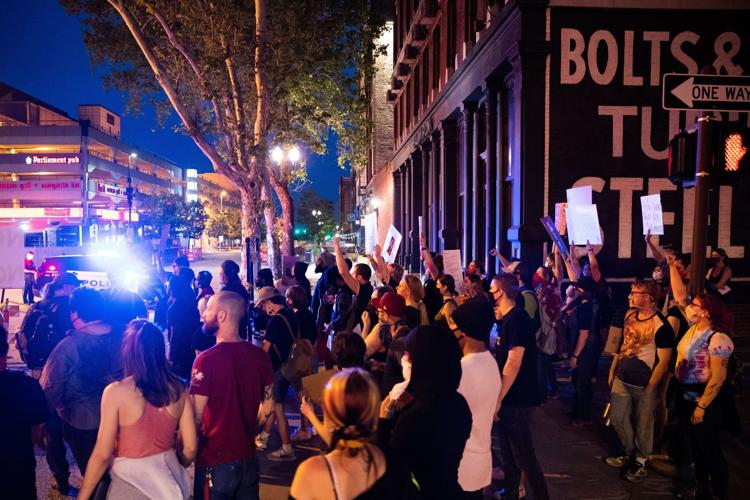 Wednesday Protest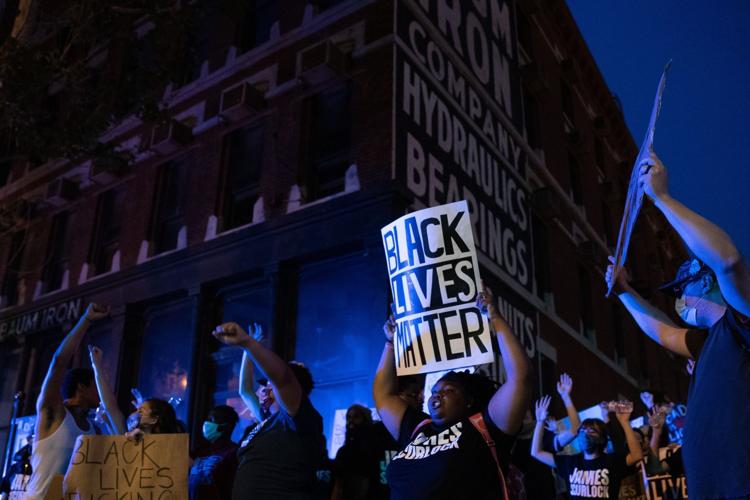 Wednesday Protest
Wednesday Protest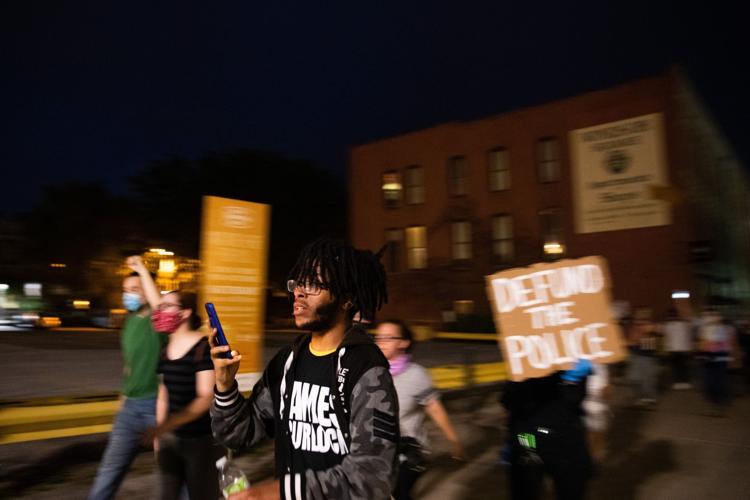 Wednesday Protest