Hundreds filled a pavilion and surrounding grounds at Vala's Pumpkin Patch & Apple Orchard on Thursday to celebrate the life of Janniver Vala, the late matriarch of the Gretna agritourism giant that attracts visitors far and wide each fall.
Friends and family remember her as a gentle, thoughtful leader who helped grow the pumpkin patch into a beloved destination while maintaining unique and genuine care for its more than 900 employees.
"She is the unsung hero of Vala's Pumpkin Patch," the Rev. Phil Human said at Thursday's outdoor service, relaying words from the Vala family. "This business wouldn't exist without her hard work and dedication."
Vala held the roles of marketer, merchandise manager, personnel manager and accountant, according to the pumpkin patch website. The admissions building, her daughter Kyla Shaver said, became "her separate home during October." Shaver is one of three daughters who are now owners and have gradually taken on leadership roles at the farm.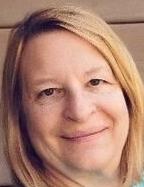 Vala grew up in Lincoln and went to college at Nebraska Wesleyan University, according to an obituary written by her family. Before joining her husband, Tim, in running their business full time, she was a school psychologist for the Omaha Public Schools.
Her training, intelligence and passion for child psychology was evident in her work at Vala's and helped her defuse situations with customers, said Deb Benes, an office manager who has worked at Vala's for 30 years. She also put it to use in developing the farm's field trip and home-school programs, according to her family.
Many remember Vala as a kid at heart, herself. She was happiest when ending the day engrossed in a book until 2 a.m., her family said, and was a big fan of movies and TV shows about secret agents, spies and science fiction. A frequently cited story conjures images of a joyful Vala flitting around The Wizarding World of Harry Potter with an interactive wand that could be waved to make things happen in specific areas of the Florida amusement park.
"There was usually a line of little kids waiting for the spot," Human relayed in the family's story, "but Mom would just jump in with them, eager to wave her wand and make magic."
At the end of a long day, a story from Shaver goes, Vala was known to plop down on the couch and say: "We made so many children happy today."
She was also organized and wrote manuals for every location and task, Benes said.
"Although she was our bookkeeper and our accountant to the very end, she never focused on profits and losses," Human relayed from the Vala family. "She focused on individuals and relationships."
Perhaps the most telling anecdote: Vala was known for learning and remembering each employee's name, including the hundreds of new hires made each fall.
"She really did want to know everything about you," Shaver said. "And she had the memory to remember little details. ... She knew your kid's name, and she knew your husband's name, and she would ask you how they're doing. It was really genuine, and you felt like you were her best friend. She made you feel that way."
If a new hire wasn't working out, Vala became their "fierce defender," Human relayed, moving them from job to job until they found their place at the patch.
"It's going to be a very different farm," Benes said, but employees will carry on Vala's legacy through the training she gave them.
Thursday's crowd was dotted with the bright orange shirts that Vala's issues staff members.
"She is the most gentle employer a person could ever have," said Donita Potter, who has worked at Vala's for 17 years. "And I know she worked with up to 900 employees a year, but she always made every person feel special."
World-Herald staff writer Sara Gentzler grew up in Gretna and worked at Vala's Pumpkin Patch as a teenager.
---