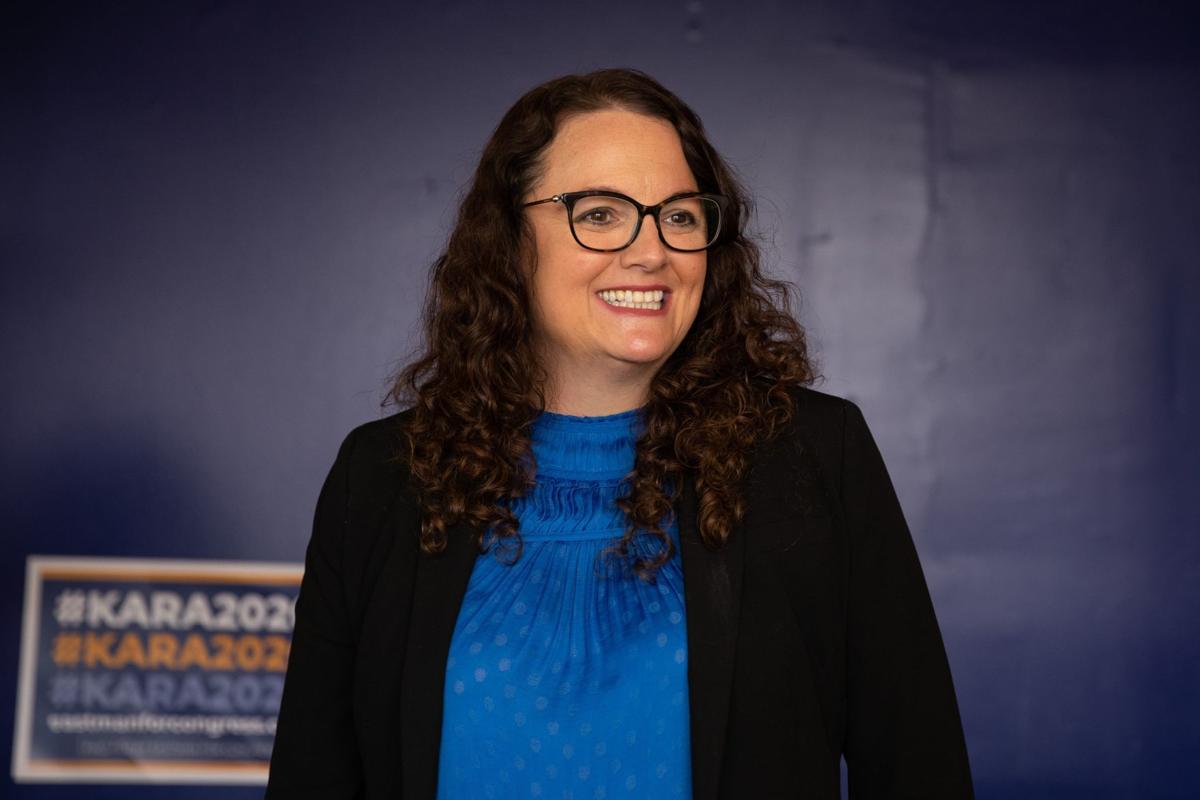 Omaha Democrat Kara Eastman has sanded some of the edges off her rhetoric and approach in her second try for Congress after a close loss in 2018.
She's running a favorite's race in the 2020 Democratic primary, looking past May 12 to the general election. She has focused her fire on GOP Rep. Don Bacon and largely ignored the two Democratic candidates she must defeat to take him on — lawyer Ann Ashford and restaurateur Gladys Harrison.
She's reaching out early and often to Omaha-area political independents.
And the way she talks about her progressive policies has changed since 2018. For example, she uses the term "Medicare for all" less often — even though she supports Congress' most expansive version of the proposal.
Her primary opponents echo Bacon by saying that no matter how Eastman describes her positions, they remain too progressive to pass in Congress — and too liberal for her to win in November.
Eastman, 48, surprised many in 2018 when she ran for Congress, taking on former Rep. Brad Ashford, who served one term in Congress before being unseated by Bacon in 2016 and who was trying to regain his seat with help from the local and national Democratic establishment.
At the time, Eastman headed a nonprofit focused on helping Omaha children by addressing lead contamination in the city. She also served as a member of the Metropolitan Community College board.
Eastman won the nomination with a progressive-funded guerrilla campaign, outmaneuvering a better-known, better-connected foe by running to his left. She took a similar approach in the general election, which she narrowly lost.
Eastman said she still proudly backs progressive policies and says the political climate is changing.
"Since our last election, the policies I advocate — single-payer health care, debt-free college, etc. — have become much more popular and accepted with the American people," she said.
When asked about health care at local events, she says that she backs H.R. 1384, a House health care bill put forward by Rep. Pramila Jayapal, D-Wash.
Building Trades union leaders pressed Eastman on Feb. 26 to explain what that means: Jayapal's Medicare for all bill replaces all health insurance, including plans negotiated by unions.
Eastman describes the Jayapal plan as the most efficient way to get Americans the most health care for the lowest combined cost, estimated at $28 trillion to $32 trillion over 10 years.
The current system is more expensive, she says, citing projections that Americans, their employers and their governments would spend a combined $34 trillion to $54 trillion over the same 10 years under the insurance-based system.
On health care, Ashford and Harrison support adding a publicly funded insurance plan to the Affordable Care Act exchanges.
Both said they see no path to passage for Medicare for all. They call it a politician's promise, easy to say, unlikely to deliver.
Bacon, seeking a third term, said voters in the Omaha area's slightly right-leaning swing district don't want a revolution.
"I don't believe voters will elect someone who will strip 180 million people of their employer and union-provided health care plans," he said.
Eastman laughs at those criticisms today, another difference from the 2018 race, when she sometimes lashed out. She said it shows that others see her as the candidate to beat.
Republicans, she said, are scared that she's positioned to win in an environment where Democrats and left-leaning nonpartisans want a stronger check on President Donald Trump.
Bacon, she said, was the first member of Nebraska's congressional delegation to endorse the president, and Trump backs him.
She dismisses Ashford's criticism as bad blood from Eastman beating her husband, Brad Ashford, in the 2018 Democratic primary. He was the last Democrat to hold the Omaha seat.
Eastman, now a consultant for nonprofit organizations, bucked the Nebraska Democratic Party's orthodoxy in 2018 that people in red states prefer their candidates "Republican lite."
Her 2018 team's political argument: Stop chasing Republican Party crossover voters, and instead motivate infrequent Democratic Party voters hungry for a bluer shade of Omaha liberal.
In that race, Eastman never secured the full financial backing of the Democratic Congressional Campaign Committee, or DCCC.
Eastman and her former campaign team angered the congressional committee's leaders by telling the press that the group's backing of Brad Ashford was evidence of its lack of effectiveness, those familiar with the conversations have said.
When Eastman announced weeks after losing that she would seek a rematch with Bacon in 2020, national Democrats tried to recruit an alternative candidate or candidates.
One of the people they approached was Harrison, people familiar with the discussions said. But recruiters never helped Harrison raise the funds to compete, and she has lagged.
This go-round, Eastman and her new campaign have made it clear that they want and need the support of the Democratic Party's progressive and establishment wings to beat Bacon.
They've worked to repair ties with House Speaker Nancy Pelosi and the DCCC, her group that funds Democratic candidates. Their aim: Show national leaders that Nebraska's 2nd Congressional District is winnable.
The DCCC stands ready to help whoever wins the Democratic primary throw Bacon a "retirement party," spokeswoman Sarah Guggenheimer said. She described him as one of the most vulnerable House Republicans.
Eastman said she knows what's waiting in the general election, a Republican incumbent who is a retired Air Force brigadier general and GOP-aligned groups that together will paint her as too radical for Nebraskans.
The National Republican Congressional Committee, along with the Douglas County and state Republican parties, call Eastman a socialist, dubbing her "Comrade Kara."
Last time, Bacon let Eastman bank to the left, while he courted the middle's nonpartisan voters, knowing that he could rely on GOP support in suburban Omaha and western Sarpy County.
This time, Eastman is trying to blunt that by raising more money and building a door-to-door effort that made a full pass through the district before coronavirus concerns shut down in-person campaigning. She got TV ads up a week earlier than her next closest primary competitor, Ashford.
She disagrees with criticism from Ashford and the state's older Democratic establishment that her unapologetically liberal approach fueled her 2018 loss.
Eastman lost by 4,945 votes, or 1.9 percentage points, in a district that political observers say leans about 4 percentage points toward Republicans, based on voter registration and turnout data.
Record-high turnout is protected for the 2020 primary, with a potential crush of new and infrequent voters casting ballots by mail to avoid risking exposure to COVID-19. The impact of higher turnout on the race is unclear.
Eastman, an Illinois native who moved with her husband to Nebraska when he got a job at Creighton University, created the nonprofit Omaha Healthy Kids Alliance in 2007.
She helped steer federal and settlement money set aside to clear lead from the nation's largest Superfund site in eastern Omaha to help replace the yards where children play.
Let Republicans call her Comrade Kara, she said. Let some of the Democrats she has beaten or outlasted call her arrogant for believing in herself, as several did privately.
Soon, if she and her team are right, they'll call her something else: the party's nominee.