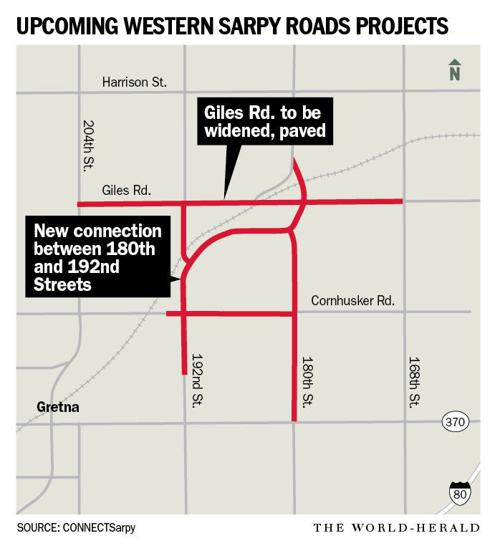 A multiyear package of projects in western Sarpy County will build a paved street system in a popular housing area where the growth meets dirt roads.
The 9-square-mile area where the work will be done — bounded by 168th to 204th Streets and Harrison Street to Highway 370 — will encompass several street projects that Sarpy County is tying together under one name: CONNECTSarpy.
The biggest project will curve 192nd Street to the east and connect it with 180th Street about a quarter-mile south of Giles Road, creating a major north-south road in western Sarpy that could one day link up with a future Interstate 80 interchange.
Where those two streets connect, 180th will curve to the east to pass over a railroad line and the South Papillion Creek before straightening out and continuing north.
Officials anticipate a price tag of $45 million to $50 million for the group of projects. The work will be done in phases and could be completed by the end of the 2023 construction season, depending on weather and other factors.
The new 180th/192nd connection — which could break ground in spring 2021 and last through 2022 — is being planned as the county prepares for the likelihood that a new I-80 interchange will one day be built near 192nd Street, which would increase traffic in the western part of the county.
The road connecting 180th and 192nd will be called Meridian Street.
Another CONNECTSarpy project will pave and widen Giles Road from 168th to 204th Streets. Most of it will be a three-lane road, though some portions will widen to four.
Work already is underway from 180th to 186th Streets and 168th to 174th Streets, a section that includes the entrance to Scary Acres, a popular Halloween attraction. It will be completed before the sound of chainsaws fills the air this fall.
Construction will begin this spring on grading, paving and culvert work on Giles from 192nd to 204th Streets.
Other projects will complete similar work on Cornhusker Road and 180th Street south to Highway 370. A full list of projects can be found on an interactive map at connectsarpy.com, which will provide project details and timeline updates.
A public meeting on the projects is scheduled from 5:30 p.m. to 7 p.m. Thursday at Aspen Creek Middle School, 18414 Summit Drive.
CONNECTSarpy was launched in part because of the growth local leaders are anticipating — and already seeing — in that part of the county. Hundreds of homes exist along Giles in neighborhoods such as Garden Oaks, Whitetail Creek and Remington Ridge.
Several platted subdivisions that could eventually produce some 1,600 homes will one day be built in the heart of the 9-square-mile area.
And the growth won't stop there. There are about 1,000 undeveloped acres, four elementary schools, a middle school and a planned Papio-Missouri River Natural Resources District flood control reservoir. All of it will attract families and developers, the county says.
"It's just a really popular area right now," said Megan Stubenhofer-Barrett, Sarpy County's spokeswoman.
The CONNECTSarpy approach — tackling multiple projects in a row — differs from how the county has typically planned roads, paving short sections in piecemeal fashion as housing subdivisions build up. That model has led to developers being the ones driving growth areas, Stubenhofer-Barrett said.
The county will pay for the projects in part by issuing bonds. Some money will come from the county roads budget, which increased last year to $22.9 million, up from recent years in which it generally fell between $14 million to $16 million.
As the subdivisions develop, they'll pay for a share of nearby roads.
The roadwork is sure to create traffic detours and the occasional headache for drivers, but project leaders say they'll be mindful of which roads are closed and when.
Tony Egelhoff, a technical leader at Olsson, the local engineering firm managing the projects, said at least one north-south arterial roadway will remain open while the work is underway. Egelhoff said officials will work to route outside traffic around the area and discourage drivers from using neighborhood streets as detours.
Sarpy County Board member Jim Warren, who represents western Sarpy, said he knows residents in the area are impatient to get paved, connected roads, as they should be.
"It's a long overdue project, but a very aggressive project," Warren said.
Omaha World-Herald: Afternoon Update
The latest headlines sent at 4:45 p.m. daily.