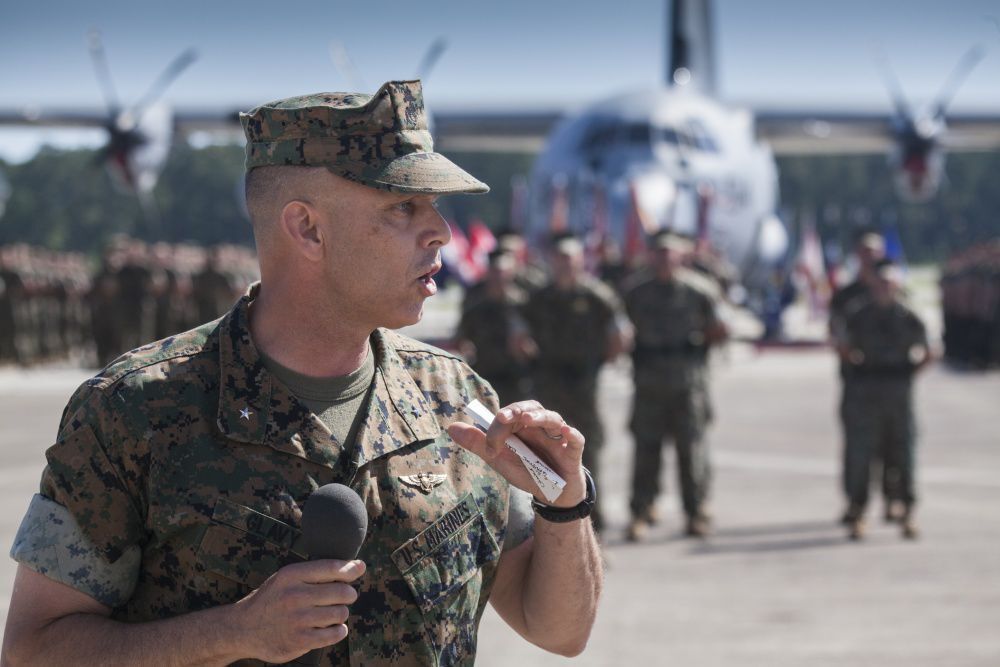 From the Halls of Montezuma, to the Shores of Tripoli.
And then, maybe, to the moon?
Offutt Air Force Base is the home of a new U.S. Marine Corps command whose members are focused on future combat in space.
Marine Corps Forces Space Command was activated on Oct. 1, but its creation wasn't announced until mid-November. It is the Marine Corps component of the U.S. Space Command, which was established as an independent combatant command in August 2019.
"Space has become an incredibly important domain," Maj. Gen. Matthew Glavy, the unit's commander, said in an interview Tuesday. "These will be Marines who will be focused 100% of the time on space issues."
Glavy said the unit is made up primarily of Marines — mostly officers, but also some enlisted personnel, in addition to civilians — who have already been working on space issues at Offutt as part of U.S. Strategic Command. StratCom oversaw space warfare from 2002 until 2019, when SpaceCom took over those duties.
The Marines' jobs included command and control functions; satellite communications; and navigation and timing.
Glavy would not say how many Marines are part of the new command, but it isn't many.
"We're talking about a very small entity," he said.
It's not certain the command will stay at Offutt, either.
Last week, the Air Force announced that Offutt is one of six locations being considered as the future headquarters of U.S. Space Command, which is temporarily based at Peterson Air Force Base in Colorado Springs.
Besides Offutt and Peterson, the other finalists are Patrick Air Force Base, Florida; Kirtland Air Force Base, New Mexico; Port San Antonio, Texas; and Redstone Army Airfield, Alabama.
Glavy said the Marine Corps Forces Space Command will locate wherever SpaceCom does. He will report to Army Gen. James Dickinson, the SpaceCom commander.
An announcement is expected early next year.
Because of COVID-19 travel restrictions, no formal ceremony has yet been held. In fact, Glavy said, the travel limits have prevented him from visiting his new command at Offutt, except via teleconference.
"I'm looking forward to having the chance to visit," he said.
U.S. Space Command includes members of the Army, Navy and Air Force as well as the Marines and the military's new Space Force, which was established as a separate branch late last year.