For Cpl. Daegan Page, the words etched in ink on his chest said it all.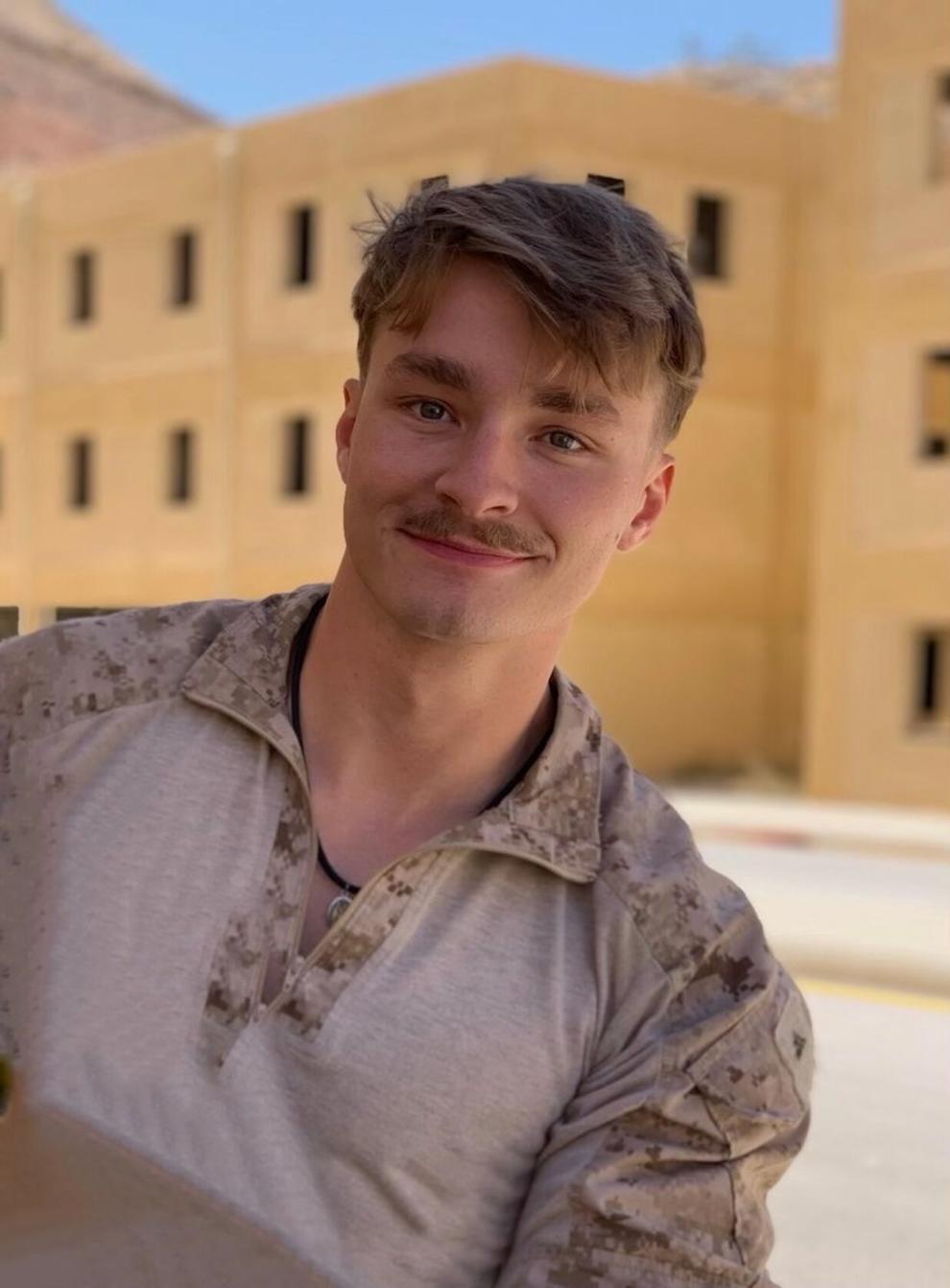 Page, 23, of Omaha, gave his life this week while trying to give others a better one. The Marine was one of 13 U.S. service members killed Thursday in the Kabul airport bombing, along with at least 169 Afghans.
"Our hearts are broken," his family said in a statement.
Daegan William-Tyeler Page's family remembered him as a "genuinely happy guy that you could always count on."
He grew up in Red Oak, Iowa, and the Omaha metro area and was a Boy Scout.
Page's youthful passion was hockey. He played for Omaha Westside in the Omaha Hockey Club. On the pro level, he loved the Chicago Blackhawks.
His family said Page had a "tough outer shell and giant heart." He liked to let his younger siblings climb on him, and he had a soft spot for dogs. He enjoyed hunting and outdoor activities with his father.
In 2016, he graduated from Millard South High School, where he had been "a wonderful example of the Patriot Way," the Millard Public Schools said in a statement. "We are grateful for his service to our country. Our hearts and prayers go out to his family," the district said.
Page joined the Marine Corps after high school, and his family said he enjoyed the brotherhood he found, serving with the 2nd Battalion, 1st Marine Regiment in Camp Pendleton in California.
Cpl. Eric Martinez went through boot camp with Page in January 2018. He remembers his friend's sense of humor, fondly recalling a time the two "got messed up" by a drill sergeant for laughing.
The two Marines kept in touch through the years, and Page had been looking forward to spending time with family after active duty, Martinez said.
In the end, Martinez felt that his friend "was meant for great things."
"I knew he did his best out there, and I'm proud of him," Martinez said.
Page's unit had already been deployed to the Middle East as a quick-reaction force. They landed at Hamid Karzai International Airport about two weeks ago.
They were part of a contingent of about 6,000 service members brought in to aid in the evacuation of U.S. citizens and their Afghan allies after the sudden collapse of the Afghan government to the Taliban insurgents. Tens of thousands of people swarmed the airport in hopes of escape.
Despite the chaos, U.S. and NATO allies have evacuated more than 100,000 people from the airport. No U.S. lives had been lost until Thursday's attack by a suicide bomber from the Islamic State's Afghanistan affiliate who made it within several yards of an airport gate where Afghans were crowded.
Page is survived by his parents, Greg Page of Plattsmouth, Nebraska, and Wendy Adelson of Omaha; two stepparents; grandparents; four siblings; and his girlfriend, Jessica Ellison.
"Daegan always looked forward to coming home and hanging out with his family and many buddies in Nebraska," the family said in a statement.
At the end of his enlistment, he planned to attend trade school and possibly become an electrical line worker.
Page was at least the 20th Nebraskan to die in the Afghanistan War, which began in October 2001 — less than one month after the 9/11 terrorist attacks on targets in New York City and Washington.
The last Nebraskan killed in Afghanistan was Army Staff Sgt. Benjamin Prange, 30, of Hickman. He died July 24, 2014, after his vehicle was struck by a roadside bomb.
Condolences for Page's family poured in from elected leaders across Nebraska.
Rep. Don Bacon, an Afghanistan War veteran, said he was "heartbroken" over the loss of the local Marine.
"No words can express the devastation, frustration, and sorrow his family is experiencing right now," Bacon said in a statement. "Corporal Page is an American hero who gave the last full measure of devotion. He served his country honorably, and his service will never be in vain."
Rep. Jeff Fortenberry said Page's death made a devastating loss all the more tragic.
"God bless Corporal Page. He saved lives and served his country honorably," Fortenberry said in a statement. "My heart was already broken over our country's loss of 13 service members in Afghanistan. Now the loss is even harder."
Sen. Deb Fischer said Page's service would not be forgotten.
"We are heartbroken over this loss and the loss of 12 other American heroes," she said in a statement.
Sen. Ben Sasse, noting that Page gave his life defending U.S. citizens and allies, said he was praying for Page's family and the Americans who are still in harm's way.
"He fought to keep this nation's promise that we leave no man behind," Sasse said in a statement, "and now Nebraskans will keep our promise to honor his sacrifice and his family's sacrifice.
Omaha Mayor Jean Stothert asked all Omahans to honor Page's life.
"He had a special kind of courage and commitment to serve our country and protect others," she said in a statement. "We owe an immeasurable debt of gratitude to those who wear our nation's uniform, and faithfully and respectfully serve."
Gov. Pete Ricketts encouraged Nebraskans to keep Page's family in their prayers.
"Nebraska will long remember Corporal Page's heroic service to his country," Ricketts said in a statement. "We mourn his passing."
This report includes material from the Associated Press.