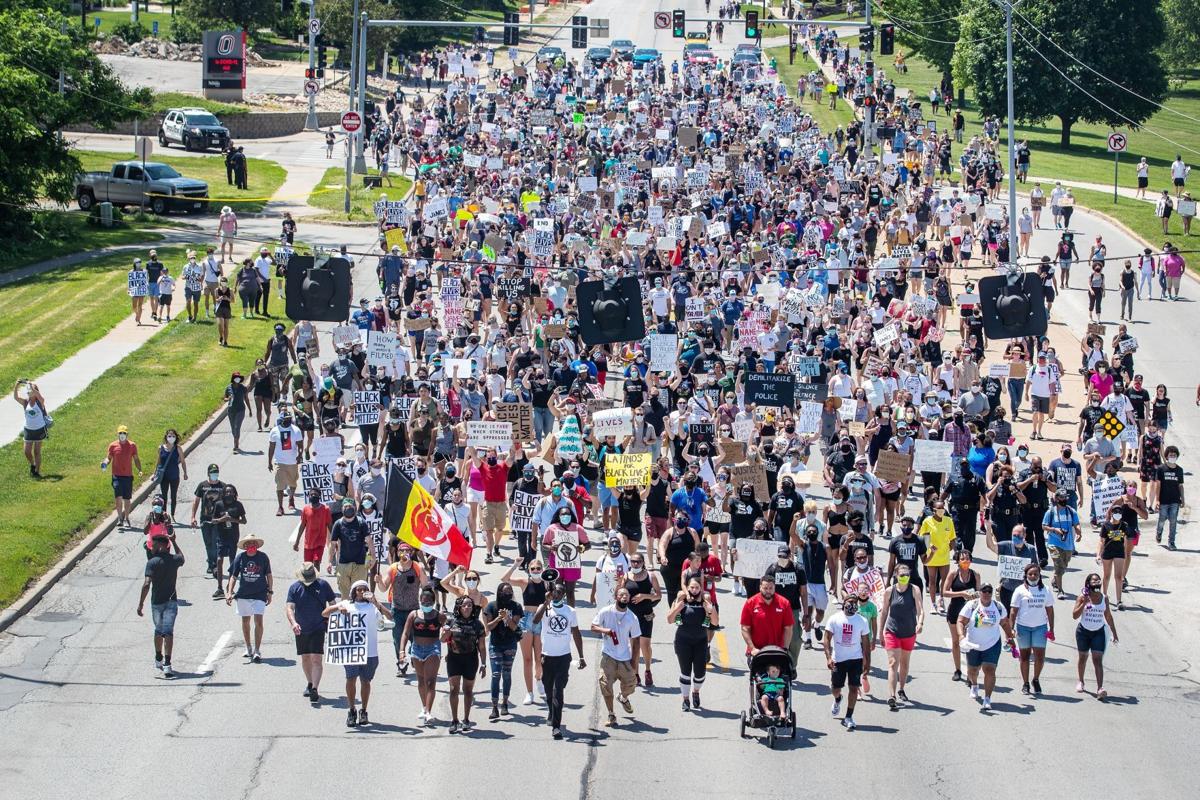 James Scurlock II looked out at the 2,000-plus people rallying for racial justice Sunday at Omaha's Memorial Park and had a simple message — one that grew from his own pain:
"Continue this, continue it the way we started it, with this example of peace," said Scurlock, whose 22-year-old son was fatally shot May 30 in Omaha during protests sparked by George Floyd's death. "We just need this to continue. This is going to be a long journey, it's a hurtful one for all of us."
Omaha has seen more than a week of protests since Floyd's death May 25, and Sunday's crowd was the largest and most diverse yet.
The march and rally were organized on social media and called the Communities of Greater Omaha Solidarity Walk/Rally. Parents brought their children, some in strollers. People of all ages and races marched the 1.5 miles between two traditional sites of celebration and civil disobedience — from 72nd and Dodge Streets to Memorial Park. In an unusual move, Dodge Street was closed for the march and rally, which was sanctioned by police.
Leo Louis II, one of the organizers, said it was a "beautiful thing to see all the races come together." Next, he said, comes self-reflection and education.
"People need to … understand their biases, their prejudices and look within, and then work those things out," he said. "You don't have to like everybody, but you have to love everyone."
Floyd was a black man who died after a white Minneapolis police officer, Derek Chauvin, pressed his knee against Floyd's neck for nearly nine minutes as Floyd lay handcuffed on his belly on the ground.
The crowd knelt on one knee as Scurlock's father was introduced Sunday. He credited protesters for bringing about the pending grand jury.
"Me and my family love you all so, so much, " Scurlock II said. "You all got us the grand jury, give yourselves a round of applause, don't applaud us. You all did this."
Justin Wayne, an attorney for the Scurlock family and a Nebraska state legislator, called on Omahans to do something about the broader issues holding people back. He said reforms are needed in health care, notably the expansion of Medicaid; the criminal justice system; corporate oversight; and banking. And people need jobs.
"Good jobs make a difference," Wayne said.
"Omaha, here's what we're saying today: 'No more' to party politics. 'No more' to two Omahas. … It is time to come together as one Omaha with one voice," Wayne said. "We can't just come together in times of tragedy. We have to come together and stay together to make sure we are implementing changes for the long term."
Wayne noted how an individual date, such as June 7 (Sunday), can be freighted with history given African Americans' long struggle for dignity and civil rights. It was on June 7, 1712, that the Pennsylvania Assembly succeeded in temporarily banning the importation of slaves. It was on June 7, 1892, that Homer Plessy, who was described as 1/8 black, tried to take a seat in the white section of a train. His legal battle would go to the Supreme Court and prompt one of the court's most condemned decisions, Plessy v. Ferguson, which legalized segregation and "separate but equal." And it was on June 7, 1998, that James Byrd, a black man in Jasper, Texas, was horribly brutalized and dragged to his death behind a pickup by three white supremacists.
"My hope is that today, on this June 7 in 2020, Omaha, like the rest of the world, comes together with one simple message: 'No more,' " Wayne said.
Omaha Police Lt. Sherie Thomas was among the first speakers when the marchers reached Memorial Park.
She extended her condolences to James Scurlock's family and friends.
"As a mother, as a community leader and as a law enforcement officer, my heart grieves," she said. "To my community, everyone who is here today, I see all races, I see all ages, it's a spectrum of what the community is."
Thomas said the protests have resonated with the Omaha Police Department.
"We see you. We hear you and we know that people are hurting," she told the crowd. She said her first thought, upon being invited to speak, was of the need to unite. She marveled at the crowd, which had grown to at least 2,000. "The large crowd of people that just marched down Dodge Street? That's history."
Hard work remains ahead — on both sides, she said.
"Not only do we need to stay connected, we need to communicate," Thomas said. "Communication is not just me talking to you, but I need to listen as well … but then we may need to have some open, honest dialogue. That means you all need to hear where we are coming from, and we need to hear where you are coming from."
Among those attending the rally at Memorial Park was Damon Benning, a former Husker football star and radio show co-host. Benning, who is black, brought his family. He said Omaha is in for some "real hard discussions" in the coming months.
"If we can find some commonality that is people-driven, people-led," he said, "we've got a chance to have some real change."
Those who have been protesting for the past week-plus have made it clear they want more than words. That message was repeated by 23-year-old Elexis Martinez Sunday as she began the march on one of the hottest days so far this year. The heat index throughout the afternoon was in the upper 90s.
"I want to go above and beyond protesting," Martinez said. "I want laws to change and I want … justice."
Photos: Solidarity rally in Omaha
James Scurlock II salutes the crowd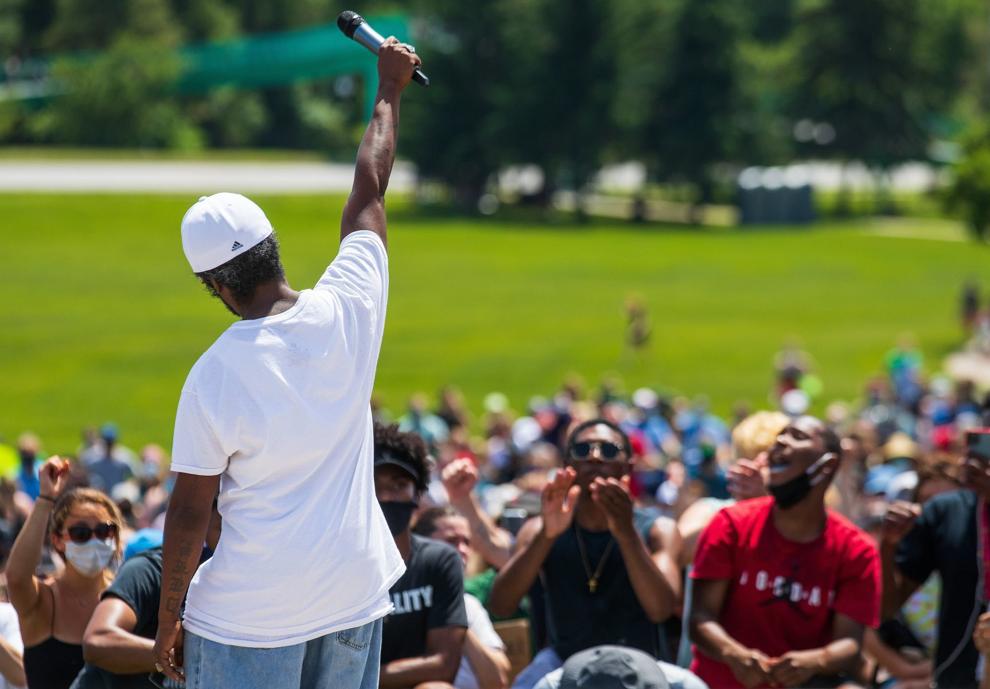 Sunday Rally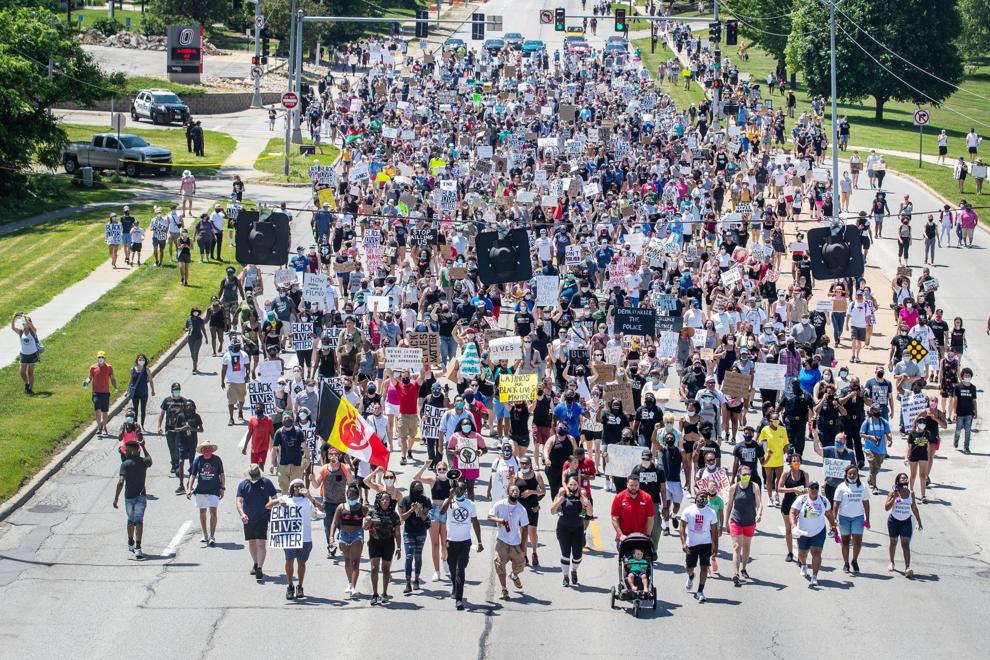 Sunday Rally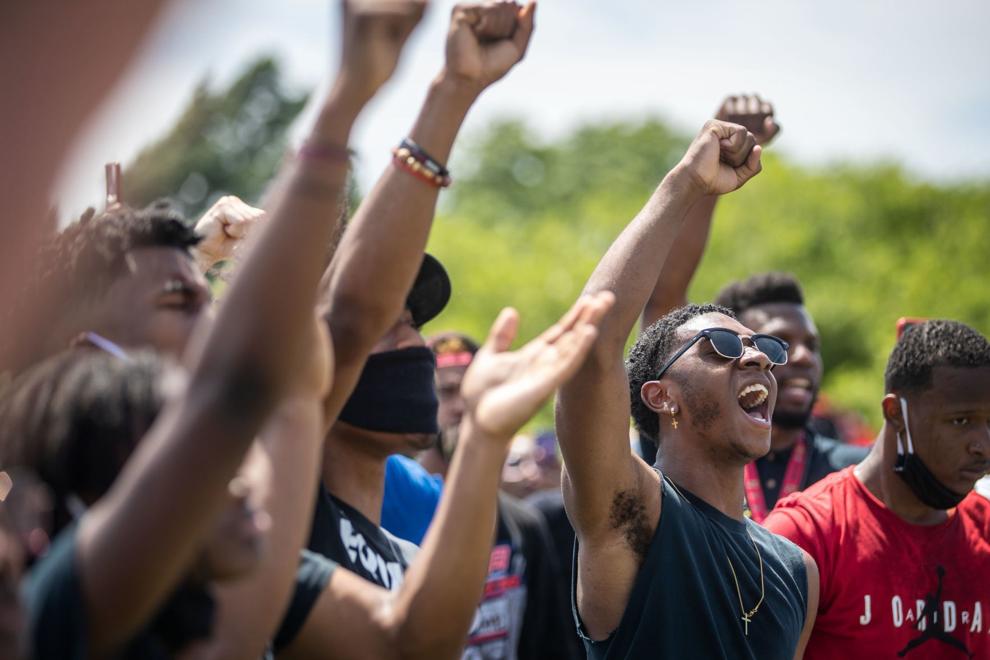 Sunday Rally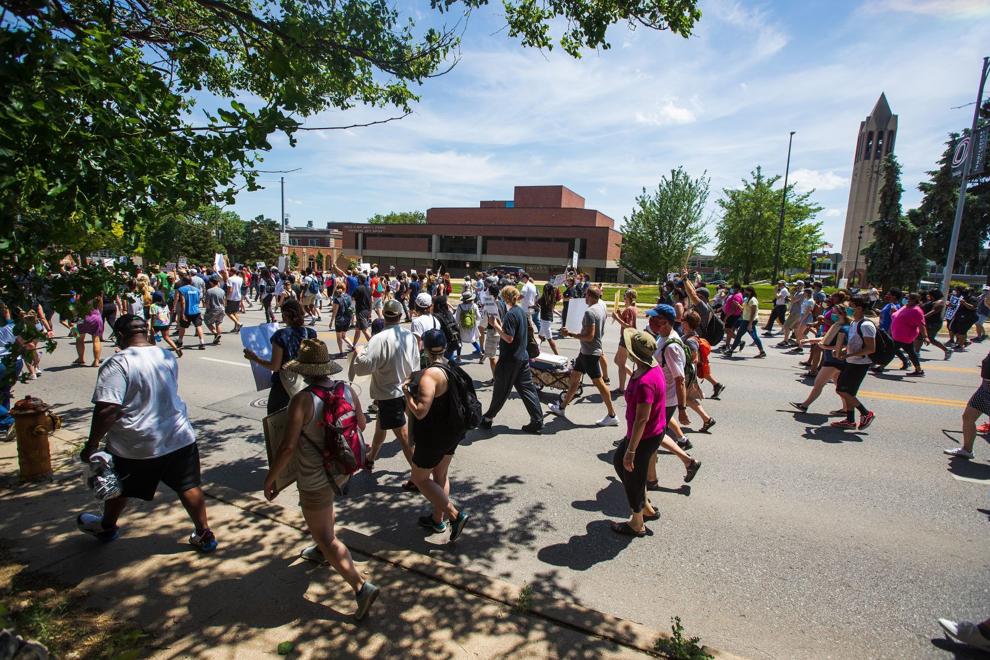 Sunday Rally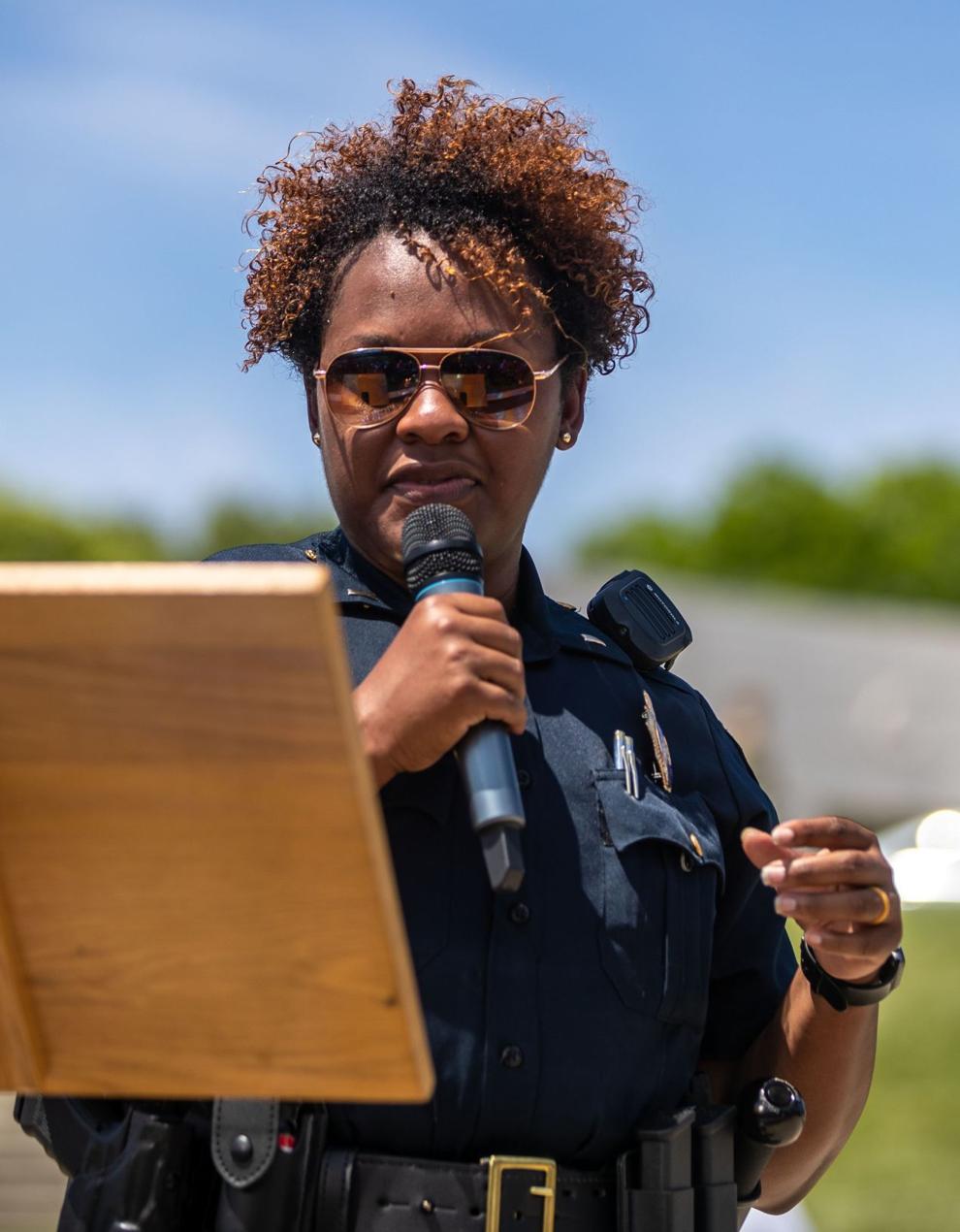 Sunday Rally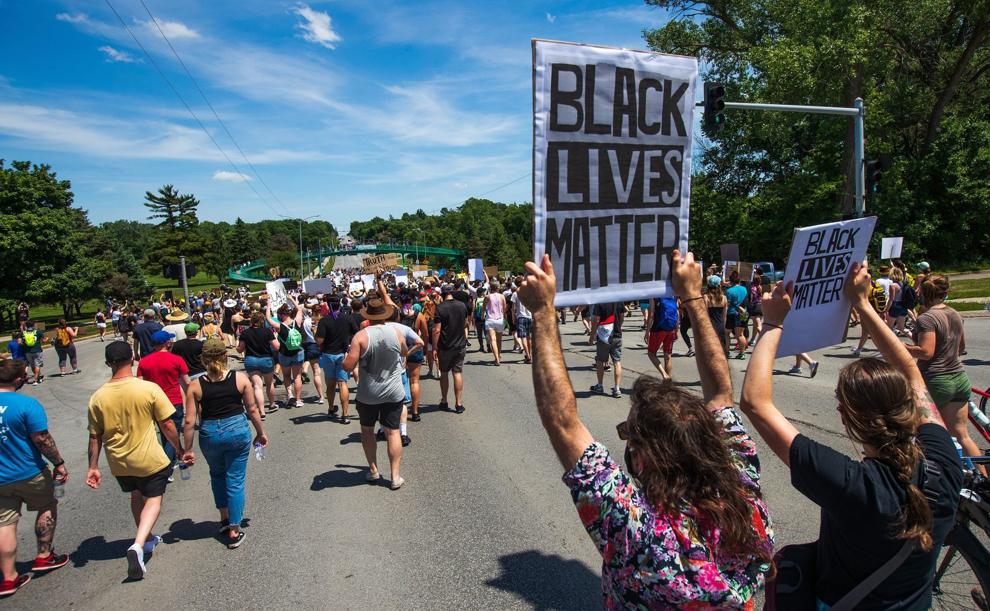 Sunday Rally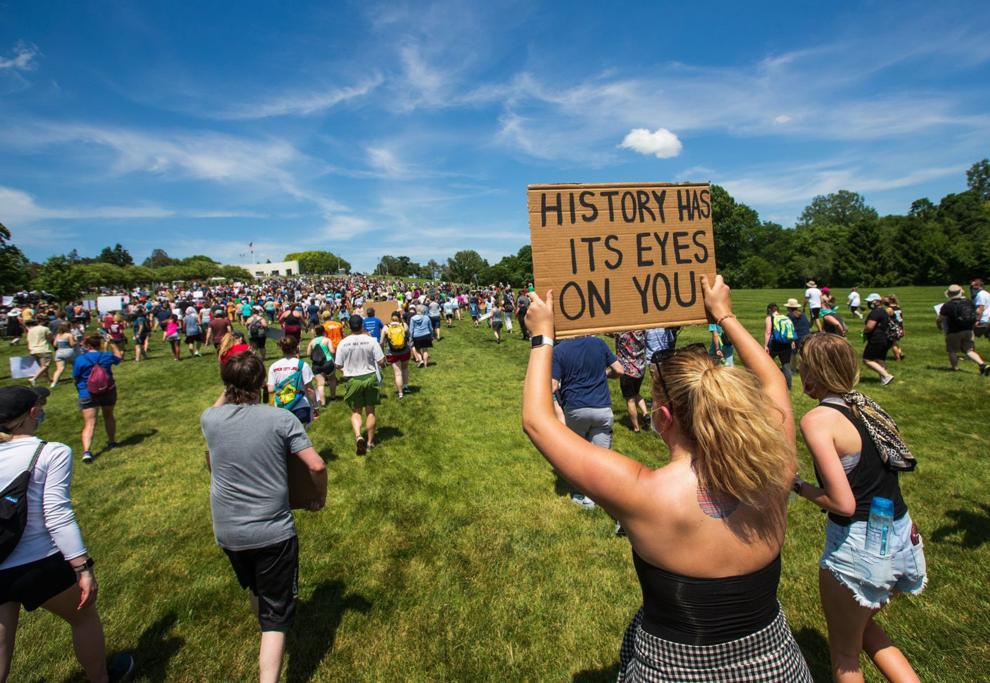 Sunday Rally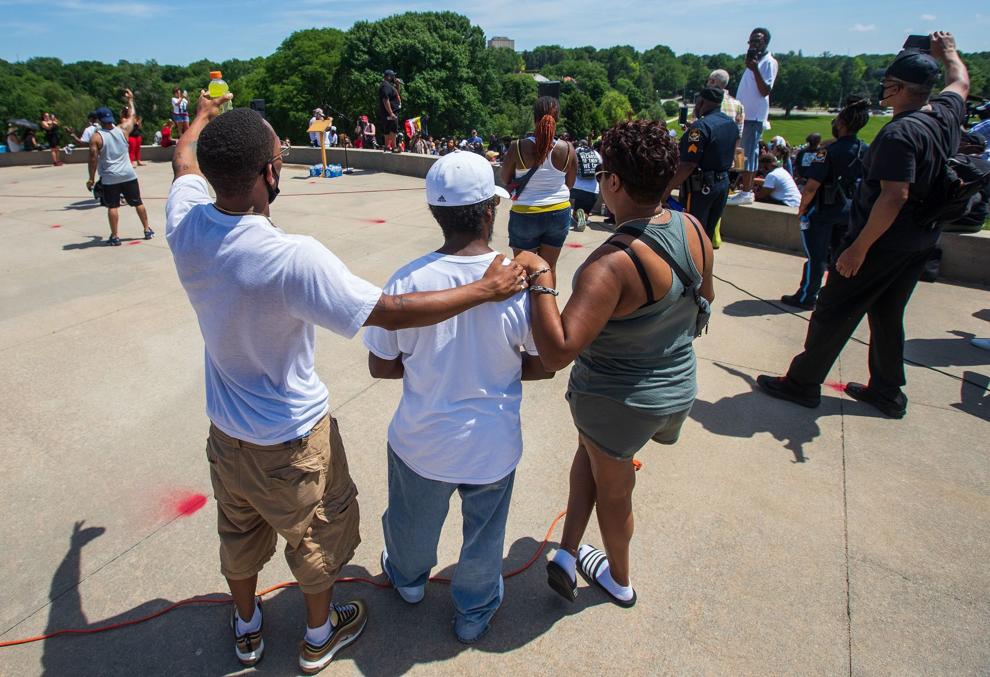 Sunday Rally
Sunday Rally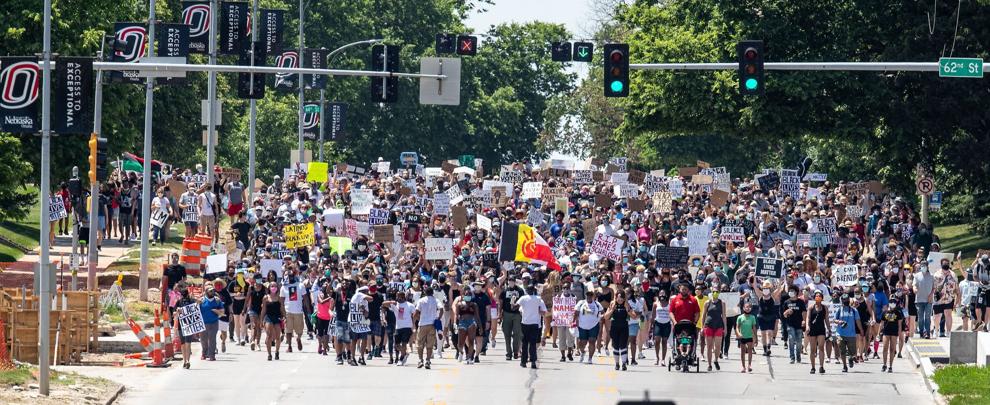 Sunday Rally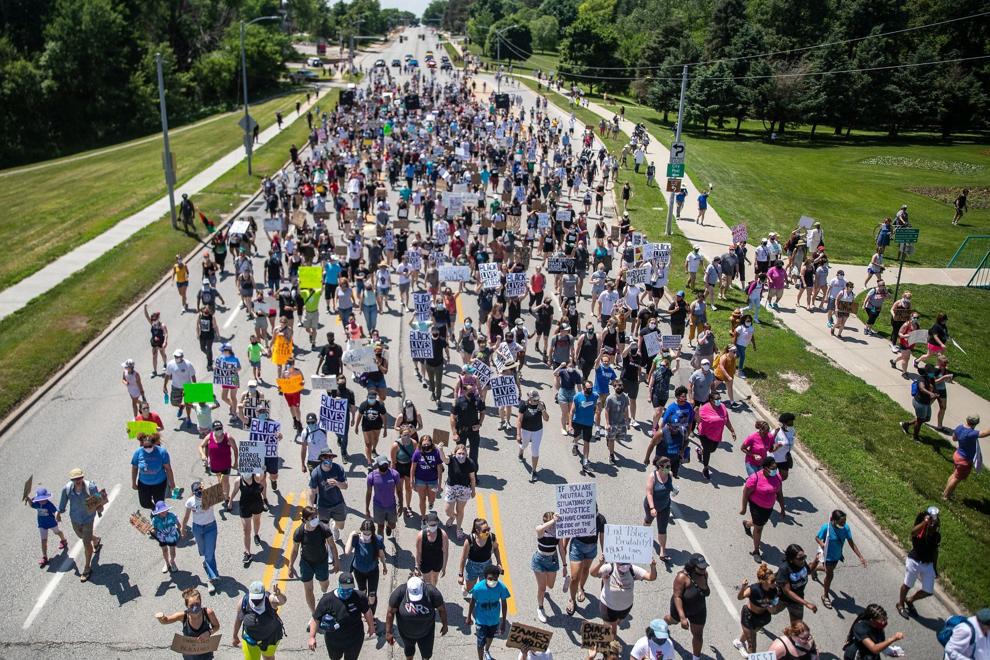 Sunday Rally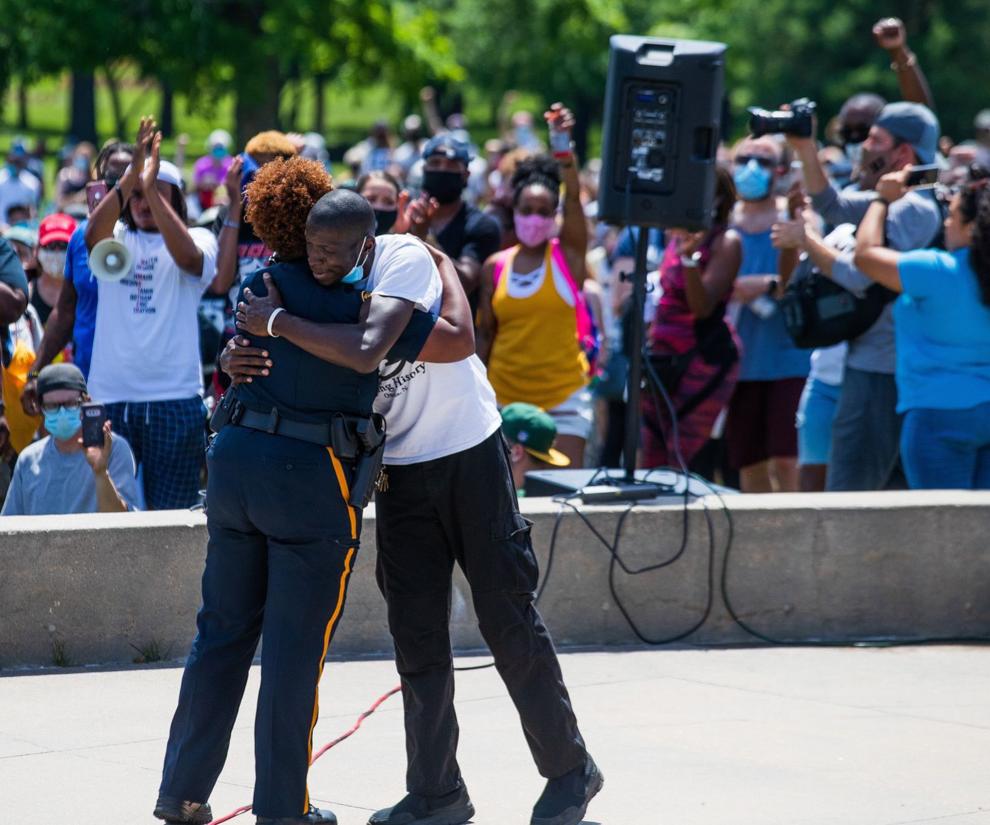 Sunday Rally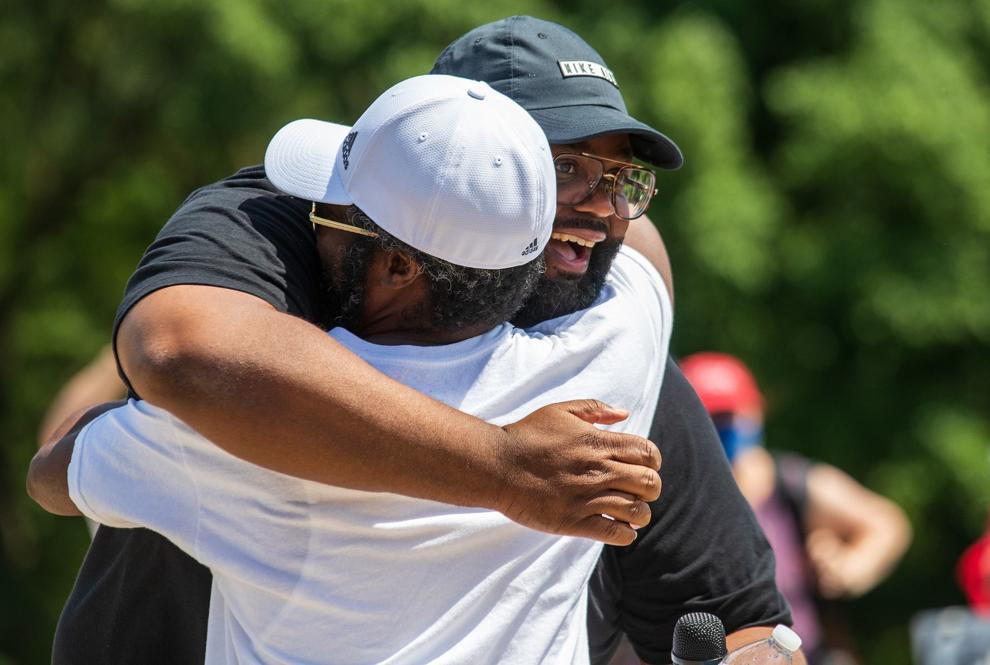 Sunday Rally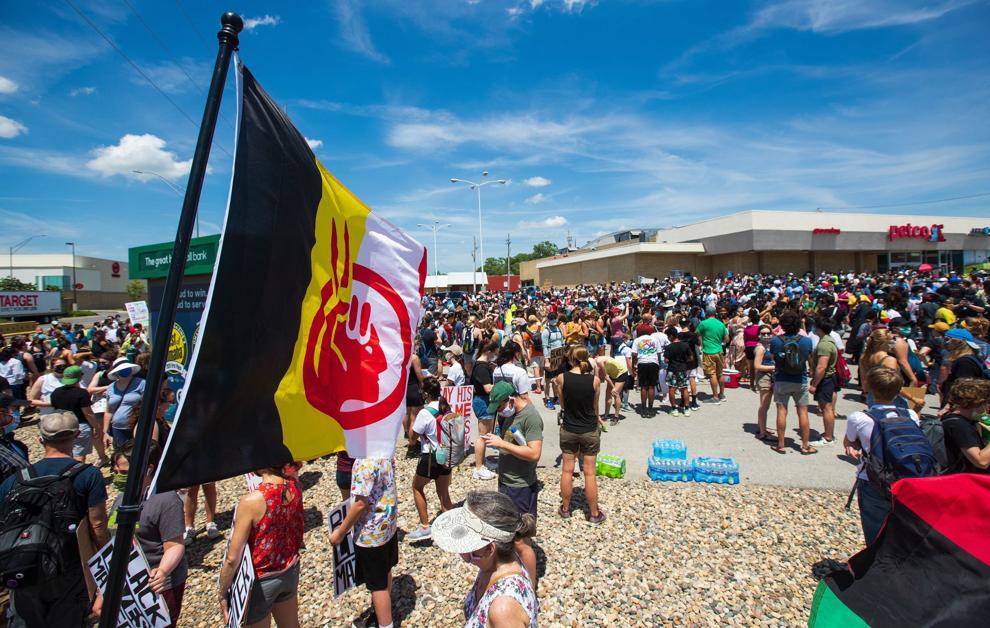 Sunday Rally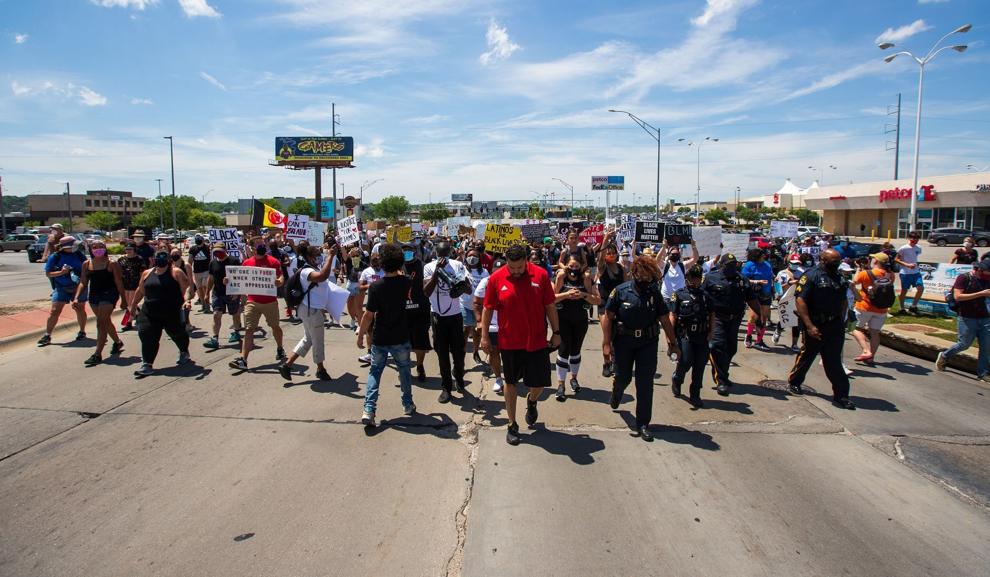 Sunday Rally

Sunday Rally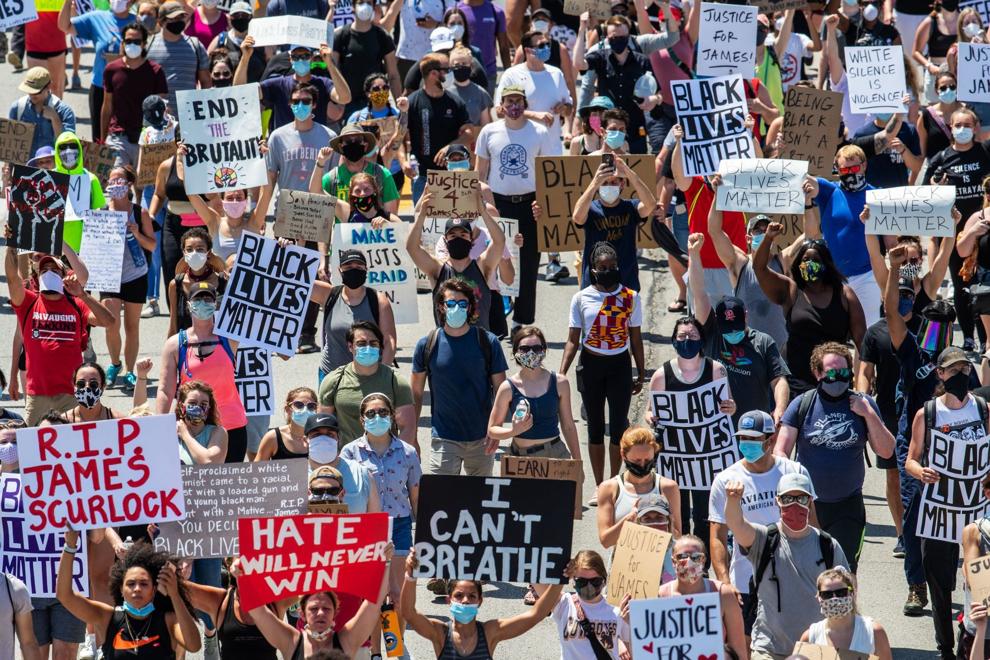 Sunday Rally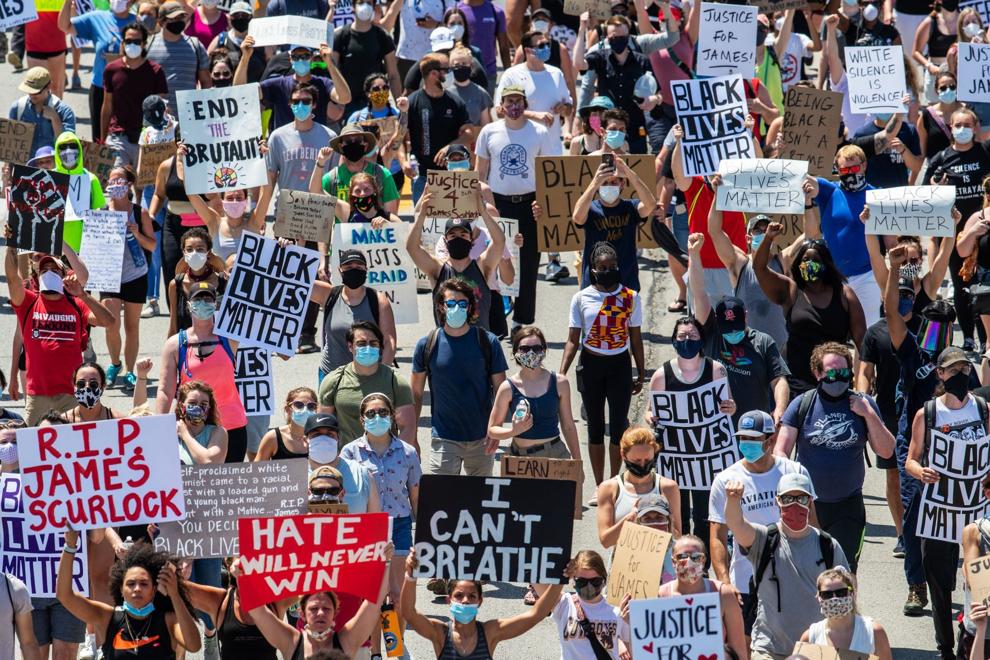 Sunday Rally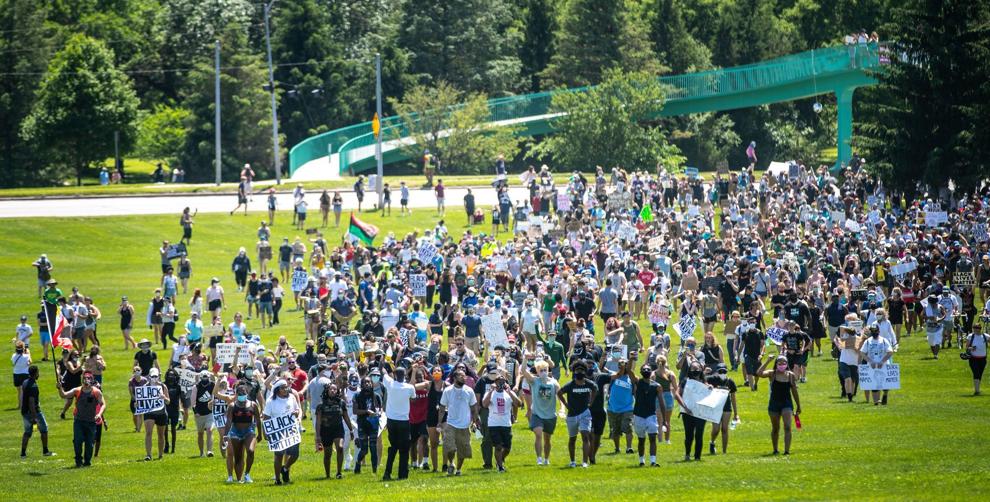 Sunday Rally
Sunday Rally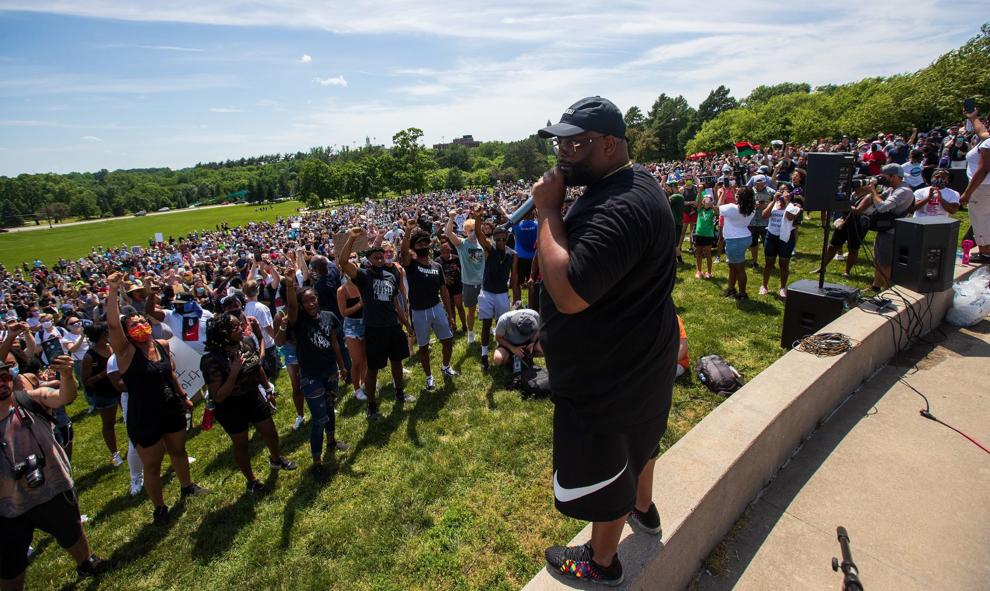 Sunday Rally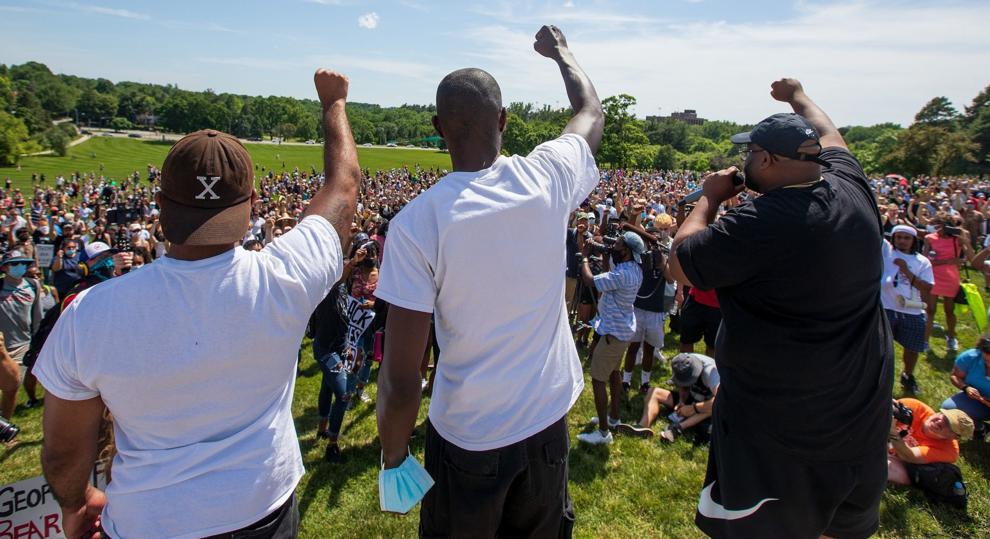 Sunday Rally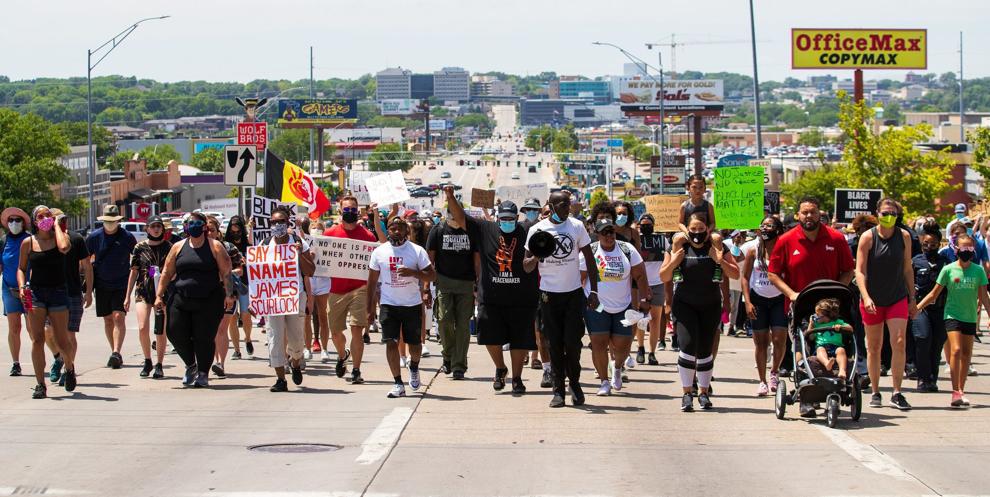 Sunday Rally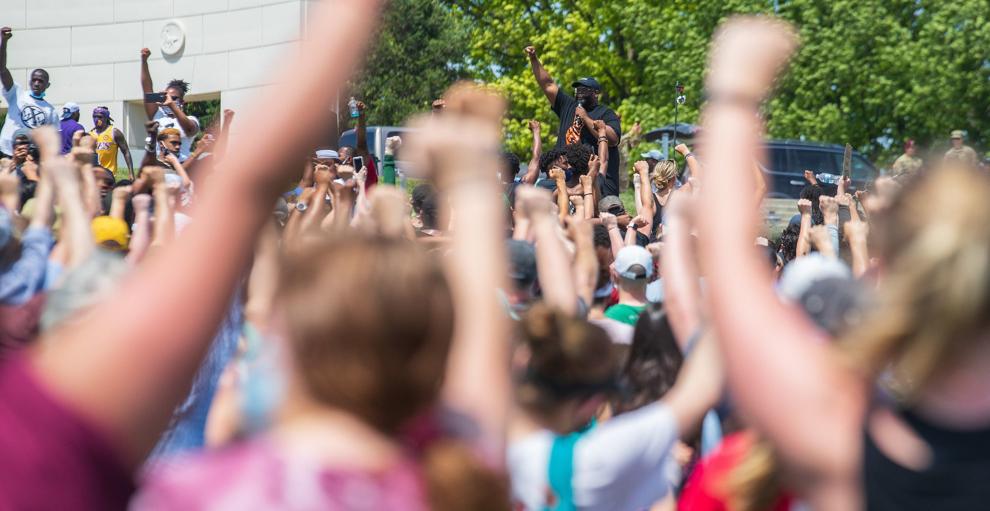 Sunday Rally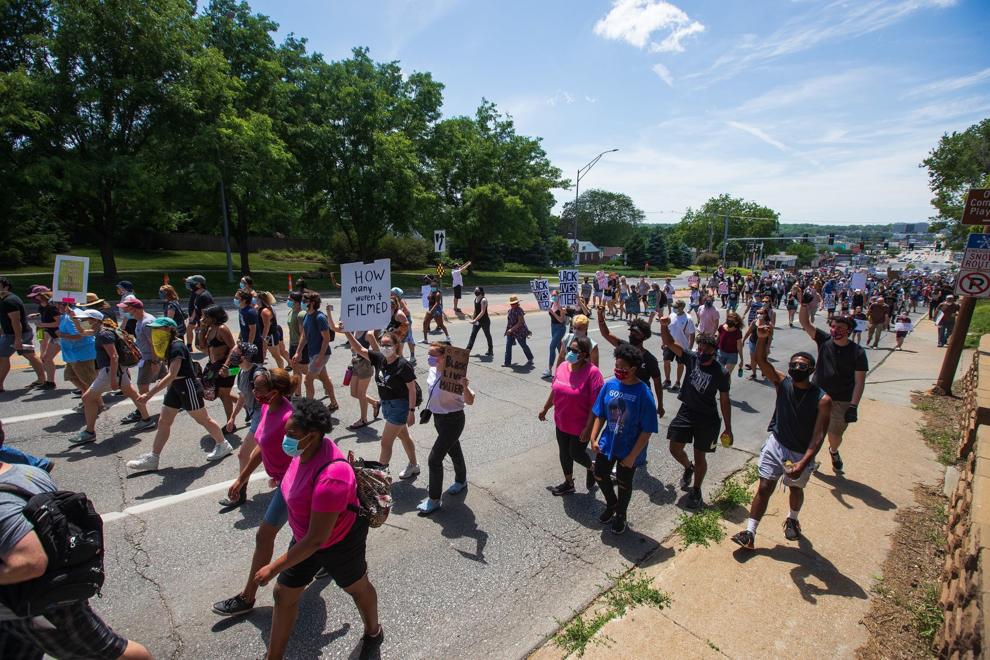 Sunday Rally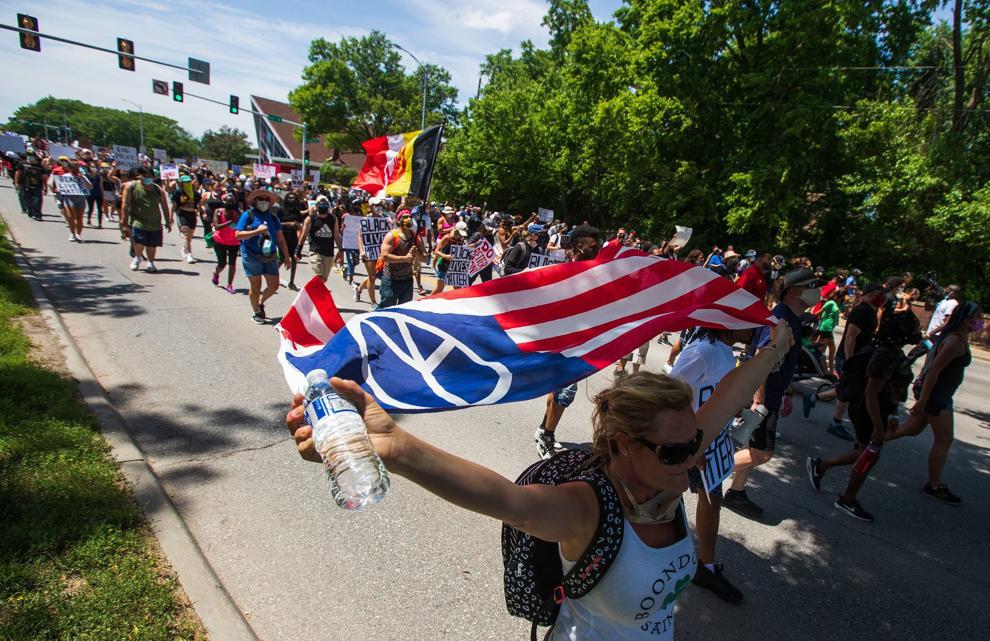 Sunday Rally