Bachus, Salem's senior pastor, chose the theme several years ago, figuring he would evangelize one-on-one and encourage his congregation to do the same.
Church leaders turned a pandemic into an opportunity, mobilizing to offer worship and other activities online.
And average "attendance" more than doubled to 3,500 a week. Salem also partnered with several community groups to reach and feed hundreds of hungry Omahans this past year. Both fulfilled the mission of his theme, Bachus said.
"It ended up being reaching on social media, (not) the intended manner of doing it," Bachus said. "It was a blessing in disguise — absolutely, positively."
Salem, a North Omaha megachurch, remains closed for Easter. But, like other Omaha pastors, a grateful Bachus will deliver the Resurrection message today on an Easter that, for many Christians, evokes more hope and perhaps more reasons for joy than it did last year.
In-person services have returned to most Omaha churches — and some are planning Easter surprises to make up for 2020. Vocal music is back in once-silent sanctuaries. A Papillion church will have the youth-led sunrise worship it canceled last year — with modifications.
And the faithful are rejoicing.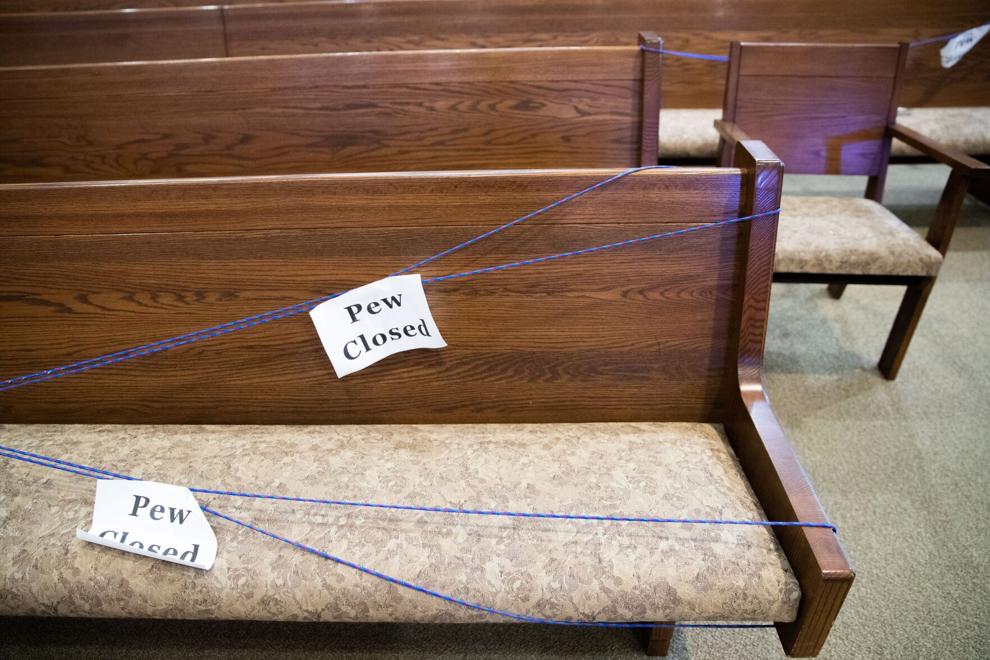 Joyce Glenn, a 36-year member of Sacred Heart Catholic Church, returned to her parish on Palm Sunday for the first time since early March 2020 and will be there today.
"I was elated at seeing many people I loved," she said. "The readings were very, very powerful. It was great to be there to hear them."
To be sure, everything isn't back to the way it was before the pandemic.
» Churches are still requiring masks and following distancing guidelines.
» King of Kings Lutheran Church, a large congregation at 116th and I Streets, is forgoing its annual arena service for the second year and replacing it with smaller services at the church and online. The arena events have drawn thousands of people.
» Salem is having a parking-lot service so people who haven't gathered together for a year can at least see each other through glass and witness the praise and worship team, including special guest musicians, in person.
» Many churches are cutting extras, such as coffee hours and Easter breakfasts, for safety.
» And attendance is down in many sanctuaries because scores of people still aren't ready for crowds of any kind.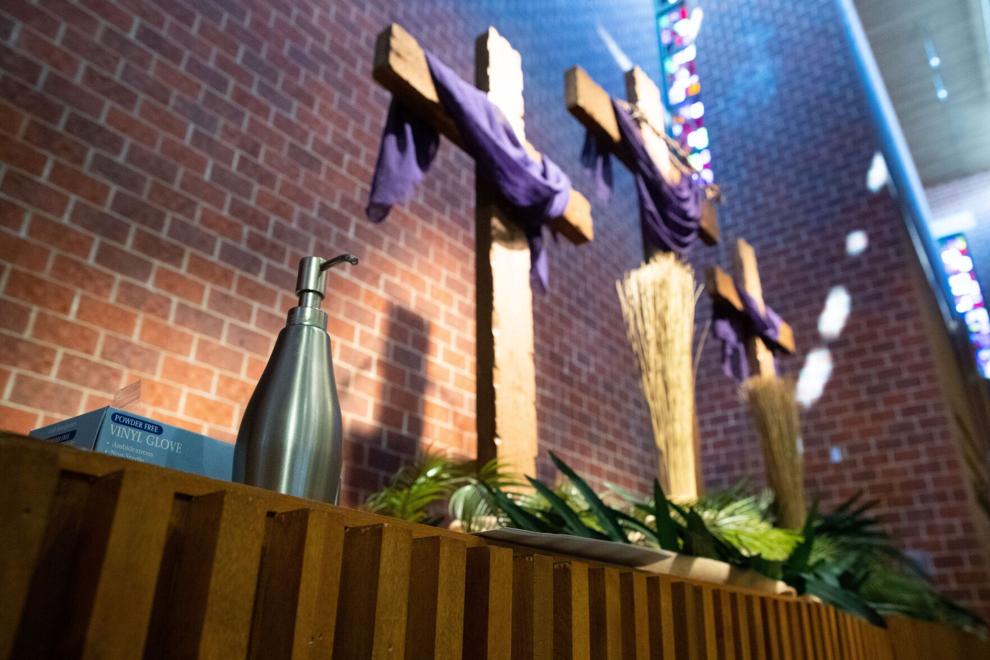 Westside Church on West Dodge Road, for instance, has reopened at full capacity but is seeing only 30% to 40% of the attendance it had before COVID-19, said senior pastor Curt Dodd, though he, like Bachus, said his online numbers have been strong.
Pastors report, however, that many parishioners have told them that they're returning today to celebrate a new beginning.
Those who come back to St. Leo Catholic Church will savor the vocal music that hasn't been featured in online Mass.
Small groups sang throughout Holy Week and will be present on Sunday and beyond, though the full choir won't return until fall, said music director Jenny ten Bensel.
"People have missed singing and will be happy it's back," she said. "Of all the Easters, I think this will be one of the more meaningful ones. It will feel kind of like normal because there will be singing."
She was conscious of safety as she planned. Each Mass has no more than three singers who are socially distanced, and she's encouraging each to wear face shields or masks. Hymnals have been returned to the pews, and congregants are asked to wear masks if they join in.
Vocalist Marsha Bauer hasn't sung for Mass since last March, but she says she's ready and isn't worried about safety.
"I'm excited," she said. "I really missed singing and I didn't realize that until I got my hymnal back out."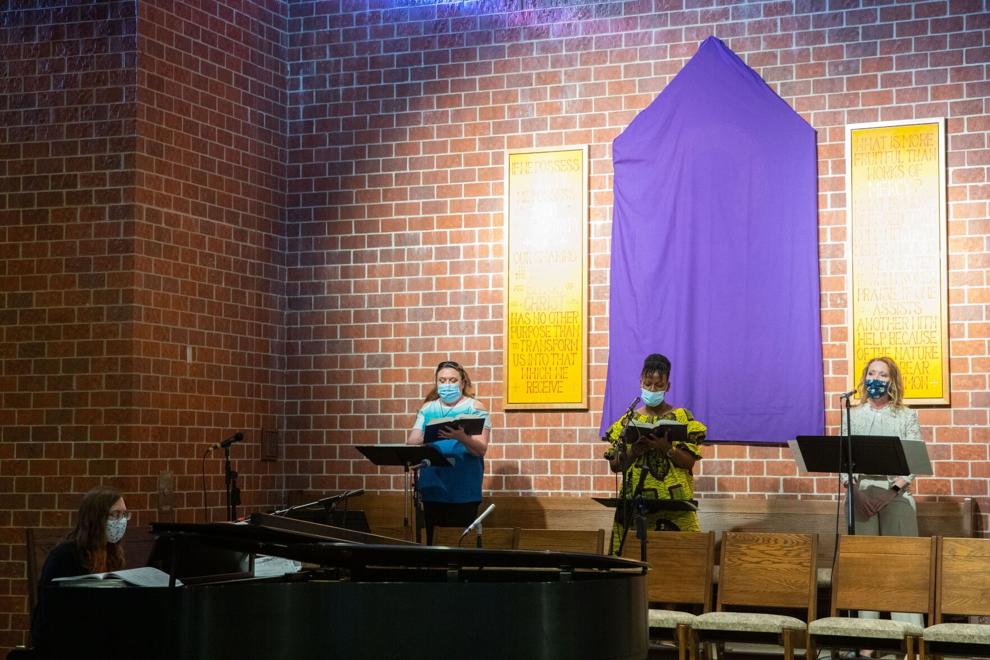 "The youth group is blessed with some amazing musicians," he said.
The service is usually at Papillion's Halleck Park. It's on the church grounds this year and is after sunrise at 7:30 because of noise ordinances.
The Rev. Amy Lippoldt, church pastor, said that she hopes the later time might draw people who have been reluctant to return to indoor worship. About 300 people attended Sunday services before the pandemic, she said. Now, about two-thirds of the congregation watches online.
Sacred Heart is known across the city for its gospel-tinged music by the Freedom Choir. During the pandemic, the group has been considerably smaller.
That doesn't mean it isn't powerful, said Paige Jenkins Bowder, a 38-year-old teacher at Indian Hills Elementary School who came back to in-person Mass a couple of weeks ago. She had been watching online with her husband and two young children.
When Bowder returned, she realized the choir was one of the things she missed the most.
"The choir was singing a song and the whole church was just clearly getting into it. I got tears in my eyes and said a prayer in my mind: 'God, you're getting us through this,' " she said.
King of Kings is offering four in-person services and a variety of online options in lieu of its large arena event. That includes a 30-minute service at 11 a.m. on KMTV, the church's first foray into television.
The arena service has been beloved by many Omahans. This year's services will have lots to love as well, said Danelle Schlegelmilch, director of online church for King of Kings.
"We really wanted to make it pretty special because last year was so difficult," she said.
The church engaged Nashville poet Tanner Olson to write a poem that Omahan Andy Neely will recite. And kids were asked to retell the Easter story in their own way — some used Legos, Peeps and robots. They were combined into a video that will be shown online.
Schlegelmilch said the church will observe social distancing and require masks. People who want to attend in-person were asked to reserve seats.
Sermons at various churches also will reflect the events of the past year — and the hope that comes with vaccines and fewer COVID cases.
Dodd, of Westside, said the title of his message is "Begin Again." With where we are in the pandemic and where we have been the past year, he said, it's time. He will tell the flock that the way to do that is through honoring God, obedience to God, and beginning again in worship and fellowship.
Lippoldt said the message — the hope of the Resurrection — remains the same but that the context is different this year.
"I would say it has more meaning. Certainly we're feeling it in our own lives in a different way as we start to be able to see our families and have some gatherings together," she said.
At Salem, Bachus said, the Year of Reaching was replaced in 2021 by the Year of Renewal, another theme he chose before the pandemic.
"There is a renewed perception of new life because over the last few months there has been such death," he said.
"I believe the Lord has given, through science and scientists and medical workers, the wisdom and knowledge that has caused (the pandemic) to slow down. I believe that's evidence of resurrection."
---
Our best Omaha staff photos of March 2021