By any measure, lead levels in the blood of Nebraska children have trended downward in recent decades.
The same goes for Douglas County, where efforts beginning in the late 1990s have focused on cleaning up lead-contaminated soil in Omaha yards and on remediating lead-based paint in homes.
Last year, even with pandemic disruptions, the Douglas County Health Department reported 152 children — of 17,391 screened — with blood lead levels above 5 micrograms per deciliter. That reading is the federal Centers for Disease Control and Prevention's current level of concern.
In 2019, 181 of the 21,468 children screened had elevated blood lead levels. Back in 1998, by comparison, 451 Douglas County children were identified with elevated blood lead levels, according to World-Herald archives.
But a recent study published in JAMA Pediatrics paints a slightly different picture, listing Nebraska as the state with the nation's highest proportion of children with both detectable and elevated levels of lead in their blood.
Local officials who work to prevent lead poisoning in Douglas County say the study does not reflect what's going on in the community. The study, they note, is drawn from data collected by only one of the several laboratories that process blood lead tests in the area.
While such studies are important to keep the conversation about lead exposure alive, they can "often lead to assumptions that an issue is more (or less) severe than it actually is," Kiernan Scott, executive director of the Omaha Healthy Kids Alliance, wrote in an email.
Naudia McCracken, acting supervisor of the county health department's Lead Poisoning Prevention Program, said the number of children with elevated blood lead levels has been on the decline since interventions began in 1996. As awareness of the problem has grown, screening also has increased.
The study's authors acknowledge that their data is drawn from only one lab. They also note that states vary significantly in how health professionals decide whom to test for lead exposure.
Dr. Harvey Kaufman, a study co-author and senior medical director for Quest Diagnostics, said the data also likely is skewed by more higher-risk children being tested or more children having confirmatory testing with the lab.
The only way to identify the true prevalence of lead poisoning, he wrote in an email, is to perform community surveillance testing rather than relying on such observational studies. "Absent community surveillance, we are left with large observational studies," he wrote.
But Kaufman and local lead program leaders agreed that work remains to be done to prevent lead poisoning and to get more kids tested.
Kaufman said in an interview that a lot of children still are being exposed to lead, despite decades of public policies to reduce lead poisoning.
The CDC determined in 2012 that there is no safe level of lead exposure for kids. An agency subcommittee has recommended lowering the level of concern in children to 3.5 micrograms per deciliter.
Two of the study's authors wrote in an accompanying editorial that lead is still widespread in the environment in the United States, especially in old paint, water pipes and plumbing fixtures.
The study's findings, they wrote, "underscore the urgent need to eliminate all sources of lead exposure from U.S. children's environments."
The study indicated that one in two American children under age 6 who were tested had detectable levels of lead in their blood, based on lab tests performed by Quest on more than 1.14 million children between October 2018 and February 2020. Young children living in areas with the highest percentages of pre-1950s housing and low incomes were most at risk.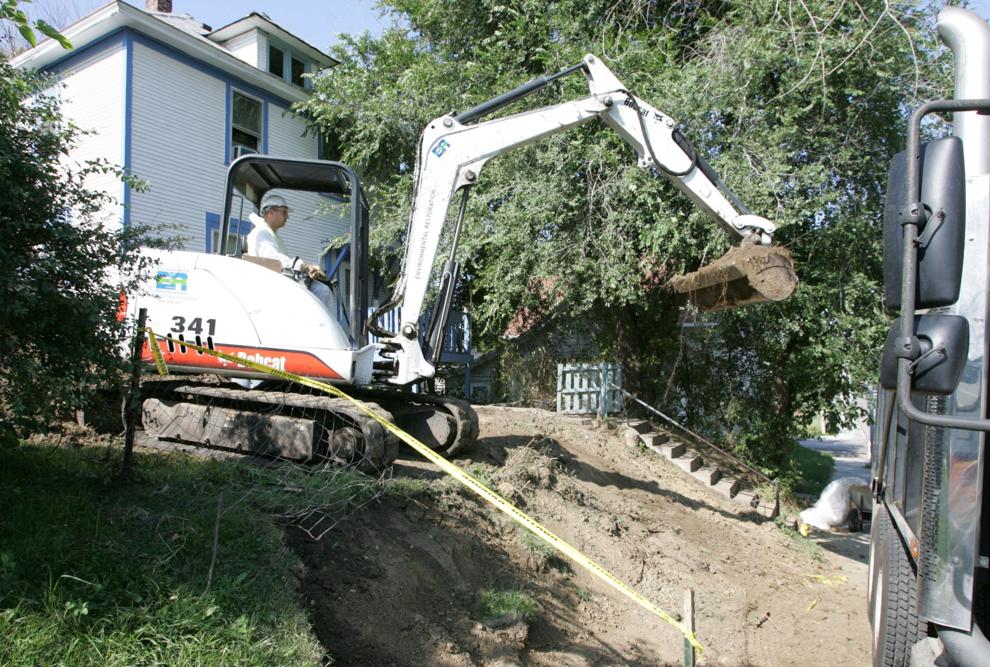 According to the study, Nebraska had the nation's highest proportion — 83% — of children with detectable levels of lead. The state also had the highest proportion of children — 6% — with elevated blood lead levels. The national rate was 1.9%.
Both the latest Douglas County figures, however, work out to fewer than 1% of children tested having elevated blood lead levels. Statewide, combined 2017 and 2018 figures indicate 2.6% of Nebraska children screened had elevated blood lead levels.
Kaufman said the 2.6% figure still works out to one in 40 children with elevated blood lead levels. And the fact that some children have even higher lead values is disturbing.
McCracken said the majority of lead poisoning cases in Douglas County are in old housing where lead-based paint — and the lead-laden dust it produces as it wears — is still an issue.
"It is still an ongoing issue," she said. "We're not going to be able to get rid of all the old housing stock with chipping and peeling paint."
The second major cause, McCracken said, is poisonings from spices or imported food products, such as some Mexican candy. Those cases are concentrated in immigrant and refugee populations. The health department provides information in many languages about such risks.
Only a few cases of elevated blood lead levels are attributed to lead in soil. Soil in thousands of yards has been tested and replaced as part of the Superfund site in east Omaha. Omaha got the Superfund label largely because of lead contamination from the Asarco lead-refining plant that operated along the riverfront until 1997.
Other lead-reduction efforts have focused on mitigating lead dust in homes. The health department offers free home inspections to residents living in homes built in 1978 or before with children ages 7 and younger.
The study authors wrote in their editorial that a portion of the bipartisan infrastructure bill pending in Congress that would remove and replace all lead pipes would be an important step toward eliminating sources of lead exposure for kids.
But they said it also needs to be accompanied by a plan to remove lead paint from homes across the country.
---