The Nebraska Humane Society has seized nine animals from Scatter Joy Acres, bringing into the open a simmering fight between two local animal welfare organizations over the use of therapy animals.
The latest disagreement: Does Scatter Joy need a permit from the Humane Society to house its nondomesticated animals — the type one might see in a zoo? Scatter Joy says no; the Humane Society says yes. The permit carries with it monthly inspections by the Humane Society and requirements for enclosures similar to those at zoos.
Scatter Joy faces nine citations from the Humane Society, one for each animal. The case is headed to court on Oct. 6.
Tim Heller, a Scatter Joy board member, said the nonprofit has other permits — it is a licensed animal exhibitor under state law, has a captive wildlife permit from the state and has a federal Class C Exhibitor permit. It undergoes regular inspections by the Nebraska Department of Agriculture and the U.S. Department of Agriculture, he said. A provision within Omaha ordinances exempts Scatter Joy from a Humane Society permit, he said.
Steve Glandt, vice president of field operations for the Humane Society, said he's confident that the Humane Society is right.
"They're hanging their hat on other licenses that they have, but at the end of the day, we have to follow the city ordinance," Glandt said.
The Humane Society has warned Scatter Joy of alleged violations in the past and has been attempting since April to get the farm to remove a porcupine, he said.
"It's not the first time we've been at odds with this organization," he said. However, there are no problems with the care the animals receive at Scatter Joy, Glandt said.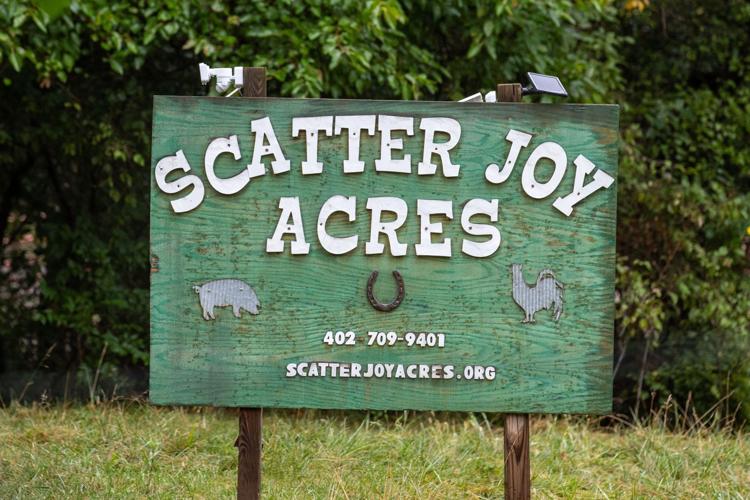 In April, Scatter Joy received its only prior citation from the Humane Society, Glandt said.
The April citation involved a raccoon.
"This raccoon had been caught in the wild, and at Scatter Joy Acres, it was held in an unsecure enclosure," Glandt said. Scatter Joy violated its Nebraska wildlife permit, Glandt said, "by housing a captured wild raccoon and putting it on display." The raccoon was later released into the wild following appropriate steps, he said.
Heller said the raccoon was an orphan that had been bottle fed from infancy by a man in Iowa. When the man died, his family brought it to Scatter Joy because they believed it couldn't survive in the wild, he said. The raccoon was being kept in a secure enclosure at Scatter Joy where it could be viewed but not touched, Heller said. Scatter Joy was in the process of deciding what to do with the raccoon when it was seized, he said.
Heller has filed a complaint with Mayor Jean Stothert alleging abuse of power and harassment by the Humane Society.
"Nebraska Humane Society enforcement officers are regularly harassing Scatter Joy Acres and its executive director, Joy Bartling," he wrote Stothert. "This type of behavior toward Scatter Joy Acres is inexcusable. It is causing Ms. Bartling, her volunteer staff, and others tremendous anxiety."
Scatter Joy's 26 acres at 4966 Newport Ave. house a menagerie of animals. It functions as part petting zoo, part animal therapy and part animal rescue. The public can visit the farm, and Scatter Joy takes animals on community visits. The farm charges for its programs but also has many volunteers.
The organization gained local prominence in 2019 for its role in helping rescue animals threatened by that spring's catastrophic flooding. Scatter Joy assisted in the rescue of rare San Clemente Island goats from a farm near Gretna.
The Nebraska Humane Society is one of the nation's largest and oldest animal shelters and has a contract with the City of Omaha to enforce animal ordinances.
Scatter Joy's attorney, Scott Lautenbaugh, has written the Humane Society, saying its actions have been illegal and unjustified and warning it against disparaging remarks about Scatter Joy and its personnel.
The nine animals seized on Aug. 24 are the porcupine, seven Patagonian cavies (which look like jackrabbits and are native to Argentina) and a coatimundi (a mammal that looks like a cross between a cat and a raccoon and is native to the Americas). Glandt said the animals are healthy and being housed at undisclosed locations.
All of the seized animals are used in animal therapy, and that's of concern to Glandt.
"A porcupine has razor-like quills" and long claws, he said. "It's a wild animal — that's what nondomesticated means. … We have a duty to protect the public."
The Humane Society's actions have angered some of the families who receive therapy at Scatter Joy.
Jenny Henning said her 4-year-old son, Connor, who has cerebral palsy, has developed a strong bond with Aquilla, a bottle-raised, female porcupine.
"I've watched the relationship develop over the last year, the gentleness, the compassion, the love that Aquilla has," she said.
"This farm is a safe haven to many families, especially those with special needs," she said.
The farm is outdoors and uncrowded, making it a perfect place for therapy, she said, noting that the pandemic has shuttered many other options.
Glandt said the Humane Society isn't targeting or trying to shut down Scatter Joy.
"They have other animals that could easily provide therapy for kids and adults, and I commend them for that," he said.
Heller said the Humane Society is cherry-picking city ordinances.
"What NHS has failed to do is read the (exemptions)," he said. "If they would just turn the page, this is resolved quite simply."
---
Our best staff images of September 2020