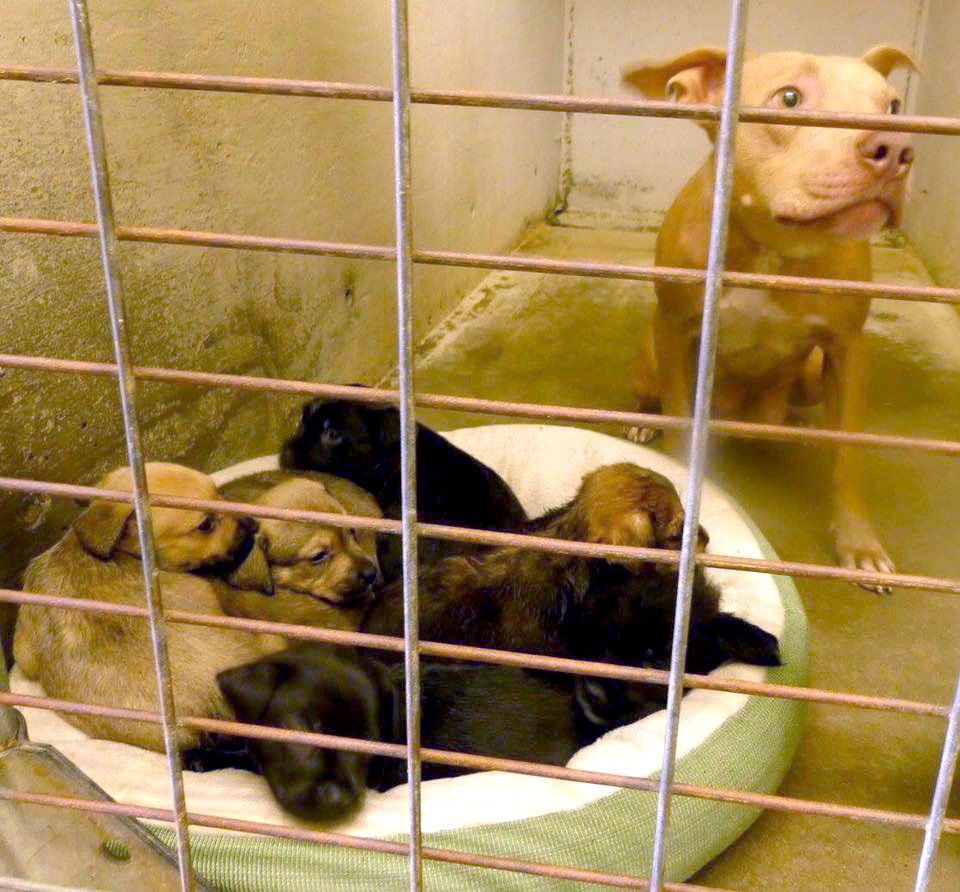 Today, the pit bull and her seven sick puppies are huddled in a concrete kennel in an animal shelter in Texas. But on Sunday, the dogs will fly to a foster home in Glenwood, Iowa, to heal and frolic on 13 acres while they await new homes.
The rescue mission is thanks to the efforts of an Omaha-area group, Muddy Paws Second Chance Rescue, as well as nationally known artist and activist Mark Barone's organization, An Act of Dog.
Until the groups stepped in, the dogs were set to be euthanized. There wasn't room in the overcrowded Mount Pleasant shelter to house them. But now the pit bulls have a ticket to a new life in the Midwest.
"The whole thing was just so heartbreaking," said Terri Larson, the founder of Muddy Paws, which operates in Council Bluffs and Omaha. "Even though this is happening every day in cities, we just couldn't let it happen to this (pit bull) family."
On Sunday morning, a Muddy Paws volunteer will fly to Mount Pleasant and bring the dogs back via private plane. The flight will cost about $600 for fuel, but it will reduce the stress on the dogs during travel, Larson said.
Barone is raising the money to pay for most of the rescue mission. Larson said she doesn't have a total cost estimate, but it cost another $300 to get veterinary work done so the mother and her puppies are ready to fly. Additional expenses will include food, more medical care, leashes, collars, beds and toys.
Rescuing dogs from other states, particularly Southern states, is becoming more frequent for Muddy Paws, Larson said. Later this month some dogs will be rescued from Louisiana.
Larson, who lives in Council Bluffs, founded Muddy Paws in January 2015. On top of its rescue efforts the group offers veterinary and training assistance to current pet owners who may be considering giving up their dogs. The goal is to prevent the dogs from winding up in shelters.
In its first year Muddy Paws placed 186 dogs in new homes. In 2016 that number was 248 and included cats. This year the group expects to place more than 300 dogs, cats, rabbits and a duck named Quackers.
Rescuing the animals involves arranging transportation and finding foster homes as well as paying for veterinary services.
The Texas pit bull puppies have a parasite, and they'll have to get treatment after they move to their temporary home in Glenwood, Larson said.
"But once they're feeling better they'll have a wonderful foster home and a wonderful place to recover and get adopted," she said.
The pit bull rescue has garnered some national attention because Barone posted about the dogs on the website and Facebook page for his popular organization, An Act of Dog.
Barone has painted 5,500 portraits of shelter dogs meant to represent the 5,500 dogs killed in shelters every day.
Barone is painting the pit bull family and donating the signed print to donors who are helping to pay for the rescue mission.
"It's a huge undertaking," Larson said. "We are so fortunate that Mark is helping us with these expenses."