Matt Feldmann and brothers Josh and Matthew Bodine scoffed when Lego first introduced its $700 "Star Wars" Imperial Star Destroyer kit.
We can do way better, they agreed.
The hard-core "Star Wars" fans just didn't realize it would take a year and a half, require more than 25,000 Lego bricks and cost more than $1,700 in supplies, and challenge their dedication when they had to rebuild again and again when things didn't go together at scale.
"I just look at it, and I can't believe we built it. It's just insane," Feldmann said. "From the start, I didn't think we would be able to make it happen."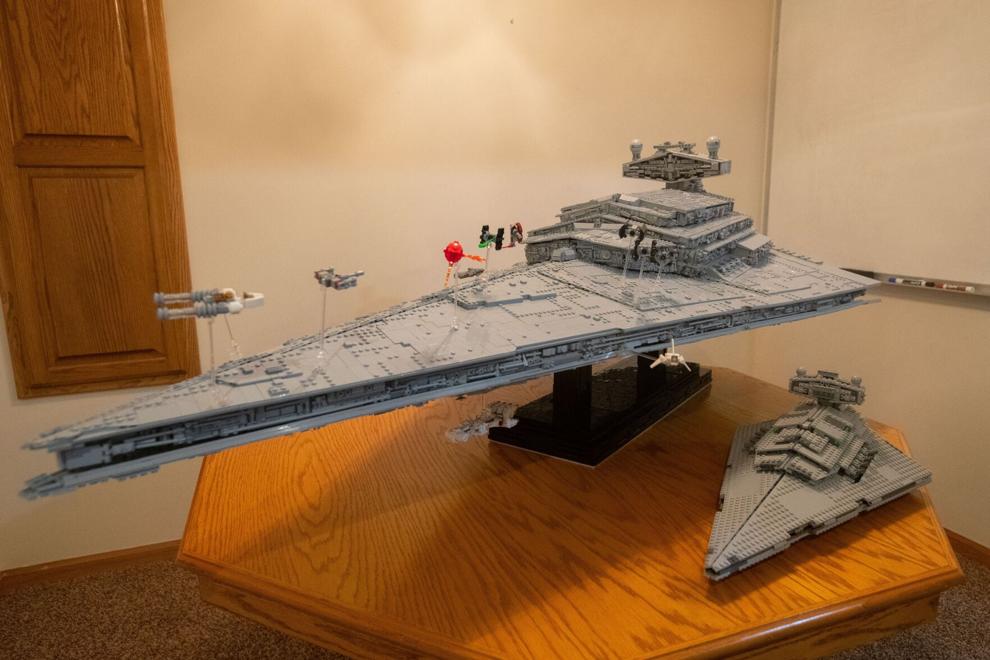 The version made by the three Papillion-La Vista South High School buddies far surpasses the size and scape of the kit at 63 inches long (5.25 feet), 38½ inches wide and 24 inches tall. It's decked out with every bell and whistle you'd find on the outside of a "Stars" Wars Imperial Star Destroyer.
They printed off pictures from the "Star Wars" movies and different models to make sure. It has eight laser cannons, ships parked in the hanger underneath and a bridge that took Feldmann nine attempts to build to the right size. Just to add some drama, a battle between TIE Fighters and X-wing Starfighters — complete with explosions — rages over the top of the whole thing.
It's so large, the pingpong table in Feldmann's basement just wasn't big enough to hold it anymore.
"If you look at it from a distance, you would think it's one of the models of the movie. You wouldn't be able to tell it's a Lego," Feldmann said. "I don't think anything is missing. I think it's as accurate as anyone is going to get to making a Star Destroyer out of Legos that looks like the movies.''
The trio plans to enter the destroyer in the Brick Days Lego convention July 24 and 25 at the Mid-America Center in Council Bluffs. In 2019, they won an award for best land vehicle at the convention with a model of an AT-AT Walker from the movies.
But that's nothing compared to a Star Destroyer, Feldmann said.
It's the friends' last hurrah, they say. Feldmann is heading to the University of Nebraska-Lincoln in the fall to study construction engineering. Josh Bodine will join him in Lincoln after a gap year. Matthew Bodine is heading into his junior year at Papio South.
They met when the Bodines moved here from Oregon. Feldmann and Josh Bodine were in the same section of the band.
"We instantly connected because we both love 'Star Wars' and Legos. We were instantly great friends," Feldmann said.
Constructing the Star Destroyer kept them busy through the long months of the coronavirus pandemic.
They used Lego bricks Feldmann inherited from his older brothers Nathan and Michael and the 150 to 200 sets of his own. He estimates there's more than a million at his house, stored in his room, his brother's now-vacated bedroom and a closet. He works in a Hy-Vee deli department and mows neighborhood lawns to raise the money to buy them.
He and Josh Bodine focused on the structural support of the ship, which tested their patience when the whole frame collapsed and had to be started over. Matthew Bodine excelled at all the details that adorn the outside.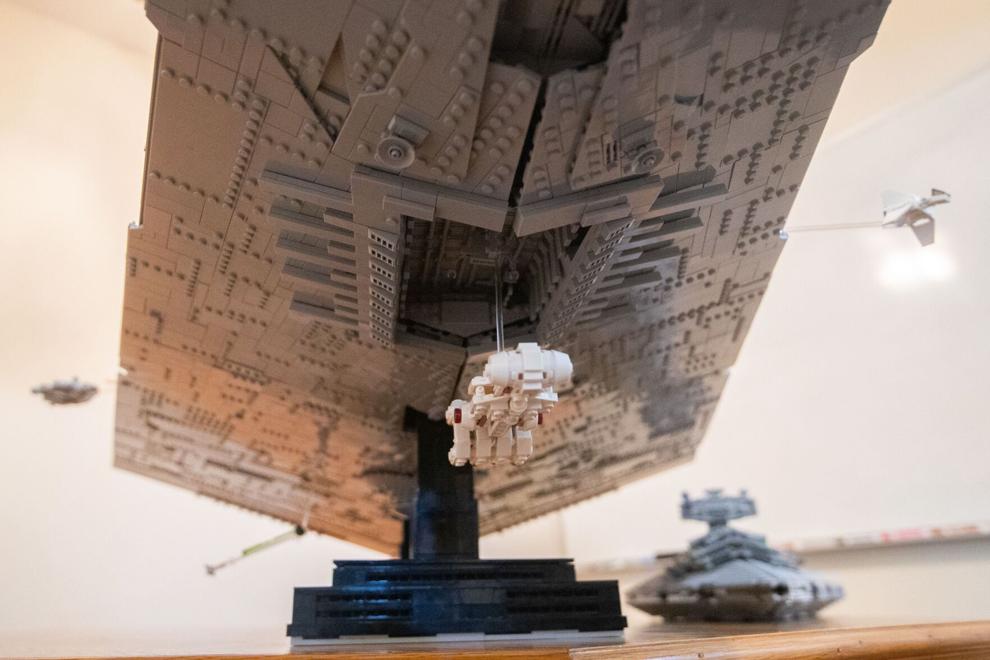 "We're all 'Star Wars' fans, so we all knew what needed to be done," Matthew Bodine said. "There were a few times where I didn't believe we would actually be able to finish, but for about the last month, we realized that we weren't too far off, and that helped us finish it out."
Because it's so massive, and because it will need to be transported to the local Lego show and another later in Chicago, they built it in pieces that fit together.
That gave them each room to maneuver as they were putting it together.
"The best part of it was seeing over a year's worth of work come together when we finally connected all the individual sections," Josh Bodine said.
With a month to go before the show, Feldmann admits there will likely be more tweaking done.
He's a bit of a perfectionist. But, he says, everything he's learned during the months of the demanding build will be good experience for his college classes.
"We were never going to make anything better," he said.
---
Photos: Papillion teens recreate Star Wars Imperial Star Destroyer