Ever since Easter weekend, things have been hopping at Nebraska Wildlife Rehab Inc.
Staffers are working hard to care for 51 litters of baby bunnies. That's 151 tiny cottontails that need nourishment twice a day, which usually takes about three hours per feeding session.
Executive Director Laura Stastny said the influx has to do with the early warm weather.
"People were out doing yardwork and started finding babies,'' she said.
Caring for lots of little ones is nothing new for the wildlife center, which is based in Washington County until its new center at 97th and M Streets is completed. The influx of critters normally starts as a trickle in March, then turns into a flood of babies by May, the rehab center's busiest month.
In the first seven days of April this year, though, the center has received more animals than it did in the entire month of March.
Besides the bunnies, staffers also are caring for 51 baby squirrels, 13 tiny opossums and seven raccoon kits.
A young raccoon chirped loudly in the background as Stastny talked to a reporter for this article. Stastny was bringing him to the center after he was found by a Nebraska Humane Society staffer.
"He's hungry,'' she said.
Most of the rabbits at the rehab center are what Stastny calls kidnapped baby bunnies. People drop them off at the rescue center or the Nebraska Humane Society because they don't want the animals in their yards.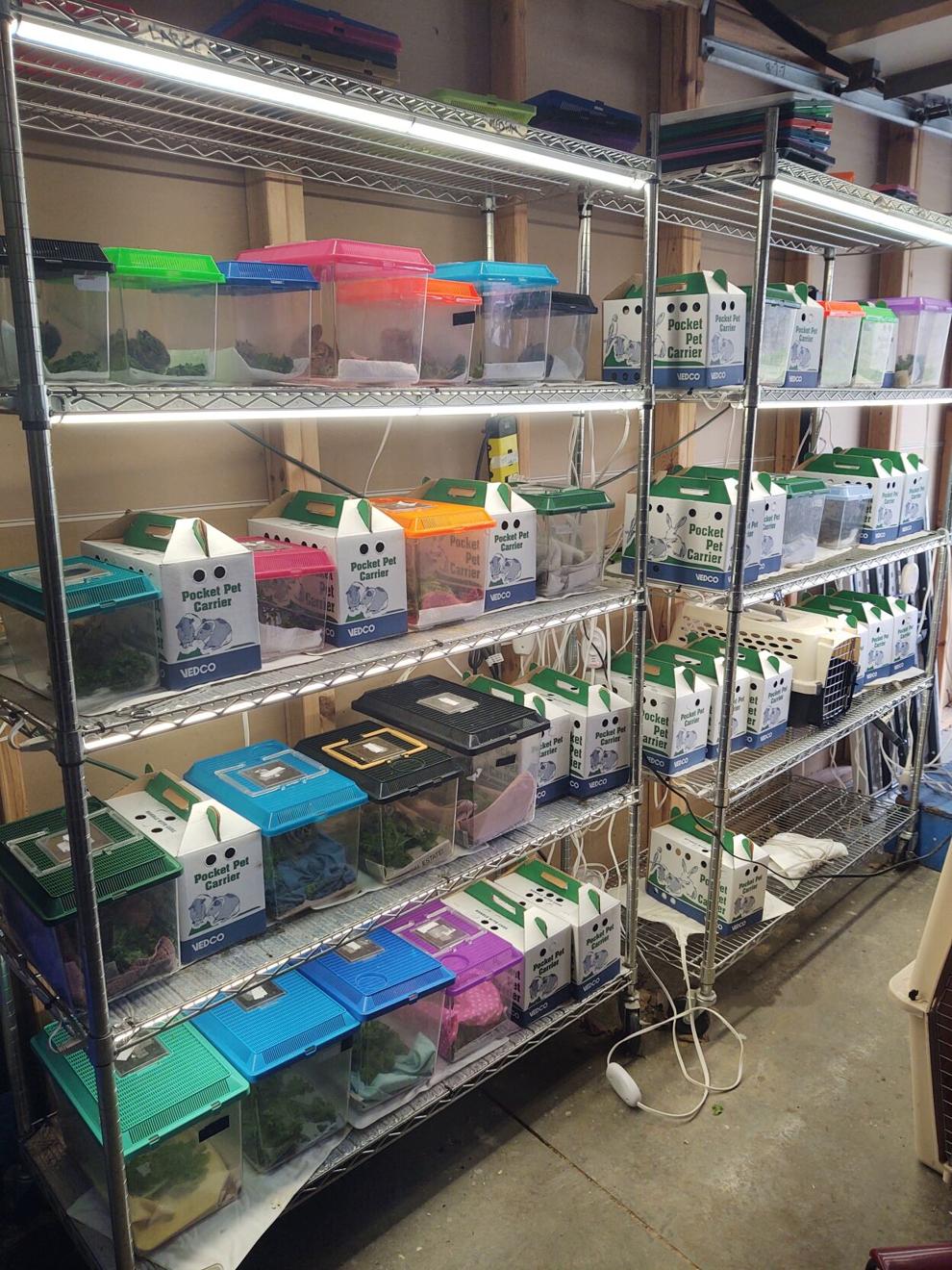 "We would like people to not do that," she said. "We would like people to leave them in their yard unless they are truly orphaned."
If homeowners would be patient, she said, the babies would disperse in two to three weeks.
Nebraska Wildlife Rehab gets lots of calls about baby rabbits because people think they have been abandoned. Mothers feed them only twice a day to avoid bringing predators to the nest.
Stastny said there's an easy way to determine if the mom is around: Put dental floss in a tic-tac-toe pattern over the nest. If the floss has been disturbed by the next morning, you know the babies are being fed.
The rehab center is putting each of its litters in a cardboard box or critter container, stacked on eight rows of shelves in one of the garages at the facility. They will stay until they are released on private property when they are a month old, a process OK'd by the landowners.
Because they have so many babies, Stastny said they desperately need help to purchase supplies such as heating pads, baby bottles and nipples and baby receiving blankets. Incubators, which cost about $270 apiece, are in high demand for baby opossums, squirrels and birds.
The rehab doesn't allow volunteers to help right now because of coronavirus restrictions, so three full-time and two part-time staffers have been busy doing the feeding. Including adults, 330 animals are being cared for at the center. That number dropped considerably after 400 bats were released last week.
The critter tally won't stay at that level for long.
"That number is expected to at least double by the end of April as more spring babies come in," Stastny said.
---