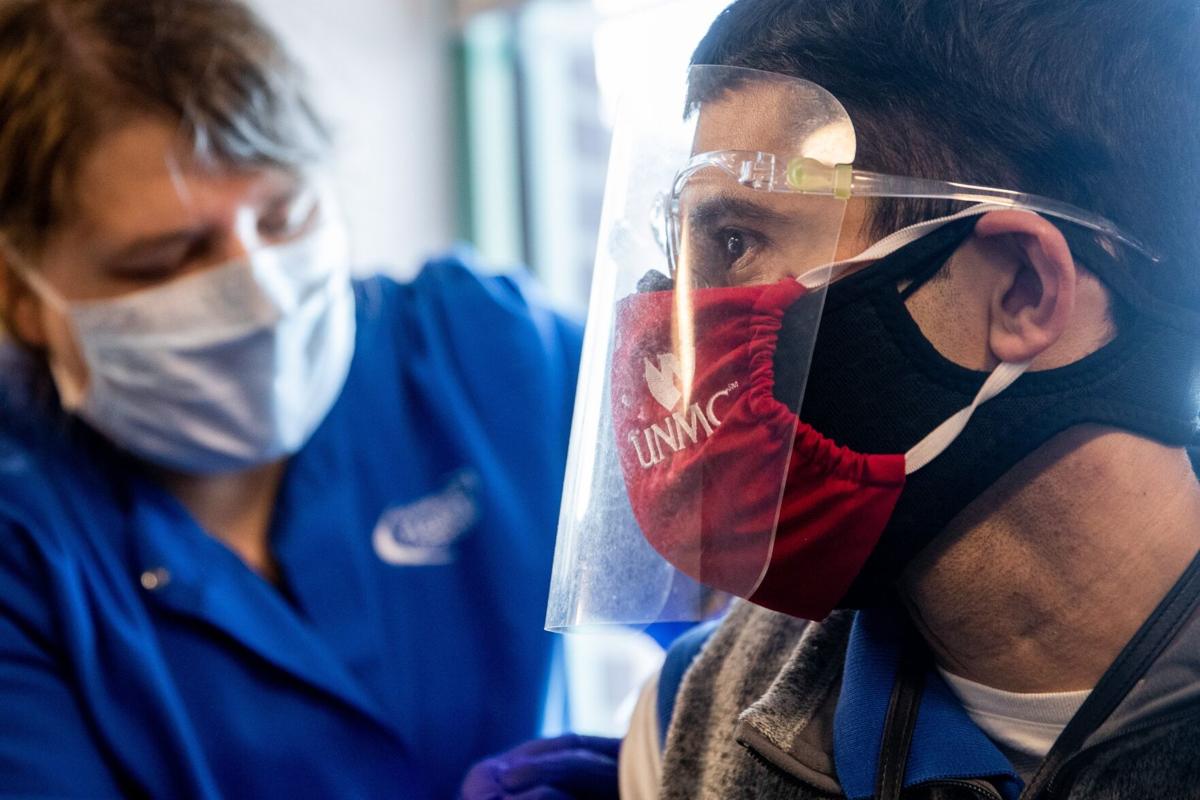 As COVID-19 vaccine makes its way into the arms of the first group of Nebraska recipients, those in later phases are seeking answers about how, when and where they'll be able to sign up and take their turn at getting shots.
The next people in line on the state's priority list — after health care workers, emergency responders and staff and residents of long-term care facilities — are Nebraskans ages 75 and older.
The Douglas County Health Department sent out an update Thursday for those in the 75-and-older category indicating that their chance to be vaccinated will be coming soon.
Spokesman Phil Rooney said the department is being "swamped" by callers in that group. However, the department estimated that it will take at least two more weeks to vaccinate health care workers and emergency medical staff in the county.
Rooney said the department plans to send out weekday updates regarding its progress. A registration system that will allow residents to sign up for the vaccine could come as early as next week.
Angie Ling, incident commander, said the state so far has been allocated 108,000 doses of vaccine and administered about 53,000 of them. Of the doses, about 35,000 have gone to the federal pharmacy program that is administering shots in long-term care facilities.
The state is being allocated about 22,900 doses a week — 11,700 doses of the Pfizer vaccine and 11,200 doses of the Moderna shot.
Ling said different areas of the state are moving at different paces through the phases. Some areas in western Nebraska already are moving into vaccinations for those 75 and older.
"It's sheer numbers," she said. The state, she said, is working with local health departments to make sure that none are holding on to vaccine and that they have enough vaccinators.
"We really ask for patience as we move into this phase," she said.
But Douglas County has more health care workers than the total number of people who reside in 82 other Nebraska counties. Some 27,000 health care workers live in Douglas County. Those who live elsewhere but work in the county bring to about 35,000 the number of health care workers who must be vaccinated. Those 75 and older number at least 30,000 and likely more.
Ling said the state will launch a sign-up website in about two weeks as well as a separate phone line. The website will be used for all phases of the program, so Nebraskans can register and receive a reminder when it's their turn to register. Some local health departments already have launched online lists through their websites or Facebook pages for that purpose.
Those with questions about COVID-19 in the meantime can call the state's hotline at 402-552-6645 or toll free at 833-998-2275.
Nebraskans living outside long-term care will be able to get vaccinated through clinics offered by their local health departments and select health care providers and pharmacies.
Ling said the state will have a list with that information at a later time. Information also will be sent to health care providers.
Exactly what clinics will look like, too, is not yet clear.
The Three Rivers Public Health Department, which covers Dodge, Saunders and Washington Counties, had 120 slots scheduled at its first drive-through vaccination clinic Thursday morning. The clinics are not open to the general public; those scheduled to receive a shot receive a link with an invitation. The department has not yet begun vaccinating people in the 75-and-older group who live outside long-term care facilities.
"I'm pretty darn excited about how it was turning out," said Terra Uhing, the department's director. "I think that's going to be a good avenue for us."
Ling said anyone in the 75-and-older group who wants the vaccine will be given it regardless of any underlying health conditions.
Those ages 65 to 74 fall into the next phase, along with those with underlying health conditions. That category will be further defined later, she said.
But everyone who wants a vaccine will get one eventually, she said. Right now, the allocations are small. Health officials hope that they eventually will increase and that additional vaccines will become available. Several are in late-phase trials.
---
Our best Omaha staff photos of 2020