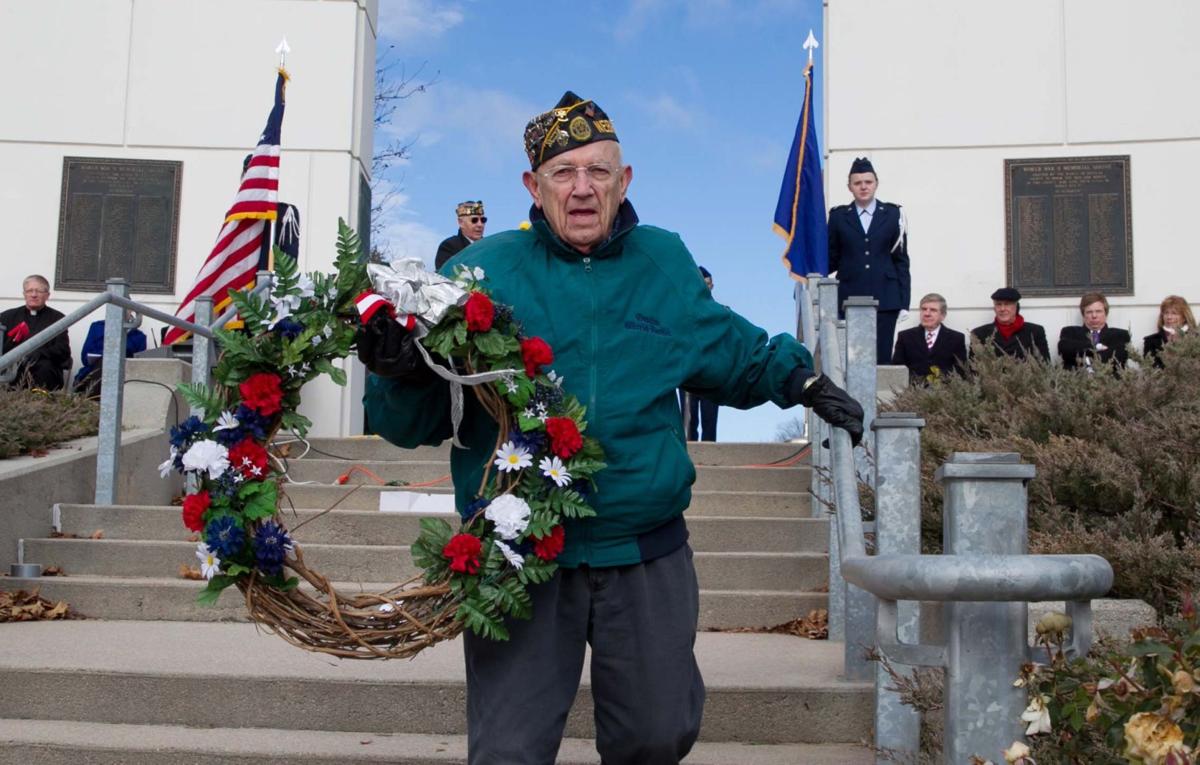 The COVID-19 pandemic has put a halt to many traditional Veterans Day events around the country, but Omaha's largest observance is still on track. American Legion Post 1 is going forward "full blast" with a ceremony on top of the hill at Memorial Park, said Fred Tisdale, the coordinator of the annual event.
The ceremony will begin at 11 a.m. Wednesday. Guest speakers will include Mayor Jean Stothert; Greta Hamilton, director of Omaha National Cemetery; and Ben Wormington, an Omaha Marine Corps veteran of three Iraq War combat tours.
The outdoor setting gives those who attend plenty of space for social distancing, Tisdale said. The COVID-19 restrictions announced Monday by Gov. Pete Ricketts did not include any limits on the size of outdoor crowds.
"We're still going to have it," Tisdale said. "We haven't been told we can't."
Legion Post 1 will also host a luncheon after the ceremony at its headquarters at 7811 Davenport St.
Omaha's Open Door Mission will host a Salute to the Red, White and Blue to honor American veterans who are experiencing homelessness. The event will be held Wednesday at 7:30 p.m. at the Garland Thompson Men's Center, 2705 N 20th St E.
American Legion Post 374 at 13913 S St. in Millard will host a pork tenderloin supper at its post from 5:30 to 7:30 p.m. Wednesday. The post recently closed for 10 days because of the pandemic. Its adjutant, Army veteran Greg Petersen, died Oct. 29 after contracting the coronavirus.
VFW Post 2503 at 8904 Military Road will hold a spaghetti feed from 2 to 7 p.m. Wednesday. Masks and social distancing are required, as per Ricketts' orders, according to the post's Facebook page. For takeout, call 402-571-8397.
American Legion Post 32 at 230 W. Lincoln St. in Papillion has canceled its ceremony because of the pandemic, but Moran's Grill at the post is still offering a free spaghetti dinner (dine in or takeout) from 11 a.m. to 2 p.m. and 4 to 8 p.m. For takeout, call 402-677-1142.
The La Vista Community Foundation will host a virtual Salute to Veterans at 4 p.m. Former Sen. and Defense Secretary Chuck Hagel and University of Nebraska President Ted Carter will be the guest speakers. The event will feature patriotic music and a tribute to each of the service branches. It may be viewed on the foundation's Facebook page or YouTube channel.
Veterans Day parades in Bellevue and Lincoln planned for last weekend were both canceled.
There will be plenty of freebies for veterans Wednesday. The Henry Doorly Zoo is offering free admission to active-duty military members, veterans and their immediate families from 10 a.m. to 4 p.m. Hy-Vee will serve free breakfasts to veterans — this year, prepackaged and handed out curbside from 6 to 10 a.m. Village Inn and the Kolache Factory will also offer free breakfasts for veterans, and Wendy's is offering free small breakfast combos to veterans and active military members from 6:30-10:30 a.m.
Honoring our heroes: A gallery of Nebraska veterans
Honoring our heroes: Nebraska veterans and their service.