WASHINGTON — Herman Cain might be best known to most Americans as the former Republican presidential candidate who relentlessly pitched his catchy 9-9-9 tax plan.
But to many Omahans, Cain will always be the guy who showed up to rescue an iconic but struggling pizza company.
Cain has died from complications of COVID-19. He was 74.
Back in 1986, Pillsbury was looking for someone to help turn around Godfather's Pizza, one of its subsidiaries that was facing serious financial difficulties.
Pillsbury gave the assignment to Cain, who had recently worked his way up the ladder at Philadelphia-area Burger King restaurants, turning that chain's worst performing region into the best.
Cain and his team set about making changes, cutting the number of Godfather's units to something more manageable and making improvements to customer service and quality.
As the pizza chain reached steadier footing, Cain and other executives put together a leveraged buyout to purchase it.
"When I first came here, the pressure was on me from within the Omaha business community," Cain told The World-Herald. "Who was this young whippersnapper? What is he going to do with the company that was founded in Omaha that is about to go bankrupt?
"Listen, I earned my stripes in the business community in Omaha. I earned one big stripe when we were capable of pulling off the purchase from Pillsbury. And I get another stripe because things are going well. We've stabilized the concept again. We've stabilized the financial performance of Godfather's.
"And, yes, the fact that I was Black added some more pressure to the situation, sure."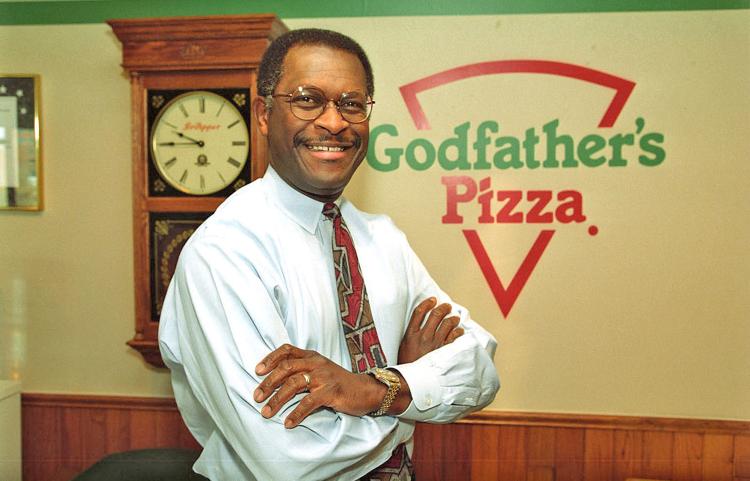 Cain talked about his tenure running the company and cited that as both evidence of his leadership skills and also an experience that gave him insights on the impact government policies have on businesses.
When he was running for president in 2011, some questioned whether he had really been the primary force behind that Godfather's rebound or if he had served as more of an inspirational speaker.
A World-Herald article at the time quoted Cain pushing back on such critics.
"I have to tell them that there's more between these ears than pepperoni and pizza sauce," Cain said. "People who say I was just going out and giving the speeches and smiling, they have no idea how I manage and lead. I dipped down into the (Godfather's) organization just enough to make sure I got my fingerprints on what's going on."
On the floor of the Nebraska Legislature on Thursday, State Sen. Robert Hilkemann of Omaha paid tribute to Cain, who was his neighbor when he lived in Omaha, as well as a good friend.
Cain moved to Omaha and "turned Godfathers around," Hilkemann said. He was also a philanthropist, using his deep, baritone voice to sing at fundraisers.
Hilkemann said that Cain loved his family so dearly that he dropped out of the 2012 presidential race to save them from the pain of having to endure claims of sexual harassment and misconduct against him.
"To my friend Herman, while you will not lie in state in the Capitol, you made a big difference in this world," the state senator said.
A post on Cain's Twitter account Thursday announced the death. Cain had been ill with the virus for several weeks. It's not clear when or where he was infected, but he was hospitalized less than two weeks after attending President Donald Trump's campaign rally in Tulsa, Oklahoma, in June. Cain had been co-chair of Black Voices for Trump.
In a condolence tweet Thursday, Trump described Cain as "a Powerful Voice of Freedom and all that is good."
Cain, who had hoped to become the first Black politician to win the GOP nomination, was initially considered a long-shot candidate. His bid was propelled forward in September 2011 when he won a straw poll vote in Florida, instantly becoming an alternative candidate for Republican voters concerned that former Massachusetts Gov. Mitt Romney was not conservative enough.
But Cain struggled to respond to accusations that he had sexually harassed several women and — in a video that went viral on the internet — rambled uncomfortably when asked whether he supported or opposed President Barack Obama's policies in Libya. There were also gaffes on abortion and torture that led Cain's critics to question whether he was ready for the White House.
Cain honed his speaking skills in the corporate world, then hosted a radio talk show in Atlanta that introduced his political views and up-by-the-bootstraps life story to many Tea Party supporters and other conservatives.
He served as a director of the Federal Reserve Bank of Kansas City from 1992 to 1996.
Born in the segregated South, Cain graduated from Morehouse College, a historically Black college for men in Atlanta, received a master's degree from Purdue University and worked as a civilian mathematician in the U.S. Navy.
While it was a good job, he said his ambitions were in the corporate world. He wanted to be president of "something … somewhere," he later wrote.
The centerpiece of Cain's presidential campaign was his 9-9-9 plan, which would have replaced the current tax code with a 9% tax on personal and corporate income and a 9% national sales tax. Cain said the plan's simplicity would stimulate the economy by giving investors certainty.
"If 10% is good enough for God, 9% ought to be good enough for the federal government," he told crowds.
Numerous Republican politicians, party activists and conservative political commentators mourned Cain's death on social media Thursday.
Romney tweeted, "Saddened that Herman Cain — a formidable champion of business, politics and policy — has lost his battle with Covid. St. Peter will soon hear '999!' Keep up the fight, my friend."
Cain is survived by his wife, Gloria Etchison, their children and grandchildren.
World-Herald staff writer Paul Hammel contributed to this report, which also includes material from the Associated Press.
Obituaries Newsletter
Sign up to get the most recent local obituaries delivered to your inbox.