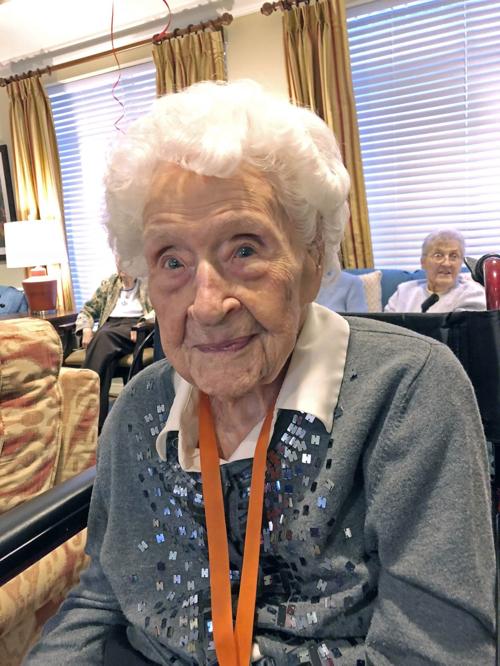 The oldest living person in Nebraska history continues to set records.
Thelma Sutcliffe, born Oct. 1, 1906, in what then was Benson, Nebraska, is the fourth-oldest living American and the 11th-oldest person on the planet, according to the Gerontology Research Group.
E.A. Kral of Wilber, Nebraska, who keeps track of age records, said Thelma is the oldest Nebraskan on record.
Thelma celebrated her 114th birthday today with a small party at Brighton Gardens, an assisted living facility near 92nd Street and Western Avenue in Omaha.
"She's doing fine. She still enjoys visiting on the phone with friends and family," said Hannah Astarita, the activities and volunteer coordinator for Brighton Gardens. "With COVID, we can't do all the fun visits, (but) we'll have flowers, balloons and cake."
Thelma, born to August and Maude Liesche, was married in 1924 at age 17. She and her husband, Bill, who died in the early 1970s, had no children. Thelma worked for the War Department in the 1940s but otherwise didn't work outside the home.
A 93-year-old nephew, the Rev. Warren Sorenson of Sun City, Arizona, said that because of the COVID-19 pandemic, he will not be traveling to Omaha to help his aunt celebrate her birthday. He said it's the first time he has missed a visit in more than 20 years.
By phone Wednesday, Sorenson said his aunt "has always been a very caring and generous person," especially to his family.
"During the Depression, our family was extremely poor," Sorenson said. "Thelma's husband, Bill, worked for the (U.S.) Post Office, so they were better off. I remember her bringing over presents, not just for Christmas, but anytime, for myself, my two brothers and my sister. I would go to war for her because of what she did for us."
Longevity runs in the Sutcliffe family. Sorenson's mother — Thelma's sister — died in Arizona at 106, just before her 107th birthday. Thelma, who has survived two bouts of breast cancer, has trouble seeing and hearing.
She moved from Elmwood Tower to Brighton Gardens in 2017. At Elmwood Tower, her longtime friend Luella "Lou" Mason said, Thelma was "an excellent bridge player" who rarely lost.
"If they had big enough cards, I'm not going to say that she couldn't whip them today," Mason said.
Until the pandemic, Mason was able to visit Thelma at least once a week. Mason laid out her clothes and helped her set up beauty parlor appointments.
"I had to keep her closet just right," Mason said. "She always wants to look her best."
The previous oldest Nebraskan was Clara Herling Huhn, who died at 113 years and 327 days. The oldest American, according to the Gerontology Research Group, is Hester Ford of North Carolina, who is either 115 or 116. Her family claims she was born in 1904, but she is validated by the research group as having been born in 1905.
"My aunt has never been one who wants the fanfare and notoriety on her birthday," Sorenson said. "She would rather just have her birthday and leave the rest of the elaborate celebration alone."
Videos: Life in Nebraska amid the pandemic
Nebraskans have shown a wealth of emotions while facing the coronavirus pandemic. We have unleashed a wave of creativity to adapt in the world of social distancing. 
Watch a few bright moments our staff has collected while telling the story of this unprecedented period in history.