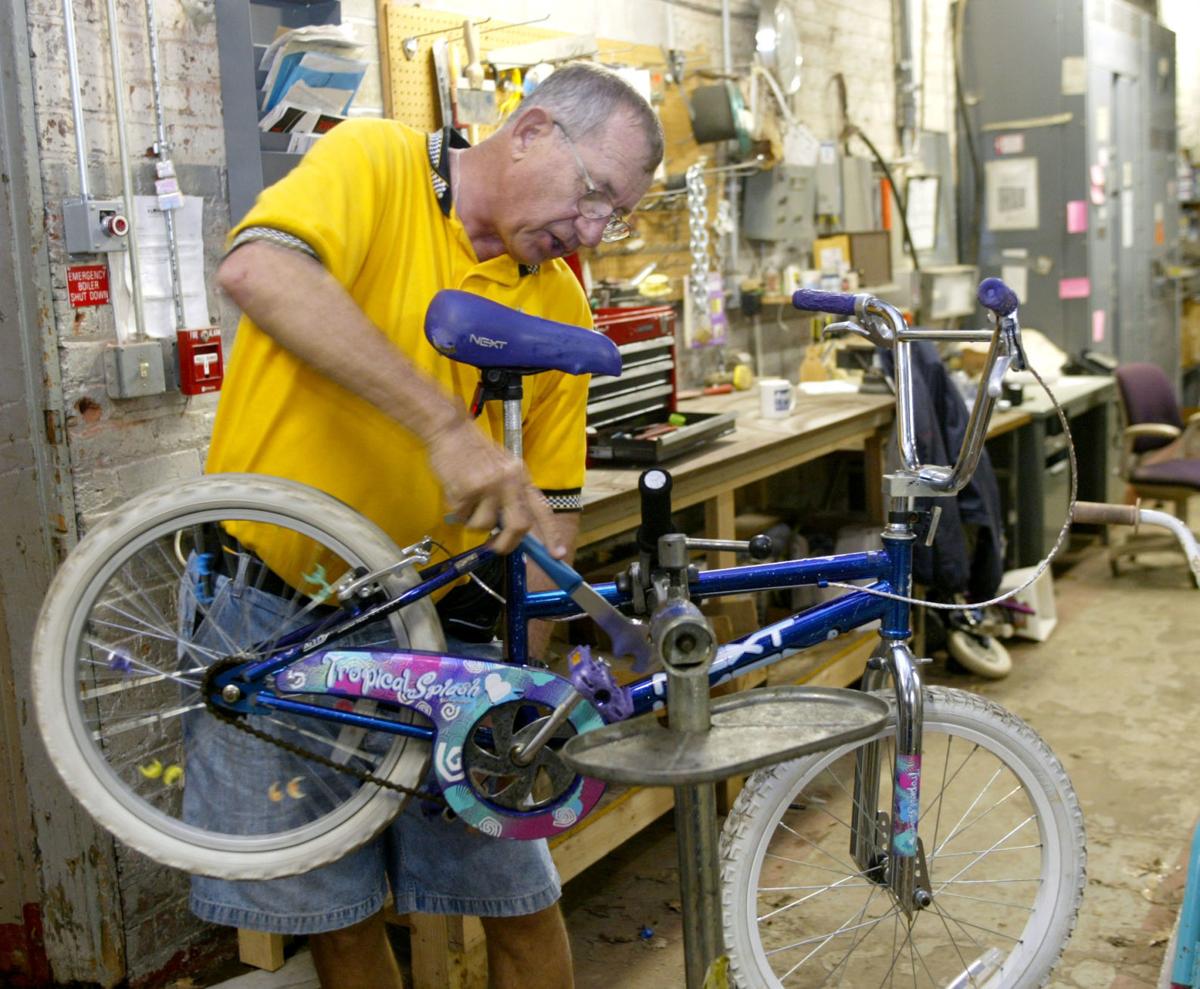 Ron Mortensen was one of those people who steadily, but quietly, went about making the world a better place.
And his favorite vehicle for helping out? The bicycle.
Mortensen, 82, died Dec. 13. A memorial service was held Dec. 19 at at St. Patrick's Catholic Church in the Elkhorn neighborhood.
Mortensen was key to getting Omaha's police bike patrol off the ground.
And he rebuilt used bikes — more than 1,500 — and gave them away to kids whose families couldn't afford to buy them. He didn't stop with a child down the street in Omaha; he was willing to drive a load of bikes to places as far as the Pine Ridge Indian Reservation in South Dakota.
But he wasn't just a hub in Omaha's bicycling community. He was active in a number of civic organizations, and generally believed in helping others, his family said.
Need a ride? Your car broke down? Hop in. Back when hitchhiking was common, Mortensen routinely picked up people along the side of the road.
"He was a humble guy who just wanted to do good," said his son Dave. "Growing up, I always had to sit next to a hitchhiker. We never left anybody on the road. We stopped for every car that was broken down. He was a fellow who never knew a stranger."
Sign up for World-Herald news alerts
Be the first to know when news happens. Get the latest breaking headlines sent straight to your inbox.
Over the years, his volunteerism earned him person of the year and lifetime achievement recognition from local organizations.
Mortensen's wife, Julie, said her husband turned to bicycling years ago when rheumatoid arthritis kept him from other sports. He quickly became hooked on the camaraderie and fun, she said. Along the way, he developed an expertise in fixing bikes. Eventually, he began collecting and repairing bicycles to give to children.
Bikes filled the garage and the rec room, his wife said. And as word spread, used bikes would show up in the driveway or in the bed of Mortensen's pickup, his son recalled.
"He believed everybody deserved a bike," his son said. Why? "Personal freedom. Self exploration."
Not only did Mortensen rebuild bikes, he collaborated with other biking enthusiasts in the metro area to organize bike safety rodeos. Kids would get free bikes and a bike helmet, but also had to learn bike safety and the rules of the road. Mechanics were there, too, to help those whose bikes needed repairs. Dave Mortensen said he plans to continue his dad's legacy.
Retired Deputy Police Chief Mark Sundermeier said Mortensen was instrumental in the launch of Omaha's police bike patrol.
"It wouldn't have happened without him," Sundermeier said.
Mortensen pitched the idea to the police department, and he was paired up with Sundermeier, then a sergeant who was also pushing for a bike patrol.
"He provided all sorts of guidance and helped start a charitable foundation," Sundermeier said.
The bike unit has become an important part of patrolling areas like the Old Market and big events like the College World Series. But Sundermeier said it also was valuable in patrolling areas hard to access by cruiser, such as public housing complexes.
"He was a super cool guy," Sundermeier said. "He never bragged about stuff, he just did it and moved on to other things."
Mortensen served in the Navy Seabees, rising to the rank of commander, and was a 35-year employee at the Omaha Public Power District, retiring in 1999, as a departmental director. Later in life, he volunteered as a mediator for the Concord Mediation Center in Douglas and Sarpy Counties.
Sundermeier said Mortensen seemed to know everyone.
"He was a very gentle man who never took 'no' for an answer," he said. "He just took 'now' as the answer, and he'd come back and work on it again."
In addition to his wife and son Dave, Mortensen is survived by a daughter, Carolyn Samuelson; two other sons, Mike and Steve; six grandchildren; and three great-grandchildren.
Notable Nebraska, Iowa deaths of 2019
Get local news delivered to your inbox!
Subscribe to our Daily Headlines newsletter.