Nearly eight months after the expiration of Omaha's previous mask mandate, round two arrived at 12:01 a.m. Wednesday for local establishments and their customers.
Traci Page, an owner and manager at Karma Koffee in west Omaha, lamented in a Facebook post that officials aren't on the same page about the new Omaha mask mandate.
Douglas County Health Director Lindsay Huse announced Tuesday that she would implement the mask mandate, citing an "astronomical spike" in COVID-19 cases that is threatening to overwhelm already strained hospitals and health care workers.
Huse's action drew sharp criticism from Omaha Mayor Jean Stothert and Gov. Pete Ricketts and the threat of legal action from Nebraska Attorney General Doug Peterson. That left Page feeling conflicted.
"When I saw the open public disagreement on this (from officials), it was very unsettling as a business owner because you look to your leaders for their wisdom and for them to make the right decision," Page said. "Not to create confusion."
Page and fellow Karma Koffee owners Jeff and Heidi Wilke wrote a Facebook post Wednesday encouraging customers to follow the new mandate and saying staff will continue to practice other COVID-19 mitigation measures. Those measures include staff wearing masks and the coffee house, near 156th Street and West Dodge Road, maintaining limited seating. The owners also highlighted curbside pickup and delivery options.
Jeff Wilke said in an interview that anyone not wearing a mask will be offered one.
"People who come to our place need to be wearing a mask until they sit down," he said. "That's what our expectation is."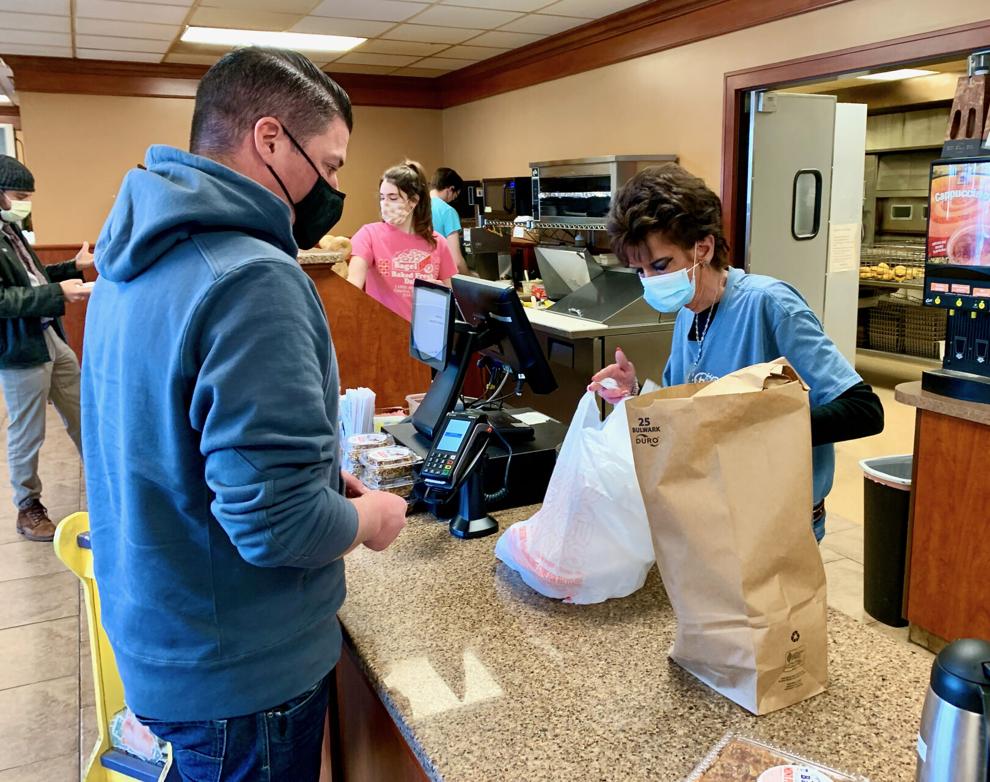 Customers at Karma Koffee and Bagel Bin, near 120th and Pacific Streets, appeared to be largely following the mandate that took effect Wednesday. Based on observations, customers wore masks while ordering and took them off while seated and eating and drinking — as is allowed under the mask mandate.
Susan Brezack, a co-owner of Bagel Bin, said Wednesday that the business has not been affected. She said about 80% of Bagel Bin's customers have been wearing masks throughout the pandemic.
One man said he would go somewhere else upon learning of the mask mandate, Brezack said.
Bob Kimball, owner of Wohlner's Neighborhood Grocery and Deli, also said business at the 33rd and Dodge Streets store has been unaffected.
"There have been a few people who walked in and did not know about it," he said, adding that people, including vendors, quickly complied when informed of the mandate.
Kimball estimated that well over half of Wohlner's customers had been wearing masks before the mandate.
"It's just business as usual," he said.
Brezack said people largely understand the position that businesses are in right now.
"They're tired of (wearing masks), but they understand what has to be done," she said. "We can deal with this."
Page noted that Karma Koffee's Facebook post has generated support for the business, with some people saying they would be stopping in soon for coffee. One commenter noted that small businesses were "crushed and ruined" when the pandemic hit.
Huse, Douglas County's health director, has said the mask mandate will remain in place until case counts for the city of Omaha are below 200 per 100,000 residents for seven days and hospital capacity is maintained at or below 85% for seven consecutive days. The order will be reviewed every four weeks.
Attorney General Peterson sent a letter to Huse saying she does not have legal authority to impose the mandate because it has not been approved by the Nebraska Department of Health and Human Services. In the Tuesday letter, Peterson said his office plans to take legal action to invalidate the mandate.
But even though she opposes the mandate, Stothert said Tuesday that Huse has the authority to issue one under the Omaha city code. The code says the Douglas County health director can issue orders in public health emergencies.
---