Omaha added more than 2,100 people and eight subdivisions to the city Tuesday after the City Council approved Mayor Jean Stothert's 2020 annexation package.
Tuesday's vote brought the following subdivisions into the city: Hillsborough Estates; West Dodge Hills; Grayhawk Two; Manchester Ridge; Elkhorn Highland Ridge; West Dodge Pointe and an adjacent area; Pacific Street West, also called Tuscan Ridge; and West Hampton Park, also called Lynbrook.
Those areas are located in the west and northwest fringes of the metropolitan area.
When Stothert in May proposed annexing those subdivisions, she said they met the city's annexation goals of eliminating "islands" of land already surrounded by the city; annexing areas that will be revenue-positive for the city over the next decade; and incorporating subdivisions that can be served by the city's Police and Fire Departments.
The city projects that it will collect an estimated $43.5 million in revenue over the next decade from this round of annexations. Nearly $23.2 million of that will come from property tax revenue, with more than $18 million from sales, restaurant and hotel taxes, according to the city.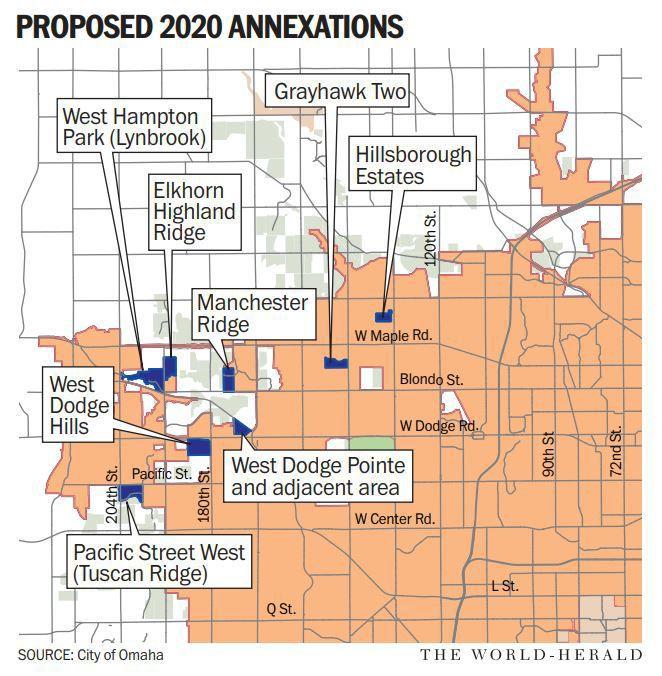 John Fullenkamp, an attorney representing the Grayhawk Two subdivision, said the prospect of annexation was generally well-received by homeowners, who will see lower property taxes once they're incorporated into the city.
Property taxes in those eight subdivisions will decrease by an average of nearly $505 per $100,000 of valuation, according to the city. Omaha's population will increase by about 2,160 based on 2010 Census data.
"The homeowners understand this is just part of the process," Fullenkamp said.
Residents of Hillsborough Estates had been anticipating annexation because the SID is surrounded on all sides by land previously incorporated into the city, said attorney Martin Pelster, who represents that subdivision. The SID's valuation also had increased after the recent construction of a nearby apartment building, Pelster said.
"This was no surprise," he said.
Pelster said there's always some concern by homeowners that they won't receive the same quality of service they're used to, but those fears usually subside once people adjust to city services like trash, police and parks maintenance.
The annexation package passed 5-1, with Councilman Vinny Palermo, who represents South Omaha, voting no. Councilwoman Aimee Melton was absent.
Palermo, who has previously voted against annexations, expressed concerns that the city won't be able to adequately provide services — such as public safety, parks maintenance and waste collection — to the city's newest residents because of the pandemic's effect on the city budget.
The subdivisions have 26 lane miles and 5.6 acres of parkland. The Fire Department has already been providing fire protection and emergency medical service to the subdivisions. The volume of 911 calls in those areas is generally low, the city has said.
Typically, annexed residents need to purchase new trash cans and pick up recycling bins to adhere to the city's waste collection method. But the city begins a new trash contract in January, so to prevent those people from having three different trash collectors in one year, the city has made arrangements to allow some of the SIDs to keep their current service until the switch.
Troy Anderson, a deputy chief of economic development for Stothert, said the annexed subdivisions will immediately begin receiving essential city services such as police protection.
---
Our best staff images from July 2020