When David Karnes was surprisingly appointed to the U.S. Senate in 1987, he said his biggest consideration in whether to accept the plum political post was its impact on his young family.
"My family is number one with me," he said at the time.
Indeed, while Karnes is probably best known publicly for the two years he served as a U.S. senator from Nebraska, he carved out a much larger legacy in Omaha as a devoted family man deeply involved in the city's civic, legal and charitable communities.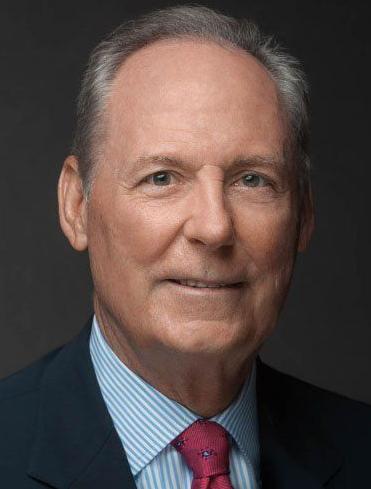 Karnes died Sunday after a months-long battle with cancer. He was 71.
Cancer nearly two decades earlier had also claimed the life of Karnes' first wife, Liz. The couple will long be remembered in Omaha for their community involvement — including for David's brief, high-profile foray into national politics.
Then-Gov. Kay Orr shocked the state's Republican political establishment in March 1987 when she named Karnes to fill the unexpired term of Democratic U.S. Sen. Ed Zorinsky, who had died days earlier of a heart attack. The 38-year-old Karnes had never run for office and was virtually unknown in political circles.
When Karnes subsequently sought election to a full six-year term in 1988, he was defeated by Bob Kerrey. Karnes never again sought political office.
But he staked out a long career as an attorney in both Omaha and Washington with the Kutak Rock law firm. And he never ceased his civic involvement, which most recently included service on the Omaha Airport Authority Board.
Karnes also founded Liz's Legacy, a charity raising money for cancer research in honor of his first wife, who died of cancer in 2003.
Former Nebraska Gov. and U.S. Sen. Ben Nelson was a friend of Karnes, having been introduced to his own wife, Diane, by Liz Karnes.
The Democrat said that while many will remember David Karnes for politics, he will remember Karnes as a family man and for the legal and lobbying work he did representing Nebraska interests in Washington, including the University of Nebraska Medical Center.
The Senate "was an interlude in his life," Nelson said. "But he did many, many more things over many years."
Mike Boyle, another Democrat, who serves on the Douglas County Board, said he recently worked with Karnes as the former senator represented the City of Omaha in negotiating for a portion of the federal coronavirus funding that had been appropriated to the county.
Boyle said Karnes knew all the ins and outs of the federal law and was very helpful in getting the board to understand all the issues.
"He knew what he was doing," Boyle said. "Party never came into anything when he was dealing with me. He was just a down-to-earth, nice guy."
Omaha Mayor Jean Stothert also noted Karnes' work on the coronavirus funding, even as he was battling cancer. She said Karnes "worked for all of us."
"We have lost a great and dedicated friend," Stothert said. "Even as he battled a cancer diagnosis, he was instrumental in helping the City of Omaha secure CARES Act funds to preserve important services for our citizens. I will miss Dave's friendship and counsel."
Numerous other elected officials in the state joined in praise of Karnes.
"He was a great Nebraskan, a public servant, and a devoted father and husband," said Nebraska Gov. Pete Ricketts. "We ask that all Nebraskans keep the Karnes family in their prayers as we remember his legacy and celebrate his life."
Said U.S. Sen. Ben Sasse: "Dave was a great man who tirelessly served Nebraskans. His work in Washington and here at home helped so many folks across our state. His selflessness and hard work made Nebraska proud."
U.S. Sen. Deb Fischer noted Karnes returned to the Senate floor more than two decades after his service, serving as her official escort when she was sworn into office in 2013.
"Nebraskans admired Sen. Karnes' dedicated service and his commitment to our state and his community," she said.
Karnes grew up in a middle-class family in Omaha, graduating from Benson High School in 1967. He then headed to the University of Nebraska-Lincoln, where he competed on the swimming team.
While in Lincoln, he began dating Elizabeth Lueder, whose father was president of an Omaha construction company. The two were married Aug. 14, 1971, and would raise four children, all daughters.
David Karnes subsequently studied law at UNL and, after graduating in 1974, entered private law practice in Omaha.
In 1981, Karnes and his family moved to Washington after he earned a White House Fellowship — just the second Nebraskan to receive that honor.
During the fellowship, he served as an assistant to the secretary of Housing and Urban Development under President Ronald Reagan and later stayed on in Washington in various capacities within the Reagan administration.
When the Karnes family returned to Omaha, David Karnes became general counsel for Scoular Grain Co. Karnes was also appointed to the board of the region's Federal Home Loan Bank, which supports mortgage lending and other community development.
When Zorinsky died suddenly, Orr, a Republican, made Karnes her surprise choice to fill out the Democrat's term. Karnes had attracted Orr's notice with his work on her 1986 campaign for governor, including serving as an adviser on agriculture issues.
Republican House members Hal Daub and Doug Bereuter had both lobbied Orr for the appointment. But knowing Kerrey was likely to be the Democratic candidate, Orr chose a young man with an attractive family background to take on the young and charismatic former governor.
Karnes appeared at his introductory press conference with his wife and four young daughters.
"I'm probably not a politician. I'm basically just an individual," Karnes said the day Orr introduced him. "The bottom line is I love Nebraska."
Karnes was challenged by Daub in the Republican primary in May 1988 but won and advanced to face Kerrey. In the end, Kerrey claimed the seat with a comfortable 100,000-vote margin.
Karnes joined Kutak Rock immediately after his Senate tenure ended in January 1989 and served as the firm's principal federal legislative and executive branch lobbyist for over 28 years. Among his clients were local government organizations, nonprofits and health care organizations.
"He took pride in public service, from serving in the Senate and White House to assisting his clients," said Seth Kirshenberg, a partner in Kutak's Washington office. "He always asked, 'How can I assist you?' "
While Karnes' name continued to be floated in political circles for years — President George W. Bush personally encouraged him to run for Senate in 2006 — he never again ran for office.
Karnes initially took a political back seat to the more outgoing Liz, who launched a 1991 bid for Omaha City Council. But her campaign ended abruptly that year when she was diagnosed with ovarian cancer.
Liz, a longtime member of the Westside school board, waged a public, 12-year battle with the disease, and the couple often attending community events together during that time. The cancer finally claimed her life in 2003.
After his wife's death, Karnes founded Liz's Legacy, a charity dedicated to funding cancer research in partnership with UNMC. He also helped launch Kicks for a Cure, which has also raised money for cancer research.
In 2008, Karnes married Kristine Dorn, a fellow attorney at Kutak Rock. He and his new wife had two daughters.
Karnes was on the founding board of the Omaha Children's Museum and over the years served on numerous other charitable boards, including Methodist Hospital, Omaha Home for Boys and the local chapter of the National Conference of Christians and Jews, now known as Inclusive Communities.
He also served on the 1996 committee that helped launch Division I hockey at the University of Nebraska at Omaha. He was appointed by Stothert in 2018 to the airport board, a position that decades earlier had been held by Liz.
For all his contributions to Omaha and the state, David Karnes in 2012 was honored with the Distinguished Nebraskalander Award from the Nebraskaland Foundation.
In 2016, Karnes was diagnosed with and treated for prostate cancer. Shortly thereafter, he was also diagnosed with lymphoma, enduring that untreated.
Then last year, Karnes was diagnosed with metastatic squamous cell skin cancer. In August, he traveled to Boston and was admitted into a clinical trial exploring a new treatment.
But the treatment was not successful, and Karnes was not healthy enough to travel back home to Omaha. He died Sunday in Boston.
Karnes is survived by wife Kris and six daughters: Korey (Ryan) Huyler of Chicago; Kalen (Chris) Strickland of Bronxville, New York; Kara (Will) Mason of Chicago; Laurel (Nathan) Murphy of Boston; and Katharine and Alexandra, both of Omaha. He is also survived by sisters Nana (Jeff) Tonkin of Fort Collins, Colorado, and Betsy (George) Max of Shenandoah, Iowa, and by nine grandchildren.
Funeral services are pending.
Boyle said that the last time he talked to Karnes about the coronavirus aid issue, Karnes offhandedly mentioned that he was in Boston for the clinical trial.
"I said, 'Oh, my gosh, Dave.' He just said, 'I want to get this (aid issue) handled.' "
Notable Nebraska, Iowa deaths of 2020
A roll call of notable people who have died in 2020: