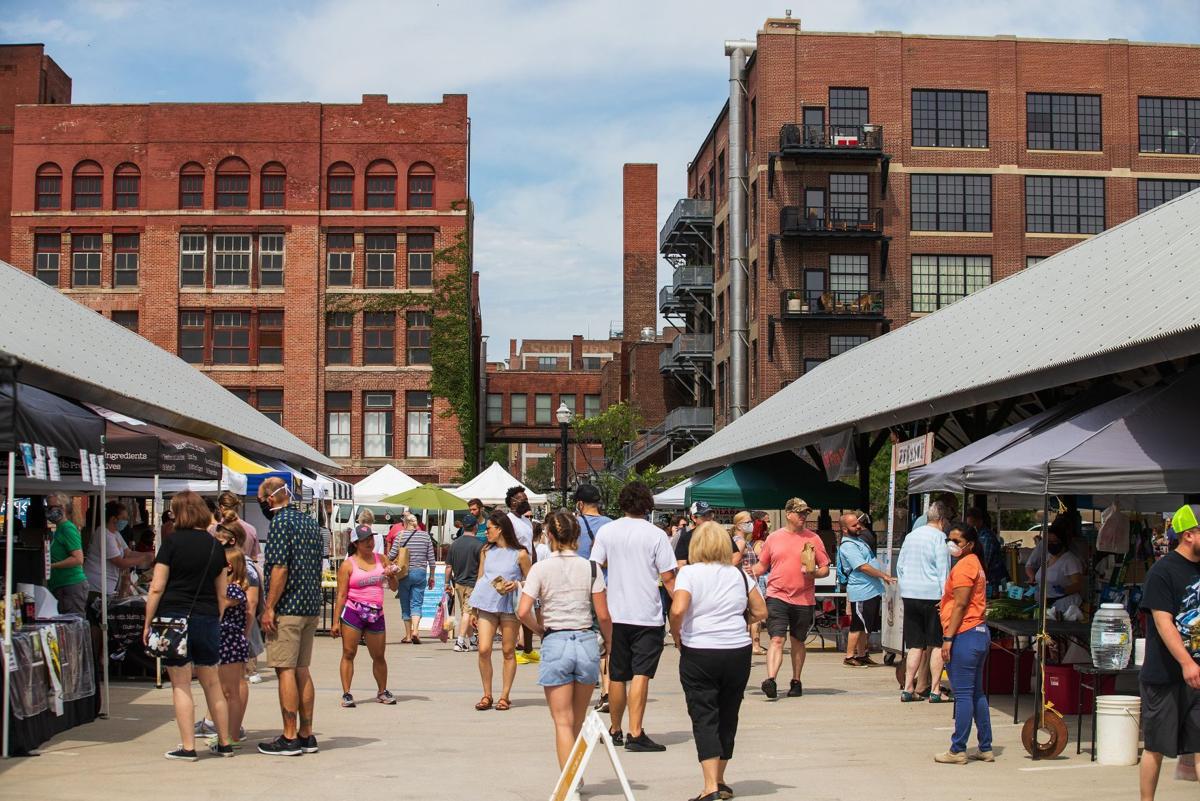 The Omaha Farmers Market is taking a step back toward normal this season.
The market, which opens in the Old Market on Saturday and outside Baxter Arena on Sunday, is keeping some pandemic-related precautions in place. Otherwise, it should look more familiar to shoppers.
"We still encourage customers to be safe," said Kristen Beck, market manager. "We're trying not to be as stringent so people can come in and enjoy. It's such a tradition for people."
Rain or shine, the market runs through Oct. 10. Saturday hours in the Old Market are 8 a.m. to 12:30 p.m. Sunday hours at Baxter Arena are 9 a.m. to 1 p.m.
The Old Market event will take place in the city parking garage at 11th and Jackson Streets. The event at Baxter Arena is in Lot 26.
The markets shifted to those locations last year. Organizers said the locations still are considered temporary. The changes allow for crowd control and social distancing.
Masking up at the market is strongly encouraged but not required. Vendors and staff will be required to wear masks, and hand sanitizer stations will be available around the market. To encourage social distancing, dogs should be left at home. Service animals will be allowed in.
Samples of products and produce may be available from certain vendors. Most vendors will hand out samples, and some may be in individual packaging or containers. The way things are distributed will vary by vendor, market organizers said.
Last year, the market, which opened about a month later than usual, was more of a "shopping experience than a social experience," organizers said. The market featured a lengthy list of health and safety guidelines last year because of the pandemic.
This year, patrons will be able spend a little more time browsing and discovering new items, organizers said.
Between both markets there will be about 120 vendors, including eight or nine new vendors, Beck said. Vendor booths still will be spaced out, as they were last season.
Fruits, vegetables and plants will make up the majority of market offerings. But other items such as gifts, baked goods, honey, soap, coffee and meat also will be available.
In the early weeks of the market, shoppers will find lettuce, herbs, rhubarb, spinach, asparagus, turnips and radishes. Greenhouse-grown tomatoes also will be available.
"It looks a little more normal than last year," Beck said. "It's still the same locations as last year, just a little more full. Hopefully, we see crowds grow a little this year."
---