The Omaha Police Department's sole functioning helicopter has been out of service since July 1.
And the department's plan to deploy a second helicopter purchased this year has stalled because of the COVID-19 pandemic.
The issues are a rocky start to the air support unit's recovery from last year's rock bottom, when the unit was grounded for 39 days and spent only 454 hours in the air — half what it usually flies.
In 2019, a crash in April ruined one helicopter, while another crash in August totaled a second. That contributed to an unusually low year of flight hours. Then a World-Herald analysis this March found a substantial decline in the unit's flight hours over the past two decades.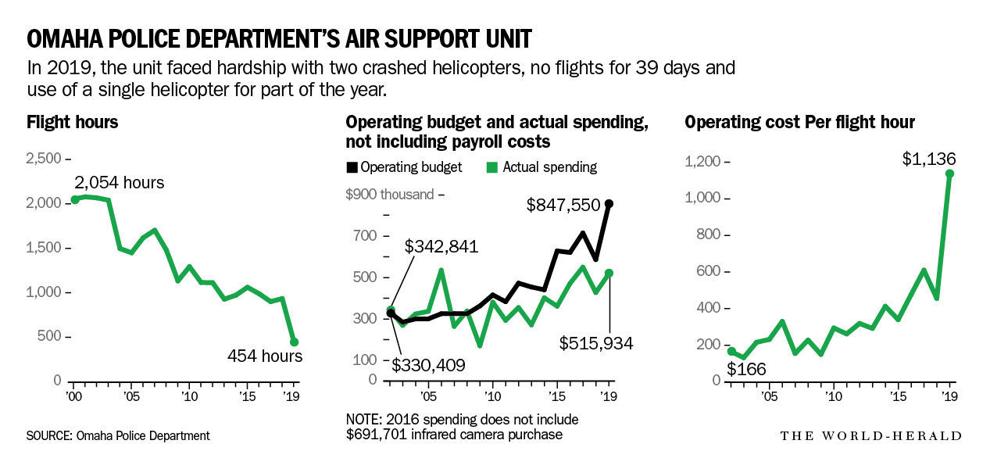 That chopper, a used 2012 Bell 407 GX, was taken to a maintenance facility the first week of April. But modifying the helicopter for department operations was put on hold because of delays in the manufacturing of required parts due to the coronavirus.
The department hopes to have that helicopter in the air by the beginning of September, said Lt. Sherie Thomas, a police spokeswoman.
The unit's lone remaining helicopter, a Jet Ranger 206B3, had a "hot start" on July 1 when it was trying to help with a pursuit.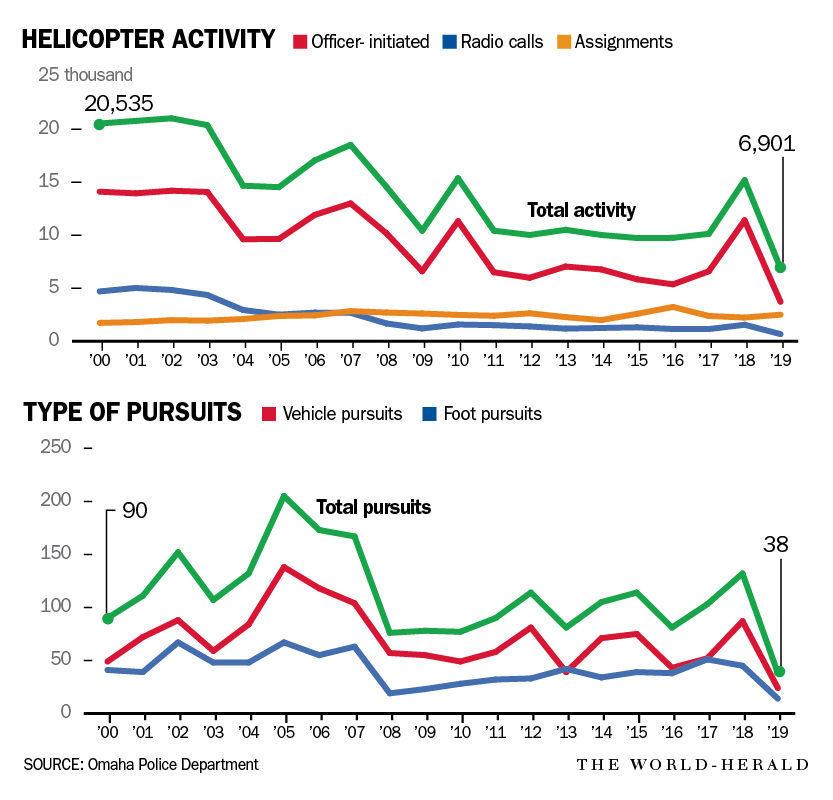 "The engine temperature climbed too high and too fast for the pilot to stop," Thomas wrote in a statement. "The temperature hit a limit, so now it must be pulled and inspected."
One week later, the unit's pilots were temporarily reassigned to the criminal investigation bureau.
The department wants to fix the Jet Ranger within the next few weeks, but it is working within its budget. Officials were told Thursday to cut costs.
The projected cost of repairs is $131,000, which includes the price of a rental engine and the cost to install it.
Until then, Thomas noted that Omaha police can request the use of the Nebraska State Patrol's helicopter if needed.
Notable crime news of 2020
Read about some of the biggest and strangest crime stories in Nebraska and western Iowa.