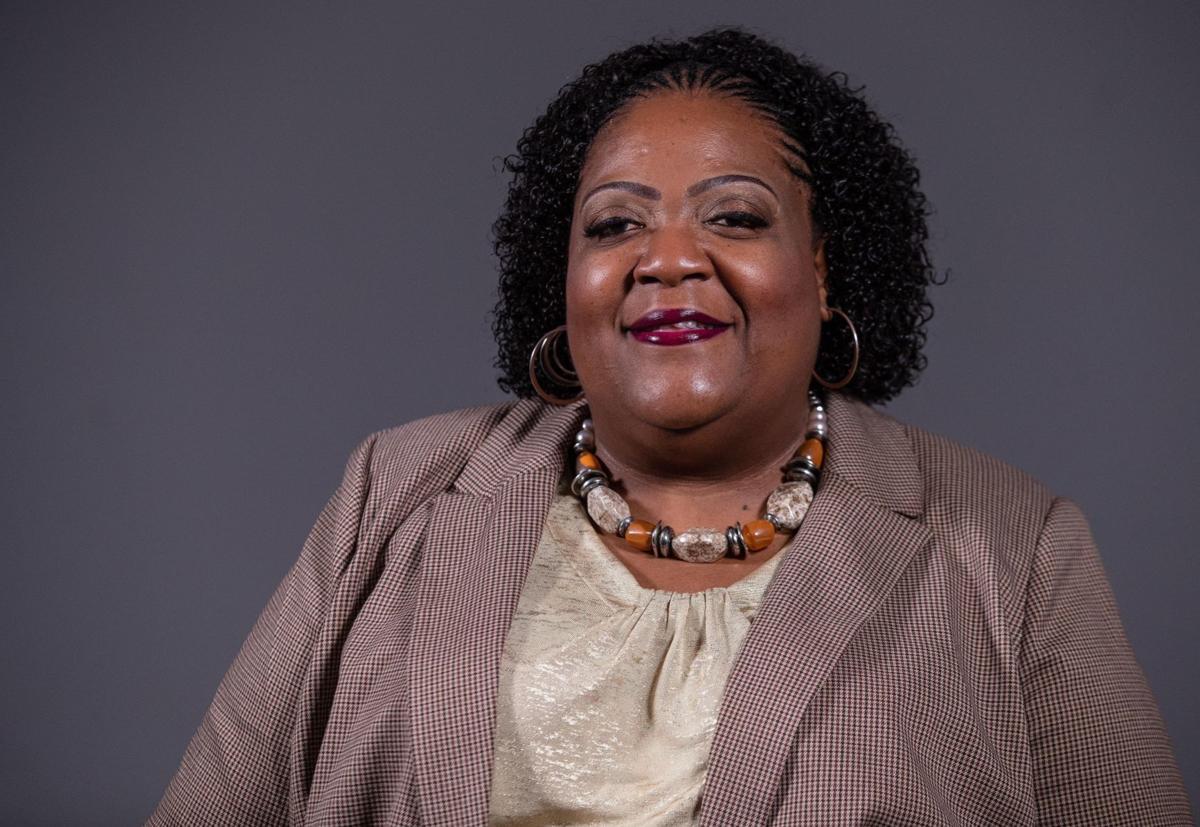 Gladys Harrison answers her phone while sitting in a borrowed car in the bank drive-up lane.
The 52-year-old restaurant owner and congressional candidate is ready to deposit a much-needed check from the online food delivery service GrubHub. But it's a wait, and Harrison explains, "there's a line."
Harrison is referring to the literal line of cars in front of her at the North Omaha bank branch where, at this moment, she is idling behind the wheel of her daughter's Kia Soul. Harrison's own 2001 Ford pickup needs engine repair, which she's had to put off as the novel coronavirus pandemic has turned life upside down. She can't afford to fix it right now.
But the bank isn't the only place where she's waiting for her opportunity.
First, Harrison's restaurant, Big Mama's Kitchen, is shuttered like the rest of the city's restaurants to prevent virus spread. Harrison served takeout as long as she could in order to keep paying her laid-off employees. Now she's one of the many local business owners whose livelihoods hang in the balance as they wait to reopen.
Her other waiting line is in politics, where she's trailing two better-funded, better-known Democratic contenders in a three-way race to unseat Republican Don Bacon in Nebraska's 2nd Congressional District.
Harrison entered the race last year, after Democrats Kara Eastman and Ann Ashford had filed to run. Eastman narrowly lost to Bacon in 2018. Ashford's husband, Brad, held the seat one term, losing to Bacon, a retired Air Force brigadier general, in 2016.
Eastman and Ashford signs dot Omaha yards, and their total fundraising has eclipsed the $29,601 Harrison raised and mostly spent between July 2019 and March 31.
Eastman has raised nearly $756,000 and had about $138,000 on hand at the end of March. Ashford has raised nearly $285,000, with $15,202 on hand and $45,000 in debts.
Harrison's cash on hand as of March 31, which was six weeks before the May 12 primary: $1,275.
So the line to Congress seems pretty long for Harrison. She knows the odds are against her.
But Harrison feels strongly about her potential to represent a broad electorate and the common person. If elected, she would be the first African American to represent Nebraska in Congress and the first woman to do so from District 2, which represents Omaha, the rest of Douglas County and part of Sarpy County.
She's less interested in that history-making role than in bringing the perspective of a small-business owner, grandmother and single mother who has dealt with loss and struggle.
"There's a skill set and a frame of reference that I come from that you don't find in Washington," she said. "There's not many people (in Congress) like me."
She knows this fact about lines: They do move. Once people hear her story, Harrison says, she hopes her life experience will propel her to the front. Plus, she's figuring that with so many early voting requests, people at home will take time to Google candidates and learn more about them.
Harrison is an Omaha native who grew up with both racism and opportunity. When her parents moved the family from their mostly black northeast Omaha neighborhood to a then mostly white one in Benson, Harrison said someone scrawled the N-word on her father's car and egged the family home.
She remembers, as a 5-year-old, watching her family scrape the egg off. They stayed put. Gladys attended public and Catholic schools, seemingly on an upward trajectory. She was in the Future Business Leaders of America while attending Marian High. She traveled to Washington, D.C., and basked in the glow of her grandmother's praise.
"You're going to be the next Barbara Jordan," said her namesake, grandmother Gladys Harrison, referring to the history-making congresswoman from Texas.
But Harrison got pregnant her senior year and, the month she graduated from Marian, she had a baby who would later die of congenital heart disease. She later lost a second baby to SIDS.
She was married briefly and had three more children. She declared bankruptcy in 1997 and struggled with medical bills.
She said her life experience and firsthand knowledge of struggle make her especially attuned to the needs of the district's residents.
One constant has been work. Harrison has always had a job, starting with counter service at a Runza when she was 14 and later at the old U.S. West, which became Qwest Communications during her 22 years there. Harrison was union steward for the Communication Workers of America, Local 7400, which impressed upon her the power of collective, organized action.
In the latter part of her phone company career, Harrison worked two jobs, helping her late mother, Patricia Barron, run Big Mama's. She went full time to the restaurant in 2009 and ran it during her mother's illness and after her death in 2018.
Harrison coordinated a move from the old Nebraska School for the Deaf campus near 45th Street and Bedford Avenue to the slick-looking 75 North development at 30th and Patrick Streets. Harrison had completed the move in January, and the soul-food restaurant was settling in when the coronavirus hit.
Harrison had to lay off her staff in March and kept the business open for takeout to make enough to meet her last payroll obligation. The takeout income wasn't enough, she said, to keep the restaurant going through the pandemic. She closed on April 4.
On April 12, she was in line to make that last — for now — restaurant bank deposit.
While in line she discussed her priorities: health care and jobs.
On health care, Harrison wants to let people keep the employer-based or private insurance plans they have but add a public option for people like her. Harrison can't afford private health insurance on the Affordable Care Act exchange, so she goes without.
Having stood in union picket lines to protest changes to health insurance, Harrison believes it's unwise "to force people into insurance they may not feel is best for them."
"However, we can't continue to have people in the richest country in the world not have affordable, quality health care," she said.
She also wants reform in how people of color are treated in health care systems. She has known of people of color who get disparate treatment and seen evidence that whites get better care because of racism and fewer health care options.
On jobs, Harrison said tax breaks for job creators don't create enough pathways for disadvantaged people who need jobs but lack supports. She said companies need to do more than set up shop in communities in order to benefit from government tax incentive programs that lure them to town.
She said the coronavirus has laid bare long-existing gaps in both areas. She criticized her Democratic opponents as having Band-Aid approaches to North Omaha's long-standing challenges with poverty.
Harrison doesn't have a political background and every once in a while, when considering serving in Washington, she catches herself wondering, who do you think you are?
Then she realizes why she threw her name in.
"I can tell you from what I lived," she said, "how the things we do poorly in this country on a federal level, how they affect people. I can tell you because I'm living it."
Harrison has secured a small-business federal stimulus loan that will help her resume Big Mama's Kitchen in some form. Even if sit-down dining doesn't return soon, Harrison plans on making more to-go, take-and-bake items and even seeing about doing her own deliveries.
And she did make it through that bank line.
"You were quick today. Thank you," she told the bank clerk as she reached her spot. At the front.
Get local news delivered to your inbox!
Subscribe to our Daily Headlines newsletter.