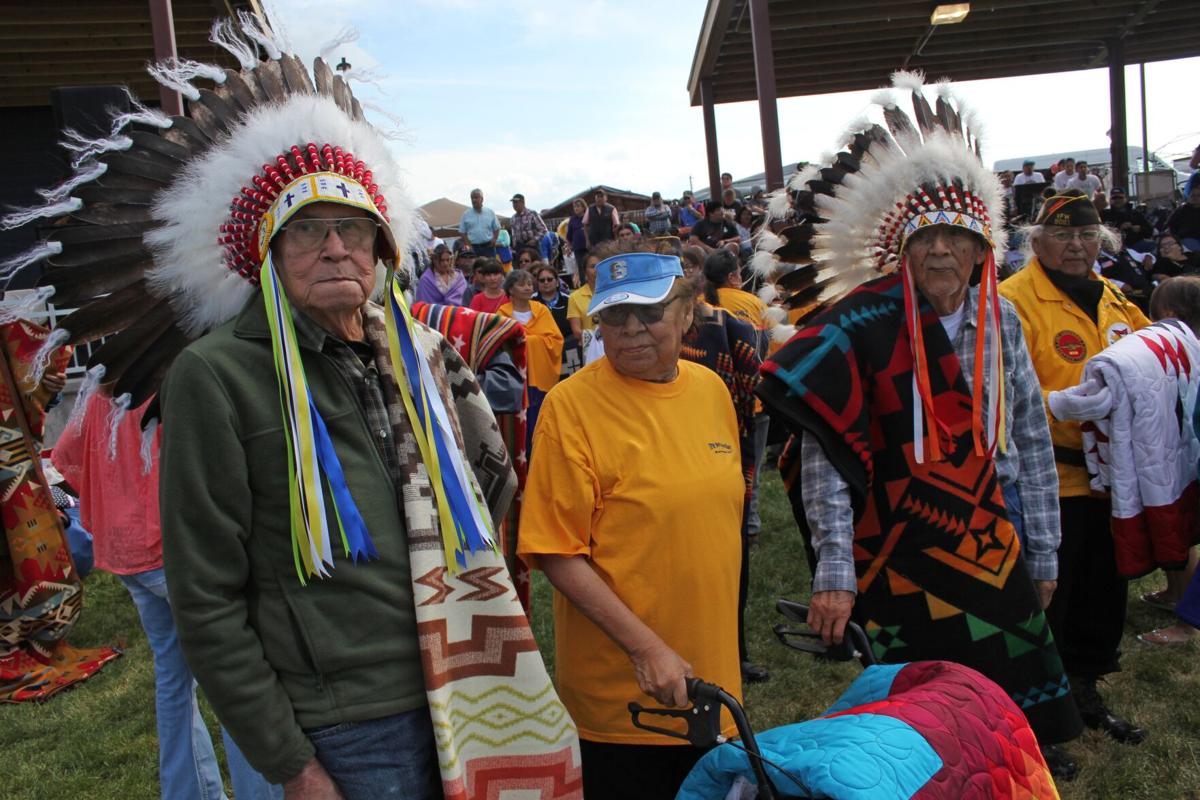 People often commented that Robert O'Brien was a wonderful speaker and spellbinding storyteller — but then, he lived an amazing life. 
Raised in a Minnesota orphanage, his father, Arthur Mandan, was a married tribal leader at the Fort Berthold Reservation for the Three Affiliated Tribes in Elbowoods, North Dakota. His mother was a Benedictine novice nun who worked on the reservation. She was forced to give up the son she bore in 1931.
O'Brien, a name given him at the orphanage to hide his parentage, spent his teenage years working for room and board on a farm in rural Minnesota. He joined the Navy at age 16 and began a 20-year military career that ended in the Air Force, including deployment to Korea, Japan and France.
He retired as a tech sergeant while stationed at Offutt Air Force Base near Bellevue, where he worked in the explosive ordnance disposal unit. He then went to work for Douglas County Civil Defense, serving as its director from 1978 to 1993. He was elected president of the Nebraska Civil Defense Directors' Association for two terms. 
"Dad was the most amazing storyteller that I've ever heard," said his daughter, Michele O'Brien of Omaha. "He had a lot of stories from the service because he had been everywhere."
Robert O'Brien, 90, died March 28 from heart failure while in hospice care in Omaha, his daughter said. His funeral will be 11 a.m. Thursday at Heafey Hoffmann Dworak Cutler Mortuaries' West Center Chapel, 7805 West Center Road. He was preceded in death by his wife of nearly 50 years, Janice O'Brien, and a son, Richard O'Brien. 
As a youngster in the orphanage, he was told only that his ancestry traced to the Sioux Nation which proved to be untrue. O'Brien later learned that he was linked to the Three Affiliated Tribes while living in Omaha.
He was a founding board member of the Nebraska Urban Indian Health Coalition, but because he lacked tribal enrollment, O'Brien had to leave the board in 1990. After tracing his roots and gaining enrollment, he returned as board chairman and held the position from 1993 until retiring from the board in 2005.
"He gave us stability, and he was very insightful in terms of programming," said Donna Polk-Primm, the current director of the coalition. "One of his strengths was diplomacy, because we work with 17 tribes in Nebraska, South Dakota, North Dakota and Iowa."
Under his leadership, the coalition's annual budget grew from $300,000 to $2 million. That made it possible to establish many key programs, including residential and outpatient behavioral health treatment. Polk-Primm also cited the Tired Moccasin Elders Program, diabetes education/services and HIV/AIDS testing and counseling among O'Brien's success stories. 
"Bob was very supportive of our behavioral health programs, and he had a vision of what we could accomplish with a larger facility, which we will be moving into this spring," Polk-Primm said. "First of all, he was a wise gentleman and mentor. Although we didn't always agree, he listened, and I have such respect for his wisdom and knowledge." 
Freelance journalist Doug Meigs of Omaha has written extensively about O'Brien, and accompanied O'Brien to the U.S. Army War College in Carlisle, Pennsylvania, where O'Brien was honored as a Native American veteran during Jim Thorpe Sports Days. 
O'Brien's father, a classmate of Thorpe's, graduated from the school before going on to become the first tribal chairman of the Three Affiliated Tribes, the Mandan, Hidatsa, and Arikara Nation. That family history was unknown to O'Brien until his search for his parents began after leaving the Nebraska Urban Indian Health Coalition board. 
Catholic Charities in Minnesota held documents that named his father, Arthur Mandan. O'Brien also found out his mother, Marie Gdanietz, then 85, was still alive. The former nun lived her final years in Omaha with her son.
When O'Brien finally met his paternal family in North Dakota in 1992, Meigs said, they welcomed him with open arms. He found out that he was one of 10 siblings, all of whom have now died. 
"He went from no known siblings to more relations than he had ever imagined," Meigs said. "He and his children, Alex and Michele, all gained enrollment in the Three Affiliated Tribes." 
---
Our best Omaha staff photos of March 2021