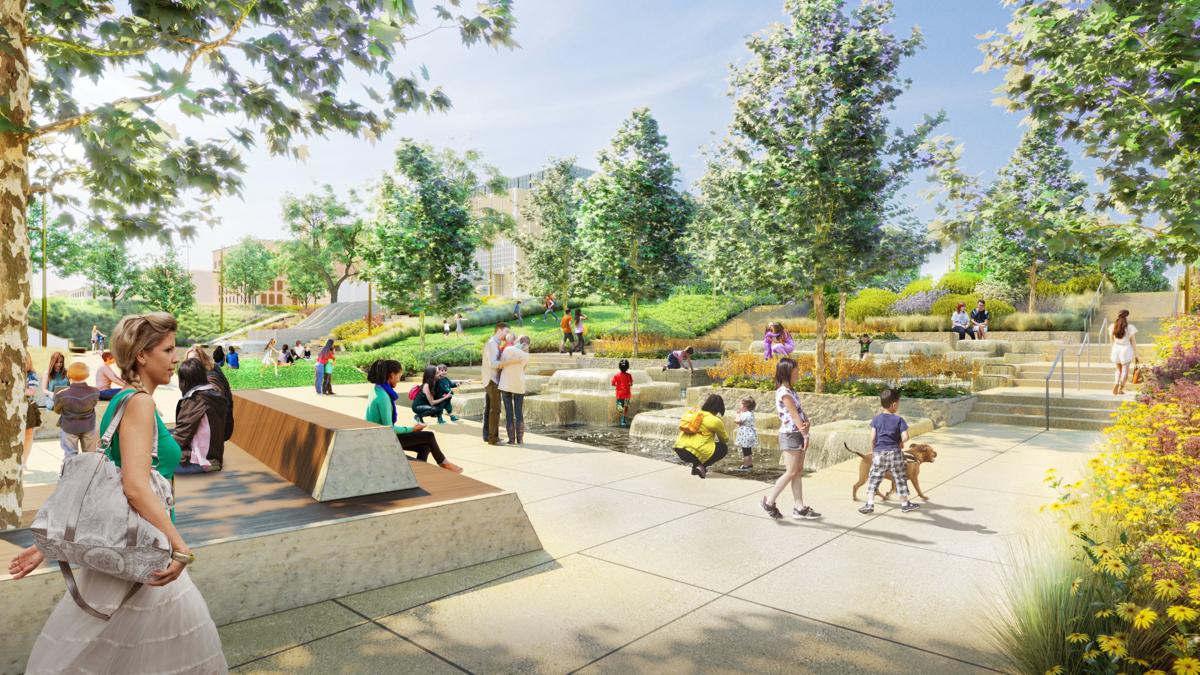 When Omaha's Gene Leahy Mall reopens to the public Memorial Day weekend of 2022, it will bustle with life in a way no Omaha park has before.
The park will host daily, weekly and monthly events such as yoga and kickboxing classes, storytelling times for children, book clubs, nature walks and art demonstrations. Food trucks are expected to be on-site daily.
It will also offer seasonal and specialty programs, including movie nights, concert series, holiday events and festivals and markets. Many areas of the revamped park will be available for rent for events like family reunions, private parties and weddings.
Officials overseeing renovations of Omaha's three downtown and riverfront parks call such a space "highly activated," which means there will be a flurry of activity designed to bring more people into the park, spur nearby development and offer something fun for anyone who stops by.
Such a jam-packed schedule won't be exclusive to Gene Leahy: When Heartland of America Park and Lewis & Clark Landing eventually reopen, those parks will offer similar activity. The three parks are being overhauled under a $300 million, public-private partnership that will redefine Omaha's downtown riverfront.
"We'll have something happening every day," said Katie Bassett, vice president of parks for the Metropolitan Entertainment & Convention Authority, which is managing the renovations for the city.
MECA needs a host of community partners to maintain a consistent cycle of activity: from small businesses like fitness studios and entertainment providers, to nonprofits, to large organizations such as the Holland Performing Arts Center and the National Park Service's regional office near the Bob Kerrey Pedestrian Bridge.
MECA already is securing such partnerships, and the group is seeking more. Interested businesses and organizations can attend two virtual events over the next month. The meetings are scheduled for noon on March 31 and April 7. Those interested can email theriverfront@omahameca.com to RSVP.
The group is open to nearly any program or idea, Bassett said.
A high level of park activity increases attendance, creates a safer environment and encourages new nearby development, Bassett said. It also helps to foster a sense of community, letting families and friends gather while also encouraging new connections. Parents on a walk with their children may pass by downtown professionals holding a quick outdoor meeting in the shade, all while people exercise or read nearby.
Omaha has parks with higher levels of activation, Bassett said. Think of summer events at Midtown Crossing's Turner Park like Jazz on the Green and an evening farmer's market.
"We're just looking to do that on an enhanced level," Bassett said.
The parks will be subdivided into areas that will be available for rent for parties, family gatherings and more. Full-time MECA employees will be on site to help facilitate such events, as will park ambassadors who can help people find their way and answer questions about the parks and other Omaha attractions like the Henry Doorly Zoo and Aquarium or the Omaha Children's Museum.
Virtually all events will be free, Bassett said. Any revenue from rentals will go into the parks' operating budget.
But there's more work to be done in the 14 months until Gene Leahy's reopening. Construction crews have spent the last year building infrastructure that will underpin the park. Over the next several months, Bassett said, crews will move on to the "icing," installing trees and landscaping, foundations for a pavilion and restroom building and limestone walls.
Infrastructure work at Heartland of America Park and Lewis & Clark Landing, which are scheduled to open at various points in 2023, is expected to begin in June or July.
---
Photos: Renderings show the future of Omaha riverfront