Grab some kolaches and maybe a Pilsner beer or two, all you Omahans of Czech descent. The city's Little Bohemia neighborhood has earned a spot on the National Register of Historic Places.
"It's great anytime we get one building on the list, but to see an entire area or district become recognized is a real honor," said Dave Calease of History Nebraska. "This is an ethnic Czech neighborhood that is a wonderful part of our history."
The registry was developed to recognize historic places and their role in contributing to the country's heritage. It's part of a program to coordinate and support local and private efforts to identify, evaluate and protect the nation's history.
In the early 20th century, Calease said, nearly all Czech people living in Omaha lived in the Little Bohemia neighborhood. Most of the buildings from that time still stand despite being built between 1885 and 1900.
Tom McLeay, president of Clarity Development Co., owns several properties in the area. He hired a consultant in April 2019 to make the case for the designation. The National Parks Service reviewed the application and notified McLeay this month that it had been approved.
"It's a designation that honors an area that predates 1900, and there's not many of those around," McLeay said. "It's an honor that makes the area eligible for further development through historic tax credits."
The boundaries of the area are roughly South 13th Street from Hickory Street to just north of William Street. It encompasses about 40 buildings eligible for historic tax credits for rehabilitation projects.
"It greatly improves the chances that these historic buildings would be saved," McLeay said.
The unique interspersing of residential and commercial properties reflected the live/work atmosphere of the Czech community, Calease said. Czech people enjoyed socializing, so beer gardens, taverns and bars were common in the district.
Reviving some of that community spirit was on Bill Baburek's mind when he opened the Infusion Little Bohemia Beer Hall at the corner of 13th and William Streets. The beer hall is in the building that formerly housed the Bohemian Cafe and pays tribute to the neighborhood with Czech Pilsner beers on tap.
"I love Omaha history, and we really wanted to be in Little Bohemia because I grew up in that area," Baburek said. "It's definitely a special place. I am 50% Czech, and the area was a big part of my boyhood."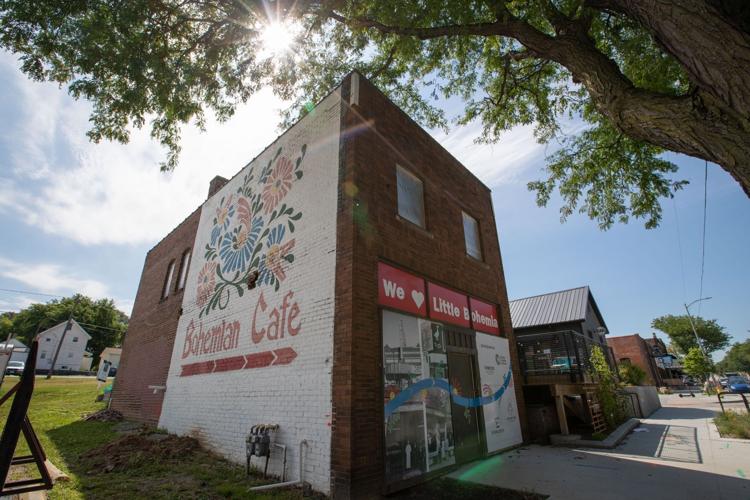 The timing of the designation couldn't be better for Baburek, who is planning a Little Bohemia Czech Festival outside the beer hall on Saturday. The festival will include kolaches from the Olsen Bake Shop on South 10th Street, plus Czech beers and music.
"Any notoriety for the neighborhood, obviously, is good," he said. "Especially for the time we're in right now when bars and restaurants have been struggling. Hopefully, we can bring a few people back into the neighborhood."
Baburek also knows something about rehabilitating historic buildings. The Infusion Brewing Co. taproom at 6115 Maple St. also is on the National Register of Historic Places.
The Benson taproom was an early 20th century butcher shop that Baburek renovated. It was built in 1917, expanded in 1934 and renovated in 2012.
"There are two sides of the coin for rehabilitation — you get the tax credit, but there's also a lot of guidelines," he said. "It took some doing (in Benson) because there are restrictions on development, but in the end, it's worth it."
Omaha World-Herald: Afternoon Update
The latest headlines sent at 4:45 p.m. daily.