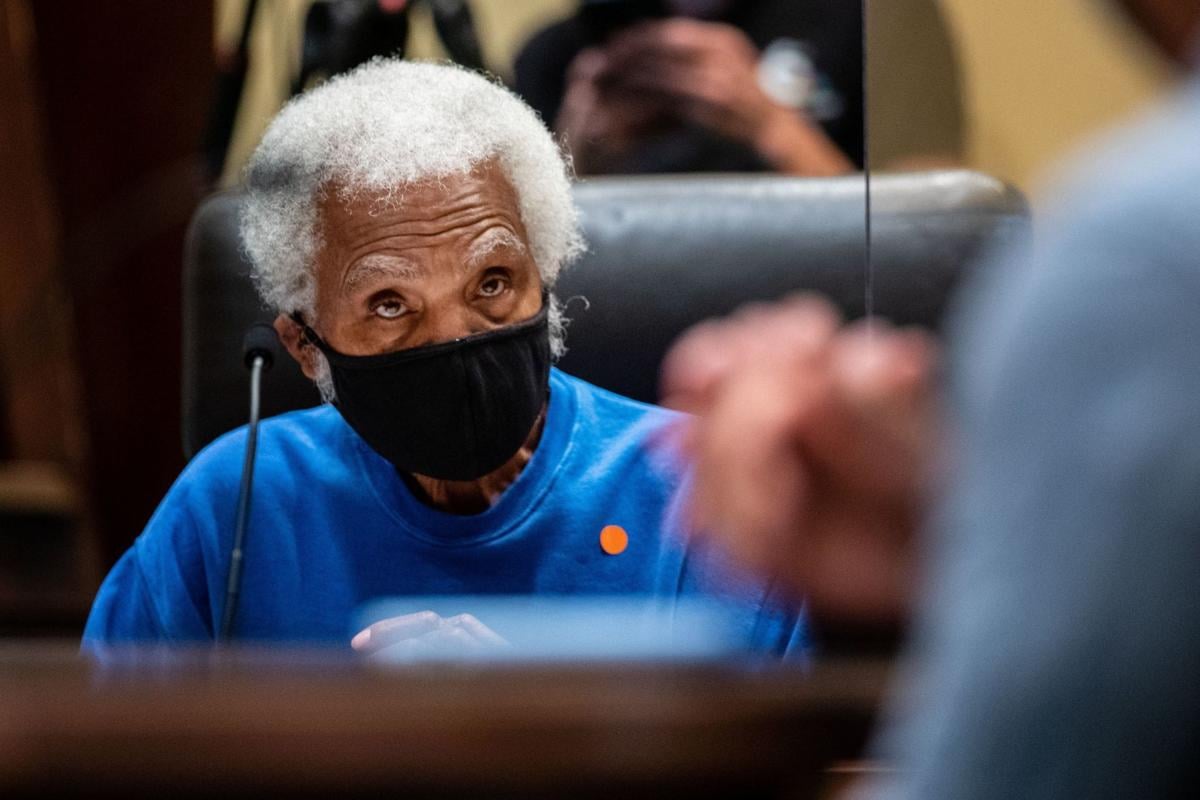 LINCOLN — The most famous Black man in Nebraska and one of the state's most influential figures will put yet another mark in the history books this week.
Eight years ago, State Sen. Ernie Chambers became the first state senator to return to the Legislature after being term-limited out. Now he will become the first to be term-limited twice.
He already holds the record as Nebraska's longest-serving lawmaker, having represented North Omaha for 46 years. That's more than half the years that Nebraska has had a one-house legislature and more than half his own life.
"I am the Alpha and the Omega of this Legislature," he said during a recent debate.
Over those 46 years, Chambers has had a hand in innumerable pieces of legislation. He has stood up for the "least, the last and the lost," whether Black or not. He has been a thorn in the side of opponents and has demanded high standards from public officials. And he continues to inspire generations of Nebraskans to pursue racial justice and equity.
LaVon Stennis-Williams, a North Omaha native who counts Chambers as a friend, said Nebraska has been fortunate to have Chambers in the Legislature, and his departure will leave a void.
"I think sometimes Nebraska does not understand the power and influence of this man," she said. "He just has a heart for helping uplift people."
Former State Sen. Tanya Cook of Omaha called him "an iconic figure," while former Sen. Brad Ashford of Omaha described him as a teacher and mentor. Even those who have found themselves at odds with Chambers respect him.
"He's a once-in-a-lifetime lawmaker," said Chris Rodgers, a Douglas County Board member who represents North Omaha. "No matter what you think, you have to respect his skill in a deliberative body."
Chambers arrived in the Legislature at age 33, a barber whose notoriety as a civil rights activist preceded him. For most of his career, he has been the only non-white senator in the Legislature.
He stood out in other ways, too, from wearing short-sleeved sweatshirts and jeans every day to taking up issues others feared to touch.
Much of Chambers' effectiveness comes from his willingness to follow his conscience, come what may. He said he honed a strong sense of personal responsibility during his churchgoing youth. He has cast off religion since, but not the commitment to doing what he believes he ought to do for no other reward than his own peace of mind.
"I know I'm the most feared and most hated man in this state," he said. "I know that and it doesn't mean anything to me because my life is not based on whether people approve of what I do or agree with what I do."
In other moments, he quotes the mantra of Popeye the Sailor Man: "I yam what I yam."
Chambers multiplied his power as a single senator by becoming the undisputed master of legislative rules, particularly the filibuster. He put pressure on other senators by taking up time or threatening to do so.
He often used those extended debates to educate, infuriate and entertain. He provided lessons about history, especially the history of slavery, and pointed lectures about what he sees as the failings of white people generally and public officials in particular. He also told fractured Bible stories and tales from Western movies, interspersed with snippets of song.
Five years ago, Chambers succeeded at one of his career goals, repealing Nebraska's death penalty. Conservative senators joined him to pass a repeal bill and override Gov. Pete Ricketts' veto.
But Nebraska voters reinstated capital punishment the following year, after the governor financed a referendum petition to put the issue on the ballot. Despite Chambers' legal efforts, the state executed Carey Dean Moore through lethal injection two years later, the first execution in 21 years.
"Getting the death penalty abolished, even though it was temporary, meant a great deal to me," Chambers said.
He had more lasting success with legislation barring the execution of people convicted as juveniles and people with mental retardation.
Another lasting accomplishment was the passage of laws requiring district elections for the Omaha school board, Omaha City Council and Douglas County Board.
That change allowed Black people, and later Latinos, to be elected to those bodies for the first time ever and gave a voice to a broader range of Omaha neighborhoods. Some of those elected to those local boards have gone on to higher office, including two of Chambers' current legislative colleagues, Sens. Justin Wayne and Tony Vargas.
Chambers' work reached across the world in 1980, when he pushed for a resolution that made Nebraska the first state to divest from businesses operating in apartheid South Africa. Omaha City Council member Ben Gray said the resolution started a domino effect that eventually pressured that country to do away with its system of state-imposed racial segregation and discrimination.
Another law led to freedom and exoneration for six people convicted in a Beatrice woman's rape and slaying. The Beatrice Six collectively spent more than 70 years in prison. The law requires the state to test DNA evidence if it was unavailable at the time of a trial and could exonerate a defendant.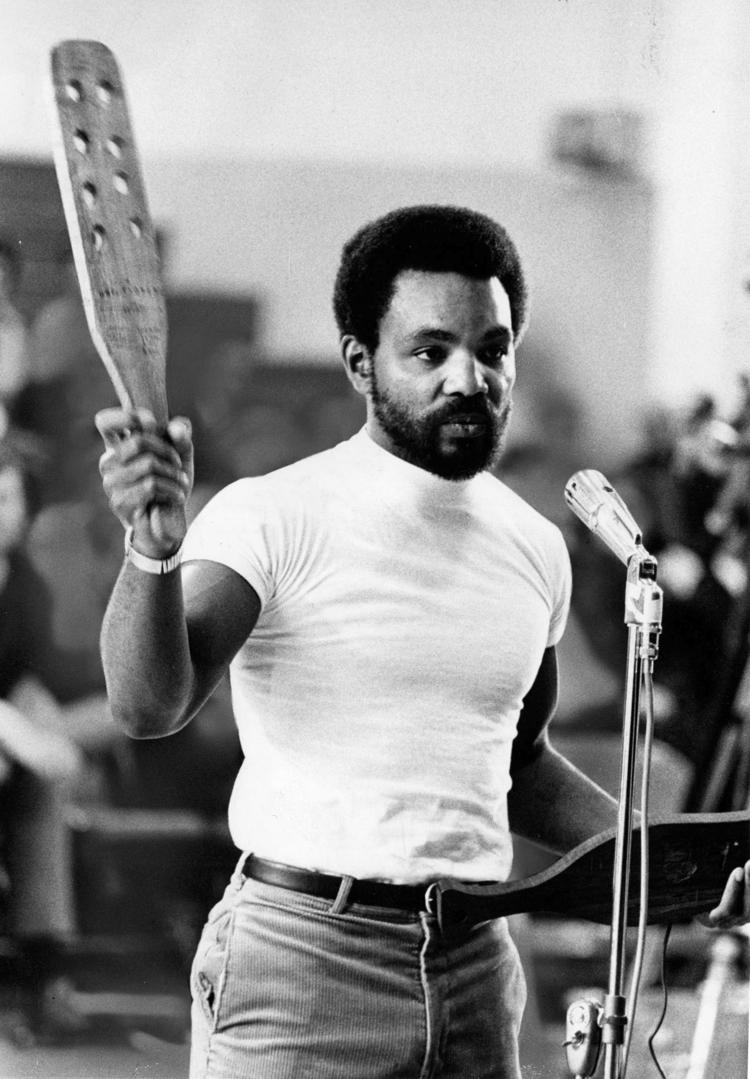 Other laws banned corporal punishment in the public schools, eliminated the sales tax on groceries, required grand jury investigations of the deaths of people while in police custody, and established government liability for bystanders injured in police chases.
Chambers played a key role in creating the Learning Community of Douglas and Sarpy Counties, which forced Omaha-area school districts to work together on addressing needs of students in poverty, and he got a portion of the sales tax used to help finance the CHI Health Center earmarked for historical preservation and anti-gang violence initiatives in North and South Omaha.
He also fought to protect college athletes from having their scholarships yanked after an injury and to allow them to be paid. He got the same retirement benefits for female state employees as males and introduced some of the first legislation to bar job discrimination against people on the basis of sexual orientation and gender identity.
His last bill was signed into law Thursday. Chambers called it a "pee wee" measure compared with some he has proposed. It will require law enforcement officers to get two hours of anti-bias and implicit bias training every year. The requirement aims to reduce racial profiling and curb police violence against Black people.
As important as the legislation he has gotten passed, however, have been the bills he stopped or slowed.
He has held numerous abortion restrictions at bay, along with attempts to replace the electric chair with lethal injection. The switch was passed only after he was termed out of the Legislature the first time. He regularly fights proposals to raise sales taxes and fees on ordinary people.
He was the lone "no" vote in 1997 when Nebraska passed a law banning a late-term abortion procedure. Yet his objections in the legislative record helped build a case that led to the U.S. Supreme Court overturning the law.
Chambers has had a hand in many more pieces of legislation, Cook said. Behind the scenes, she said, he frequently offered to help colleagues fix flaws in their bills.
"He has a lot of influence because he cares so much about the integrity of the institution," she said.
That respect, both for the Legislature and for the judiciary, shows up in his frequent criticisms of those who fall short. He has filed numerous complaints alleging ethical failings of judges and pushed for investigations of wrongdoing by public officials.
Chambers has come in for his share of criticism.
Some argue he should have done more for economic development of his district, which has the highest percentage of families in poverty in the state. But Cook noted that those complaints are not coming from his constituents, who have repeatedly reelected him. Others focus on things Chambers has said in debate. Nearly every year he has provoked outrage and condemnation for comments that others have called "irresponsible," "appalling," "offensive" and "horrifying." Some comments have been labeled sexist or anti-Semitic.
Most recently, Chambers criticized State Sen. Julie Slama and Ricketts for a campaign mailer that former Gov. Dave Heineman and Bob Kerrey, a former governor and U.S. senator, have called racist. The mailer juxtaposed a photo of Slama's opponent, Janet Palmtag of Nebraska City, with a photo of Chambers.
He said the ad was an attempt to scare voters in District 1 into voting for Slama, and he called it dirty politics. He then said that if Slama wanted to engage in dirty politics, she should not be surprised if people repeat rumors about why Slama, whom he called a young woman with little life experience, was appointed by Ricketts.
Other recent controversies include a comment Chambers made during a 2015 hearing about a bill to loosen concealed carry laws. When the bill introducer said people needed to have guns in bars because of the Islamic State and "the world situation," Chambers responded that residents of his district were more in fear of police than of extremist groups.
"My ISIS is the police. Nobody from ISIS ever terrorized us as a people as the police do us daily. And they get away with it," he said.
And last year, he drew condemnation for calling the American flag a "rag" during debate about a civics education bill that required students to learn respect for the flag, among other things.
"Every hateful thing that was done to Black people was done under the aegis of that rag," he said, adding, "You're more upset by what's said about that rag than about the savaging of the Constitution."
Chambers dismisses the criticism.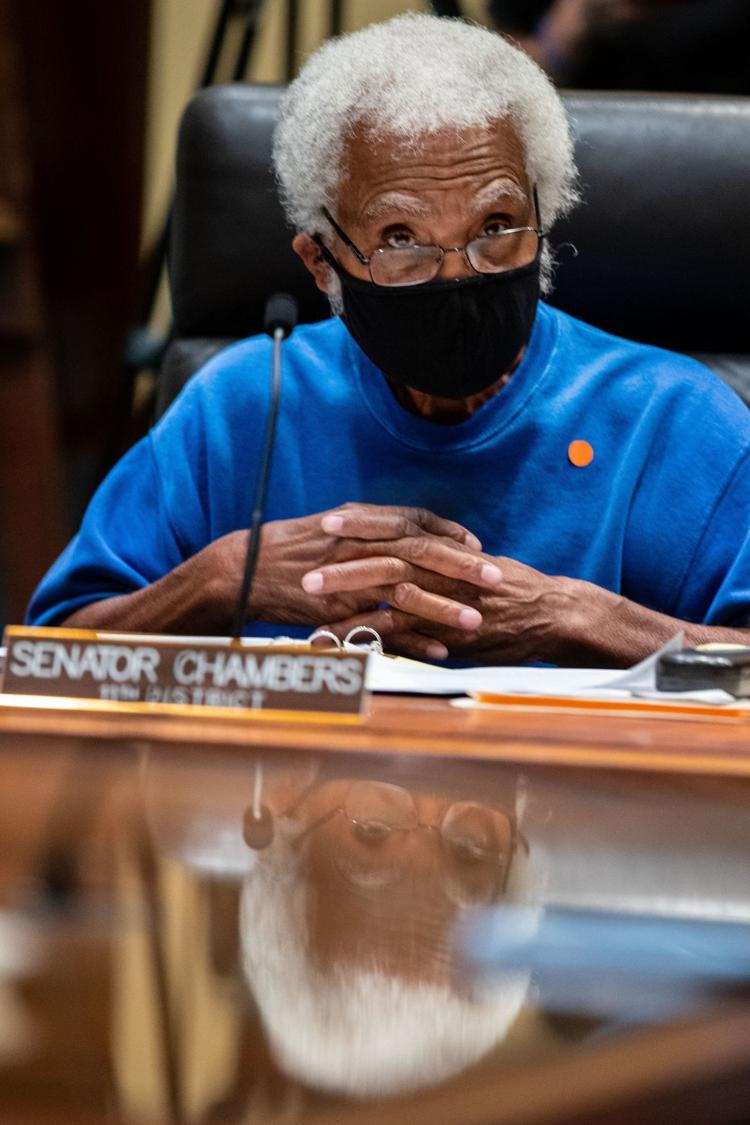 "I genuinely don't care what people think of me," he said. " I don't care what they say about me. It's just words. My self-respect is intact, my pride is intact and those things that make me what I am when it comes to my own estimation are all intact, untouched by them."
He's equally unperturbed by having to leave the Legislature, calling it "just another bump in the road."
Chambers hasn't decided what comes next. A group of supporters has been pushing for him to run for Douglas County Board this fall. He agreed to do it if they collect enough petition signatures to put his name on the ballot. He would need to file for the seat by Sept. 1.
And in four years, when he could run for the Legislature again? He won't rule out the idea, even though he would turn 87 before the November 2024 election. He said he would consider returning if "my mind is clear and my health is good."
After all, there will still be inequities to tackle and people who still need someone to speak out for them.
"That may put on me a responsibility to live four more years and come back," he said.
Photos: Ernie Chambers through the years