Editor's note: Tuesday's outages affected 73,000 OPPD customers. Click here for the latest updates on Wednesday's rolling blackouts in Nebraska.
Cooks at Billy's Cafe on Tuesday morning had to use the lights on their cellphones to see what they were cooking as they prepared eggs and pancakes on the cafe's gas griddle.
Power at the cafe near 50th and Grover Streets had been cut around 8:05 a.m. as part of rolling blackouts that hit the area.
The Omaha Public Power District, a member of a regional power transmission group called the Southwest Power Pool, was one of many utilities directed to impose the blackouts to deal with high electrical demand spurred by record cold.
SPP is declaring an Energy Emergency Alert (EEA) Level 3 effective immediately for our entire 14-state balancing authority area. Systemwide generating capacity has dropped below our current load of ~42 GW due to extremely low temperatures and inadequate supplies of natural gas. pic.twitter.com/AfK3A9i9Ps

— Southwest Power Pool (@SPPorg) February 16, 2021
The gas griddle kept Billy's Cafe in business, but toast was out of the question. By 8:50 a.m., the brewed coffee was slowly cooling off, server Barb Meegan said.
"My morning hours are my bread and butter," she said.
At the peak of the blackouts, about 8:55 a.m., more than 34,300 OPPD customers were without power.
The first round of power outages began at 6:50 a.m. and mostly affected OPPD customers in Sarpy County. They lasted about an hour. Another round of outages began in Douglas County about 7:25 a.m. They, too, continued for about an hour. Subsequent outages, affecting thousands of OPPD customers, kicked in at 8 a.m., 8:30 a.m. and 9:30 a.m.
OPPD announced at 10:25 a.m. that the rolling outages had ended.
The temperature at Omaha's Eppley Airfield at 7:30 a.m. was 23 below zero. It was 13 below at 10:30 a.m.
The entire 17-state region served by the Southwest Power Pool, stretching from North Dakota to Texas, experienced frigid weather conditions Monday and Tuesday. The Southwest Power Pool said Monday that utilities were using more power than they were producing and had tapped as much as they could from available reserve supplies.
About 4 million homes and businesses lost power in Texas, where temperatures Tuesday morning dipped below zero. The National Weather Service said low temperatures early Tuesday broke records in southeast Louisiana and south Mississippi.
Take a look at the Tuesday morning temperatures across the country.

This map shows just how far extremely cold temperatures have plunged into the South. pic.twitter.com/Jt7blzdlIE

— NWS Sioux Falls (@NWSSiouxFalls) February 16, 2021
OPPD worked to minimize the length of time its customers had to spend without power, spokeswoman Jodi Baker said.
The utility was trying to spread out the outages so that people wouldn't be affected twice, she said. Large customers were helping with efforts to conserve energy.
Baker said hospitals are exempt from the outages.
As of Tuesday afternoon, OPPD officials weren't sure whether additional outages would be needed. If they are, they will occur during periods of peak energy use such as 6 to 10 a.m. or 4 to 8 p.m.
Temperatures aren't expected to be as low Wednesday morning as they were Tuesday. Wednesday's high in Omaha is expected to be 15.
A total of 73,000 OPPD customers lost power during Tuesday's rolling blackouts, said another OPPD spokeswoman, Laura King-Homan. Some customers got advance notice of the blackouts, sometimes up to 12 to 24 hours beforehand. Others received an automated call soon after their power was cut, informing them that the outage was planned and power would be restored soon.
"We do not show favoritism to one side of the city or the other at all," King-Homan said. "It has everything to do with the amount of load we're told to shed."
Residents who are conserving energy are helping immensely, she said.
In OPPD's area, King-Homan said, businesses conserved about 126 megawatts of energy use in the past few days, which kept an additional 40,000 residential and business customers from losing power each hour.
The entire 17-state region of the Southwest Power Pool reduced electricity use by 2,000 megawatts after utilities asked customers to curtail energy consumption, King-Homan said.
This morning, controlled outages were directed by our regional transmission organization, the Southwest Power Pool (SPP). The SPP oversees the power grid for its members. To get a better understanding of how the SPP works, check out this article: https://t.co/OV69MIXxkm

— OPPDCares (@OPPDCares) February 16, 2021
Omaha police said on Twitter on Tuesday morning that several intersections around the city were without working traffic lights. The Omaha Public Schools had planned to have students do remote learning Tuesday, but because of the power outages, the district canceled those plans.
The Lincoln Electric System and the Nebraska Public Power District also instituted controlled outages Tuesday morning.
The blackouts disrupted businesses across the Omaha metro area.
The power was out near 132nd and L Streets at 7 a.m., and patients who had early appointments at Specialty Dental Clinic, 12242 K Plaza, were greeted by staffers holding flashlights who asked them to reschedule. The nearby Starbucks also was dark.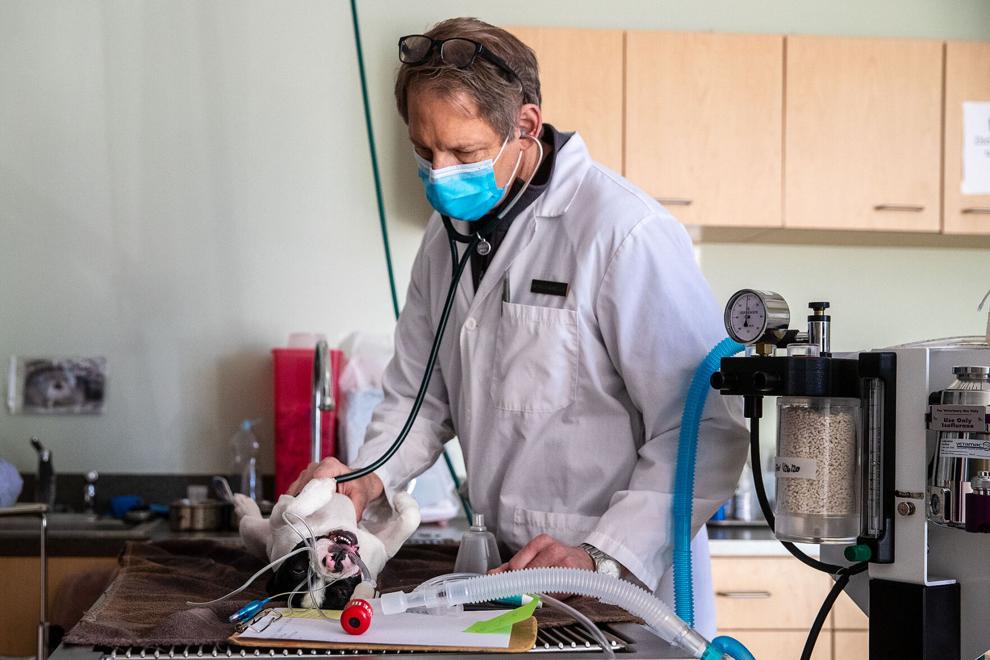 At Best Care Pet Hospital at 30th and L Streets, Dr. Michael Howard had anesthetized Bella, a Boston terrier puppy, before power to the building was cut. Howard was preparing to spay Bella by window light before the power came back on. The staff already had performed one surgery with no power Tuesday morning.
Anne Johnson, who lives near 60th and L Streets, said she lost power at 8 a.m. It was restored at 9:10 a.m. The interruption impacted her job — she works from home as a nurse for Veterans Affairs.
Johnson said she usually keeps the house cold, but lost 5 degrees within that hour — from 63 to 58.
"I always just put more clothes on," she said. "My mother or my daughter could never live with me because they're always cold."
Dundee Double Shot Coffee, near 50th Street and Capitol Avenue, was preparing to reopen about 8:45 a.m. The business was without power for 45 minutes, said co-owner Mike Lang. When the power first went out, workers served a few cars in the drive-thru with coffee that already had been brewed. They then shut down.
The power went out at Olsen Bake Shop near 10th and Hickory Streets at 8 a.m. and still was off at 8:45 a.m., owner Mike Olsen said.
"Not much you can do about it," Olsen said. "You just gotta roll with it."
OPPD officials asked people to continue to decrease their energy use — lowering the settings on their thermostats, holding off on doing laundry and unplugging electronics that are not in use — until at least Wednesday afternoon.
"We understand that this is an inconvenience for people, but having these more controlled outages is alleviating the need to have more widespread outages," OPPD's King-Homan said.
World-Herald Staff Writers Kevin Cole, Pam Thomas and Chris Machian contributed to this report, which also includes material from the Associated Press.
---
Record breaking cold temperatures hit Nebraska