Thousands lined an Old Market street Friday, American flags in hand and cheers for those marching by.
They watched as hundreds of veterans, some on motorcycles, others in Corvettes or on foot, passed by. They listened to a group of bagpipe players, their music echoing along Jackson Street, and pointed excitedly at the famous Budweiser Clydesdales.
And they watched somberly as more than 200 Gold Star family members led the parade to its final destination in the Durham Museum parking lot.
The families came from more than 10 different states to take part in the patriotic parade and concert, a kickoff to Memorial Day weekend.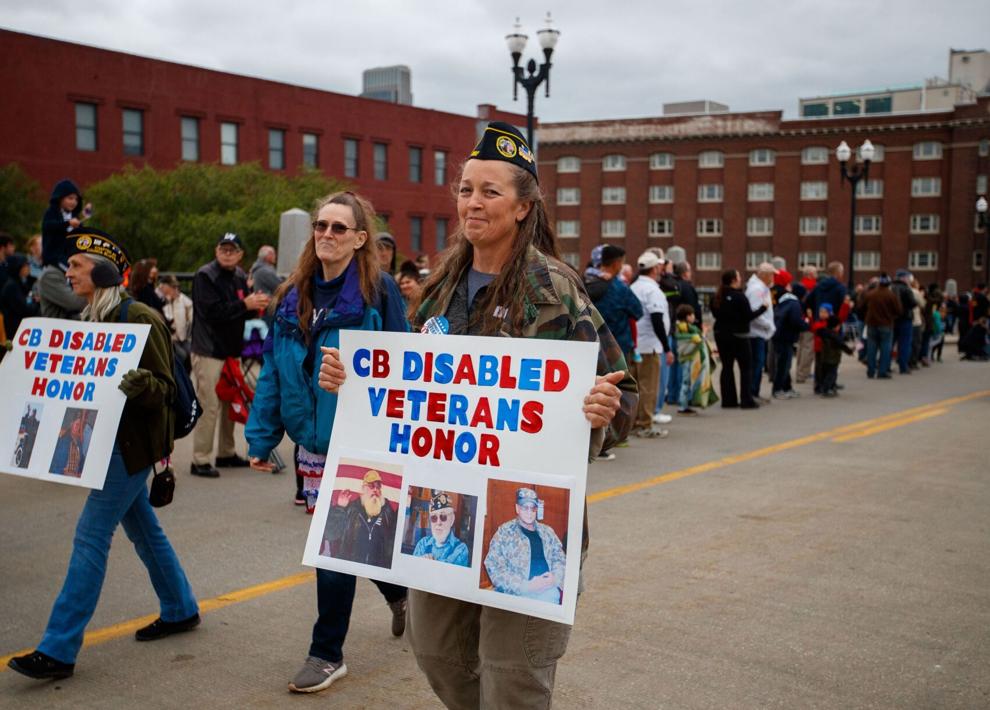 Among them was Noala Fritz of Nebraska. Fritz's son, Jacob Fritz, was killed in 2007 by members of a militia in Iraq.
Today, Fritz dedicates her time to hosting the "Remembering Our Fallen" memorial towers, which were created by Bill and Evonne Williams, organizers of Friday's parade and concert.
The towers greeted parade participants and observers as they made their way from 12th and Jackson Streets to the Durham Museum on 10th Street.
Featuring photos of more than 5,000 men and women who have lost their lives in the post-9/11 wars, the 34 towers created an atmosphere of somber remembrance, a contrast to the celebratory mood of families and veterans who gathered together around a stage in the parking lot.
Fritz recently told the World-Herald that the towers provide a meaningful way to preserve her son's memory.
"It's wonderful to connect with other Gold Star families," Fritz said. "I can talk about it, and help others."
Bill Williams thanked the Gold Star families for taking part in the parade.
"To all the families, I want you to know that our mission is that your loved ones will not be forgotten," Williams said.
Also in attendance were former Omaha mayor and U.S. Congressman Hal Daub and Nebraska Gov. Pete Ricketts.
Ricketts spoke briefly before the concert began, beginning with a quote by John F. Kennedy: "A nation reveals itself not only by the men it produces, but by the men it honors, the men it remembers."
"We take time out this Memorial Day weekend to remember the men and women who have worn the cloth of our country," Ricketts said. "Who have sacrificed and indeed made the ultimate sacrifice to ensure that we have the freedoms that we have here today."