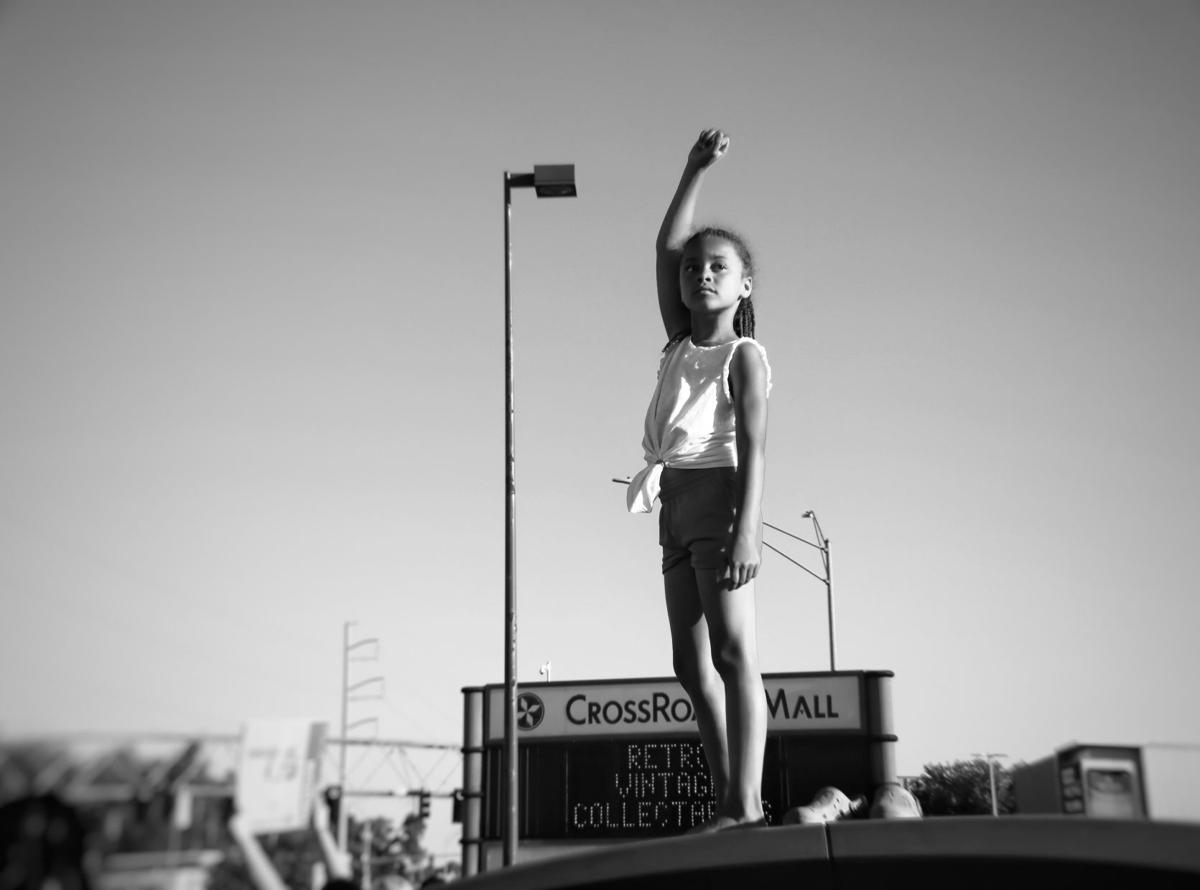 Zuri Jensen climbed onto the roof of her dad's pickup truck.
She balled her right hand into a fist and hoisted it in the air.
The 7-year-old Omaha girl locked eyes with photographer Dalton Carper, and he clicked away on his camera.
The photo, taken at the Friday evening protest near 72nd and Dodge Streets, has since been widely shared. Tuesday, U.S. Sen. Kamala Harris of California shared the image on her Instagram page, where it racked up more than 66,000 likes.
"That picture symbolizes everything that's going on right now," said Jeona Jensen, Zuri's mom. "We have the opportunity to stop this ugly disease of racism right now if we start educating ourselves and our kids so when they grow up, they won't make some of the same mistakes that have happened in the past."
Zuri has been interested in civil rights, especially since learning about Martin Luther King Jr. in a kindergarten class. She came home with lots of questions.
So Mom, who is black, and Dad, Shea Jensen, who is white, sat down for a conversation on how people of color are treated in the United States. They explored civil rights leaders and the history of black people in the country.
"She's just soaking it up like a sponge," Jeona Jensen said.
They carefully explained the news surrounding Minneapolis resident George Floyd, who died after a police officer knelt on his neck for nearly nine minutes.
Jeona Jensen said they have police officers in their family, so they explained to Zuri that, unfortunately, not all officers treat people with respect.
The Jensens, who also have an 11-year-old daughter, have attended protests as a family before and had positive experiences. Zuri has told her mom, "I'm being just like Martin Luther King. I'm standing up for black people's rights."
Carper, a recent University of Nebraska-Lincoln journalism graduate who took the photo, said he was wandering around the protest when he spotted Zuri.
"People like Zuri need to be seen," Carper said. "I think she symbolizes that there is hope that these injustices will stop with her generation."
Jensen said the photo has already sparked constructive conversations. She has overheard Zuri explaining protesting to some of her peers in the neighborhood. Meanwhile, some of Jensen's own friends have reached out to ask how they can help and be part of the change.
Jensen said her parents are an interracial couple who have been community activists. It was important to Jensen that she raise her daughters the same way.
"We've been raising them to speak out for injustices of all people," Jensen said. "If there's injustice, you need to speak up and not be silent about it."