As a boy during the Great Depression, Robert Holts hawked newspapers in downtown Omaha.
But he couldn't get a drink of water at some of the local businesses because of the color of his skin.
The North Omaha youth joined the still-segregated U.S. Army in November 1942. He wound up a member of the famed Tuskegee Airmen — one of 21 with ties to Omaha, said Robert Rose, president of the Nebraska-based Alfonza W. Davis Chapter of the Tuskegee Airmen.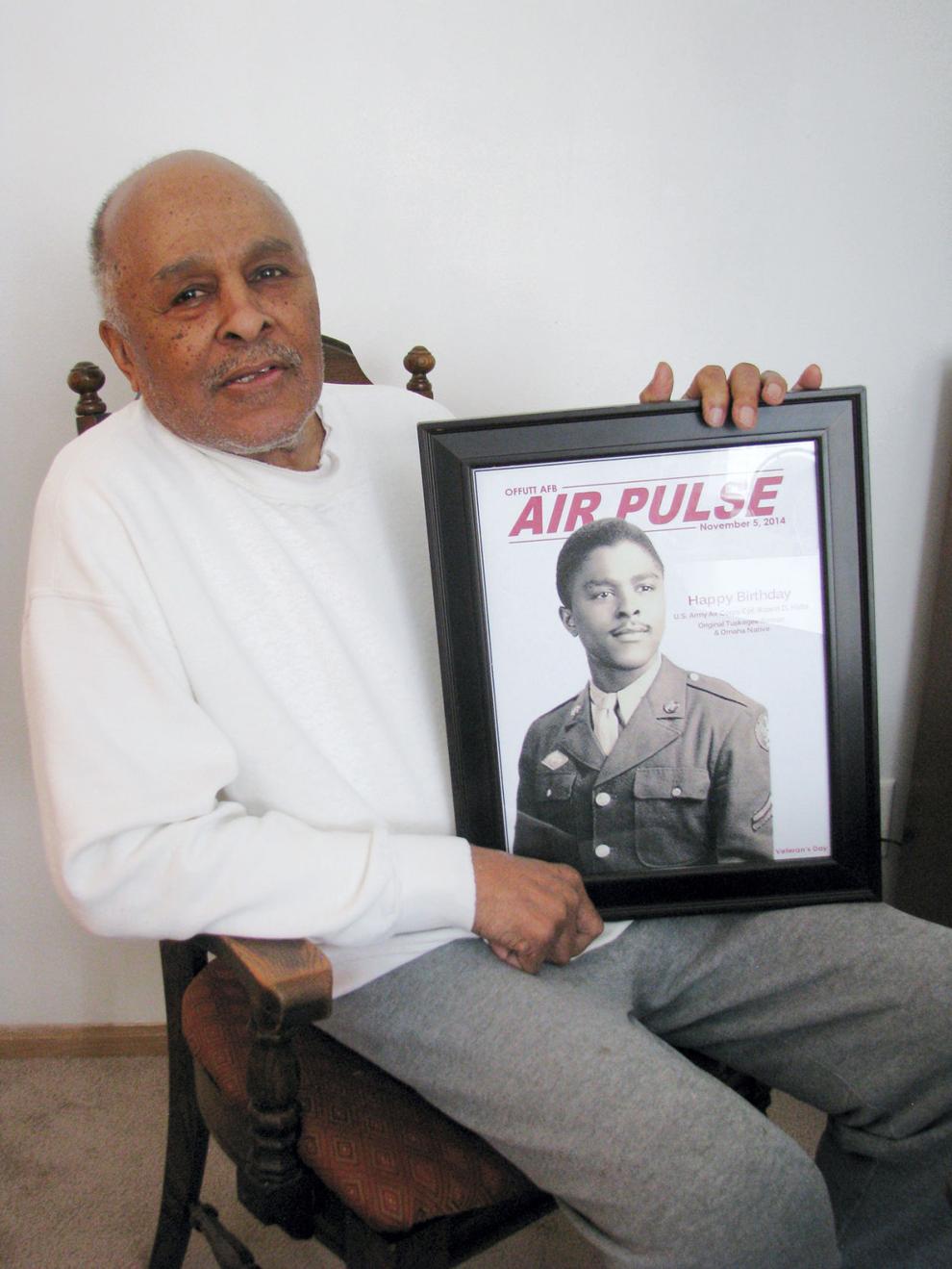 Holts was the last who was still living, until his death Friday at his retirement home in Bellevue. He was 96.
"I liked him as one of my best friends. I'd do anything for him," said Rose, who had served as Holts' guardian in recent years. "I'll miss him greatly."
Born in 1924, Holts was one of nine children of Robert and Eunice (Anderson) Holts. His father was a porter at the Union Outfitting Co. in downtown Omaha. Holts attended Kellom Elementary and Omaha Central High School. He sold newspapers and worked as a busboy at the Blackstone Hotel. His mother died when he was 15.
"Life was hard," he told the Bellevue News-Leader in a 2015 interview. "Dad never made much money. If he had made $25 a week, that would have been great."
Though Omaha was a northern city, it still practiced its own form of segregation. The students at Holts' elementary school were Black, but the teachers were White.
Once, as a teenager, he stood outside a music hall in his native city, listening to Glenn Miller's band play. He wasn't allowed to go inside.
Holts' father had served in World War I. When Holts enlisted 24 years later, he encountered an Army where segregation was still entrenched. His first assignment was at Jefferson Barracks Military Post outside St. Louis.
"I didn't realize the Army was segregated. I learned that quickly," he told The World-Herald in 2018. "The Whites were on one side, and the Blacks were (on the other)."
Based on his strong high school record, Holts earned a chance to join an aviation training program that would lead to a slot in the 332nd Fighter Group, an all-Black unit that flew P-51 Mustangs, protecting bombers in the European theater during the last two years of the war. They became known as the Tuskegee Airmen because of the Alabama base where they trained.
Holts passed a test, but "washed out" of the pilot training program, a setback he later described as "very disappointing."
But it did not keep him from joining the Tuskegee Airmen. Trained as a draftsman, Holts in 1945 was assigned to Squadron D of the 118th Base Unit in Kentucky, a support unit for the 332nd. He worked drawing up maps and documents for Col. Benjamin O. Davis Jr., the former commander of the 332nd who went on to become the Air Force's first African American general.
Discharged in early 1946, Holts returned to Omaha but had a difficult time finding work — a circumstance he attributed in part to racial animus.
At the suggestion of a relative, Holts moved to Detroit. He got a job there as a letter carrier with the U.S. Postal Service. He worked there for nearly 40 years.
After he retired, though, Holts returned to Nebraska to be near family and settled in his home in North Omaha. He never married.
But he lived to see Jim Crow laws dismantled, an African American elected president — and the Tuskegee Airmen celebrated as national heroes. They flew more than 15,000 sorties during the war, destroying 36 German aircraft in aerial combat and 237 more on the ground. Sixty-six crew members died in the war, and 32 more spent time in German POW camps after being shot down.
In the late 1990s, Holts joined the new Alfonza W. Davis Chapter of the Tuskegee Airmen, named for an Airman from Omaha who died in combat July 30, 1945, as a squadron commander. That's how he became friends with Rose.
In 2007, he and his fellow Tuskegee Airmen were awarded the Congressional Gold Medal and inducted into the Nebraska Aviation Hall of Fame.
A decade later, he had moved to Bellevue and was honored by the Bellevue City Council. He was grand marshal of the city's huge Veterans Day parade in 2017. In recent years, he had visited exhibits honoring the Tuskegee Airmen at the Great Plains Black History Museum, the Strategic Air Command & Aerospace Museum and the Durham Museum.
Holts lived his final years in the Richmont Village retirement home. He enjoyed watching baseball and listening to jazz music, Rose said. In recent weeks, Holts' health was failing. He had been in hospice care when he died of natural causes.
Funeral services for Holts will be held at 12 p.m. Friday at Zion Baptist Church, 2215 Grant St. in Omaha. Visitation will be from 4 p.m. to 6 p.m. Thursday at Thomas Funeral Home, 3920 N. 24th St. in Omaha. Those attending are asked to wear masks and observe social distancing. Burial arrangements have not been announced.
Holts is survived by his sister, Evelyn Myles of Washington, D.C., and a niece, Linda McRuffin of Harker Heights, Texas.
Rose said losing Holts means losing the last living link to an important chapter in our U.S. military history.
"Since he's gone," Rose said, "we have to be focused on the memory."
---
50 historical photos of the attack on Pearl Harbor