The coronavirus pandemic has upended Omaha's 2020 city budget, forcing officials to shutter libraries and sideline hundreds of part-time employees as they work to fill a multimillion-dollar hole.
As Mayor Jean Stothert looks toward next year, she's planning for a rebound in city revenues.
Stothert presented her 2021 budget to the City Council on Tuesday. Despite the economic upheaval from the pandemic, Stothert is counting on revenue sources such as sales taxes, restaurant taxes and hotel taxes to begin returning to normal.
Her proposed $1.2 billion budget includes a new solid waste contract that will bring larger trash carts to Omaha; a body-worn camera system for the Police Department that will activate the cameras when an officer draws a gun or Taser; and more funding for community programs.
Other highlights include the expansion of a mental health co-responder program within the Police Department and extra Public Works employees to take on street projects created by a $200 million street bond issue approved by voters in May.
Stothert's presentation to the council was interrupted several times by protesters who stood up from the audience to chant "defund the police" or call on the mayor to reallocate some of the police budget to other areas of the community.
But the mayor rebuked calls to defund the police as "reckless and irresponsible."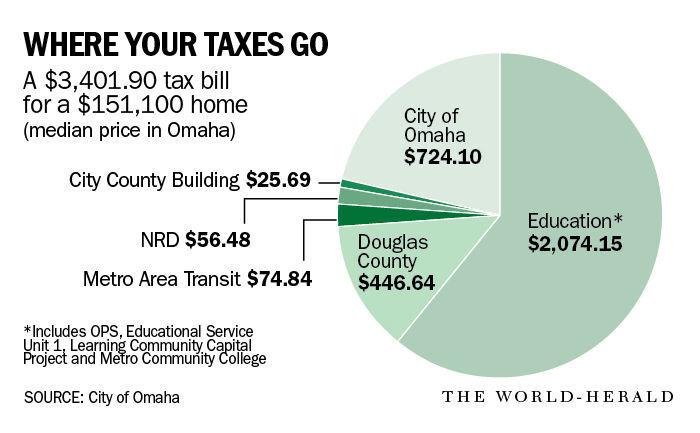 A big question mark that looms over the city is how much federal coronavirus relief money Omaha will receive from Douglas County and the state. The city's cuts to date equal about $20 million, a figure that does not reflect recent overtime costs by the Police and Fire Departments. Overtime costs aside, the city is facing at least a $56 million gap.
Dave Sund, a political consultant who worked on city budgets as a policy analyst for former Omaha Mayor Jim Suttle, said Stothert's proposal ignores the reality that the pandemic may hamper the economy well beyond the end of the year.
Sund said Stothert should offer her constituents a transparent, honest budget that acknowledges that some city services may have to be cut.
"This is a budget that doesn't take into account any of the economic impact of what has happened this year," Sund said.
In recent months, Stothert has warned that layoffs or the scaling back of fire rigs are among possible future cuts if the city doesn't receive enough aid.
"There wouldn't be any other way that we could do the 2021 budget without just assuming it's a normal year, and then adjusting if we need to," Stothert said.
Councilman Ben Gray, a Democrat who represents North Omaha, said he'd like to direct more money toward social programs, as local activists have been advocating. He cited as examples the city's Step Up jobs program and Heartland Workforce Solutions.
But Gray said the mayor's proposed budget is "tight," and he wouldn't support a tax increase to free up more money.
Councilwoman Aimee Melton, a Republican who represents northwest Omaha, applauded Stothert for finding a way to create a balanced budget that covers all necessary city services during a tough financial time.
Councilman Brinker Harding, a Republican who represents parts of west and central Omaha, said in a statement that he appreciated Stothert's "cautious optimism" in making plans for a slowly improving economy.
Harding and Melton both said they support an effective, fully funded Police Department.
The 2021 budget proposal calls for the general fund, which pays for most city departments, to increase by about 4.6% over 2020, from $420 million to about $439.3 million. Stothert's goal is to keep year-over-year increases at 3% or less; she said the driving force of the larger increase is the coming waste contract with FCC Environmental Services.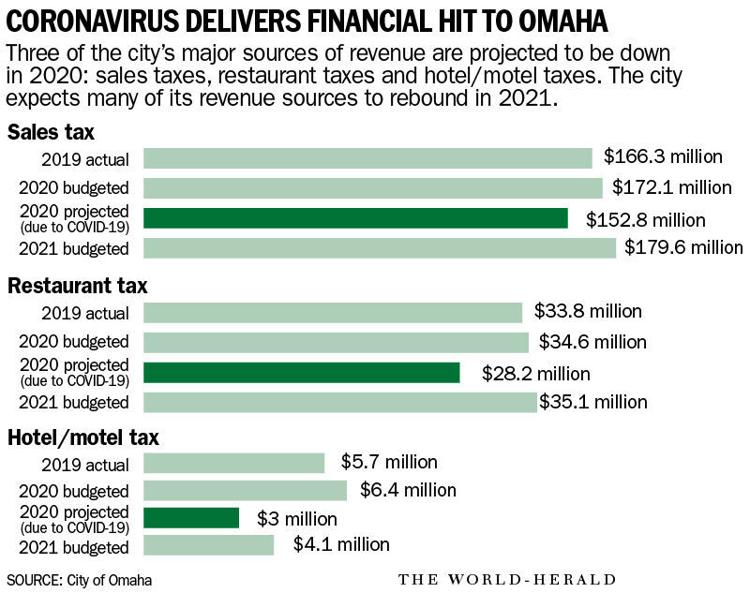 Officials have been preparing to absorb the cost of that $31.9 million yearly contract, which is higher than Omaha's current $22.1 million contract with outgoing provider Waste Management. Absent the new contract, the general fund increase would be about 2.25%.
"So we really achieved what we wanted to do as far as controlling spending," Stothert said.
The property tax rate will remain at 47.922 cents per $100 of valuation, though the city expects to receive more revenue based on an estimated 6% increase in city property valuations by the Douglas County assessor.
A public hearing on the budget proposal, which is subject to City Council approval, is scheduled for 6:30 p.m. Aug. 11 in the Legislative Chambers of the City-County Building, 1819 Farnam St.
Here are some budget highlights:
COMMUNITY PROGRAMS
The proposed budget calls for increasing funding for the Police Athletics for Community Engagement from $60,000 to $100,000. The city also will give $100,000 to the Latino Center of the Midlands for its jobs program.
In total, Stothert said the city facilitates about $20 million in funding for programs related to jobs, young people, housing and mental health.
FIRE
The nearly $116 million operating budget includes money to purchase a second set of protective equipment, called turnout gear, for every firefighter. Each set costs about $2,000.
The Fire Department's force will remain at 658 sworn firefighters.
The city's capital improvement budget includes money for the replacement of Station 31 in South Omaha. Construction on the station, near 34th and Q Streets, is expected to begin later this year or in early 2021.
The capital improvement budget also calls for replacing three fire engines as part of a 15-year replacement plan.
Stothert said the department will eventually save about $100,000 a year by moving electronic patient reports to a cloud-based storage system.
PUBLIC WORKS
The big-ticket item is the city's new solid waste contract with FCC Environmental Services.
Beginning in January, and possibly earlier, Omaha residents will switch to using two 96-gallon carts, one for a mix of trash and yard waste, the other for recycling.
The new contract increases the solid waste budget by about 44%, an increase the city had been preparing for.
"We knew that there would be a significant increase in the cost of this new contract," Stothert said.
The city's recycling processing contract with Firstar Fiber also expires this year. Bids on a new contract are due in August.
The budget calls for 20 more Public Works employees. Those include six more street maintenance positions, three more employees to manage the city's 2,000 miles of sewers and a coordinator of projects related to the $200 million in street bonds.
The city this year has awarded 30 street resurfacing projects worth about $21.5 million because of the bond issue, Stothert said.
LIBRARIES
The proposed library budget calls for about a 2% increase.
The budget will allow the library to continue increasing its digital products and services. Demand for digital resources has risen during the pandemic, Stothert said.
The libraries are currently closed because of the coronavirus, but they offer curbside pickup. Stothert said the city has developed a reopening plan, which may be contingent on how much federal coronavirus money the city receives.
PARKS
With a proposed budget of $22.8 million, the Parks Department budget will stay essentially flat.
The city's capital improvement program includes rehabilitation projects at Albright, Lake James and Westchester Parks. It also calls for some trail projects, the addition of shades at some city pools and a kayak launch at Flanagan Lake.
PLANNING
The proposed Planning Department budget includes $800,000 for the demolition of dilapidated houses. The city in 2021 plans to tear down 70 of nearly 140 houses that have been identified for demolition, Stothert said.
The city expects to add two housing inspectors to take on work created by the city's rental registration program, which began in January.
Last year, the City Council amended the budget to add an additional inspector, but that position was never filled. The city will have 13 inspectors once those three people are brought on.
---
Our best staff photos from July 2020
Omaha World-Herald: Afternoon Update
The latest headlines sent at 4:45 p.m. daily.