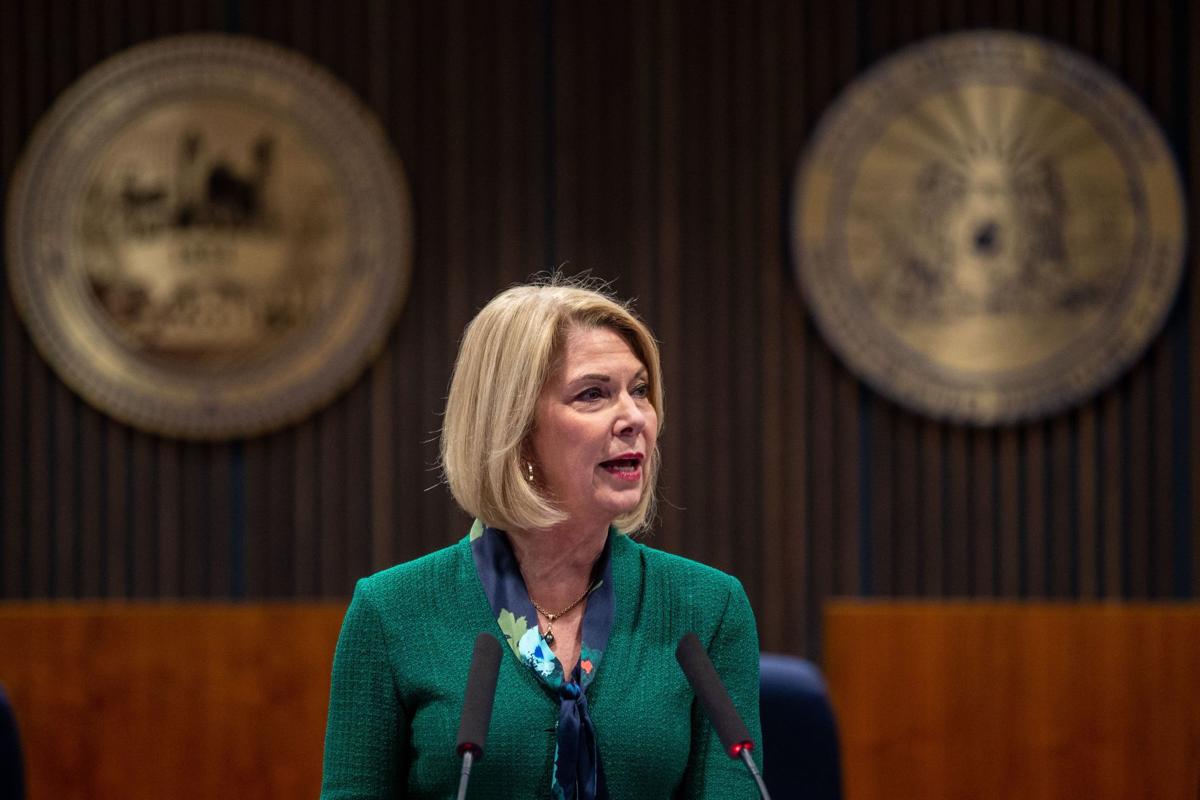 Mayor Jean Stothert has canceled summer camps, rescinded neighborhood grants and reduced police and fire overtime.
Those are just some of the measures the city has taken as it faces a revenue shortfall on top of rising coronavirus expenses.
But such cuts, estimated to save the city $22.7 million, may not be enough to offset an estimated $80 million general fund shortfall, Stothert warned at a Friday press conference.
Other cuts on the table: not opening libraries or swimming pools in 2020, canceling police and fire recruit classes, laying off or furloughing city workers and reducing the Omaha Police and Fire Departments by 10%.
"We're counting pennies now," Stothert said.
The mayor said she doesn't want to lay off employees or reduce community services but may need to do so if the city doesn't receive enough money to fill the budget gap.
Stothert outlined several ways officials have already reduced spending. They've imposed hiring and spending freezes to cut more than $3 million and furloughed part-time Parks and Recreation employees for $1.5 million and part-time librarians for $1.3 million. Canceling summer camps will save $300,000, but Stothert said officials canceled those to prevent the spread of the virus.
She outlined several more reductions that could save the city an estimated $17.4 million but said some would not be popular because they would affect trash, emergency and other city services.
Along with the possible reduction of police officers, firefighters and other city workers, half of full-time Parks Department workers could be laid off.
Fire rigs could be out of service, and stations could be closed. Swimming pools, community centers, libraries and the ice rink may not open again this year.
Libraries and community centers have been closed since mid-March because of the pandemic. Stothert said that she wants to reopen them but that not doing so would save money. Keeping the libraries, swimming pools, community centers and ice rink closed would account for more than $5.2 million of the floated $17.4 million in cuts.
Recycling, too, could be canceled for six months, which would save $850,000.
"That will not be a very popular thing," Stothert said. "But if it's between recycling or city employees, I would prefer to take recycling off for the rest of the year."
If recycling is canned, those items would be taken to the landfill, Stothert said. Officials would try to offset that move by sending yard waste to Oma-Gro to be composted.
Once the city's new trash contract begins in 2021, recycling would resume.
None of those measures have been decided on, Stothert said. They likely won't happen in the immediate future. But something must be done to balance the budget by the end of the year.
The city's projected $80 million revenue shortfall would affect its $420 million general fund budget, which pays for all city departments. About 75% of the general fund goes to police, fire and waste collection.
Finance Director Steve Curtiss said the money the city received from March sales taxes was down about 6%, representing about a $3.5 million loss. That "appears to be somewhat similar to what we're seeing across the country," he said.
Decreased revenue from hotel taxes and other occupation taxes brought March's loss to about $5 million, Curtiss said.
The city also has incurred more than $71 million in COVID-19 expenses. Those include personal protective equipment for first responders, disinfection of public buildings, additional paid leave for employees affected by the coronavirus and more, according to a Finance Department report.
Stothert has been publicly pressing for Douglas County and the state to share with Omaha some of the federal coronavirus relief money those entities received. The County Board is expected to discuss the $166 million it received during its Tuesday meeting.
Curtiss said Friday that updated guidance from the Treasury Department has indicated that the money can be used more broadly than was previously believed, for costs such as payroll expenses for public safety and public health and possibly to keep police officers and firefighters from being laid off.